Exciting ADR Developments in China and Hong Kong
A JAMS delegation traveled to Hong Kong in May to participate in the fourth Shanghai-Hong Kong Commercial Mediation Forum, a seminal event that provides a platform for exchanges and contacts between mediators in mainland China, Hong Kong, and elsewhere in the world.
At the event, which was organized by the Shanghai Commercial Mediation Center, the Joint Mediation Helpline Office and the Hong Kong Mediation Council, participants learned about international trends and opportunities in the rapidly changing world of alternative dispute resolution.
There, as JAMS' director of international operations, I had the opportunity to share the latest changes and developments in U.S. mediation.
Navigating the United States' approach to mediation can be tricky for international firms as there is no uniform approach. The process often is adapted depending on the clients' needs and shaped by constantly evolving regulations, cost concerns and the expertise of an individual case's lawyers or mediators.
During the forum, we dove into the rise of third-party funding and its effects on mediation and settlements. Even though third-party funders often are not at the mediation table, they can have a substantial impact on proceedings and a case's ultimate settlement. We also explored the implications of, among other projects, the One Belt and One Road Initiative, China's massive infrastructure plan, on dispute resolution.
And I shared JAMS' vision for international cooperation going forward, which includes finding additional opportunities to share information and collaborate through initiatives and events such as May's forum in Hong Kong; identify and resolve any cultural and systemic barriers; and promote the best use of mediation and other forms of dispute resolution.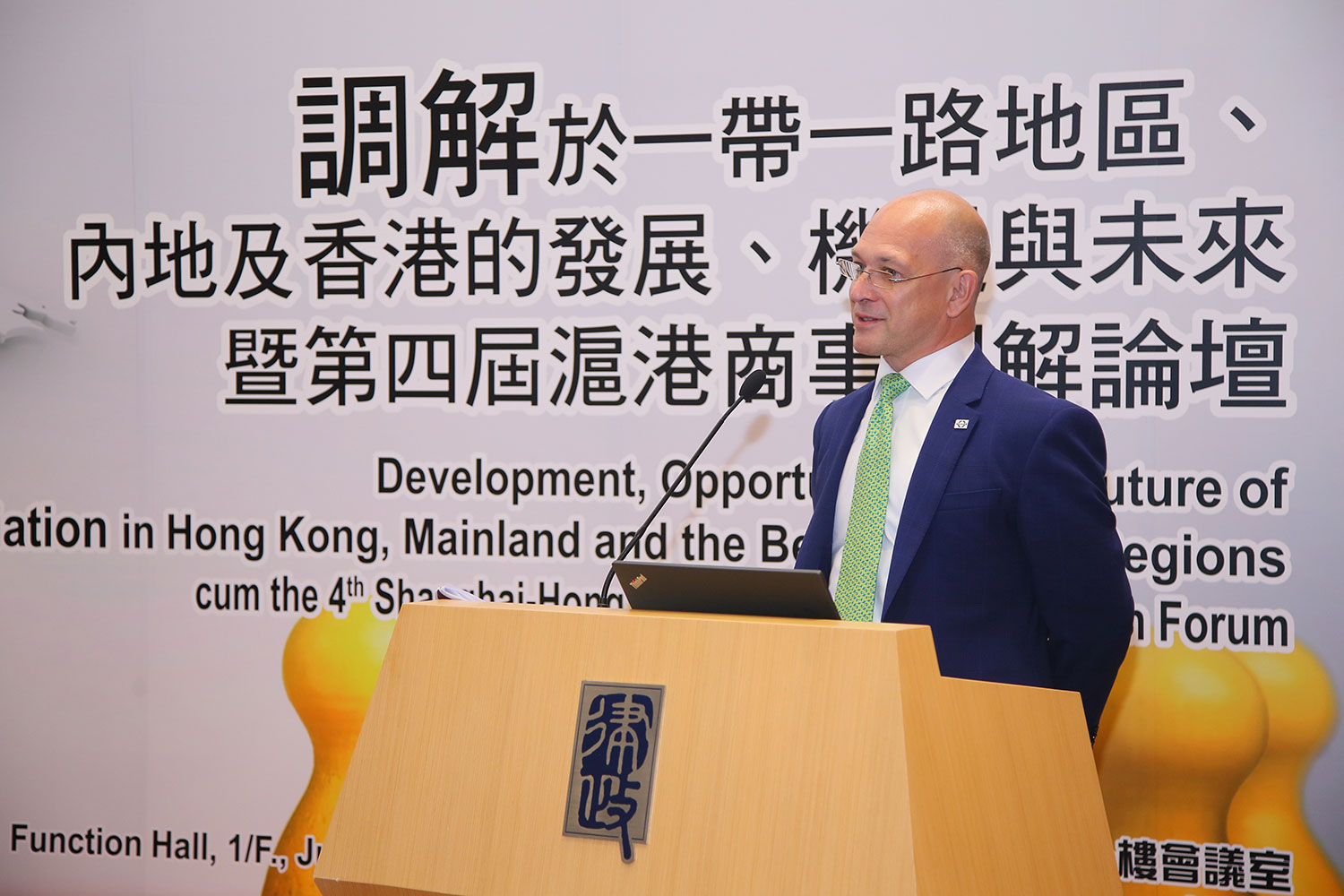 JAMS builds strategic connections
Indeed, as more Chinese companies extend their reach into other jurisdictions, the forum in Hong Kong is just one of JAMS' many efforts to connect with firms in the fast-growing region.
As one of the largest providers of mediation and arbitration services worldwide, JAMS handles more than 14,000 cases a year, including thousands of arbitrations. Our panel brings deep knowledge in a variety of specialties. And we work hand-in-hand with institutions in Asia to provide expert support and services to a wide range of clients.
Since 2016, for example, we have cultivated a strategic relationship with the Shanghai Commercial Mediation Center, which helped put May's forum together.
The independent, third-party commercial mediation institution helps Chinese and foreign parties in the dispute resolution process in areas such as trade, investment, securities, intellectual property rights, real estate and insurance matters.
Through the partnership, JAMS has learned from the center's deep knowledge of both Chinese culture and domestic and foreign commercial legal issues. JAMS provides the center with training and support. And both of us have added qualified mediators and arbitrators to each of our panels.
JAMS to co-sponsor major events in Asia this fall
Meanwhile, JAMS also is preparing to co-sponsor major events this fall in both Hong Kong and China with leading Chinese alternative dispute resolution institutions, including the Shenzhen Court of International Arbitration, Beijing's China International Economic and Trade Arbitration Commission, the Beijing Arbitration Commission and the Hong Kong International Arbitration Centre.
JAMS will send four neutrals, along with a senior JAMS delegation including CEO Christopher Poole, CFO Kevin McDonnell, Director - EMEA Region Matthew Rushton, myself and our Chief Representative in China, to participate in the events.
The first round will run Oct. 23 to Oct. 26 in China where forum topics will include Sino-American tech industry disputes, along with entertainment and sports contracts, which are two particular specialties of JAMS.
After the events in China, the delegation will travel to Hong Kong to attend the Beijing Arbitration Commission and Hong Kong International Arbitration Centre's summit on alternative dispute resolution. Christopher Poole, JAMS' CEO, will moderate a panel on Oct. 27. JAMS also will participate in programs during Hong Kong Arbitration Week, which runs Oct. 29 to Nov. 2.
As commerce across countries picks up globally, JAMS, in recent years, has handled a growing number of cross-border disputes, including those that originate in China and Asia.
These key partnerships and our participation in events such as the forum in May and the programs this fall only help to boost our cultural ties and mutual understandings.
As we meet with business leaders around the world, our goal is to ensure that all parties understand how mediation works and that they trust the unbiased nature of it and are comfortable with the outcome once a settlement is signed.
We look forward to continuing our work in China and Hong Kong to bridge any remaining cultural differences and expand our reach to help firms in the region achieve their business goals.
Ranse Howell is Director, International Operations at JAMS.
EXPLORE MORE ON THESE TOPICS
---
Disclaimer:
This page is for general information purposes. JAMS makes no representations or warranties regarding its accuracy or completeness. Interested persons should conduct their own research regarding information on this website before deciding to use JAMS, including investigation and research of JAMS neutrals. See More