Biography
Viggo Boserup, Esq. is an accomplished neutral of employment disputes who is widely respected by counsel for his impartiality in treating all parties fairly, and his ability to quickly identify critical issues.
His exceptional listening skills and sensitivity toward each party make him particularly well suited for resolving emotionally charged, complex cases. Known for his fortitude in obtaining a productive result and going the extra mile, Mr. Boserup follows up with parties to effect a settlement, even after the mediation or arbitration session is over.

As a mediator and arbitrator of employment matters, Mr. Boserup has designed dispute resolution systems in both mid-sized and major institutional environments. He has resolved hundreds of wrongful termination claims based on age, race, and gender discrimination; constructive terminations; sexual harassment; failure to accommodate; retaliation; wage and hour disputes; whistle blower; hostile work environment; and breach of employment contracts.
Representative Matters
Gender discrimination/harassment at a law enforcement agency
Retaliatory termination of a whistle-blower
Wage and hour dispute regarding employee's exempt status
Wrongful termination for allegedly failing to follow cash handling procedure
Hostile work environment for suggestive cartoons, drawings, and pictures
Alleged failure to pay prevailing wages on public project
Dispute related to age and gender discrimination for failure to promote
Retaliatory termination claims against employee for Department of Human Services filing
Wrongful termination based on complaints for failure to pay commission to salaried employee
Dispute related to improper employee classification
Discrimination and relations claims for taking FMLA leave
Sexual harassment and gender discrimination claims against a country club and the "good ole boys" environment
Discrimination and retaliation claims following employee's stint in a rehabilitation facility for drugs and alcohol
Misclassification of employees as independent contractors instead of employees to avoid providing benefits, including penalties for failure to pay wages
Wrongful termination and retaliation for refusing to prepare false financial statements
Failure to accommodate worker with service dog for stress-related illness
Wrongful termination in violation of public policy against property management firm doing building renovation without permits and not to code
Claims against dental assistant for allegedly fondling a patient
Defamation and wrongful termination claims against employer by jewelry salesperson following an accusation of theft
Wage and hour claims of six employees for overtime, meal breaks, rest breaks, and wrongful termination against employer
Sexual harassment and hostile work environment claims against employer using infra-red cameras capable of seeing through clothing
Internal wage dispute constituting a protected activity
Wage and hour claim for gratuities withheld by employer, including compensation for overtime and meal breaks
Failure to accommodate by not hiring interim worker
Dispute related to employer's failure to accommodate disabled employee
Gender discrimination amongst partners at law firm
Constructive termination by adding duties and lowering pay
Sexual harassment claims by six women against restaurant manager
Age and sex discrimination resulting from efforts to change corporate image
Wrongful termination following extensive medical leave
Completed Virtual ADR training conducted by the JAMS Institute, the training arm of JAMS.


Certifications

Certified Electronic Discovery Specialist, Association of Certified E-Discovery Specialists

Honors

Recognized as a Best Lawyer, Alternative Dispute Resolution Category, Best Lawyers in America, 2009-2014
California Top Neutral, Daily Journal, 2013
Recognized as one of the top 50 mediators in the state of California, Daily Journal, 2004

Memberships

Diplomat Member, California Academy of Distinguished Neutrals

Member, California State Bar, Los Angeles County Bar Association, and Lawyers-Pilots Bar

Professional Activities

Instrument rated licensed private pilot
A native of Denmark and fluent in both Danish and English, Mr. Boserup has taught mediation to hundreds of lawyers, judges, students, teachers, and mental health professionals in both the United States and Europe
Authored articles in both domestic and international publications on the benefits of mediation for attorneys and clients alike

ADR Profiles
Full-Time, Mediator in Private Practice, 1992-present
Private Law Practice, 1970-1992
J.D., Hastings College of the Law, 1969
B.S., Princeton University, 1966
Aviation
Business/Commercial
Class Action/Mass Tort
Construction Defect
Cybersecurity & Privacy
Insurance
Intellectual Property
Professional Liability
Special Master/Discovery Referee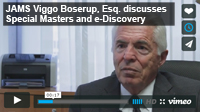 Disclaimer
This page is for general information purposes. JAMS makes no representations or warranties regarding its accuracy or completeness. Interested persons should conduct their own research regarding information on this website before deciding to use JAMS, including investigation and research of JAMS neutrals. See More