Biography
As a full time professional neutral since 1992, Viggo Boserup, Esq. has handled matters in all aspects of probate, trusts, and estates administration including income, estate, and gift tax issues. Mr. Boserup is adept at identifying and addressing delicate familial issues and dynamics closely related to probate disputes.
Mr. Boserup is an accomplished mediator who is widely respected by counsel for his impartiality in treating all parties fairly and his ability to quickly identify critical issues.
His exceptional listening skills and sensitivity toward each party make him particularly well suited for resolving emotionally charged, complex cases. These qualities are essential for matters involving the care and handling of the persons and assets of loved ones. Known for his fortitude in obtaining a productive result and going the extra mile, Mr. Boserup follows up with parties to effect a settlement, long after the mediation session is over.
Representative Matters
AB Trust beneficiary and trustee dispute involving accounting and removal for conflict of interest
Action among siblings for distribution of income from mother's conservatorship
Action for constructive trust on property where title not transferred to partner
Claim alleging undue influence
Claim for attorney fees due trustee counsel and trustee
Conflict of interest matter regarding attorney representation of multiple trust beneficiaries
Conflict of interest mediation between trustee and trust beneficiary for accounting and trustee removal
Dispute involving undue influence allegations and breach of contract
Dispute regarding trustee failure to diversify real estate investments during economic slump
Division of personal injury proceeds among survivors and estates
Matter involving claim against caregiver for return of property and instructions
Mediated agreement among beneficiaries regarding restructure of generation-skipping trusts while avoiding loss of generation-skipping tax benefits
Mediation of claim to set aside trust transfers related to estate and gift tax consequences of post-death settlements due to lack of capacity and undue influence
Mediation regarding death benefits payments in association with allegations of material misrepresentation in the application and/or lack of insurable interest.
Multiple will contests
Oral contract to make a will
Probate mediation regarding disposition of decedent's real property
Reimbursement claim by trustee regarding premature distribution
Resolution of dispute involving undue influence and forged changes to will duplicate
Restructuring of principal of trusts to settle claims among beneficiaries
Sale of estate assets to resolve claims against fiduciary
Will contest between niece and sons of decedent
Completed Virtual ADR training conducted by the JAMS Institute, the training arm of JAMS.


Certifications

Certified Electronic Discovery Specialist, Association of Certified E-Discovery Specialists

Honors

Recognized as a Best Lawyer, Alternative Dispute Resolution Category, Best Lawyers in America, 2009-2014
California Top Neutral, Daily Journal, 2013
Recognized as one of the top 50 mediators in the state of California, Daily Journal, 2004

Memberships

Diplomat Member, California Academy of Distinguished Neutrals

Member, California State Bar, Los Angeles County Bar Association, and Lawyers-Pilots Bar

Professional Activities

Instrument rated licensed private pilot
A native of Denmark and fluent in both Danish and English, Mr. Boserup has taught mediation to hundreds of lawyers, judges, students, teachers, and mental health professionals in both the United States and Europe
Authored articles in both domestic and international publications on the benefits of mediation for attorneys and clients alike

ADR Profiles
Full-Time, Mediator in Private Practice, 1992-present
Private Law Practice, 1970-1992
J.D., Hastings College of the Law, 1969
B.S., Princeton University, 1966
Aviation
Business/Commercial
Class Action/Mass Tort
Construction Defect
Cybersecurity & Privacy
Insurance
Intellectual Property
Professional Liability
Special Master/Discovery Referee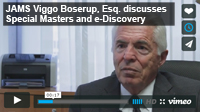 Disclaimer
This page is for general information purposes. JAMS makes no representations or warranties regarding its accuracy or completeness. Interested persons should conduct their own research regarding information on this website before deciding to use JAMS, including investigation and research of JAMS neutrals. See More