Biography
Viggo Boserup, Esq. has more than 20 years of experience resolving thousands of personal injury cases, earning a stellar reputation and deep level of trust among plaintiff, defense and insurance counsel.
Having handled claims involving premises liability, vehicular injury, construction site, product liability, and other personal injury issues, Mr. Boserup is able to drill down quickly on what matters most to the parties involved in a case and guide them toward settlement.
His extensive experience and deep understanding of medical and insurance issues make Mr. Boserup ideal for resolving timely and efficiently even the most contentious disputes.
Representative Matters
Automotive (More Than 500 Cases)


Auto/pedestrian accident involving elderly lady
Motorcycle/auto accident
Auto versus stalled truck, resulting explosion
Auto versus truck, severed ligaments/nerve damage
Leg, chest, and other injuries from failure to yield right-of-way to motorcyclist
Unsafe lane change forcing driver off road
Auto accident claimed to have caused multiple sclerosis
Auto accident, brain damage, and other injuries
High-speed, head-on collision
Injuries sustained by truck wheel flying into oncoming traffic
Hundreds of rear-end collisions

Construction


Construction worker injured by falling crane
Burn victims of exploding electric fuses at industrial plant
Brain Damaged victim of crane/truck accident
Construction site accident during demolition
Construction worker injured, multiple violations of OSHA regulations
Loading dock worker injured by forklift and roll-down door
Motorcyclist injured in construction zone
Injuries sustained at construction site explosion at petroleum tank farm
Serious injuries-fall from defective scaffolding
Worker injured on building scaffolding
Falling forklift paralyzes worker

Premises Liability


Brain damaged victim as a result of beating in retail establishment
Slip and fall in service bay of gas station
Sexual assault by security officer
Customer injured at shooting in restaurant/night club
Failure to administer appropriate medical treatment in convalescent home
Waiter injured by falling prop platform stage wall
Slip and fall on rain mats at entrance to apartment building/marble floor
Camper mauled by bear
Claim by shoppers against retailer for false imprisonment, assault
Propane tank explosion at baseball field, multiple burn victims
Slip and fall in restaurant due to poor lighting
Brain damage in utero caused by placental abruption when mother fell off airline stairway
Injuries sustained by student on school premises
Child injured by treadmill, third degree burns
Slip and fall in dark restaurant
Lack of hotel security, guest stabbed
Refinery explosion, death, and other critical injuries
Injuries sustained by blown plug from refinery fan header bank
Chest, facial, and nerve damage in front end collision
Injuries sustained from public utility lines' failure to ground
Injuries sustained from falling pipe in poorly constructed apartment
Severe head and neck injuries to older truck driver from rear-end collision
Pedestrian vs. motor vehicle, serious hip/leg injuries
Injuries sustained by exposure to sulfuric acid left in boiler
Serious injuries to face and mouth falling off school slide
Crushing injuries to both hands while operating lathe
Head trauma after falling backwards off school slide
Blind man injured at airport security checkpoint
Disfiguring burns from die-casting machine
Power punch press severs finger and injures hand
High-speed head-on motor vehicle injury, major injuries
Four-year-old child injured falling from the playground equipment
Paraplegic injured in catastrophic truck v. auto accident
Injuries sustained in roll-over accident-road rage
Severe injuries sustained by electrician when ladder slipped
Injuries sustained disembarking boat
Seriously injured claimants in roll-over collision avoiding oncoming traffic
Knee injury caused to vehicle owner by the repossession company
Negligent supervision of children at play in commercial gymnasium
Paraplegic allegedly in "Course and Scope" for landlord v. civil action
Amusement park operator, amputation resulting from unguarded ride machinery
Roll over injuries caused by defective door mechanism/lock, quadriplegic
Passenger injuries from commuter train and freight train collision
Child abuse by camp counselor
Injuries sustained in fight during soccer match
Multiple fractures/internal injuries in car rear ended by one semi truck into another
Slip and fall in gas station parking lot; broken wrist and knee
Head on collision caused by left turning vehicle-lower back injuries
Slip and fall in retail store; pre-existing injuries and prior slip and fall claims
Child with severed arm allegedly caused by defective car seat
Alleged dangerous condition in construction zone; multiple surgeries
Slip and fall in elevator-cervical spine injuries
Soccer camp participant injured by extended upright sprinkler head
Cervical fusions and other injuries sustained as passenger in taxicab roll over
Injuries sustained by construction worker falling through unguarded hole
Hotel guest inhales bug spray in room damaging throat and lung tissue
Pilot error-preflight inspection left rudder lock engaged, paraplegia and burns

Product Liability


Construction site burn victim using asphalt spreader
Faulty tank liners, property damage, and lost profits claim
Auto gas tank explosion upon rear-end impact
Pressure relief valve malfunction causing gas storage tank explosion
Chemical in circuit board causing out gassing
Airbag malfunction, failure to warn/inadequate warning
Faulty design of construction equipment, inadequate warning
Defective lumber damaging furniture manufacturer
Inadequate warning on paint compressor, carbon monoxide death
Defective playpen, strangulation death of infant
Exploding lubricant, failure to warn, third-degree burns
Exploding boiler, negligent design, failure to warn, business interruption
Negligent design, failure to warn, skip-loader
Defective design for failure to specify run-flat technology
Injuries to longshoreman by alleged defective design of yard tractor
Aerosol can explosion near barbecue
Defective design, failure to warn of box manufacturing machine
Closed head injury caused by defective gas spring in auto trunk
Stroke allegedly caused by herbal products
Defective hardware used in hip replacement
Hand injuries caused by lack of safety gates on plastic molding machinery
Hand injuries caused by lack of protection on start switch on lathe
Injuries sustained by infant with fingers caught in treadmill
Burns and other injuries from exploding chemicals in dye plant
Injuries sustained from wheel chair, failure to warn, negligent design
Power saw guard malfunction, lacerations of fingers
Failure of drug pump catheter leading to additional pain and suffering
Alleged defect in nail gun causing eye injury
Failure of seat belts and airbag in parked car in head-on collision
Roll over of SUV allegedly caused by tire detreading
Rollover in SUV, arm amputated when unlaminated passenger window broke
Improper installation of brakes resulting in serious personal injuries
Death case allegedly caused by initial unlatching of seat belt in SUV rollover
Rollover resulting in crushed roof on passenger cab of truck, quadriplegia
Defective transmission design causing loss of control of boat resulting in crash and leg amputation
Completed Virtual ADR training conducted by the JAMS Institute, the training arm of JAMS.


Certifications

Certified Electronic Discovery Specialist, Association of Certified E-Discovery Specialists

Honors

Recognized as a Best Lawyer, Alternative Dispute Resolution Category, Best Lawyers in America, 2009-2014
California Top Neutral, Daily Journal, 2013
Recognized as one of the top 50 mediators in the state of California, Daily Journal, 2004

Memberships

Diplomat Member, California Academy of Distinguished Neutrals

Member, California State Bar, Los Angeles County Bar Association, and Lawyers-Pilots Bar

Professional Activities

Instrument rated licensed private pilot
A native of Denmark and fluent in both Danish and English, Mr. Boserup has taught mediation to hundreds of lawyers, judges, students, teachers, and mental health professionals in both the United States and Europe
Authored articles in both domestic and international publications on the benefits of mediation for attorneys and clients alike

ADR Profiles
Full-Time, Mediator in Private Practice, 1992-present
Private Law Practice, 1970-1992
J.D., Hastings College of the Law, 1969
B.S., Princeton University, 1966
Aviation
Business/Commercial
Class Action/Mass Tort
Construction Defect
Cybersecurity & Privacy
Insurance
Intellectual Property
Professional Liability
Special Master/Discovery Referee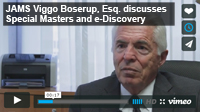 Disclaimer
This page is for general information purposes. JAMS makes no representations or warranties regarding its accuracy or completeness. Interested persons should conduct their own research regarding information on this website before deciding to use JAMS, including investigation and research of JAMS neutrals. See More