Biography
Viggo Boserup, Esq. is an accomplished neutral who is widely respected by counsel for his impartiality in treating all parties fairly and ability to quickly identify critical issues.
Mr. Boserup's real estate ADR experience includes landlord/tenant disputes; failure to disclose; property line; mold damage and injuries; original and re-opened earthquake claims; construction defect claims; breach of contract; breach of fiduciary duty; view obstructions; disputes between brokers, buyers, sellers, and investors; landslide; retrofit construction and other compensation in Fair Housing Act enforcement actions brought by the U.S. Department of Justice on behalf of the disabled; and hundreds of claims by tenants for illegal reduction in housing services under rent stabilization ordinance.
Representative Matters
Adjoining Property Issues

Property line dispute among residential neighbors
Mistaken boundary line re purchaser of house vs. seller of house
Mistaken boundary, adverse/prescriptive rights

Homeowner/Contractor

Damages to condo and common areas caused by leaking bathtub caulking
Multiple construction defect cases including projects involving more than 500 units
Multiple Fair Housing Act cases involving the negotiation of retrofit construction, victim compensation funds, and civil penalties

Joint Ownership Disputes

Multi-party family $17 million claim on jointly-owned real estate
Intra-family claims on loans and partnership interests in real estate
Withdrawal from family partnership and valuation of realty interests
Exchange of partnership interest among family members claimed at $2.8 million
$4.75 million dispute claiming failure to protect limited partner's interest in hotel project
$15 million dispute involving the conversion and re-allocation of partial and undivided interests in real estate properties held in trust to allow autonomy as to fully owned interests

Landlord/ Tenant

Racial discrimination claims in housing
Multiple landlord/tenant disputes re living conditions
Breach of lease re CAM charges following vacation of premises
Dangerous conditions injuring tenants
Claim by landlord for equipment removed by departing tenant
Claims by more than one hundred tenants re reduction in housing services constituting violation of rent stabilization ordinance
Multiple cases brought by the U.S. Department of Justice for violation of the Fair Housing Act regarding access for the disabled

Neighbors

Action vs. neighbors; trees blocking view
Damage caused by water intrusion from neighbor's sprinkler
Claim by one neighbor re: destruction of oak tree, loss of value

Sales Issues: Buyer/Seller/Broker

Seller/broker liability in sale of commercial business facility
Broker disputes over lease commissions
Claims against brokers for misrepresenting value of improved property
Issues of procuring cause-financing unavailable and change from lease to sale/lease
$1.2 million claim for breach of fiduciary duty by broker
Nondisclosure of noise/vibration of rooftop a/c compressor by seller of condo
Breach of contract, duty of good faith by broker/developer
Disputes involving sales of residence-failure to disclose history of water intrusion, landslide, lead paint, and asbestos
Right to return of deposit where contingencies not satisfied
Claim by seller of property vs. broker for error in property valuation
Breach of contract by sellers for sale of residence
Sale of apartment building re failure to disclose code violations
Alleged failure to disclose water intrusion by seller of residence
Buyer vs. broker for failure to investigate un-permitted improvements
Failure to disclose un-permitted addition by seller
Incorrect public records cited as source for lot/house size
Failure to disclose landslide/geologic defects
Failure of Seller to disclose roof not to code
Completed Virtual ADR training conducted by the JAMS Institute, the training arm of JAMS.


Certifications

Certified Electronic Discovery Specialist, Association of Certified E-Discovery Specialists

Honors

Recognized as a Best Lawyer, Alternative Dispute Resolution Category, Best Lawyers in America, 2009-2014
California Top Neutral, Daily Journal, 2013
Recognized as one of the top 50 mediators in the state of California, Daily Journal, 2004

Memberships

Diplomat Member, California Academy of Distinguished Neutrals

Member, California State Bar, Los Angeles County Bar Association, and Lawyers-Pilots Bar

Professional Activities

Instrument rated licensed private pilot
A native of Denmark and fluent in both Danish and English, Mr. Boserup has taught mediation to hundreds of lawyers, judges, students, teachers, and mental health professionals in both the United States and Europe
Authored articles in both domestic and international publications on the benefits of mediation for attorneys and clients alike

ADR Profiles
Full-Time, Mediator in Private Practice, 1992-present
Private Law Practice, 1970-1992
J.D., Hastings College of the Law, 1969
B.S., Princeton University, 1966
Aviation
Business/Commercial
Class Action/Mass Tort
Construction Defect
Cybersecurity & Privacy
Insurance
Intellectual Property
Professional Liability
Special Master/Discovery Referee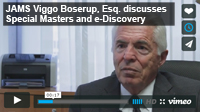 Disclaimer
This page is for general information purposes. JAMS makes no representations or warranties regarding its accuracy or completeness. Interested persons should conduct their own research regarding information on this website before deciding to use JAMS, including investigation and research of JAMS neutrals. See More