JAMS Panel Latinoamericano/Latin American Panel
We know your businesss. We know your culture. We speak your language.
JAMS neutrals are dedicated to resolving the most difficult cases. Among the industry's most experienced mediators and arbitrators, they have extensive international expertise in construction, energy, IP, cross-border agreements and other practice areas.
Neutrals in our Latin American Practice also bring deep culturallinguistic backgrounds that allow them to clearly understand what is said as well as what is not said.
In addition to our panel of bilingual neutrals, JAMS has dozens of panelists with conversational Spanish and Portuguese skills. More than 20 different languages are spoken in our Resolution Centers around the world, helping to ensure that every experience at JAMS meets your needs.
Local Solutions. Global Reach. TM
JAMS successfully resolves business and legal disputes by providing efficient, cost-effective and impartial ways of overcoming barriers at any stage of conflict. JAMS offers customized dispute resolution services locally and globally through a combination of industry-specific experience, first-class client service, top-notch facilities and highly trained panelists.


---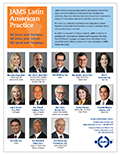 JAMS Latin American Panel