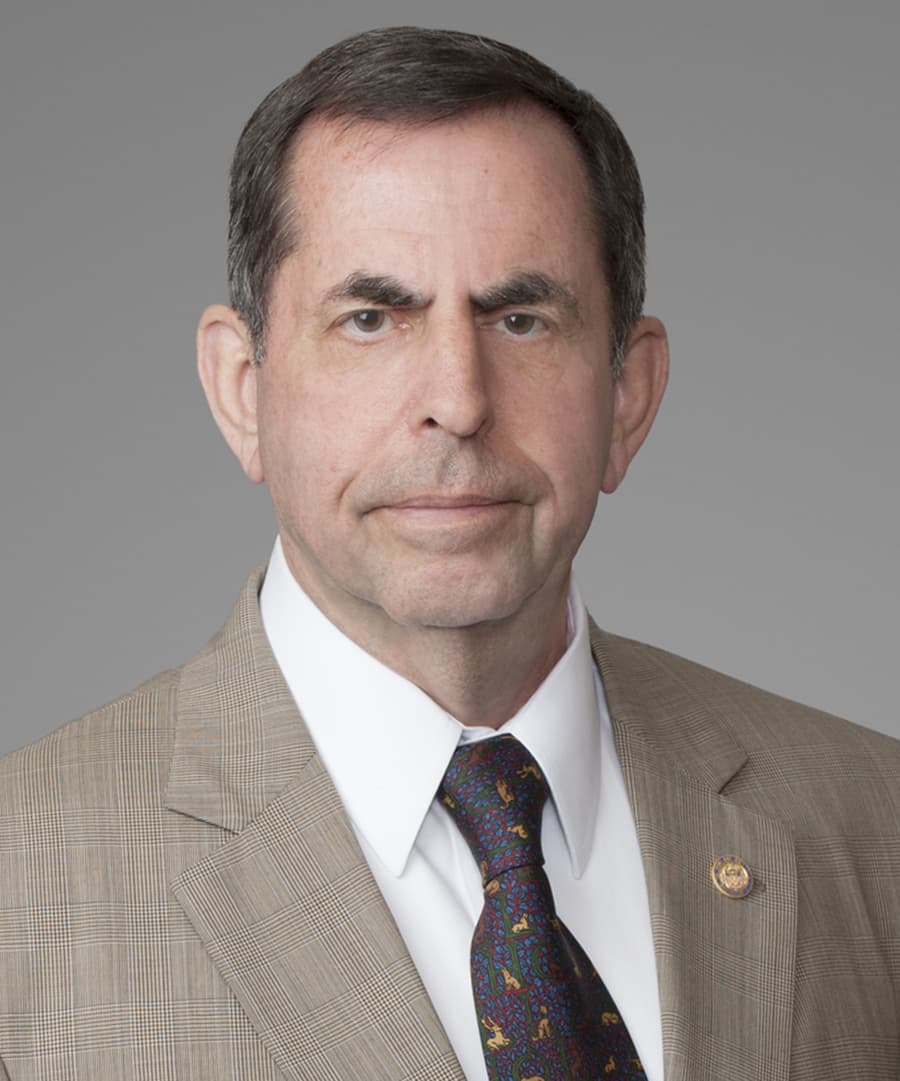 Frederic N. Smalkin, Retired Chief Judge, US District Court for the District of Maryland
General Biography
Practice Areas
Antitrust
Aviation
Banking
Business/Commercial
Class Action/Mass Tort
Construction
Employment
Environmental
Federal Judge
Health Care
Insurance
Intellectual Property
Maritime/Admiralty
Personal Injury/Torts
Professional Liability
Honors, Memberships, and Professional Activities
Background and Education
Hon. Frederic N. Smalkin (Ret.) served as a Chief U.S. District Judge for the District of Maryland, with 26 years of active judicial service as a U.S. Magistrate and District Judge. He has successfully mediated many hundreds of contentious cases, including maritime and aviation matters.
Since joining JAMS, he has undertaken arbitrations in numerous difficult commercial and consumer cases, and has rendered neutral case evaluations involving complex state and federal issues.
Judge Smalkin holds an LL.M. in maritime law from the University of London and is an FAA-rated pilot.
ADR Experience
Admiralty
Aviation
Business/Corporate
Broker Liability
Complex Litigation and Class Actions
Employment
Insurance
Medical Malpractice
Legal Malpractice
Personal Injury
Products Liability
Derivative Actions
Representative Matters
Since joining JAMS, in addition to conducting arbitrations, neutral evaluations, and participating in mock trial panels, in his first 18 months of JAMS affiliation, Judge Smalkin has mediated a wide variety of cases, each one of which was successfully resolved, including:
Major shipbuilding contract dispute
CEO discharge disputes
Transportation cases arising on land, at sea, and in the air and running the gamut from multiple deaths to damaged goods
Highly complex D&O and bankruptcy matters
Employment discrimination claims
Disputes arising from LLC discord
He has also been selected for neutral analysis and arbitration work in a wide variety of cases in areas including:
Commercial contract disputes
Complex corporate financing issues
Consumer claims
Employment disputes
Evaluation of appellate arguments in a number of federal and state cases
Participating as a "judge" in preparatory appellate arguments and mock trials of several major pharmaceutical patent matters
Pre-filing reviews of contemplated litigation, including review of a major class action for compliance with Rule 11
Shareholder derivative and direct claims
Whistleblower retaliation
Representative Opinions
As a U.S. District Judge for the District of Maryland, Judge Smalkin has authored over 350 published opinions including the following:
Admiralty

AccaiSpeciali Terni USA v. M/V BERANE, 181 F.Supp. 2d 458 (2002), 182 F.Supp. 2d 503 (2002)
Hawksphere Shipping Co. v. 65 Bundles of Secondary Aluminum, 178 F.Supp. 2d 486 (2001)
Compania Sud Americana de Vapores, S.A., v. I.T.O. Group, 940 F.Supp. 855 (1996)
Ryan-Walsh v. M/V Ocean Trader, 930 F.Supp. 210 (1996)

Antitrust

Berlyn, Inc. v. Gazette Newspapers, 223 F.Supp. 2d 718 (2002)

Aviation

Walsh v. Avalon Aviation, Inc., 118 F.Supp. 2d 675 (2000), 125 F.Supp. 2d 726 (2001)
Powell v. Erb, 78 F. Supp. 2d 496 (1999)
Old Republic Ins. Co. v. Gormley, 77 F.Supp. 2d 705 (1999)

Banking

Harrington v. McNabb, 163 F.Supp. 2d 583 (2001)
Powers v. American Express Fin. Advisors, Inc., 82 F.Supp. 2d 448 (2000)
Northwestern Nat'l. Life Ins. Co. v. Laurel Fed. Sav. Bank, 979 F.Supp. 354, 359 (1996)

Construction Law

Aetna Cas. & Sur. Co. v. George Hyman Constr. Co., 1995 U.S. Dist. Lexis 22094 (1995)

Derivative Actions

Raab v. General Physics Corp., 1993 U.S. Dist. Lexis 17443 (1993)

Employment

Lewis v. Forest Pharms., Inc., 217 F.Supp. 2d 638 (2002)

Environment

Sherwin-Williams Co. v. ARTRA Group, 125 F.Supp. 2d 739 (2001)

ERISA

Deaton v. Cross, 184 F.Supp. 2d 441 (2002)
Md. Elec. Ind. Health Fund v. Levitt, 155 F.Supp. 2d 482 (2001)
In re Paris, 44 F.Supp. 2d 747 (1999)

Evidence

Wilson v. Clancy, 747 F.Supp. 1154 (D.Md. 1990)

False Claims Act

United States v. Southern Md. Home Health Servs., 95 F.Supp. 2d 465 (2000)

FLSA

Herman v. Mid-Atlantic Installation Servs., 164 F. Supp.2d 667 (2000)

Insurance Law

USAA Cas. Ins. Co. v. Mummert, 213 F.Supp. 2d 538 (2002)
Roy v. Northwestern Nat'l. Life Ins. Co., 974 F.Supp. 508 (1997)

Intellectual Property

Lowry's Reports, Inc. v. Legg Mason, Inc., 186 F.Supp. 2d 592 (2002)
Takeall v. Pepsico, Inc., 809 F.Supp. 19 (1992)

Internet Law

Fare Deals, Ltd. V. World Choice Travel.com, 180 F.Supp. 2d 678 (2001)

Legal Malpractice

Royal Ins. Co. of America v. Miles & Stockbridge, P.C., 138 F.Supp. 2d 695 (2001)
Riordan v. Jones, 793 F.Supp. 650 (1992)

Medical Malpractice

Roberts v. Fleury, 987 F.Supp. 940 (1997)

Police Malpractice

Moore v. Winer, 190 F.Supp. 2d 804 (2002)

Practice of Medicine

Freilich v. Bd. Of Dirs. Of Upper Chesapeake Health, Inc., 142 F.Supp. 2d 679 (2001)

Products Liability

Brown v. Lyon Ladder & Scaffolding Co., 2000 U.S. Dist. Lexis 20568 (2000)
Stalnaker v. GM Corporation, 972 F.Supp. 335 (1996)
Moser v. Agway Petroleum Corp., 866 F.Supp. 262 (1994)
Giraldi v. Sears, Roebuck & Co., 687 F.Supp. 987 (1988)
Higgins v. E.I. DuPont de Nemours & Co., 671 F.Supp. 1063 (1987)

Railroads

Bookhultz v. Maryland M. R. Co., 688 F.Supp. 1061 (1988)

Religious Liberty

Keeler v. Mayor of Cumberland, 928 F.Supp. 591 (1996)

Secured Financing

Equitable Bank, N.A. v. Ford Motor Co., 138 F.R.D. 455 (1990)

Other Torts

Fox v. Encounters, Int'l., 318 F.Supp. 2d. 279 (2002) (fraud)
Hopkins v. Lapchick, 981 F.Supp. 901 (1997) (defamation)
Honors, Memberships, and Professional Activities
Completed Virtual ADR training conducted by the JAMS Institute, the training arm of JAMS
Author of "Judicial Control of Juries and Just Results in the Common Law System: A Historical Perspective," in Jus Gentium, Vol. 46: General Principles of Law - The Role of the Judiciary (Springer, 2015)
Chairman, Maryland Commission on Law Enforcement Body Cameras (By appointment of the Governor, 2015)
Awarded the Saul Ewing Prize for excellence in teaching transactional law, 2009
James A. May Award, by vote of the Student Bar Association, for excellence in teaching and mentoring, 2007
Adjunct Professor, teaching commercial law, sales, business organizations, estates and trusts, English legal history, and evidence, University of Baltimore School of Law
Member of the Bars of the U.S. District Court for Maryland, U.S. Court of Appeals for the Fourth Circuit, U.S. Supreme Court, U.S. Court of Appeals for the Armed Forces, and the Court of Appeals of Maryland
Member, (Royal) Chartered Institute of Arbitrators
Member, Maritime Law Association (U.S.)
Member, American Law Institute
Former Chair of the Maryland Governor's Emergency Management Advisory Council
Co-authored a law review article with his son, "The Market For Justice, The 'Litigation Explosion,' and The 'Verdict Bubble': A Closer Look At Vanishing Trials," 2005 Fed. Cts. L. Rev. 8, August 2005
Selected Teaching, Lectures, Panel Presentations
Taught by invitation for many institutions, bar associations, and professional organizations, including the Federal Judicial Center, Maryland Judicial Institute, Maryland Institute for the Professional Education of Lawyers, Foundation for Research on Economics and the Environment, the FBI Academy, and the Trial Advocacy Institute of the University of Virginia Law School, which presented him with the William J. Brennan, Jr., faculty award
Senior Judicial Fellow and Lecturer at the University of Maryland School of Law, where he was voted Teacher of the Year and, twice, Adjunct Faculty Member of the Year
Former member of the practitioner faculties of the Johns Hopkins University Carey School of Business and the Johns Hopkins School of Medicine, where he was selected "Best of Hopkins" instructor in the MBA in Medical Services Management Program. He instructs first and second year Johns Hopkins medical students in legal issues in the practice of medicine.
By invitation, he has been the principal presenter at a Grand Rounds in Internal Medicine for the Department of Medicine of the Johns Hopkins Medical Institutions, as well as at a Grand Rounds for the Department of Gynecology and Obstetrics at Hopkins and a Grand Rounds for the Franklin Square Hospital Department of Obstetrics and Gynecology
Presented a paper on the history of the jury system in England, by invitation, at the University of Parma (Italy)
Background and Education
Judge, U.S. District Court, District of Maryland, December (Chief Judge, October 2001-January 2003)
U.S. Magistrate (now Magistrate Judge)
Private law practice (solo)
Commissioned Second Lieutenant and honorably discharged as Captain, Regular Army Ordnance Corps; Assistant to the General Counsel of the Army and Recorder of the Army Contract Adjustment Board in the Pentagon; currently, Brigadier General in the Maryland Military Department, serving with the Maryland Defense Force ("State Guard"). Decorations include the Army Meritorious Service Medal (Oak Leaf Cluster) and Maryland Distinguished Service Cross
Law Clerk to the late Hon. Edward S. Northrop, then Chief Judge of the U.S. District Court, District of Maryland
LL.M. in Maritime Law, University of London
J.D., with honors, University of Maryland School of Law (Order of the Coif graduated first in the class)
B.A., Johns Hopkins University (Phi Beta Kappa, General Honors, and Distinguished Military Graduate)
Holds FAA ratings as instrument pilot and ground instructor
"[We] would like to thank you for all your assistance and guidance throughout the mediation with [a maritime carrier], which led to the settlement agreement, reached yesterday. We do consider the outcome very positive and fair and also, a great relief to now be able to put this behind us and concentrate on our business moving forward. We believe the result of the mediation was certainly a great achievement, and so thank you for your very valued efforts in making that happen."

- President of an international commodities and minerals shipper
"I can recommend without reservation Judge Fred Smalkin as a mediator for any substantial or complex case. He brings his years on the bench, his native intelligence, his energy and tenacity to every mediation. If the case can in any way be resolved, it will be. He is tough and tireless. He resolved a very complex, intractable multi-party dispute by coming well prepared and having a remarkable understanding of the key issues, strengths, weaknesses and dynamics of each party's position."

- Senior partner in a prominent international law firm
"This is a personal note of thanks for your successful efforts to bring about a fair and efficient mediated resolution of a very difficult case. Thanks for your persistence and patience. We will be sure to call upon you again when the need arises."

- Comment by Senior Partner, Major East Coast Law Firm
"As a veteran employment attorney who represents both fortune 500 companies and individual plaintiffs, I have attended numerous private mediations with respected mediators and former judges. I can say, without any reservation, that Frederic N. Smalkin (Ret. USDC MD Judge) is just unbelievably great as a mediator. In my mediation with Judge Smalkin I represented a plaintiff in a sex harassment case against a national company. Defense counsel had recommended Judge Smalkin. I cautiously agreed, since I had heard of his reputation as a defense oriented judge. Nothing could be furthest from the truth. Judge Smalkin is simply an incredibly intelligent, tough, no nonsense, mediator. Smalkin is exactly what I look for in a mediator. He is direct, effective, and does not waste any time. Judge Smalkin had the unique ability to truly listen to my client and he made her feel safe and important. If you happen to land Judge Smalkin as a mediator, consider yourself extremely fortunate."

- Comment by Senior Managing Partner at a prominent employment law firm
"Judge Smalkin was extremely well-prepared for my arbitration, both as to the facts and on the law. He is flexible but firm in scheduling and has an excellent sense of what is and is not appropriate in terms of discovery and briefing. Judge Smalkin is adept at providing the parties the opportunity to be heard, but at the same time keeping them on point by directing as to what facts and issues are most important to his decision-making. He has an even-keeled personality and is unbiased and fair, which combined with his extraordinary intellect, make him an excellent arbitrator. I have been involved in dozens of arbitrations, and rank Judge Smalkin as one of the very best."

- Comment by Principal Attorney at a prominent Baltimore law firm
"I have used Judge Smalkin on two mediations, and he has been terrific. Both cases settled, despite serious obstacles. In the first case, Judge Smalkin was able to mediate a legal malpractice claim, and my client and I were very satisfied with his work. In the second, the claim was much larger and more complicated, and involved many attorneys and many parties. Judge Smalkin was both dogged and creative, and was able to shepherd home a settlement in very difficult circumstances. I was very appreciative of his hard work, and I certainly recommend him without reservation."
"The complex nature of this litigation (and the related cases pending in other jurisdictions) and the animosity among the parties made settlement very difficult. Without [Judge Smalkin's] intervention it is unlikely that a settlement ever would have occurred. He is to be congratulated not only for his consummate legal skills, but his willingness to persevere under difficult circumstances and his patience and calm demeanor during stormy confrontations."
"On a level of one to ten, with ten being the highest, Judge Smalkin receives an eleven. We were aware that Judge Smalkin was quite knowledgeable in the area of maritime law and that was part of the reason why the parties selected him to mediate this case. His knowledge and ability exceeded our expectations. We are very happy that we selected him."
"I came across your card today and was reminded of your help to us in resolving the issue our Company had with... You performed an important role and you did it efficiently. While we were not happy to have to pay a settlement, we are happy that it's behind us, and we believe it was fair to all. Thanks again for your help, and best wishes to you."

- CEO of a major corporation
Home Office
HOME OFFICE
Available to Travel
AVAILABLE TO TRAVEL
New York, New York
NY Times Building, 620 8th Ave, 34th Floor, New York, NY 10018
View Location Details
Philadelphia, Pennsylvania
1717 Arch Street, Suite 3810, Philadelphia, PA 19103
View Location Details
Disclaimer
This page is for general information purposes. JAMS makes no representations or warranties regarding its accuracy or completeness. Interested persons should conduct their own research regarding information on this website before deciding to use JAMS, including investigation and research of JAMS neutrals. See More
Search our global directory of mediators, arbitrators and ADR professionals.
FIND A NEUTRAL