Biography
Viggo Boserup, Esq. is a Certified Electronic Discovery Specialist and an accomplished neutral respected by counsel for his impartiality and ability to quickly identify critical issues. His exceptional listening skills and sensitivity toward each party make him particularly well-suited for resolving mediations of emotionally charged, complex cases. Known for his fortitude in obtaining a productive result and going the extra mile, Mr. Boserup follows up with parties to effect a settlement long after the mediation session is over.
Mr. Boserup is highly experienced in healthcare issues involving medical necessity, reasonable value, coding, Medicare pre-emption, networks, post-stabilization and a variety of other issues arising between payers and providers. He is a member of the California Society of Healthcare Attorneys and the Health Law Section of the ABA.
Representative Matters
Claims by ER physicians for reimbursement based on Usual, Customary and Reasonable (UCR) rates
Claims by non-participating physicians based on varying interpretations of Children's Hospital v. Blue Cross
Claims based on Business and Professions Code 17200 where parties are neither competitors nor customers
Dispute involving claims under Medicare Advantage plans preempted by Medicare & Mobilization Act of 2003
Matter related to alleged agreements by payers to pay billed charges during coverage verification calls
Claims arising from termination of carrier of in-network physicians due to referrals to non-participating ambulatory centers
ERISA claims alleging no exhaustion of administrative remedies
Appeals of benefit claims filed late-benefits negotiated between provider and HMO
Claim by hospital regarding patient who was no longer a member of HMO
Claims by hospital for payment of maternity benefits where no maternity benefit provided by HMO contract
Hospital vs. HMO regarding patient billings-unpaid and underpaid claims
Dispute over application of case rate versus per diem after reaching threshold amount
Dispute regarding hospital rates with HMO regarding per diem clause
HMO claims offset for overpaid claims against claims by provider for unpaid benefits
Hospital claims against HMO barred by statute of limitations
Hospital claims regarding UB 92's filed timely
Hospital versus carrier regarding per diems
Multiple claims by hospital where no appeals filed per required procedure
Reorganization of physician-owned hospital
Class action by non-exclusive physicians against medical group for discounting fees based on non-exclusivity
Patient vs. IPA for negligent utilization of review/referral approval
Buyers of hospital vs. sellers for return of retained Medicare and Medicaid funds generated after purchase
Hospitals vs. HMO for failure to pay claims timely and for diverting patients to other facilities
Claim for excess payments required to be made to non-contracting facilities
Surgical center vs. health plan for reimbursements on 100+ patients
Medication provider vs. carrier for usual and customary fees
Multiple claims of surgical center vs. health plan
Claim for fees for consulting services rendered in obtaining Medicare reimbursements for national hospital chain and skilled nursing facilities
Completed Virtual ADR training conducted by the JAMS Institute, the training arm of JAMS.


Certifications

Certified Electronic Discovery Specialist, Association of Certified E-Discovery Specialists

Honors

Recognized as a Best Lawyer, Alternative Dispute Resolution Category, Best Lawyers in America, 2009-2014
California Top Neutral, Daily Journal, 2013
Recognized as one of the top 50 mediators in the state of California, Daily Journal, 2004

Memberships

Diplomat Member, California Academy of Distinguished Neutrals

Member, California State Bar, Los Angeles County Bar Association, and Lawyers-Pilots Bar

Professional Activities

Instrument rated licensed private pilot
A native of Denmark and fluent in both Danish and English, Mr. Boserup has taught mediation to hundreds of lawyers, judges, students, teachers, and mental health professionals in both the United States and Europe
Authored articles in both domestic and international publications on the benefits of mediation for attorneys and clients alike

ADR Profiles
Full-Time, Mediator in Private Practice, 1992-present
Private Law Practice, 1970-1992
J.D., Hastings College of the Law, 1969
B.S., Princeton University, 1966
Aviation
Business/Commercial
Class Action/Mass Tort
Construction Defect
Cybersecurity & Privacy
Insurance
Intellectual Property
Professional Liability
Special Master/Discovery Referee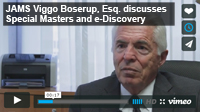 Disclaimer
This page is for general information purposes. JAMS makes no representations or warranties regarding its accuracy or completeness. Interested persons should conduct their own research regarding information on this website before deciding to use JAMS, including investigation and research of JAMS neutrals. See More