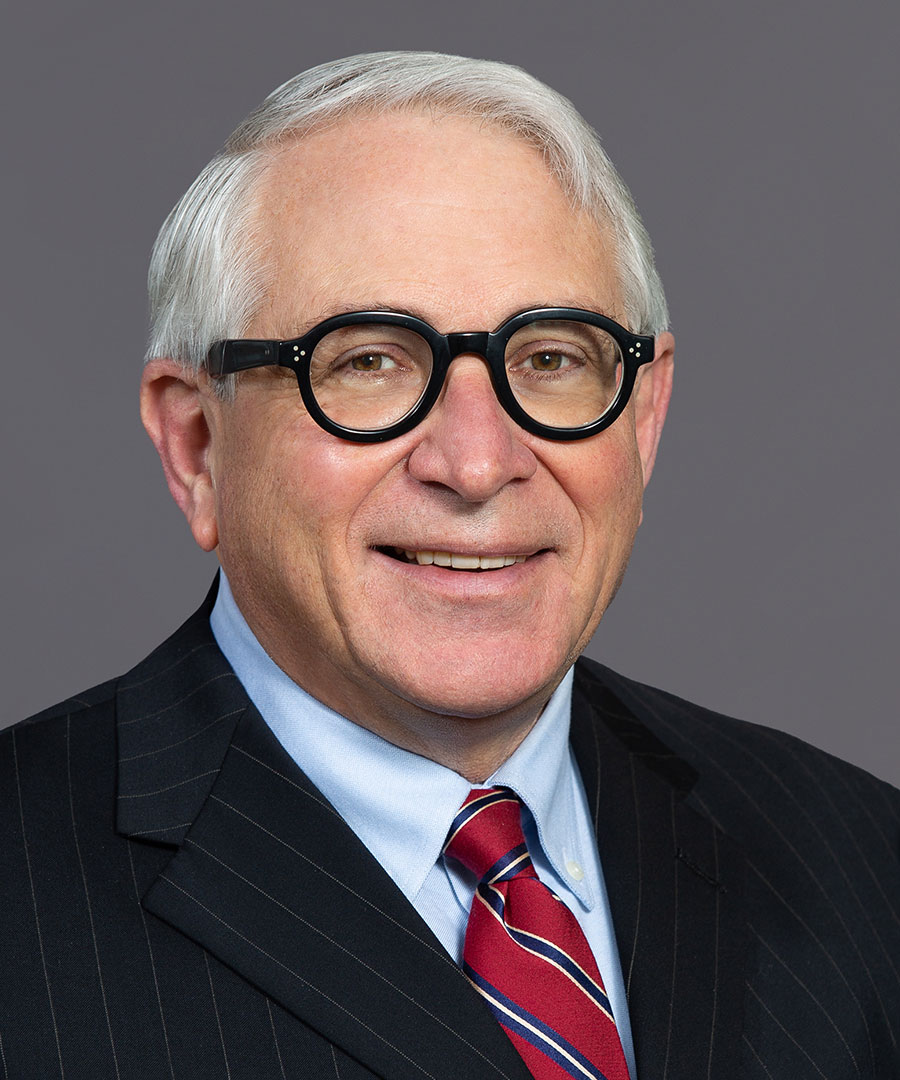 General Biography
Practice Areas
Agribusiness & Food Law
Business & Commercial
Class Action & Mass Tort
Employment Law
Insurance
Personal Injury/Torts
Professional Liability
Honors, Memberships, and Professional Activities
Background and Education
Judge Abrams joins JAMS in Minneapolis after a distinguished 14-year career as a Minnesota district court judge and 27 years as a successful lawyer with a national practice based in Minneapolis. His experience as a trial lawyer and judge has given him unique insights and allow him to serve as a neutral in all types of cases. He has also received training and served as an ADR neutral under Minnesota rules.

As a judge, Judge Abrams was appointed to many of the most complicated and high-profile cases in Minnesota state courts, including many multidistrict assignments. These cases have involved hundreds of mechanic's liens in failed housing developments and high-rises, construction defects resulting in tens of millions of dollars in claimed damages and complicated environmental cases concerning the regulation of solid waste landfills.

As a lawyer, Judge Abrams served as National Counsel for a mid-sized property and casualty insurer handling claims and coverage, as well as significant policyholder litigation.  He was Counsel for many foreign insurers in the London Market and elsewhere dealing with multiyear, multi-layer complex cases. He tried as lead counsel some of the largest and most contentious coverage litigation actually taken to trial.

As a national leader for the improvement of civil justice, complex case management, court technology and e-discovery, Judge Abrams has presented on over 100 occasions to groups in the U.S. and abroad on these and related subjects. He continues to author texts on insurance coverage for business torts and e-discovery, and he wrote a bench book for business courts published by the American Bar Association. He is an Honorary Fellow in The American College of Coverage Counsel and a member of the National Board of the American Board of Trial Advocates.
Representative Matters
Complex and Multidistrict Judicial Assignments 
BFI Waste Management Systems, Inc. v. Laura Bishop in her capacity as Commissioner of the Minnesota Pollution Control Agency, 19HA-CV17-1629 (Resolved statewide action involving multiple waste haulers)
State v. Bernard, 859 N.W.2d 762 (Minn. 2015), rehearing den. (2015), cert. granted (U.S. Dec. 11, 2015); decided with Birchfield v. North Dakota, 579 US 141 (2016)
City of West St. Paul v. Larry A. Dimmen, et al., 19HA-CV-13-4929, Dakota County District Court (Resolved condemnation action involving hundreds of properties)
In re: Minnesota Intoxylizer 5000EN Source Code Litigation (Minn. Sup. Ct. Order A09-2109, January 11, 2010); affirmed 816 N.W.2d 525 (Minn. 2012) (Resolved consolidation of over 4,000 cases)
In re: M.W. Johnson Construction, Inc. Mechanic's Lien Foreclosure Litigation (Minn. Sup. Ct. Order A09-454, March 31, 2009) (Resolved actions involving hundreds of competing mechanic's, supplier and lender liens)
In re: Parish Marketing and Development Corporation Mechanic's Lien Foreclosure Litigation (Minn. Sup. Ct. Order A08-120, February 14, 2008) (Resolved action involving hundreds of competing mechanic's, supplier and lender liens)
Private Practice Experience
 As an advocate in private practice, Judge Abrams handled over 80 jury trials for both plaintiffs and defendants, including:
Trials and appeals in state and federal courts, including the Minnesota Court of Appeals, Minnesota Supreme Court and Eighth Circuit Court of Appeals
Mass torts experience involving asbestos, diethylstilbestrol (DES), the World Trade Center and silicone breast implants
Products liability trial experience
Environmental liability case experience
Complex commercial case trial experience
Expert witness work on the reasonable value of attorneys' fees
Professional liability matters, including medical malpractice and legal and accounting malpractice
Coverage and insurance bad faith trial experience
U.S. and foreign arbitration trial experience
Negligence actions and Federal Employers Liability Act (FELA) and Jones Act matters
Honors, Memberships, and Professional Activities
Memberships and Affiliations
Judicial Leadership
Current
Civility, Professionalism and Excellence Award, Minnesota Chapter, American Board of Trial Advocates (ABOTA
Member, National Board of Directors, American Board of Trial Advocates (ABOTA)
Member and Judicial Advisor, Working Group 1, The Sedona Conference
Vice President, American College of Business Court Judges
Honorary Fellow, American College of Coverage Counsel
Member, American Bar Association (ABA)
Past
Trial Judge of the Year, Minnesota Chapter, ABOTA, 2019
Member, Board of Directors, National Center for State Courts, 2015–2021
Judicial Member, Minnesota Court Technology Advisory Team, 2020–2022
Judicial Manager, Expedited Litigation Track Pilot Project, Dakota County, 2014–2022
Member, Executive Management Committee, First Judicial District, 2008–2022
Sub-Committee Chair for Rules and Litigation, Conference of Chief Justices, Civil Justice Initiative, National Center for State Courts, 2014–2018
Member, Board of Directors, Minnesota District Judges Association, 2009–2015
Member, Minnesota Civil Rules Advisory Committee, 2013–2019
Judicial Representative, Business Law Section, ABA, 2014–2016
Bar Admissions
Minnesota, 1981
Wisconsin, 1985 (inactive)
Previous admissions to multiple federal courts, both trial and appellate
Qualified ADR neutral, Minnesota Supreme Court
Speaker on a variety of ADR topics before professional organizations, including:

"Tailoring the dispute resolution mechanism to the dispute", (American College of Coverage Counsel), May 2023
"Do You Really Know What Hat You're Wearing? Identifying & Protecting Against Ethis Faux Pas and (Gasp!) The Loss of Privilege Disputes (2.0)", (American College of Coverage Counsel), May 2022
"A Guide to E-Discovery in Artificial Intelligence," Law and Forensics (webinar), November 2021
"Caseflow Management, Civil Cases for Judges in Japan," National Center for State Courts (online exchange), August 2021
"The Courts as a Service—Not a Building: How Technology Must Be at the Forefront of Court Modernization," National Association of Court Managers Annual Meeting, San Diego, July 2021
"Caseflow Management: The Next Generation," National Center for State Courts (webinar moderator), July 2021
"Utilizing ADR, ODR and Court Litigation to Resolve Disputes in the Era of COVID-19," ABA Business Law Section (webinar), September 2020
"Access to Justice in Light of COVID-19," ABA Business Law Section Showcase Program (webinar), September 2020
"Business Litigation Grab Bag," National Center for State Courts (webinar), September 2020
"Labor and Employment Liability," National Center for State Courts (webinar moderator), August 2020
"Jury Trials in the Age of a Pandemic," American Board of Trial Advocates (webinar), July 2020
Korean Court Scholar Observation Program, May 2020 and February 2022
"Online Dispute Resolution and You," ABA Business Law Section (webinar), April 2020
"Civil Legal System Modernization: Is Online Dispute Resolution Making a Difference in Access to Justice?"; United Nations Office on Drugs and Crime; Judicial Integrity Initiative; Doha, Qatar; February 2020
Selected Publications
"ABOTA Continues longstanding efforts to preserve, protect Judicial independence from internal and external threats" (PR Newswire), June 2023
"Managing Electronic Discovery in Small Cases" (The Sedona Conference Primer), May 2023
"E-Discovery Desk Book" (chapter author), Minnesota CLE, 2023
"Business Disputes: Claims and Remedies" (chapter author), Minnesota CLE, 2023
"Courts Online: The Future Is Now?" (The Court Administrator), 2022
"Guidance for Conducting Civil Jury Trials During the COVID-19 Pandemic" (white paper), ABOTA, June 2020
"The Business Courts Benchbook: Procedures and Best Practices in Business and Commercial Cases," (contributing author), ABA, 2019
"Global Judicial Integrity Network: Applying the Bangalore Principles to Court Administration" (podcast), United Nations Office on Drugs and Crime, 2018
"An Electronic Discovery Primer," 40 Wm. Mitchell L. Rev. 427, 2014 (contributing
author)
"Failure to Allocate? Nobody Pays: Using Miller-Shugart Settlements In Cases of Questionable Insurance Coverage," 4 Wm. Mitchell J. L. & Practice 2, 2010
Background and Education
Judge, Minnesota District Court, 2008–2022
Mentor (part-time), University of St. Thomas, 2010–present
Adjunct Associate Professor of Law, William Mitchell College of Law (Advocacy), 2014
Adjunct Associate Professor of Law, University of Minnesota (Complex Litigation), 2008–2014
Abrams & Smith, P.A., 1997–2008
Austin & Abrams, P.A., 1988–1996
Austin & Roth & Associates, 1982–1987
J.D., William Mitchell College of Law, 1981
B.A., Beloit College, 1977
"Judge Abrams will be an excellent addition to JAMS' alternative dispute resolution roster. Having practiced in front of him many times, I know that he knows the ins and outs of complex civil litigation and how to get cases resolved. He will be a valuable asset in affording parties a knowledgeable and trusted neutral."
"I had cases against Jerry Abrams for 20 years before he went on the bench. Without a doubt, he was the smartest and hardest-working adversary that I had. At the same time, he was friendly, cordial and accommodating in all respects—quite a combination. He is a wonderful man, and I am confident he will be able to resolve even the most difficult disputes."
"Judge Abrams is a highly respected jurist who is experienced in a wide variety of civil matters both as a practicing lawyer and in his years as a highly regarded member of the Minnesota district court bench. He has the knowledge, expertise and patience to assist parties in resolving even the most complex disputes. He is a fine addition to the JAMS panel of neutrals."
"Judge Abrams brings a unique perspective and a diverse set of tools to the resolution table—a stellar career as a litigator handling some of the most complex cases of the day, followed by an equally distinguished career on the bench. This, together with an approachable demeanor and affable personality, makes him exceptionally suited to his new role as an eminent neutral. His services will rightfully be in high demand. "
"I chuckled when I learned of Jerry's position with JAMS because I knew when he left the bench and began a mediation practice that there would be no work for other mediators! Jerry is a great guy, is smart and knows civil litigation, and he will serve all parties to disputes exceedingly well."
"Judge Abrams' intellectual rigor and patience, along with his practical approach to resolving complex civil cases, make him an ideal addition to JAMS. As a former civil trial lawyer, Judge Abrams has a keen sense of what it takes to successfully try cases, which is, in part, what makes him such an effective mediator."
"Judge Abrams got involved shortly before trial to discuss each party's settlement position. He was able to tactfully and with empathy close the settlement gap between the parties. He was willing to put in a little extra time to speak with the parties to ensure their concerns were heard, while also balancing the weaknesses in the case."
Home Office
HOME OFFICE
Minneapolis, Minnesota
SPS Tower 333 S 7th St Suite 2550 Minneapolis, MN 55402
View Location Details
Disclaimer
This page is for general information purposes. JAMS makes no representations or warranties regarding its accuracy or completeness. Interested persons should conduct their own research regarding information on this website before deciding to use JAMS, including investigation and research of JAMS neutrals. See More
Search our global directory of mediators, arbitrators and ADR professionals.
FIND A NEUTRAL