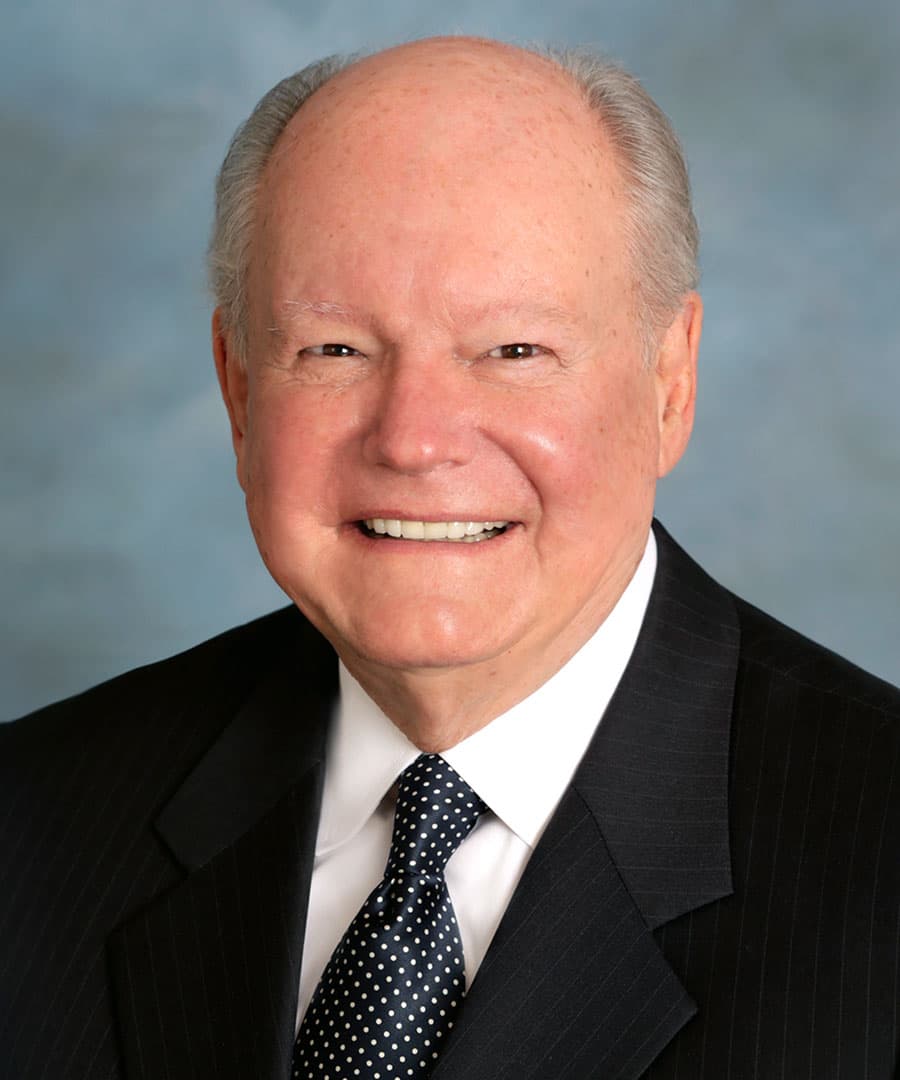 Hon. Richard D. Aldrich (Ret.)
General Biography
Practice Areas
Appellate
Business/Commercial
Class Action and Mass Tort
Construction Defect
Construction
Employment
Insurance
Intellectual Property
Personal Injury/Torts
Professional Liability
Real Property
Honors, Memberships, and Professional Activities
Background and Education
Hon. Richard D. Aldrich (Ret.) joins JAMS following his distinguished 25-year judicial career, most recently serving as an Associate Justice on the California Court of Appeal, Second District. Previously, he served on the Ventura County Superior Court. During his time on the bench, Justice Aldrich authored many significant opinions and made major contributions to the advancement of ADR. He was also instrumental in defining processes for complex case management.
In private practice, Justice Aldrich practiced civil trial law and tried cases in diverse areas, including medical malpractice, legal malpractice and complex civil cases, including class actions, products liability and catastrophic personal injury. He successfully handled disputes involving real property, construction defect and toxic torts. Justice Aldrich has had extensive experience in insurance coverage disputes and fair claims-handling practices. As a lawyer, he handled numerous insurance bad-faith claims.
Justice Aldrich frequently speaks on ADR-related topics and has nearly 20 years on the faculty of the B.E. Witkin California Judicial College, teaching Civil Settlement Techniques. He has also taught seminars on best practices in handling insurance claims.
ADR Experience and Qualifications
Participated as settlement officer in hundreds of matters
Instrumental in inaugurating Ventura County's multi-door courthouse early dispute resolution program
Served as chair of the Alternative Dispute Resolution Committee for the Ventura courts
Instrumental in inaugurating the Second District Appellate Settlement Conference and Mediation Program
Chaired the Complex Litigation Task Force for the California Judicial Council, which published "Deskbook on the Management of Complex Civil Cases"
Representative Matters
Business/Commercial

Numerous breach of contract matters
Partnership/joint venture disputes
Unfair competition matters under Business and Professions Code Section 17200
Statutory claims concerning the validity of the Hotel Service Charge Reform Ordinance enacted by the City of Los Angeles

Class Action and Mass Tort

Handled numerous appeals involving class actions where the main issue was whether the trial court erred in granting or denying certification of the class. The underlying cases involved many issues, from wage and hour employment to insurance coverage.

Construction Defect

Homeowners' lawsuit against developer for construction defects involving condominium project
Construction defect litigation regarding a large apartment complex alleging architect failed to supply sufficient support for the foundation resulting in cracks in the units, wall buckling, and other defects

Employment

Wage and hour disputes seeking class certification for employees seeking to recover unpaid wages, penalties and damages alleging Labor Code violations, failure to timely pay wages upon termination and failure to pay an additional hour of reporting time and failure to issue a wage statement that complied with the Labor Code
Wrongful termination claims, including hostile work environment caused by harassment and retaliatory firing for reporting perceived misdeeds to governmental agency
Several cases brought under Code of Civil Procedure Section 1085 (writ of mandate) to compel a governmental agency or officer to discharge statutory duties
Interpretation of the Los Angeles County's Employee Relations Ordinance as it pertains to disclosure of non-union employees' personal contact information

Insurance

Insurance coverage cases
Interpretation of coverage and exclusions
Analysis of claims-handling practices
First-party (insured) bad-faith litigation
Analysis of coverage under excess insurance policies

Personal Injury/Torts

Injuries resulting from alleged defective highway design
Actions involving multiple deaths and catastrophic burn injuries to residents of an apartment building due to negligent maintenance and involving tens of millions of dollars recovered
Personal injury and wrongful death claims
Litigation under the Government Tort Claims Act (Government Code Section 900, et seq.)
Defamation involving a public official's suit against a newspaper
Civil suit alleging false arrest, false imprisonment and defamation brought by the publisher of a Los Angeles legal newspaper against the County of Los Angeles, the Los Angeles Superior Court and the presiding judge of the Los Angeles Superior Court

Product Liability

Lawsuits against pharmaceutical companies for allegedly defective drugs
Injuries from alleged automobile design defects

Professional Liability

Medical malpractice claims including allegations of: failure to diagnose serious medical conditions leading to death; anesthesia malpractice leading to profound brain damage and total paralysis; and failure to diagnose spinal dislocation leading to quadriplegia
Legal malpractice claims, including allegations of alleged negligence in forming a limited partnership, resulting in liability as a general partner, and alleged failure to answer complaint by lawyer on behalf of a famous personality

Real Property

Matter concerning interpretation of the statutory exemption provided by Government Code Section 37361, subdivision (c) for noncommercial property owned by a religious organization
Honors, Memberships, and Professional Activities
Completed Virtual ADR training conducted by the JAMS Institute, the training arm of JAMS.

Honors
Recipient, Jurist of the Year Award, California Judicial Council, 2006
Recipient, Chief Justice Roger J. Traynor Appellate Justice of the Year Award, Consumer Attorneys of Los Angeles (CAALA), 2000
Featured, "L.A.'s Most Powerful Judges," Los Angeles Business Journal, February 2000
Recognized, Outstanding Jurist, Ventura County Bar Association, 1992–1993
Recipient, Trial Judge of the Year Award, Ventura County Trial Lawyers Association, 1992
Recipient, "Trial Lawyer of the Year" Award, American Board of Trial Advocates, California, 1990
Recognized, Best Lawyers in America, 1986, 1987, 1988, 1989
Recognized, "A Sampling of California's Most Respected Lawyers," California Lawyer Magazine, September 1989
Memberships
Fellow, The American College of Trial Lawyers, 1984–Present

California State Committee

Fellow, International Academy of Trial Lawyers, 1988–Present
Member, American Board of Trial Advocates (ABOTA), 1973–2019; 2021–Present

President, Los Angeles Chapter, ABOTA, 1986
Vice President, Los Angeles Chapter, ABOTA, 1985
Secretary, Los Angeles Chapter, ABOTA, 1976
Executive Committee, Los Angeles Chapter, ABOTA, 1981–2019; 2021-Present
Chair, CAL, ABOTA, 1986
National Board of Directors, ABOTA, 1990-1999
Chair, Civil Justice Committee, ABOTA 1987–1991
National Chairperson, Region 10, ABOTA, 1992–1993
National Chair, Civil Justice Award Committee, ABOTA, 1992–1993

Member Emeritus, Board of Regents, Loyola Marymount University (LMU), 2002–Present

Chair, Board of Regents, LMU, 1999–2001
Vice Chair, Board of Regents, LMU, 1997–1999.

Board of Directors, Association of Business Trial Lawyers, 2003–2006
Professional Activities
Chair, Complex Litigation Task Force for the California Judicial Council, 1997

Co-Author, "Deskbook on the Management of Complex Civil Cases"

Chair, Business Court Study Task Force, 1996
Chair, Alternative Dispute Resolution Committee, Ventura Courts, 1992–1994
Chair, Select Committee on Trial Court Coordination Implementation, 1994

Formulated California Rules of Court and Standards of Judicial Administration

Member, Judicial Council of California, 1998–2002

Chair, Civil and Small Claims Standing Advisory Committee
Chair, Case Management and Delay Reduction subcommittee
Chair, California Judicial Administration Conference, 1997, 2003
Chair, Blue Ribbon Panel of Experts on the Fair and Efficient Administration of Civil Cases, 2003

Faculty, Civil Settlement Techniques, B.E. Witkin Judicial College of California, 19 years
Background and Education
Associate Justice, California Court of Appeal, Second Appellate District, Division Three, 1994–2017
Judge, Ventura County Superior Court, 1991–1994
Private practice, civil trial law, 1963–1990
J.D., University of California Los Angeles, 1963
B.A., Loyola Marymount University, 1960
Home Office
HOME OFFICE
Century City, California
1925 Century Park East, 14th Floor, The Watt Plaza, Los Angeles, CA 90067
View Location Details
Los Angeles, California
555 West 5th St., 32nd Floor, Los Angeles, CA 90013
View Location Details
Disclaimer
This page is for general information purposes. JAMS makes no representations or warranties regarding its accuracy or completeness. Interested persons should conduct their own research regarding information on this website before deciding to use JAMS, including investigation and research of JAMS neutrals. See More
Search our global directory of mediators, arbitrators and ADR professionals.
FIND A NEUTRAL