Opening Doors and Marking a Milestone in Irvine
Last month, we celebrated a very special night at our new JAMS Orange County Resolution Center (OCRC). The occasion marked not only the opening of our 23,000-square-foot, modern, beautiful office, but also the 40th anniversary of JAMS. Guests enjoyed champagne while touring our new facility, which features a large board room, extra-large conference room and upgraded technology. This facility provides top-notch resources and first-class service for individuals, attorneys and organizations of all sizes to help them resolve disputes efficiently.
As I watched guests and JAMS associates mingle and explore the new space, I wondered what our founder, the late Hon. H. Warren Knight, would think about how far we have come. Judge Knight, a commercial mediation pioneer, started JAMS in 1979 with a dream to bring alternative dispute resolution (ADR) to the forefront of the legal industry. With the support of his wife, Carolyn, and his close friend, Jack Trotter, he was well on his way to making that dream a reality. Upon leaving the bench and beginning this new endeavor, Judge Knight worked out of the library of Jack's law office. His dream of building a company to help people resolve conflicts started then with two employees. That company has now grown to nearly 400 neutrals, over 200 associates and 28 offices.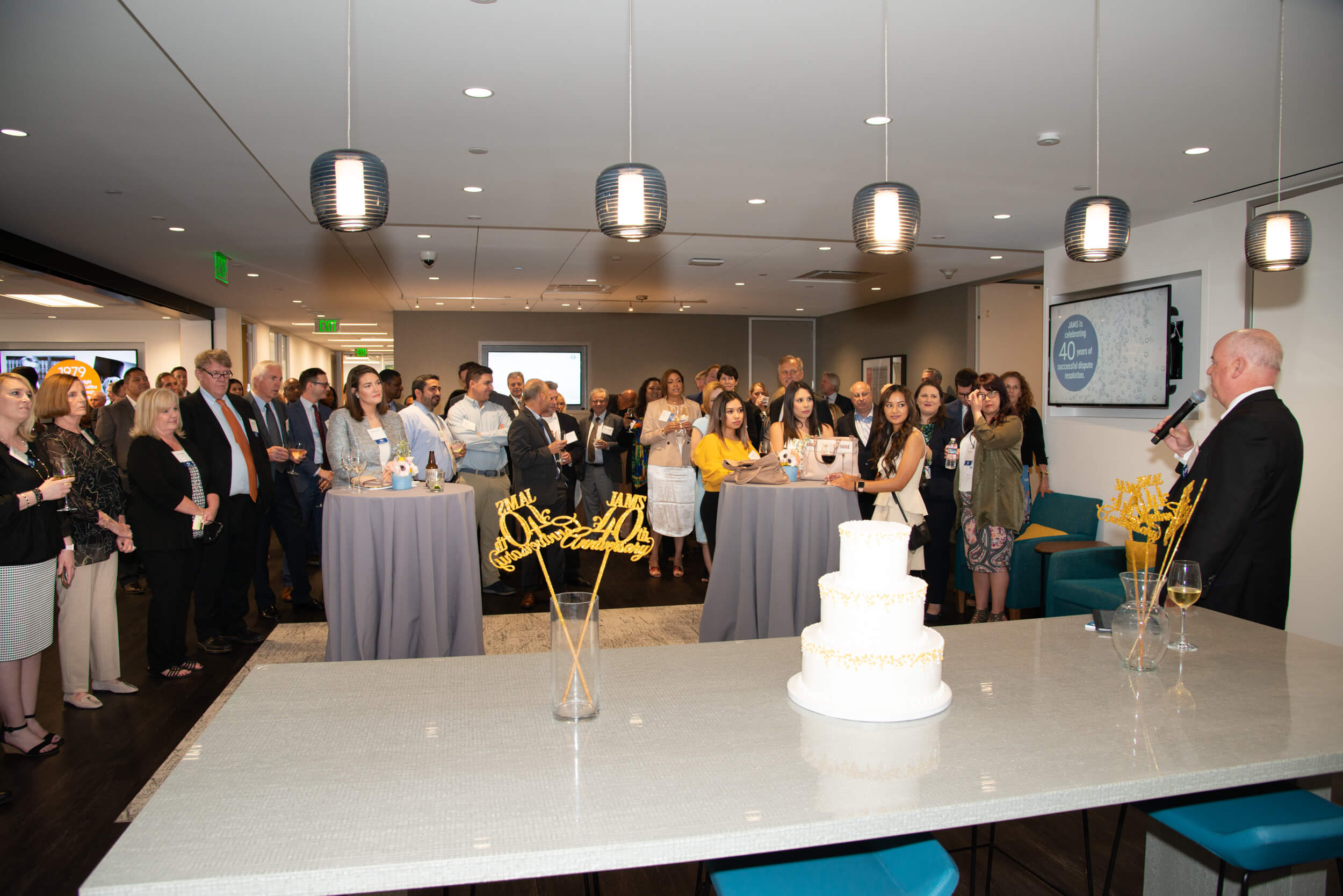 JAMS President and CEO, Chris Poole, initiates a toast in honor of our company's 40th anniversary.
I've been with JAMS for 30 of those years, and I find it difficult to describe exactly how I felt upon seeing Carolyn walk into the OCRC and stand next to employee number three, Karla Adams. While others may have doubted Judge Knight's dream coming to fruition, Carolyn steadfastly remained his biggest fan and supporter. I immediately got a lump in my throat when I saw her proudly basking in the manifestation of her husband's dream as she watched our CEO, Chris Poole, welcome everyone to the event. As for Karla, she too was feeling nostalgic.
Celebratory cake!
"I kept thinking about how JAMS started with nine judges and two conference rooms, and how we've been on this amazing journey through the years," said Karla. "To have been there from the start, to see the ongoing evolution and expansion of ADR, made me feel so proud and honored to be a part of the JAMS family."
Members of the JAMS Senior Management Team. Pictured (Left to Right): Laura Martinez, Gina Miller, Ranse Howell, William Zauner, Elizabeth Carter, Kimberly Taylor, Sheri Eisner, Kevin McDonnell, Mark Smalls and Christopher Poole.
Other early JAMS employees, such as Lisa Abrantes, a JAMS business manager based in our San Diego office, braved the traffic to see friends old and new, and help make the event special for our guests. Upon arriving at the OCRC, she simply said, "Put me in, coach. Whatever you need."
Vice President Gina Miller poses with San Diego Business Manager Lisa Abrantes.
I am so grateful to be part of this company, to work with people who are willing to roll up their sleeves to make things happen. Judge Knight believed in this philosophy and always told me what a great joy it was to work with the associates at JAMS.
The success of JAMS has surely exceeded Judge Knight's wildest dreams, and I'm happy that we were able to mark this milestone with a celebration. Thank you to everyone who came by to check out our new space, have a drink, enjoy some food and listen to the band.
---
Disclaimer:
This page is for general information purposes. JAMS makes no representations or warranties regarding its accuracy or completeness. Interested persons should conduct their own research regarding information on this website before deciding to use JAMS, including investigation and research of JAMS neutrals. See More