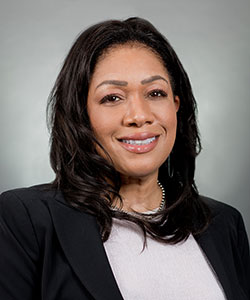 Gina Miller
Senior Vice President, U.S. West Region
Since joining JAMS in 1989, Gina Miller has become an expert in mediation and arbitration practices. Over the years, Miller has developed numerous programs to train neutrals in marketing, business development and mediation skills. As senior vice president, she oversees operations for JAMS Resolution Centers in California, Washington and Nevada, and is responsible for creating new business opportunities and overseeing the implementation of regional and national marketing initiatives. Additionally, she collaborates with other executives to establish strategic business initiatives. She is the chair of the regional advisory committee, which works to enhance panel recruitment and overall panel relations. Miller serves as the co-chair of the national operations committee on the implementation of policies. One of her key objectives is delivering a superior client experience.
Prior to being named senior vice president, Miller served as vice president, director of operations for the Southwest Region as well as the general manager of JAMS Los Angeles, Santa Monica, Ventura and Inland Empire Resolution Centers. Her vast experience at JAMS includes managing client services, case management, practice development, operations, and marketing and business development. She has also developed and delivered more than 300 alternative dispute resolution (ADR) presentations at law firms, bar associations and insurance carriers.
In addition, Miller has served as a panelist and presenter on various legal industry topics and has authored articles about how to develop a successful ADR practice. She is a frequent presenter on webinars and podcasts, and has been quoted in the Daily Journal and on Law360.com.
In 2016, Miller was appointed by the California State Bar to its Committee on Alternative Dispute Resolution, on which she served for three years. She is the co-chair of the American Bar Association (ABA) Section of Dispute Resolution's ADR Practice Management, Business and Skills Development Committee. She also serves as a council member of the ABA Section of Dispute Resolution.
Miller received an MBA in general management from Keller Graduate School of Management and earned her B.A. from California State University, Long Beach. She also attended the University of Pennsylvania's Wharton School of Business for an executive management program. She has furthered her education by participating in numerous ADR training programs at JAMS and the Straus Institute for Dispute Resolution at the Pepperdine Caruso School of Law.
For further information, please contact:
KRISTINE SNYDER
JAMS Senior Public Relations & Content Manager
+1 949-224-4614 (Direct Dial)