Divided Community Project: Strengthening our Communities Through Mediation
The JAMS Foundation is a nonprofit founded by JAMS to have lasting and substantial impact on dispute resolution worldwide. The Foundation provides financial assistance for conflict resolution initiatives with national and international impact in addition to sharing its dispute resolution experience and expertise for the benefit of the public interest.
We are proud to continue our support of the Divided Community Project with a $300,000 grant, enabling the project to continue its mission to expand mediation and training initiatives that serve communities across the country.
I sat down with Becky Monroe, Director of the Divided Community Project, to discuss the organization and its impact it has on communities.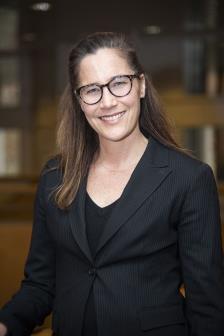 Becky Monroe, Director of the Divided Community Project
David: Can you tell us a little bit more about the Divided Community Project and its goals?
Becky: The Divided Community Project strengthens community efforts to transform division into action. The project focuses on how communities can respond constructively to civil unrest as well as on how they can identify and meaningfully address the reasons underlying community division. We respect the creative power of protest, and the fact that underlying issues often demand the kind of conflict and division that we are seeing today. Through our project, we help local government and community leaders reckon with those underlying issues directly before attempting to bridge divides. We want to help local leaders build more resilient communities by identifying and addressing hard truths and working together to realize common goals.
David: How do the Divided Community Project initiatives support local leaders?
Becky: At the Divided Community Project, we have now worked with diverse community leaders across the country, and helped these leaders take action to realize their common goals. We do this work through multiple initiatives and projects, including the Bridge Initiative, the Academy Initiative, Table-Top Simulation for Community Leaders, and other practical tools to support leaders.
David: Can you tell me more about these important initiatives and projects?
Becky: The Bridge Initiative is our newest Initiative that includes a group of contract mediators and several active members of the steering and executive committees that are committed to serving as neutrals to assist communities. The Bridge Initiative strengthens and expands local capacity to constructively deal with differences, whether it be through local community leaders or dispute resolution centers. Through this Initiative, we hope to bring the community together to identify and voice their concerns, in order to collaboratively come to a resolution.
The Academy Initiative was developed in partnership with the American Bar Association Section of Dispute Resolution. The Academy Initiative trains core leadership groups from diverse communities across the country to plan in advance of civil unrest while developing conflict planning and conflict resolution skills. Each leadership group includes a police chief, deputy mayor, community engagement leader, a college student leader, as well as local community advocates.
Table-Top Simulation is an expansion of our table-top exercise (Midland Simulation) in which we work with multiple stakeholder groups to help them prepare for civil unrest, and to help strengthen mediation skills, including building relationships with colleagues and the community outside of a crisis situation. The tabletop simulation has proven to be one of the most effective tools to not only encourage government officials to assess their current capacity to respond to crisis and to develop a plan of action to improve their preparedness, but also to recognize the critical importance of developing strong relationships with community leaders well in advance of volatile conflict.

University administration, faculty, local government, law enforcement, dispute resolution experts, and civil rights leaders from across the country convene to discuss best practices learned from their experience navigating high-profile conflicts.
David: How does JAMS fit into Divided Community's initiatives/projects?
Becky: The JAMS Foundation's recognition of the ways in which dispute resolution techniques and processes can help build stronger and more resilient communities reflects the Divided Community Project's approach to our work. JAMS' generous support helped launch the Divided Community Project and enabled us to create several new mediation initiatives serving communities across the country. This includes launching the Bridge Initiative, offering communities rapid consultation on processes for addressing community conflict, and expanding our use of the table-top simulation to reach leaders in cities and communities across the country. Through our regular updates with the JAMS Foundation, we also benefit from your insight and experience as well as others at the Foundation who offer advice when we seek it as we build and expand the work. And we have been fortunate to identify several JAMS panelists who have a specific interest in this work, and are willing to support the work in different ways, including reviewing materials and, potentially, offering mediation support for communities.
David: How has the Divided Community Project grown in its initiatives and other projects since its founding?
Becky: We have dramatically expanded the reach of our tabletop simulation, and have now reached hundreds of local leaders in cities and communities across the country. As noted above, in 2019, we also launched the Bridge Initiative, and the demand for our services continues to expand in smaller and larger cities across the country. Recently, in response to the increasing urgency we were hearing from students, university administrators, and law enforcement, we hosted a convening of over 40 university administration, faculty, local government, law enforcement, and civil rights leaders from across the country to help develop a user-friendly and practical report for leaders anticipating volatile conflict on campuses in 2020. It falls to campus leaders to manage the tensions in ways that minimize harm and maximize the resiliency, engagement, and learning in the campus community. The aim is not to quell student advocacy or protect the status quo; it is rather to help these engaged students find safe and effective avenues to work for change, express their beliefs and feelings, educate others about the issues they care about, understand the full and often devastating impact of hate speech, and learn. We plan to release a report for use by leaders in the coming weeks. We are also working with campus and community leaders to launch a virtual toolkit to help students, faculty, and local communities use dispute resolution techniques to address specific needs in their communities.
David: Anything else you want people to know?
Becky: We are incredibly grateful to the JAMS Foundation for their transformational support of this work. We also recognize that today, many may feel hopeless when they see the deep divisions in our country. However, thanks to the leaders with whom we have worked in communities across the country, we see tension and some protest as a sign of hope. For where there is division, people are often speaking up because they believe that they still have the power to shape their communities and their future. The underlying and often painful truths that communities are addressing today must be addressed for our country to move forward, and we are proud to support leaders who are working together across division to reckon with those truths and make their communities more resilient, just and equitable.
---
Disclaimer:
This page is for general information purposes. JAMS makes no representations or warranties regarding its accuracy or completeness. Interested persons should conduct their own research regarding information on this website before deciding to use JAMS, including investigation and research of JAMS neutrals. See More