Speaking From Experience: The Compatibility of Videoconferencing and ADR
Change can be daunting, especially when the stakes are high, time is limited and in-person processes are unavailable. However, recent virtual mediations and arbitrations have demonstrated that online platforms are not only highly effective, but they are also flexible and accommodating. The coronavirus pandemic has ushered in a time of discovery and learning, as well as increased personal and professional challenges. Amidst the uncertainty, virtual alternative dispute resolution (ADR) can provide sustainable solutions and a process that can be tailored to your needs.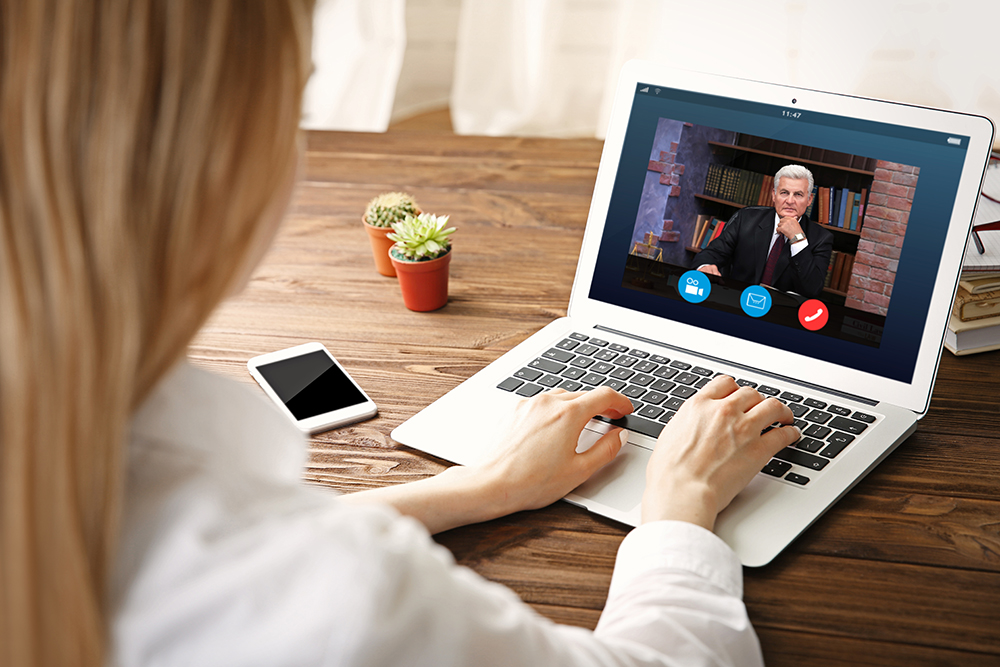 Reduced Travel
I am currently working on a case that includes a London-based plaintiff, two East Coast defendants and counsel who live in different states. While these types of cases are not uncommon, conducting proceedings remotely can spare the parties the additional expense of travel. Increased flexibility and efficiency are part of this process, as treks across the country (or an ocean!) are no longer required. There is great value in convening face-to-face, and many cases benefit from in-person contact. However, there are also numerous situations in which appearing in person is simply not necessary to reach a resolution.
By using Zoom or similar platforms, the cost burden for both the client and the earth is eased significantly!
Familiarity of Surroundings
In addition, I handle many cases involving trauma, catastrophic injuries and high emotions. Typically, JAMS ensures that all parties are as comfortable as possible during an in-person mediation. However, due to the nature of the cases I typically see, the anticipation of being in the same building as the person who may have caused a traumatic event can still inspire fear, despite a mediator's best efforts. A virtual mediation may completely eliminate this fear. Parties can participate from the safety of their homes, which may result in those with a history of trauma feeling more at ease with the process. Once the pandemic has subsided, virtual ADR may remain a popular option for a wide variety of cases including but not limited to personal injury, employment, business, professional liability, etc.
Built-in Flexibility
As many of us have experienced, this pandemic has also required people to wear several new hats, including homeschool teacher (among others). Young children are now at home all day, and they have needs that may require attention during business hours. As such, videoconferencing can be especially accommodating to families. In one of my recent cases, we notified participants via cell phone when they needed to return to private caucus. This allowed them the freedom and flexibility to "unplug" if they had to attend to other matters during the mediation. This process can be structured to suit the needs of the parties. And heartwarming encounters with kids or pets are not infrequent on a videoconference!
As with anything, there is a period of adjustment. However, once parties get used to the interface, they find that it meets their needs remarkably well. The hallmarks of the mediation process remain intact, and the mechanics are the same. The neutral is still able to ensure privacy and confidentiality through the use of breakout rooms, and pre-session calls are still available. In many ways, people are already acclimated to connecting online, so communication is not hindered. Online platforms offer features that make file-sharing and the exchanging exhibits simple and efficient. Access to the mediator is not reduced in any way, and these platforms are also compatible with joint sessions.
If this is your first time using an online platform, remember that we are here to help. Technical assistance is available, and the neutrals at JAMS will guide you through the process. I am confident that you'll find videoconferencing to be as user-friendly as I do.
Since 1997, Judge Ellen James has served throughout the United States as a JAMS mediator, arbitrator, judge pro-tem and special master in multi-party, complex litigations in a multitude of areas of civil law. Prior to that, Judge James served as a judge (and Presiding Judge of the Civil Division) for the Contra Costa Superior Court and has also served on the First District Court of Appeal, the Superior Court Appellate Division and the Mount Diablo Judicial District Municipal Court.
---
Disclaimer:
This page is for general information purposes. JAMS makes no representations or warranties regarding its accuracy or completeness. Interested persons should conduct their own research regarding information on this website before deciding to use JAMS, including investigation and research of JAMS neutrals. See More