A Q&A Session With Fern L. Frolin, Esq.
Learn more about Ms. Frolin's Family Law background, her ADR style and some of the highlights of her career
Tell us about your legal career prior to joining JAMS.
After law school, I thought I'd be a commercial litigator and started on that path, working first for a large firm in Honolulu and then for a large firm in Boston. After my second child was born, I switched to a smaller firm that also had a busy family law practice. Although the firm hired me to manage discovery in two lender liability cases, I also filled in for some divorce lawyers. To my surprise, I loved managing the legal context of real-life, everyday relationship disputes. Family law was the fastest-changing practice area at that time, with emerging issues of marriage equality, co-adoption, de facto parents' rights and assisted reproduction. For a people person who loves the law, family law turned out to be a perfect fit.
Besides loving law, I love teaching. In the '90s I joined the adjunct faculty of Boston College School of Social Work and taught forensic social work to grad students who hoped to work at the intersection of law and social service: probation officers, Department of Children and Families caseworkers, elder advocates. The seminar course included substantive overviews of criminal law, family law, elder law and mental health law, as well as the basic rules of evidence and techniques for giving expert testimony. I taught at BC for about 10 years and then turned the class over to my young law partner.
On the service side, I served on several committees of the Probate and Family Court Administrative Office and one of the Massachusetts legislature. On those committees, I was fortunate to participate in drafting legislation that updated—and improved, we though—alimony law in Massachusetts and revised the Massachusetts Child Support Guidelines to reflect economic changes over the past 14 years.
How would you describe your settlement style?
I start by listening. Clients must live with their divorce or child custody settlement for a very long time. They need to leave the process knowing they've been heard and understood, and have achieved a fair result. Second to listening is the "reality check." How close is this position you've taken to a probable litigation result, and what are the likely risks and certain costs of not settling? I also find that patience and the belief that the case can and should settle contribute to settlement success.
What are some of the highlights of your career to date, whether in alternative dispute resolution (ADR) or litigation?
In Cabot v. Cabot, the plaintiff hired me just weeks before trial to try a complex case involving her former husband's management of a trust for her children and enforcement of a modification judgment that required him to pay for college. The parties had been in litigation for seven years, and the children were already out of college when I entered. We—the plaintiff and I—won reimbursement for college expenses the father had declined to pay, an interpretation of the trust that achieved reimbursement for breach of the divorce contract and breach of fiduciary duty, a finding of contempt and 100% of the plaintiff's counsel's fee. Cabot established the standard for the trial court's discretion to order payment of college expenses where the divorce judgment fails to address those costs.
What was one of the more interesting cases you were involved with?
I am particularly interested in international family law disputes, especially international child support and custody disputes. Not long before I stopped litigating, I represented a woman living in Switzerland whose husband had relocated to the U.S. The children came to the U.S. for their school vacation, and the father declined to return them, arguing that seven years in Switzerland did not establish an intent to remain there within the meaning of the Hague Convention on Civil Aspects of Child Abduction, a multinational treaty. Using a "best interests" analysis for temporary orders, the court granted our request to return the children to Switzerland at least to complete their school year. Though the court in that case deferred final decision until after the end of the school year, the case settled, with the children remaining in Switzerland.
In June 2022, the United States Supreme Court decided the first family law case it had addressed in decades. In Golan v. Saada, Justice Sotomayor, writing for the unanimous court, held that a trial court has discretion whether to consider mitigating remedies that will prevent risk of "grave harm" to a child if the child is returned to the home country. The decision substantially broadens a trial court's discretion to decline to return a child once the court has found a grave harm risk.
Who influenced your legal career or had an impact on the direction you've taken in your career?
Roberta Benjamin, a wonderful lawyer about 10 years my senior, encouraged me to pepper my litigation practice with service to the court. Roberta showed me that family law provided opportunities to help clients one at a time by winning their cases or, preferably, helping them obtain fairly settled outcomes, as well as opportunities to serve the public by effecting positive public policy changes. Roberta guided me to leadership positions in the American Academy of Matrimonial Lawyers and Massachusetts Bar Association, which led to appointments working on public policy changes in alimony, child support and child custody evaluations.
What is the best piece of advice you've received? Or can you share an important lesson that a mentor taught to you?
In 2020, I assisted in a 10-session class for high-conflict parents at William James College. High-conflict couples learn in the class to modify their interactions in the best interests of their children. In the first class, parents learn to identify the other parent not as a former partner but as a current, ongoing co-parent. The best piece of advice I know is to tell separating parents to regard and address each other as "my co-parenting partner." So simple.
What do you like to do in your free time?
In order: grandparenting, cooking, gardening. When time permits, I hope to try to raise a bonsai tree. I understand they need lots and lots of attention.
Any other fun facts you'd like to share?
I was born in Cleveland, Ohio. I am second oldest of six kids in a blended family. My oldest brother was a cowboy. His name was Hank Ack. Hank raised cowdogs and cutting horses, and was famous in cutting horse circles. One of his dogs is the inspiration for a children's book and video series "Hank the Cowdog," with over 70 titles written so far. Hank taught me to ride cutting horses. I have been thrown twice.
My first career plan was to be a ballerina. I stopped dancing at age 15 when I realized I was good enough to find work in a company but not good enough to be famous.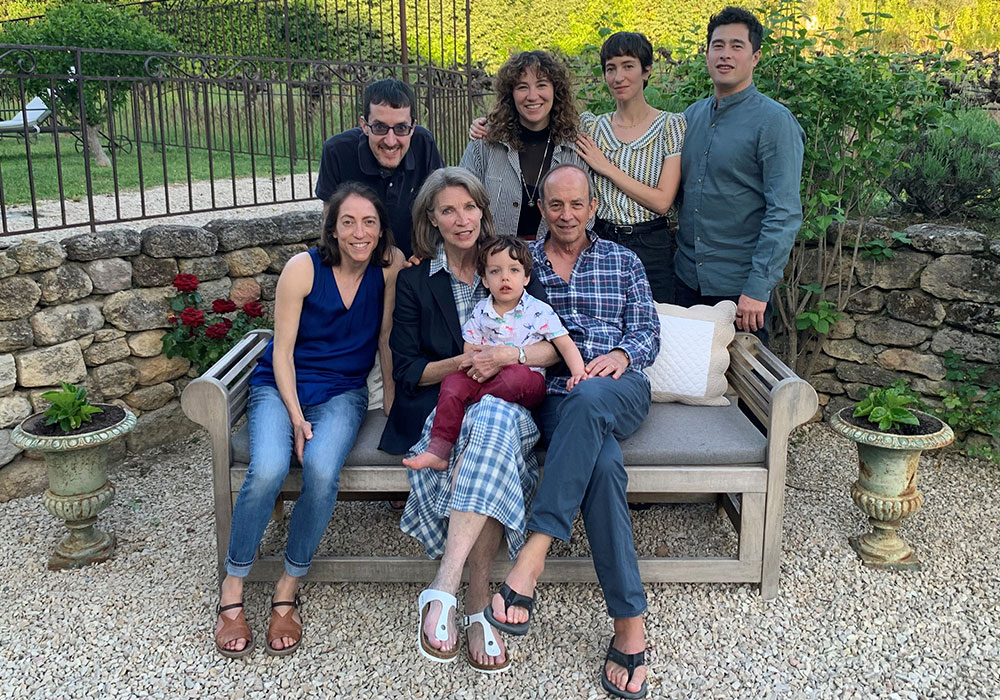 ---
Disclaimer:
This page is for general information purposes. JAMS makes no representations or warranties regarding its accuracy or completeness. Interested persons should conduct their own research regarding information on this website before deciding to use JAMS, including investigation and research of JAMS neutrals. See More