A Q&A Session with Kim M. Keenan, Esq.
Learn more about Ms. Keenan's legal career, her ADR style and her proudest professional accomplishments.
Tell us about your legal career prior to joining JAMS.
After a clerkship in the United States District Court for the District of Columbia, I worked for a large firm in Washington, D.C.—Laxalt, Washington, Perito & Dubuc—where I focused on complex civil litigation. I then worked at a boutique firm specializing in catastrophic personal injury and medical malpractice. After almost 20 years in private practice, I started my own firm and began serving as a mediator and representing individuals in other matters. Because of my service as a founder of the Equal Rights Center and as a member of the executive board of the Lawyers' Committee for Civil Rights Under Law, I was recruited to serve as the general counsel and secretary of the National Association for the Advancement of Colored People. It was the opportunity of a lifetime to serve as the chief legal counsel for an international advocacy organization. The role required diplomacy, legal acumen, and experience with a wide variety of legal issues, including civil rights, employment law, intellectual property, collective bargaining agreements, and real estate. Additionally, I brought in over $1 million in pro bono legal services. After the NAACP, I served as CEO of the Multicultural Media, Telecom and Internet Counsel, where I developed policy to close the digital divide and increased public awareness on the importance of digital participation and privacy.
How would you describe your settlement style?
My style is not one size fits all. I review the confidential materials with an eye toward where can I help the parties find outcomes that will resolve the case. Sometimes the right strategy can direct the parties away from impasse and onward to settlement.
What attracted you to a career in law?
Lawyers have the ability to change an outcome that once seemed certain. I have been able to make a difference in the lives of individuals, communities, and throughout the nation using my legal experience.
What practice area, if any, interests you the most?
I confess to having favorites: employment, business disputes, medical malpractice and product liability.
What traits have contributed to your success as an attorney/mediator/arbitrator?
I come to each mediation enthusiastic, positive, fresh and prepared. I honestly believe that people choose mediation because they are looking for a resolution, and it's my job to keep them on track to achieve that goal.
What are some of the highlights of your career to date, whether in alternative dispute resolution (ADR) or litigation?
My time at JAMS has only reinforced my enthusiasm for ADR. Whether it's a multi-litigant employment case, a business dispute or a complicated production deal, helping parties resolve complex issues is very rewarding. I have handled cases from coast to coast and top to bottom.
What was one of the more interesting cases you were involved in?
I settled an employment case involving multiple laborers and a Fortune 500 company. There were a number of complex issues, but the key was resolving them strategically until the parties reached a settlement. I also handled a personal injury case where the judge provided a recommended settlement number, but I was able to get the parties to agree on a different number that reflected the values of both parties. You know you have it right when both sides are happy.
Who influenced your legal career or had an impact on the direction you've taken in your career?
Mabel Haden was a solo practitioner long before women went into private practice and was the first African American woman to receive an LL.M. from Georgetown University Law Center. Ms. Haden always emphasized being well prepared and fearless, and relentlessly advocating for clients.
What is the best piece of advice you've received?
My mentors taught me never to respond to an issue or an individual using another person's standards. The goal is to be true to your own standards in spite of what others do.
What professional accomplishments are you most proud of?
Some highlights include chairing the committee that created the largest self-help landlord-tenant center in the District of Columbia Superior Court, renegotiating the collective bargaining agreement at the NAACP, winning a First Amendment lawsuit against the City of Philadelphia and collaborating with various organizations to train diverse workers in telecommunications. In addition I was thrilled and proud to be the recent Commencement Speaker for my Alma Mater, The University of Virginia Law School.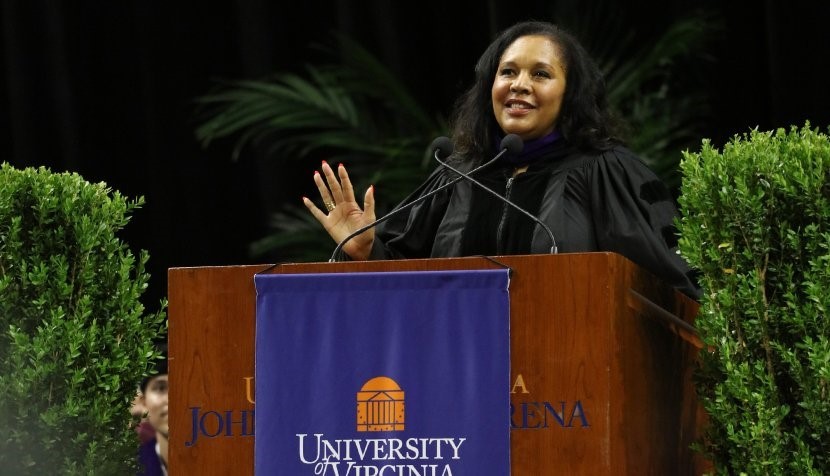 Kim Keenan delivered The University of Virginia Law School's commencement address at John Paul Jones Arena. Photo by Tom Cogill.
Who is one of your role models and why?
It's hard to just pick one. My role models are dynamic risk-takers who evolve with the challenges for life.
Are there any other interesting facts you would like to share?
I love teaching ADR to law students. I attended the Cannes Film Festival some years ago where I walked the red carpet. As for vacation, I will travel far and wide for a beautiful beach.
---
Disclaimer:
This page is for general information purposes. JAMS makes no representations or warranties regarding its accuracy or completeness. Interested persons should conduct their own research regarding information on this website before deciding to use JAMS, including investigation and research of JAMS neutrals. See More