Celebrating 20 Years of The JAMS Foundation
Taking a Looking Back to 2017: The Mosaic Project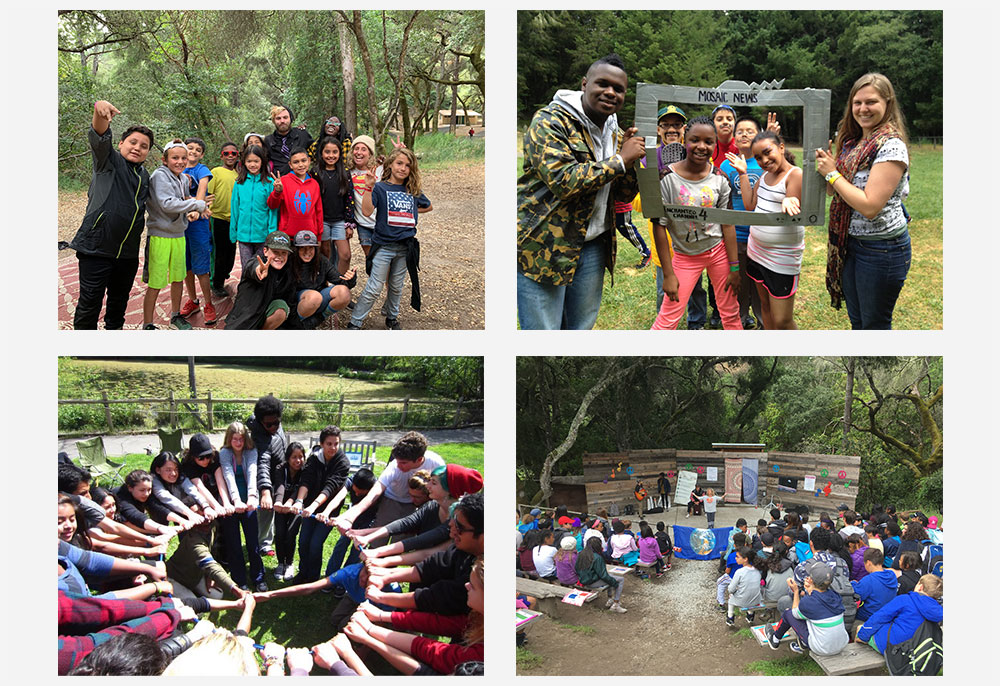 The JAMS Foundation is a nonprofit organization funded entirely by contributions from JAMS neutrals and associates. The mission of the JAMS Foundation is to encourage the use of alternative dispute resolution (ADR), support education at all levels about collaborative processes for resolving differences, promote innovation in conflict resolution and advance the settlement of conflict worldwide.
This year marks the 20th anniversary of the founding of the JAMS Foundation. To celebrate, we're looking back at some organizations the Foundation has proudly supported in the past, either through its regular grant programs or by way of the prestigious Warren Knight Distinguished Service Award, named for the founder of JAMS. This award, which includes a $25,000 grant, is given each year to one extraordinary individual or organization to recognize their commitment to preventing and resolving conflict in the communities they serve.
In 2017, the Foundation presented the Warren Knight Distinguished Service Award to The Mosaic Project. This Oakland-based organization teaches children, families, teachers and corporate leaders to build diverse, inclusive communities and to resolve conflicts peacefully. Its primary program, the Outdoor Project, gathers diverse groups of elementary school children in an immersive camp setting for a weeklong course on respect, listening, empathy, assertive communication and conflict resolution. Other programs include the In-School Project, which imparts the same lessons as the Outdoor Project, but in a school setting, through workshops and assemblies; the Youth Leadership Project, geared toward high school and college-aged students; and Mosaic Project trainings for educators and executives. Since its founding in 2000, the organization has served more than 75,000 individuals in the Bay Area and has reached thousands more through its online resources.
Recently, JAMS caught up with The Mosaic Project's founder, Lara Mendel, to find out what inspired her to launch the organization, the philosophy behind the organization's teachings, what it meant to receive the Warren Knight Distinguished Service Award, how the organization used the grant money included with the award and what's next for the organization.
JAMS: What inspired you to launch The Mosaic Project?
LARA MENDEL: When I was in fourth grade, I went to the first public magnet school in Los Angeles. Its purpose was to build a diverse community. This was in a time when forced busing was starting to happen, and in white communities, private schools were being developed in response. My older sister and I were founding members of that school. I understood that my family was making a statement against racism. That's what we were doing by being part of this school. But even though I went to this intentionally diverse school, we didn't talk about racism or differences at all.
Then, when I was 15, I went to a summer camp that brought together high school students in L.A. from all different backgrounds to very specifically address racism, sexism and homophobia. That was an amazing experience for me. Here I was, the only white kid in my cabin—the only Jew that most of my fellow campers had ever met—and I thought, "I want to do this work when I get older." That's where I got the seed of the idea.
Later, when I was a student at Stanford, I was invited with 18 other students from the Jewish student organization by the German government to go to Germany and meet with ex-Nazis and visit concentration camps. My grandparents on my father's side had gotten out of Germany just in time to avoid the Holocaust, but the rest of that side of my family was wiped out there, some in those very same camps. That experience solidified my commitment to doing this work.
JAMS: Although you were 15 when you attended that summer camp, The Mosaic Project focuses more on younger children. Why?
LARA MENDEL: By the time kids are 15, the anger, the fear, the prejudice are already so deeply ingrained. So, we do put a lot of our focus on younger children. But we literally work with all ages, from kindergarten all the way up to corporate executives, and now we're even working on some preschool curricula too.
JAMS: How has the mission of The Mosaic Project changed over the years?
LARA MENDEL: The mission of Mosaic has always been to create a more peaceful world by bringing people of different backgrounds together. So, the mission has stayed true.
JAMS: What did it mean for the organization to receive the Warren Knight Distinguished Service Award from the JAMS Foundation?
LARA MENDEL: One of the best calls I ever got was the one out of the blue saying, "Hey, you won this award," which we hadn't even applied for. That was amazing. We're just so grateful for the support from the JAMS Foundation. But not just that—everybody in the legal community knows who JAMS is, and I feel very honored to be associated with such an amazing organization.
JAMS: What did The Mosaic Project do with the grant funding it received from the JAMS Foundation?
LARA MENDEL: We used our grant from the JAMS Foundation to fund students from low-income communities to participate in our outdoor school. Also, we write songs for everything we teach, and we wanted to do a curriculum guide and songbook of all our songs, with sheet music and activities. JAMS supported us in creating that curriculum guide and songbook.
JAMS: What's next for The Mosaic Project?
LARA MENDEL: We've rented camps for our outdoor program for its entire existence, but we've always wanted our own camp because renting just isn't sustainable. So, it's always been the dream to have our own land. A few years ago, a family of supporters bought us a piece of property, 37 acres, in Castro Valley. It's a perfect location—25 minutes from our office in Oakland and central to all our partner schools. We have been working really hard on developing the plans for that camp. We're completely done with our design, and we've raised enough money to make it through the planning process. But we're going to need to raise a whole lot more to build this camp! So, that's where we're at.
For more information on The Mosaic Project visit their website.
---
Disclaimer:
This page is for general information purposes. JAMS makes no representations or warranties regarding its accuracy or completeness. Interested persons should conduct their own research regarding information on this website before deciding to use JAMS, including investigation and research of JAMS neutrals. See More