Shining the Spotlight on Denise Langford Morris, Retired Judge, Oakland County Circuit Court
From social work to her time on the bench, learn more about Judge Langford Morris, her journey to ADR and her strong support of DE&I initiatives in the legal community
I began my legal career as an investigative social worker focusing on child and adult abuse/neglect for the Wayne County Juvenile Court in Michigan, where I served as a quasi-prosecutor. From 1976 to 1983, I made thousands of house calls throughout Wayne County, during which time I developed my skills for listening to and reading people. This was also my introduction to filing petitions in court to remove abused and neglected children and then struggling to reunite the parents and children. It was one of my most emotionally draining experiences.
My first full-time legal position was working in Oakland County, Michigan, for one of the toughest prosecutors in the country, L. Brooks Patterson. From 1984 to 1987, I handled all types of criminal cases, including multiple jury trials involving everything from shoplifting to murder. In 1987, I moved into private practice at Zamplas, Paskin, Nagy, a spinoff from Plunkett Cooney LLC. I learned defense practice from some of the best litigators in the state in areas such as products liability, construction accident, municipal defense, condemnation, zoning and premises liability.
I was never fond of the billable hour, so when an opportunity arose to join the U.S. Attorney's Office in the Eastern District of Michigan, I grabbed it. I was assigned to the Civil Division at my request and handled Title VII, Bivens actions, condemnation, premises liability, tax, class action and fraud cases. My favorite case involved a condemnation matter regarding businesses surrounding the Ambassador Bridge. While working as an assistant United States attorney, I received an appointment to the Oakland County Circuit Court as the first African American to serve on it.
As a circuit court Judge, I presided over civil and criminal cases from 1992 to 2022. My cases included both civil and criminal matters for the full 30 years I served on the bench. I also handled around 600 family law cases per year for my first eight years, along with the civil and criminal, until the establishment of the family court docket. I managed business/commercial cases for about 22 years, until the establishment of the business court docket. I managed all aspects of litigation of every case on my docket from the date of filing to post judgment, including motion practice, jury and bench trials, appeals and class actions. I presided over 35,000 cases during my 30 years on the bench. My areas of practice included the following: torts, premises liability, condemnation, zoning, products liability, employment, religious, environmental, real estate, medical/dental/accounting/engineer/legal malpractice, contracts, insurance subrogation, negligence and foreclosure.
How did you get interested in alternative dispute resolution (ADR)?
As a former investigative social worker with a master's degree in guidance and counseling, with a specialization in adult counseling, I have always been interested in helping others. ADR provides an opportunity to utilize my counseling skills, particularly my strong listening skills, and couple them with my varied legal background to problem solve. I enjoy the opportunity to help expedite resolutions for individuals and businesses while assisting the courts with maintaining docket stability.
What are some of the highlights of your career to date?
There have been a number of highlights throughout my career. I was the first African American in my county to win a countywide election. I was the first African American to serve on the Oakland County Circuit Court and the first to serve as chief judge pro tem, as well as the first woman to serve as the dean of the court. I have had many high-profile cases, including a criminal case involving a well-known rap artist, one involving assisted suicide, and various civil cases evolving out of recreational facilities and high-profile athletes, professional malpractice, condemnation, zoning and others. It has been an honor and privilege to have been extremely active in many local and national bar associations. I am a founder of the D. Augustus Straker Bar Association in Oakland County, past chair of the National Bar Association Judicial Council (NBA-JC) and president of the American Judicial Council Foundation, which is affiliated with the NBA-JC. I remain active in the NBA and serve as its representative in the American Bar Association (ABA) House of Delegates. I am involved in the ABA and swore in the last president, Reginald Turner, in 2021. I am currently the chair of the ABA's Africa Council Rule of Law Initiative (ROLI) and vice chair of the ABA National Conference of State Trial Judges.
How would you describe your mediation and arbitration styles?
I would describe my mediation style as facilitative. I have a tendency to accommodate the needs of the parties and the personalities of the counsel involved. I enjoy the opportunity to develop options that the lawyers and parties may not have discovered on their own. As an arbitrator, I view my role as more formal. I am a stickler to following the JAMS rules so long as the parties agree. I aim to focus on the efficiency and comfortability of the process for counsel, witnesses and experts as needed.
What do you enjoy the most about mediating?
I enjoy the satisfaction of reaching resolution as expeditiously as possible.
When the parties are able to reach an agreement, there is no better sense of enjoyment. However, I am also aware that, on occasion, patience is necessary and must be exerted to assist parties that may be close but not quite ready to resolve their dispute. Patience is definitely a virtue in the world of ADR.
Are there any practice areas that you are particularly interested in developing at JAMS?
My goal is to develop an international practice, especially within African nations. I wish to continue to grow my ADR practice and expand to a national practice. I currently have a business and commercial, class action and mass torts, employment law, entertainment and sports, family law, government/public agency, higher education and Title IX, products liability, professional liability, real estate and real property practice. I would love to grow my practice within neighboring markets.
What professional accomplishments are you most proud of?
I am most proud of my work at my alma mater, Detroit Mercy Law. I have worked with law students and recent graduates and helped them navigate law school and employment opportunities. In 2019, on International Women's Day, the school unveiled a portrait of me painted by Detroit artist Henry Heading. It was an incredibly impactful moment, as this was the first portrait of an African American and a woman to grace the halls of Detroit Mercy Law.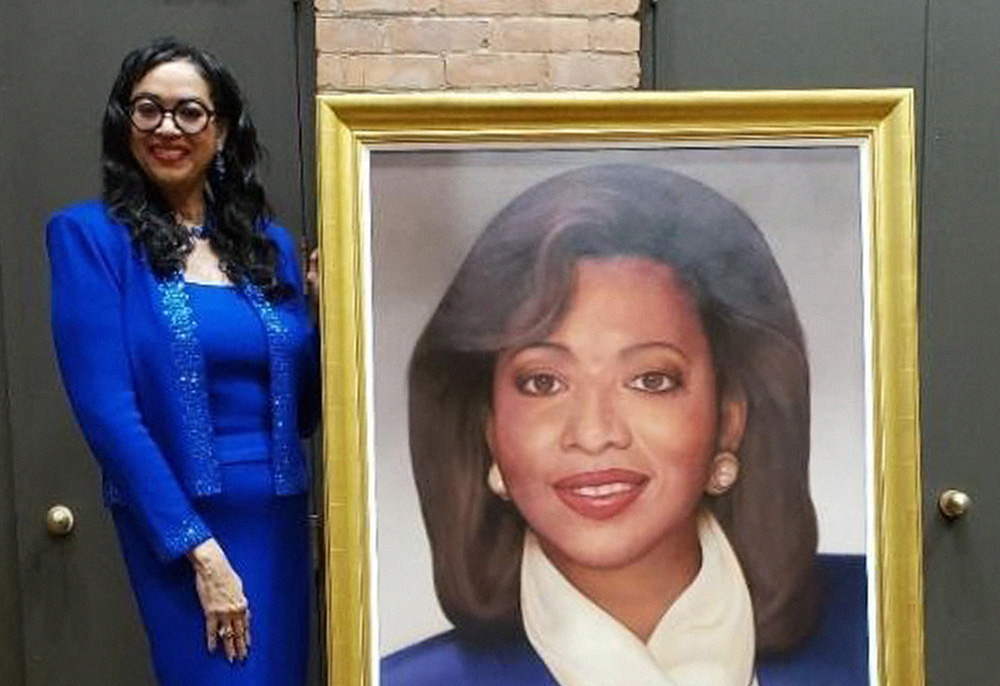 What do you think ADR professionals can do to support DE&I efforts?
ADR professionals can assist with bolstering DE&I initiatives by verbalizing the importance of DE&I and how it leads to better, more inclusive options that can lead to resolution. I believe highlighting the importance of participating in writing opportunities, panels and speaking engagements is paramount to promoting DE&I efforts. I recently participated in a JAMS panel, and it resulted in an article that helped encourage DE&I. I look forward to contributing to many future endeavors.
What DE&I initiatives are important to you? Which ones have you taken part in?
All DE&I Initiatives are important to me. I strongly believe in DE&I. I am constantly promoting DE&I in all the local and national legal and women's groups in which I am involved. I have started to involve myself in promoting DE&I in dispute resolution through speaking and writing opportunities. I was recently elected to the State Bar of Michigan ADR Council, and I intend to make this my focus.
What is the best piece of advice you have received?
My mom and dad helped me stay in school. They advised me to focus on taking things one day at a time and not dropping out. I was able to overcome all obstacles as a full-time student and a teen mom while also working full time. I needed to hear these words of encouragement.
What is your favorite pastime?
I genuinely love working, but if I cannot work, then I will golf! I never met a golf course I did not like.
---
Disclaimer:
This page is for general information purposes. JAMS makes no representations or warranties regarding its accuracy or completeness. Interested persons should conduct their own research regarding information on this website before deciding to use JAMS, including investigation and research of JAMS neutrals. See More