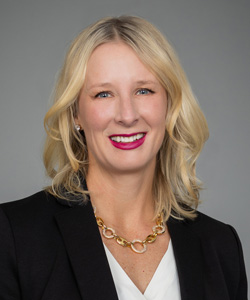 Elizabeth Carter Esq
Senior Vice President, U.S. East/Central Region
Elizabeth Carter, Esq., is the senior vice president of the East/Central Region of JAMS. Carter oversees operations for JAMS in the central and eastern U.S., and she is responsible for creating new business opportunities. She is actively involved in marketing and business development initiatives.
As a leader, Carter develops and empowers high-performing teams and brings experience managing diverse groups across multiple functions and geographic markets. Recognized for her honesty, decisiveness and sense of humor, she has a record of success strengthening business unit performance, stimulating revenue growth and improving operational efficiency. Her legal background includes expertise in ADR and working with high-growth organizations to craft risk-averse strategies affecting people, process and performance. She is also a liaison to the general counsel's office with respect to preliminary rule and administrative determinations on individual arbitration matters.
Prior to her role as senior vice president for the East/Central Region, Carter served as vice president, director of operations for the East/Central Region; general manager of the New York Resolution Center; and business manager of the Chicago Resolution Center.
Prior to joining JAMS, Carter was a litigator in Wisconsin and Ohio. She graduated with honors from the University of Wisconsin-Madison and earned her J.D. from the University of Wisconsin-Madison Law School. She is a member of the state bars of Illinois and Wisconsin. She is also an active member of the American Bar Association, serving as the marketing officer for the Dispute Resolution Section, and the National Association of Women Lawyers. She has written and spoken on a variety of panels on the topics of arbitration, mediation, hybrid workplaces and business development.
For further information, please contact:
KRISTINE SNYDER
JAMS Senior Public Relations & Content Manager
+1 949-224-4614 (Direct Dial)