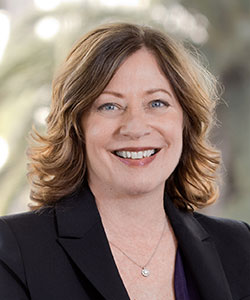 Kimberly Taylor, Esq.
President
In her role as President, Kimberly Taylor oversees JAMS operations in the United States and abroad. Working directly with the CEO, and leading a team that spans more than 28 Resolution Centers across North America, Taylor is responsible for the company's day-to-day operating activities. She also provides operational and strategic leadership for international expansion efforts.
In addition to overseeing JAMS operations, Taylor works with the General Counsel to manage the overall risk of the company, advising management and the Board with respect to transactions and negotiations. She works with the CEO to lead corporate strategic initiatives and participates in the definition and development of corporate policies, procedures and programs. Taylor serves as a key lawyer and legal advisor on all major business transactions, including mergers and acquisitions, strategic alliances, divestitures and joint ventures, coordinating with CFO and outside counsel to negotiate, draft and implement a wide variety of complex, multi-party agreements.
Taylor has been a key contributor to JAMS since she joined the organization in 1999. She previously served as Vice President of the East/Central Region, where she oversaw unprecedented growth and expansion efforts, led panelist recruitment and directed business development, strategic planning and daily management of Resolution Centers in the region. As Associate General Counsel, and an expert on arbitration processes, she developed and oversaw training of staff and neutrals and served on the JAMS National Arbitration Committee. She is a frequent writer, lecturer and speaker, and has developed ADR programs for business and government agencies. Taylor serves as Co-Chair on the Board of the International Mediation Institute.
Prior to joining JAMS, Taylor practiced law in Ventura County, California. She earned her J.D. from Ventura College of Law, where she later served as an adjunct professor. She is a member of the California State Bar.
For further information, please contact:
KRISTINE SNYDER
JAMS Senior Public Relations & Content Manager
+1 949-224-4614 (Direct Dial)