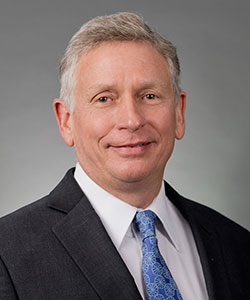 Brian Parmelee
Senior Vice President, Corporate Development and Panel Relations
Brian Parmelee's focus is strategic initiatives, market expansion and corporate business development opportunities. His key responsibilities include recruiting the highest-quality panelists, expanding into new markets and generating new revenue sources for JAMS. Parmelee works closely with the CEO as well as JAMS management and marketing teams to maximize the practices of the panel and ensure that JAMS continues to offer premier dispute resolution services.
Before assuming his current role at JAMS, Parmelee served as Vice President for the Southwest Region and then the Western Region, overseeing operations and recruiting in those markets. Prior to joining JAMS, Parmelee served as the General Manager of the Four Seasons Resort Aviara, a AAA Five Diamond property in North San Diego, where he managed nearly 1,000 employees in addition to 140 luxury timeshare residences. Prior to that, Parmelee managed the Four Seasons Resort Nevis. Under his leadership, the resort earned the highest accolades of any resort in the Caribbean.
Currently, Parmelee oversees the JAMS Global Engineering and Construction (GEC), Federal and Health Care practices. In his role overseeing the GEC group, he heads up recruitment of the panel and works closely with Director and neutral Phil Bruner to develop the practices of the JAMS neutrals.
Parmelee has spoken on trends in ADR, ADR in the construction industry and careers in the ADR industry.
Parmelee earned a B.S. from Cornell University. He and his wife, Susan, live in Southern California and have three children.
For further information, please contact:
KRISTINE SNYDER
JAMS Senior Public Relations & Content Manager
+1 949-224-4614 (Direct Dial)