Contact Case Manager
Mara E. Satterthwaite, Esq.
7160 Rafael Rivera Way Suite #400
Las Vegas, NV 89113
T: 702-835-7803
F: 702-437-5267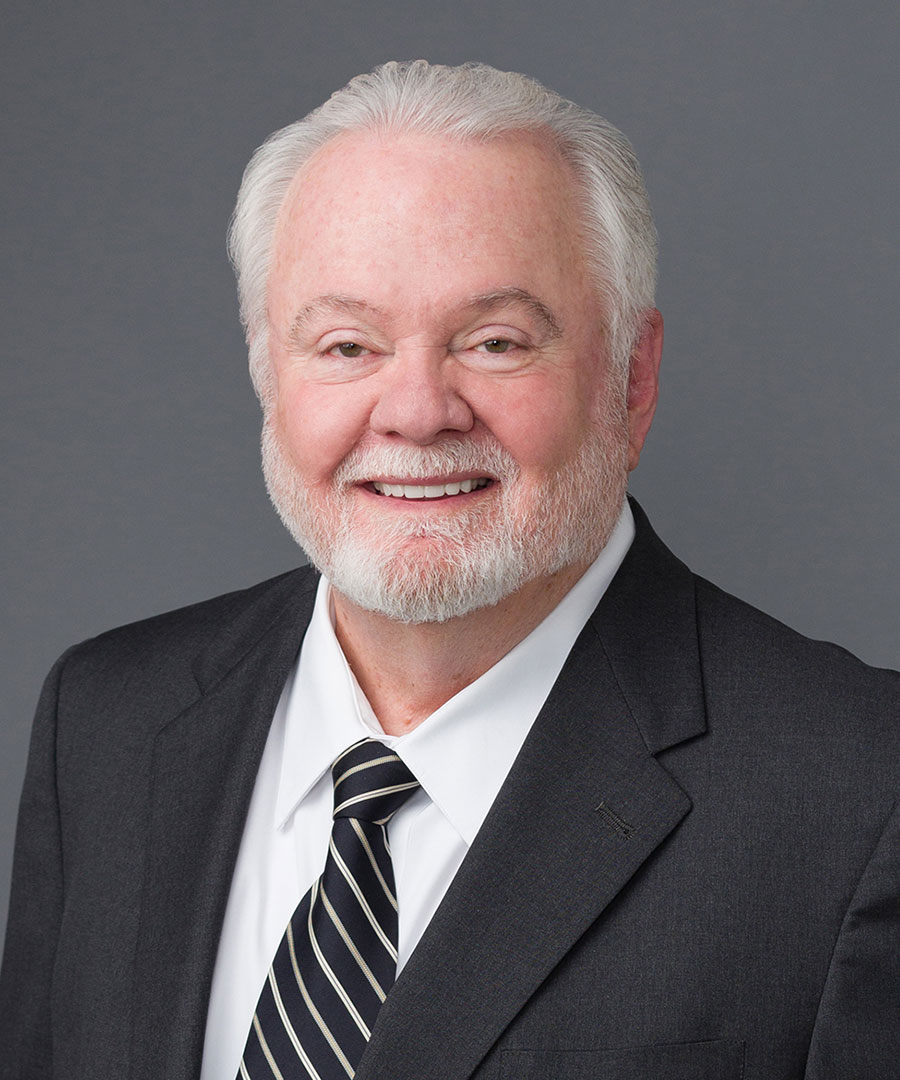 Hon. Jim Crockett (Ret.)
Contact Information
Mara E. Satterthwaite, Esq.
7160 Rafael Rivera Way Suite #400
Las Vegas, NV 89113
T: 702-835-7803
F: 702-437-5267
General Biography
Practice Areas
Business Commercial
Estate Probate Trusts
Personal Injury Torts
Product Liability
Professional Liability
Real Property
Honors, Memberships, and Professional Activities
Background and Education
Hon. Jim Crockett (Ret.) served as a district court judge for the Nevada Eighth Judicial District Court from 2015 through the end of 2020, presiding over and/or conducting civil matters including trials, law and motion calendars and judicial settlement conferences. Since he retired from the bench in 2021, Judge Crockett has been a senior district court judge for the State of Nevada and has handled over 100 settlement conferences covering a broad range of legal issues, from personal injury and wrongful death cases to wills, estates, trusts and real estate and commercial disputes. Before serving on the bench, he was a trial lawyer for over 40 years, handling personal injury matters, with extensive experience in cases involving wrongful death and serious bodily injury resulting from motor vehicle accidents, defective products and medical malpractice.
While he was still practicing, Judge Crockett was rated AV Preeminent by Martindale-Hubbell. He was board certified as a civil trial lawyer by the National Board of Trial Advocacy in 1983 and maintained that certification throughout his career. He received the Trial Lawyer of the Year Award from the Nevada Trial Lawyers Association and the Ray Badger Award for Distinguished Service to the Nevada Justice Association. He was chosen by his peers as a Super Lawyer and was a member of the Multi-Million-Dollar Advocates.
Judge Crockett served on the board of directors of the National Board of Trial Advocacy for over 12 years and was regularly invited to present lectures to lawyers at seminars on trial tactics and strategy.
Representative Matters
Business Commercial

Settlement judge for contract dispute between homeowner and landscaping company with claims and counterclaims for breach of contract, anticipatory repudiation, quantum meruit, unjust enrichment and slander of title; binding settlement reached and case dismissed with prejudice
Settlement judge for dispute between out-of-state lottery winner and local contractor over lottery winner's refusal to pay contractor for remodeling a vacation home for lottery winner; case settled
Settlement judge for dispute between tour bus company and owner of large tourist destination, each claiming to own licensee status to charge money for tourists to access and visit site; Native American tribe's interests are relevant and considered, although tribe is not a party and not adversely affected by outcome; hotly contested, and owners on both sides were foreign nationals; settled

Estate Probate Trusts

Settlement judge for multimillion-dollar estate dispute among seven heirs and foreign and domestic charitable foundations; some parties represented by counsel, and some parties self-representing; binding settlement reached with all parties, and case dismissed with prejudice
Settlement judge for intestate succession dispute between siblings regarding decedent mother's home; four heirs: one brother and sister versus the other brother and sister; dispute resolved, and stipulation for dismissal with prejudice filed
Settlement judge for trust/estate dispute between estranged siblings involving dispute over validity of powers of attorney that did not have certificates of competency attached as required by statute; settled
Settlement judge for trust dispute involving claims of ademption, extinction of specific bequests; transfer of title of home to decedent's "significant other" versus children; whether or not decedent died intestate; settled

Personal Injury Torts

Settlement judge for seven-figure personal injury claim involving disputes between commercial trucking firm and liability insurance companies regarding coverage, subcontracting and primary contracting parties as to who was responsible for the noncontracted commercial truck; commercial trucking company had subcontracted with another commercial trucking firm in alleged violation of longtime written agreement with large, international merchant; issues involving vicarious liability versus independent contractor and nondelegable duties; binding settlement reached, and case dismissed with prejudice
Settlement judge in matter involving motorcycle rider hit by a car in large shopping center; driver of car settles with motorcyclist, but motorcyclist sues shopping center claiming that it should have had a conventional, upright stop sign in place rather than the almost-illegible word "Stop" painted on the asphalt; demonstrated evidence of prior similar incidents
Settlement judge for personal injury suit in which both sides appeared to be intractable; judge prepared model jury instructions and verdict with special interrogatories specific to case and issues counsel couldn't agree upon; had both sides indicate the anticipated numbers and answers that would ultimately be given by the jury, with allocation of percentage of likelihood for each response; case settled
Settlement judge for personal injury suit in which both sides appeared to be intractable; judge prepared "audit" sheet for counsel for both sides to enter fees and costs to date, fees and costs anticipated to prepare case for trial, fees and costs for intermediate court appeal, and fees and costs for final appeal to state supreme court; all kept confidential and discussed only with judge; had each side indicate the likely outcome at trial expressed in percentages both for and against each side; case settled.

Product Liability

Lead counsel in matter involving electrician working on stage floor of large Las Vegas production show who was injured when 1,500-pound prop stored on a cable suspended overhead fell and landed on electrician, causing catastrophic injuries; allegations of defectively designed and manufactured cable connection; jury returned verdict just as counsel reached confidential settlement
Lead counsel in matter where trucker delivering fuel suffered tragic injuries while adjusting packing on mechanical pump with driveshaft spinning due to alleged defective projections that caught his ski parka, wrapping his arm and body around the pump's driveshaft; settled
Lead counsel in matter where youth was electrocuted when walking barefoot in rain near streetlight with alleged defective grounding mechanism; tried to jury verdict

Professional Liability

Settlement judge involving professional negligence claim, with plaintiff alleging malpractice by attorney for not advising her that her "hacking" of personal data in her husband's employee's office-issued mobile phone exposed her to criminal arrest
Garbage truck driver injured motorist and settled for seven figures; then garbage truck company sued injured party's orthopedic surgeon for contribution, alleging malpractice made injured party's injuries much worse and that some of the surgery was unnecessary and the resulting complications were not the fault of garbage truck company; served as settlement judge, and matter settled

Real Property

Settlement judge for suit by home purchaser claiming seller fraudulently concealed sewer defect; seller claimed no knowledge even though seller was exclusive owner and occupant for 15 years before sale; settled
As judge, handled numerous homeowners association (HOA) foreclosure cases predicated upon nonpayment of HOA dues, super-priority liens, with issues of inadequate notice, claims for equitable redemption, federal preemption under Fannie Mae and many other legal claims in support of or in derogation of super-priority liens
Settlement judge in 400-member condominium battle between "minority" group and new owners regarding contract with property management, propriety of leasing units rather than selling them, unit sales procedures, sales office, leasing, leasing office, clubhouse access and facilities, assigned parking spaces and control issues within the board of directors; settled
Settlement judge in dispute between parties as to whether leasehold or fee simple interest acquired in agreement with new restaurant owner/operator and nature and extent of CAM charges if leasehold; settled
Settlement judge in dispute where plaintiff claimed defendant gifted down payment money to enable plaintiff to qualify for VA loan; defendant insisted agreement was that defendant would falsely declare the money was a gift to permit plaintiff to qualify, but with the "understanding" between plaintiff and defendant that defendant would actually become a part owner of home; settled
Honors, Memberships, and Professional Activities
Memberships and Affiliations
Board Certified, Pretrial Civil Practice Advocacy, 2012–2015
Board Certified, Civil Trial Advocate by National Board of Trial Advocacy, 1983–2015
Selected Awards and Honors
Ray Badger Award, Nevada Trial Lawyers Association, 2007
Trial Lawyer of the Year, Nevada Trial Lawyers Association, 2006
Mountain States Super Lawyer, 2007–2014
AV Preeminent, Martindale-Hubbell's Preeminent Register, 1983–2014
Life Member, Multi-Million-Dollar Advocates
Founder Emeritus, Nevada Trial Lawyers Association, 1989
"Outstanding Service," Nevada Trial Lawyers Association, 1982–1984, 1987, 1988–2000
Community Service Award, Help Them Walk Again Foundation, 1987
Charter Member, Dean's Counsel, McGeorge School of Law
Background and Education
Senior District Court Judge, Eighth Judicial District Court of Nevada, 2021–2023
District Court Judge, Department 24, Eighth Judicial District Court of Nevada, 2015–2020
Trial Lawyer, 1974–2014

Partner, Crockett & Myers, 1981–2014
Partner, Pomeranz, Crockett & Myers, 1979–1981
Partner, Pomeranz & Crockett, 1978–1979
Partner, Crockett & Rickdall, 1975–1978
Solo Practitioner, J. R. Crockett, Jr., 1974–1975

J.D., McGeorge School of Law, University of the Pacific, 1974

American Jurisprudence Award for Outstanding Performance in Tort Law

B.A., Loyola Marymount University, 1971
"Judge Crockett settled two very difficult cases for me recently. Both cases had complex issues and complex facts with difficult clients as well. Somehow Judge Crockett was able to get everyone to come to the table and have a meaningful discussion to get it resolved. I will be looking to work with him again in the near future. He is a fantastic addition to the JAMs panel."
"Judge Crockett was a respected practitioner, a revered judge, and an exceptional settlement judge. I am thrilled to know that he will now devote his time, extensive experience, and people skills to arbitrate and mediate the difficult disputes which he excels at resolving and adjudicating. He is magical in the settlement arena, and a great addition to JAMS."
"I have known Judge Crockett for over 30 years, from opposing him on cases when he was an advocate to his many years on the bench. He is always thoughtful, always extremely prepared, and reads and considers everything and all points of view. His intellect, experience, patience and perseverance will serve him well in assisting litigants to find common ground and to resolve complex civil cases."
"Judge Crockett had the experience, knowledge, and just the right amount of forceful advocacy necessary to resolve two drastically different complex civil cases that I never believed would resolve short of trial. He is an asset to JAMS and I look forward to working with him again."
Disclaimer
This page is for general information purposes. JAMS makes no representations or warranties regarding its accuracy or completeness. Interested persons should conduct their own research regarding information on this website before deciding to use JAMS, including investigation and research of JAMS neutrals. See More
Search our global directory of mediators, arbitrators and ADR professionals.
FIND A NEUTRAL