Charles H. Dick Jr., Esq.
Contact Case Manager
Nicole Burns
3390 University Ave. Suite 450
Riverside, CA 92505
T: 714-937-8250
F: 714-939-8710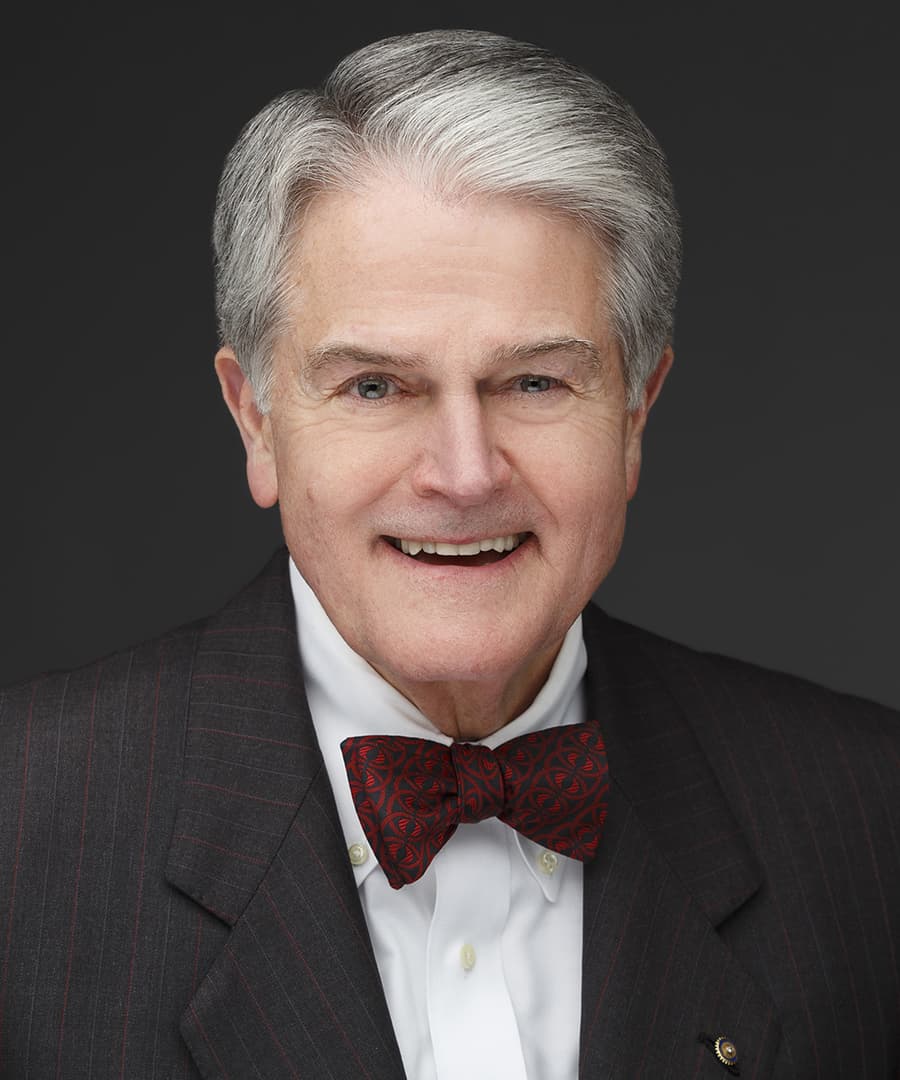 Charles H. Dick Jr., Esq.
Contact Information
Nicole Burns
3390 University Ave. Suite 450
Riverside, CA 92505
T: 714-937-8250
F: 714-939-8710
General Biography
Practice Areas
Antitrust/Competition
Arbitration
Business/Commercial
Employment Law
Higher Education & Title IX
Personal Injury/Torts
Professional Liability
Real Estate & Real Property
Securities
Honors, Memberships, and Professional Activities
Background and Education
Charles H. Dick, Esq. is an experienced dispute resolution professional with more than 30 years of experience as an arbitrator and mediator. He specializes in resolving an array of complex disputes, including class action litigation and cases involving antitrust, business and commercial, securities, employment, toxic tort, real estate, and professional liability issues.
Mr. Dick's distinguished career as a trial lawyer spanned 50-plus years and involved litigation and arbitration of complex business and commercial matters, as well as a wide range of high-stakes domestic and international disputes. For more than a decade, his practice involved service as lead counsel in securities class action lawsuits, which contributed to his reputation as a leading advocate in shareholder litigation and as a skilled practitioner in corporate governance matters.
Mr. Dick is known for his sound judgment and fair-mindedness. As an arbitrator, he has been described as industrious, intelligent, even-handed, and a quick study. While desirous of assisting parties in streamlining proceedings, he describes himself as a "service provider." He is deferential to the parties' desires, considerate of counsels' preferences, and responsive to the parties needs for resolution of case management or discovery issues. He believes arbitration works best when the parties have confidence in procedures they design and implement.
As a mediator, Mr. Dick's approach begins with patient listening, and he has been described as both empathetic and perceptive. Though capable of being evaluative, he brings creativity to the process, and believes foremost that mediation is most effective when the mediator functions as a facilitator of negotiation by the parties. He encourages a focus on the parties' long-term interests, and he is known for persistence in the search for a common ground; he does not give up in the face a stalemate.
Representative Matters
Antitrust/Competition

Lead counsel in antitrust monopolization litigation
Arbitrator in common law and statutory Unfair Business Practices cases, including unfair competition, CLRA, and related statutory trade practices law
Mediator in consumer class action litigation
Investigator and Counselor in addressing Foreign Corrupt Practices Act and related controversies
Arbitrator and mediator in Franchisor-Franchisee disputes

Business/Commercial

Arbitrator in post-merger controversies arising out of M/A transactions, including post-acquisition auditing and disputes involving earn-out payments
Arbitrator and mediator in partnership and joint venture controversies, including rights of limited partners and minority members
Arbitrator in business purchase and sale agreements, including buy-out controversies, contractual breaches, and fraud and misrepresentation claims
Mediator in shareholder rights disputes and corporate control controversies
Arbitrator in biotechnology and pharmaceutical contract controversies, including licensing disputes and matters about Pharmacy Benefit Management (PBM) or third-party administration of prescription drug programs
Advocate in disputes involving hotel investment and management agreements
Mediator in bank-borrower disputes, including interpretation of loan documentation and banking practice controversies
Arbitrator in investment disputes, including limited partnerships and private placements
Arbitrator and mediator in breach of contract matters, including consultation agreements, product distribution, sales representation, intellectual property licensing, Power Purchase Agreements and renewable energy/solar power matters
Arbitrator and mediator in controversies involving NDA agreements, consultancy engagements, and sales representative "exclusivity" arrangements
Arbitrator in Consumer Protection litigation, including Song-Beverly "Lemon Law" claims, installment sales, telephone collection, credit reporting, and federal and state privacy disputes
Mediator in law firm dissolution controversies
Arbitrator and Mediator in real estate lease disputes
Arbitrator in cryptocurrency controversies

Employment Law

Mediator in class action age discrimination litigation
Arbitrator in employee discrimination cases based on age, disability, gender, and race
Advocate and Counselor in executive level employment agreements and compensation issues
Arbitrator in wrongful termination of management level employees.
Arbitrator in fraudulent inducement and misrepresentations in employment claims
Arbitrator in Broker-Dealer employment agreements and related termination matters
Mediator in employment disputes involving non-competition agreements and NDAs
Arbitrator in breach of employment agreements, including separation entitlements
Arbitrator in employee breach of loyalty and confidentiality agreements
Arbitrator in enforcement of statutory and contractual employee benefits
Arbitrator in unauthorized access of computers and "hacking" violations of penal codes
Counselor in indemnity agreements for corporate officers and directors and D&O insurance coverage issues
Advocate and Counselor in academic faculty disciplinary proceedings
Mediator in clergy misconduct and abuse matters

Personal Injury/Torts

Advocate on trial team for nationwide breast implant litigation
Advocate and Counselor in consumer product safety investigations and product recall issues
Supervisor of nationwide defense of toxic tort claims against consumer product goods manufacturer
Mediator in government tort claim disputes

Professional Liability

Advocate and Counselor in attorney professional responsibility and fiduciary duty matters
Arbitrator in fee disputes regarding the reasonableness of attorney fees and division of fees among counsel
Advocate in complex attorney malpractice claims
Advocate in accounting standards of care and accountant negligence matters
Plaintiff and Defense advocacy in medical malpractice claims involving standards of care applicable to hospitals and health care providers, with special experience in obstetrical and neonatal issues
Counselor and Lecturer regarding director & officer fiduciary duties

Real Estate & Real Property

Mediator in disputes involving franchisee leasehold obligations and tenant improvement issues
Arbitrator in controversy about interpretation of ground lease provisions and valuation of real estate for purchase option
Arbitrator in enforcement of real property purchase agreements and specific performance claims
Arbitrator in disputes arising out of HOA Covenants and Restrictions
Mediator in homeowner claims against HOA for failure to maintain common areas and resultant damages to condominium
Arbitrator in homeowner challenges to home improvement marketing practices and enforcement of resultant liens
Advocate in claims by equity owners of real estate investment LLCs for exercise of "special advances" repayment options and loans in connection and financing party "exit" rights

Securities

Arbitrator in disputes arising from sale of unregistered securities, forward purchases of unregistered securities, legend stock transactions, claims of unsuitable investments, "KYC" violations, and breaches of fund manager obligations
Advocate in federal and state securities fraud class action shareholder litigation, including jury trial to verdict in a major Rule 10b-5 securities class action lawsuit
Advocate and Counselor multiple shareholder derivative lawsuits challenging action by corporate officers and directors and application of the Business Judgment Rule
Investigator for Special Board Committee inquiries
Counselor for insider trading and short-swing profit taking by corporate insiders
Counselor in director and officer insurance ("D&O") coverage and cost apportionment
Honors, Memberships, and Professional Activities
Completed Virtual ADR training conducted by the JAMS Institute, the training arm of JAMS.


Fellow, American College of Trial Lawyer—Mr. Dick is a former Regent of the College, served as Southern California State Chair, and is a Past-President of the College's philanthropic Foundation, which is committed to improving advocacy skills, promoting professionalism, and enhancing access to justice.
Member, American Board of Trial Advocates—Mr. Dick is a former President of the San Diego Chapter of ABOTA.
Fellow, Chartered Institute of Arbitrators.
Executive Committee, California Lawyers Association ADR Subsection
Co-Chair, Programming, for California Arbitration
Steering Committee, California International Arbitration Week
Senior Master, American Inns of Court—an emeritus member of the Louis M. Welsh Inn and 2023 recipient of the Inn's "Above And Beyond" Award. Mr. Dick served as National Trustee of the American Inns of Court Foundation and has helped to organize new Inns of Court in Southern California.
Founding Director, Association of Business Trial Lawyers, San Diego.
Commissioner, San Diego Ethics Commission (2003 to 2007)
Chancellor, Episcopal Diocese of San Diego—Mr. Dick served for more than 20 years as the principal legal advisor to the Diocesan Bishop of the Episcopal Church in the San Diego Diocese.
Daniel T. Broderick III Award—Mr. Dick was given the San Diego trial bar's highest award in 2003 in recognition of his commitment to civility, ethics, and excellence in the profession.
Outstanding Attorney of the Year—Mr. Dick was given this award in 2016 by the San Diego County Bar Association.
Pro Bono Attorney of the Year— Dick was presented this award by Casa Cornelia Law Center at it 25th La Mancha Awards event in 2018.
Rotary International—Mr. Dick is a Past President of the La Jolla Rotary Club and has been active in the international service work of the Rotary Foundation.
Captain, Judge Advocate General's Corps, US Naval Reserve (Ret.)
Background and Education
Partner, Baker & McKenzie, 1988-2012.
Associate/Partner, Macdonald, Halsted & Laybourne, 1978-1988.
Assistant United States Attorney, 1976-1978.
Private law practice in Des Moines, Iowa, 1970-1976.
Judge Advocate, U.S. Navy, 1967-1970.
Honors Program B.A. (Religion and Political Science) 1964 and J.D (with honors) 1967, University of Iowa; Mr. Dick was Managing Editor of the Iowa Law Review and Order of the Coif
Home Office
HOME OFFICE
Available to Travel
Disclaimer
This page is for general information purposes. JAMS makes no representations or warranties regarding its accuracy or completeness. Interested persons should conduct their own research regarding information on this website before deciding to use JAMS, including investigation and research of JAMS neutrals. See More
Search our global directory of mediators, arbitrators and ADR professionals.
FIND A NEUTRAL