Hon. Jay C. Gandhi (Ret.)
Contact Case Manager
Julie Ware
555 W. 5th St. 32nd Floor
Los Angeles, CA 90013
T: 213-253-9721
F: 213-620-0100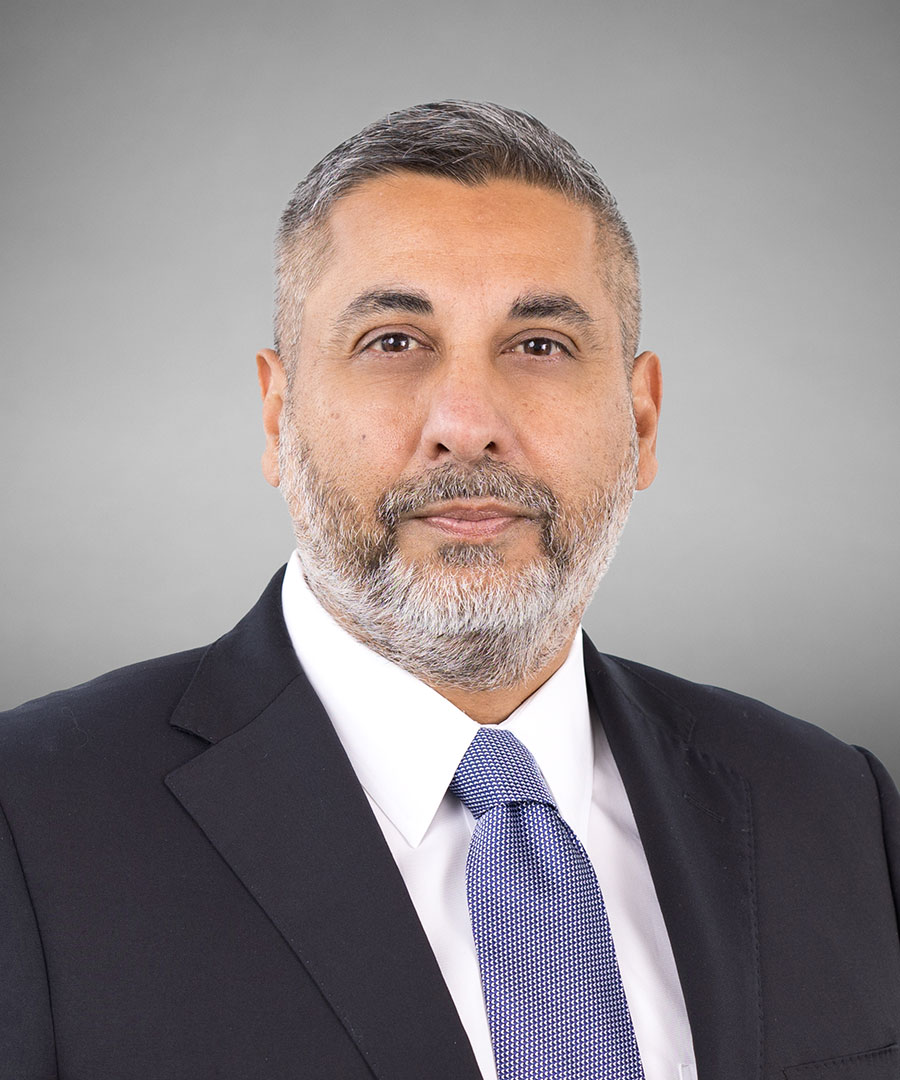 Hon. Jay C. Gandhi (Ret.)
Contact Information
Julie Ware
555 W. 5th St. 32nd Floor
Los Angeles, CA 90013
T: 213-253-9721
F: 213-620-0100
General Biography
Practice Areas
Antitrust Competition Law
Business/Commercial
Civil Rights
Class Action and Mass Tort
Cybersecurity & Privacy
Employment Law
Entertainment and Sports
Environmental Law
Federal
Health Care
Insurance
Intellectual Property
Life Sciences
Personal Injury Torts
Product Liability
Professional Liability
Real Estate & Real Property
Securities
Honors, Memberships, and Professional Activities
Background and Education
"Judge Gandhi...is one of the best settlement judges in - if not the best, in the Central District."
-- Hon. Josephine L. Staton, U.S. Dist. Court, Central Dist. of California
"Gandhi is a great judge. He is extremely intelligent...He feels strongly about letting people have their day in court...He is is one of the best magistrates for settlement...He is excellent. He will get it done for you...He pushes the other side just enough."
--Almanac of the Federal Judiciary
"Gandhi is notorious for engaging in marathon settlement discussions that can occasionally go into the wee hours of the morning, according to attorneys who appeared before him and colleagues who work alongside him."
--Los Angeles Daily Journal, Judicial Profile


Hon. Jay C. Gandhi (Ret.) is known for his thorough, insightful, and candid approach to every engagement. The parties turn to Judge Gandhi to resolve complex disputes. For instance, Judge Gandhi presided over the $1 billion public-entity settlement involving PG&E and the California wildfires, the $725 million class action settlement accusing Facebook of allowing third parties, including Cambridge Analytica, to access users' private information, and the $648 million class action settlement over environmental contamination from polychlorinated biphenyls, or PCBs, made by the Monsanto Company. Judge Gandhi also specializes in sensitive, high-stakes commercial disputes, such as financial litigation (including with federal and state regulators), contractual and employment matters, and intellectual property and trade secret thefts, amongst others.
Known for his commitment to justice, government officials call upon Judge Gandhi for his consensus-building skills. For example, he was appointed by the Mayor of Los Angeles to the Independent Taxpayer Oversight Committee - Measure R. The measure is expected to generate $40 billion in revenue and fund proposed transportation projects in Los Angeles. He was previously appointed to the Los Angeles Police Commission's Advisory Committee on Building Trust and Equity. The committee was formed to deliver recommendations for LAPD reforms after the nationwide protests that followed the murder of George Floyd.

Judge Gandhi previously served for eight (8) years as a United States Magistrate Judge for the Central District of California, the nation's largest federal court. He received multiple honors for his judicial qualities and skills and oversaw the Court's Alternative Dispute Resolution program. Judge Gandhi was also an active, hands-on trial judge while on the Court.
Before the bench, Judge Gandhi was a partner at Paul Hastings LLP. He spent 12 years litigating commercial cases and MDL/class actions in a variety of state and federal jurisdictions across the country.


ADR Experience and Qualifications
Eight years as a U.S. Magistrate Judge for the Central District of California; recipient of several awards for his public service
Twelve years at Paul Hastings LLP; recipient of multiple honors for his legal skills
Five years as a Vice-Chair and member of the Central District's Alternative Dispute Resolution Committee
Former Co-Chair of the Alternative Dispute Resolution Committee of the American Bar Association's Litigation Section
Frequent speaker and writer about best practices in alternative dispute resolution and trial advocacy, including on behalf of the American Bar Association and the Federal Bar Association
Honorary Master Member of the Pepperdine/Straus American Inn of Court for Dispute Resolution
Representative Matters
Antitrust Competition Law

Antitrust action between competitors in the produce labeling machine market, including claims of monopolization, price discrimination, and below-cost sales
Antitrust action by a record company against a leading music company in connection with the sale of a Bob Marley remix album
Unfair competition action by an accounting and consulting firm against a former partner in connection with an electronic discovery solutions practice
Misappropriation of trade secrets, and related claims and counterclaims, by a luxury apparel company agianst its former president
Wrongful conversion and unfair business practices action, and counterclaims, by a cosmetic company against a competing health and beauty company, including allegations involving concurrent employment, financial embezzlement, theft of intellectual property, supplier/distributor disruptions, and false advertising

Business/Commercial

Breach of contract and fraud claims against one of the world's largest information technology and consulting companies in connection with the development of a property tax management system
Breach of contract action in connection with an engineering agreement (including foreign law application), alleged defects in railroad cars, and a deadly derailment
"Founders" action, including claims against company principals, venture fund and legal counsel in connection with a data security company
Breach of contract and fraud claims, along with counterclaims, against a virtual reality and augmented reality company in connection with a business development and marketing contract
Breach of contract, trade secret and business tortious action against a U.K.-based apparel company in connection with a manufacturing agreement

Civil Rights

Wrongful shooting and death of an unarmed individual against the Los Angeles County Sheriff's Department
Wrongful shooting and death of an unarmed teenager against the Pasadena Police Department
Wrongful shooting and death of an unarmed individual against the Santa Ana Police Department
Use of excessive force on and wrongful arrest of an off-duty South Gate police officer against the Long Beach Police Department
American Civil Liberties Union injunctive action against the Los Angeles County Sheriff's Department in connection with public photography

Class Action and Mass Tort

A $1 billion settlement between Pacific Gas & Electric Co. and 14 public entities (including the Town of Paradise) in connection with the 2017 Northern California wildfires and the 2018 Camp Fire, the deadliest wildfire in California history
A class action against a chain of fast casual restaurants in connection with their non-GMO marketing campaign
A class action against a global leader in consumer and business credit reporting in connection with a data breach affecting millions of consumers
A class action against the largest American automobile manufacturer in connection with thousands of SUV vehicles and an oil consumption defect
A class action against a leading provider of residential real estate services with an alleged scheme in violation of the Real Estate Settlement Procedures Act

Employment Law

Sexual harassment allegations against celebrities and entertainment professionals
Sexual harassment and whistleblower action by an in-house labor and employment lawyer against semiconductor company
Race discrimination and sexual harassment lawsuits by sales associates against the largest online real estate database company in connection with a salacious, "adult frat house" culture
An Iranian-American U.S. immigration judge's action against the U.S. Attorney General and the U.S. Department of Justice based on an order that she recuse herself from hearing any cases involving Iranian nationals

Entertainment and Sports

Writers and producers of a hit television series against a major studio in connection with profit participation, along with other alleged breaches (e.g., auditing rights, good faith consultation, etc.)
Breach of contract claim against a well-known actress and singer in connection with the sale of her $1 billion brand
A reality television family's action against their late father's spouse in connection with sensitive personal possessions, including photographs and diaries
A photographer's copyright action against an actress/musician, her clothing company and a leading music publishing company
A screenwriter's two actions against a famous novelist and a New York publishing house in connection with allegedly derivative works

Environmental Law

CERCLA action against current owners and operators of an industrial site
CERCLA action against an arranger of approximately 100-plus tons of waste at an industrial site
A private CERCLA action, and cross-claims, between owners and neighboring owners of an industrial site
A Clean Water Act action against the operator of a concrete, sand and gravel storage and delivery facility in connection with storm water discharge
A trespass to property, nuisance, specific performance and declaratory relief action, with numerous counterclaims, between a miner and a landowner in connection with diatomaceous earth, mercury contamination and Kern County conditional use permits

Health Care

A False Claims Act suit against one of the nation's leading healthcare service providers, alleging inappropriate Medicare charges in connection with unnecessary inpatient admissions and "upcoding" patient diagnoses
Breach of contract and bad faith claims against insurers in connection with denial of various medical services, including Applied Behavioral Analysis
Breach of contract and fraud claims in connection with the ownership and operation of a world-class medical center
Breach of contract and fraud claims, including similar counterclaims, by a pharmaceutical provider against global health service companies in connection with out-of-network charges and deductible and coinsurance obligations
An action for attorneys' fees against one of the largest hospital trade associations in the nation, and its chief members, in connection with Medi-Cal payment reductions imposed under Assembly Bills 5 and 1183

Insurance

Breach of contract and bad faith action by officers and directors and excess carrier against leading investment and insurance company (and primary carrier) in connection with losses arising from a leveraged buyout
Breach of contract, declaratory relief and unfair competition by a yoga "guru" against multiple insurance companies in connection with several lawsuits filed against him for abusive conduct, including discrimination, harassment and rape
Declaratory relief action by an insurance and risk management company against the leading manufacturer of football equipment in connection with a wave of helmet lawsuits
Breach of contract and bad faith action by an apparel company against one of the largest personal and commercial property insurers in connection with water leakage and earth movement
Breach of contract and bad faith action by the CEO and general counsel of a bank against one of the world's largest property and casualty insurers in connection with a lawsuit alleging violations of federal and state banking laws

Intellectual Property

Patent infringement action, including post-Alice Section 101 eligibility issues, against the world's largest software maker in connection with self-referential databases
Patent infringement action, along with foreign proceedings, by a company specializing in secure and certified e-delivery against an agency of the Swiss government in connection with authenticated, digital mail service
Patent and trademark infringement between fitness equipment companies in connection with nearly an entire line of stationary exercise bikes and the "Spinning" trademark
Copyright action by a photography company against a travel metasearch engine in connection with nearly 3,000 automobile images
Trademark infringement action by a luxury fashion company against the owner and operator of the largest chain of "swap meets" in California in connection with counterfeiting activities

Product Liability

Negligent product design action (including window, roof and seatbelt claims) against second-largest U.S.-based automaker in connection with an SUV rollover, resulting in the death of one occupant and the permanent brain injury of another
Manufacturing defect action against an implantable hearing aid company in connection with an aggressive electrical shock in the head and the surgical removal of the device
Design and manufacturing defect action against both a ventilation product company (exhaust fan) and an automated control company (timer switch) in connection with a fire
Manufacturing defect, breach of warranty and negligence action by an energy company against an alternator manufacturer in connection with wind turbines across the world
Breach of express warranty and implied warranty, along with multiple other claims, by a food manufacturer against a Wisconsin cheese producer in connection with contaminated products

Professional Liability

Malpractice complaint and fee dispute against a widely recognized international law firm in connection with the representation of a high-profile individual
Breach of trust and fraudulent conveyance claim against an intellectual property boutique law firm in connection with the settlement of litigation
Malpractice complaint against a plaintiffs' law firm in connection with the resolution of both a certified class action and an individual employment action
Breach of contract action against commercial real estate brokers with the second-largest U.S.-based bank in connection with the negotiation of a derivative contract
Negligence actions against two environmental consulting companies in connection with their reports regarding subsurface contamination

Real Estate & Real Property

Breach of contract and fraud action against a national builder of modular homes in connection with a 105,000-square-foot, 100-plus-unit building project
Inverse condemnation claim by outdoor advertising company in connection with the building of billboards
Eminent domain action by the State of California against the owner of a business in connection with the Interstate 5 Freeway widening project
Breach of contract and fraud action by investors against real estate developer, financial backers and legal counsel in connection with an apartment-to-condominium conversion project
Multiple adverse proceedings by a Chapter 7 trustee against owners of high-end properties in New York City in connection with allegedly fraudulent transfers

Securities

Securities actions alleging a broad array of claims (e.g. misrepresentations in financial documents, restatements and GAAP violations, insider trading, etc.)
Derivative lawsuits alleging various breaches of fiduciary duties (e.g., corporate mergers, executive compensation, extraordinary transactions, etc.)
Mutual fund and hedge fund litigation, including unique asset classes (e.g., cryptocurrency, life insurance policies, etc.)
U.S. Securities and Exchange Commission and receiver's fraud and negligence actions against numerous parties (e.g., officers/directors, heirs, bankers, lawyers) accused of facilitating a high-profile Ponzi scheme (along with a parallel U.S. Department of Justice prosecution and conviction)
Fraud action by investor against a technology-focused company and its placement agent in connection with a domestic securities offering and a Regulation S capital raise (capital from foreign investors)
Honors, Memberships, and Professional Activities
Completed Virtual ADR training conducted by the JAMS Institute, the training arm of JAMS.


Honors
Recipient, Judicial Trailblazer Award, Orange County Asian American Bar Association
Recipient, Benjamin Aranda III Judge of the Year Award, Mexican American Bar Association
Recipient, Judicial Excellence and Public Service Award, Iranian American Bar Association
Recipient, Cornerstone Award, North American South Asian Bar Association
Recipient, Community Solidarity Award, South Asian Network
Recipient, Wiley W. Manual Award for Pro Bono Legal Services, The State Bar of California
Memberships and Professional Activities
Organizations

Current Participation

Invited Honorary Member, Pepperdine/Straus American Inn of Court for Dispute Resolution
Judicial Clerkship Committee, Unversity of Southern California Law School

Previous Participation

Judicial Advisory Board, Institute for Complex Litigation and Mass Actions, Emory Law School
Vice-Chair and Member, Alternative Dispute Resolution Committee, U.S. District Court for the Central District of California
Co-Chair, Alternative Dispute Resolution Committee, Litigation Section, American Bar Association
Board of Governors, Association of Business Trial Lawyers, Los Angeles and Orange County Chapters
Executive Committee for the Litigation Section, Los Angeles County Bar Association

Speaking Engagements

Mediation Specific

"The Mediation - What Happens in the Mediation of Patent Cases," Daily Journal Patent Disputes Forum 2019
"Mediation - When and How to Use It," Daily Journal Patent Disputes Forum 2019
"Mediation in Mass Torts: Problems & Solutions in Resolution Allocation," Mass Torts Made Perfect Seminar
"Navigating Class Action Settlement Negotiations and Court Approval: A Discussion with the Experts," Association of Business Trial Lawyers, Los Angeles Chapter
"From Interpersonal Conflict to Diplomacy: Where Does Court-Connected Mediation Fit In?" Southern California Mediation Association
"Settle Better: Mediation Strategies for a Favorable Settlement," Federal Bar Association, Orange County Chapter

Practice Oriented

"The Nuts and Bolts of Federal Civil Practice: How To Argue Discovery and Pretrial Conference Hearings," Federal Bar Association, Los Angeles Chapter
"The Private Attorneys General Act: Avoiding the Quicksand," Los Angeles County Bar Association, 40th Annual Labor & Employment Law Symposium
"High Stakes Litigation in California Courts," California Lawyers Association, 2019 Litigation and Appellate Summits
"Conversation on IP Litigation," San Francisco Intellectual Property Law Association, Annual Seminar
"Current Issues in Pharmaceutical, Medical Device & Biotech Litigation," American Bar Association
"From the Bench, How to Represent Business Entities Before the Court," American Bar Association, Corporate Counsel Seminar
"Annual Review of Developments in Business and Corporate Litigation," American Bar Association, Business Law Section
"Recent Developments in Banking, Lending and Commercial Law," Orange County Bar Association
"Perspectives from the Bench," Los Angeles Intellectual Property Law Association
"Perspectives from the Other Side of the Bench," National Consumer Law Center
"Is the Tripartite Relationship a Healthy One," Insurance Coverage Litigation Committee, American Bar Association
"Living on e-Discovery's Cutting Edge," The Sedona Conference
"Practice in the Central District: Changes, Trends and Updates," Los Angeles County Bar Association
Avoiding Landmines: Navigating Federal Court for State Court Practitioners, State Bar of California, Annual Meeting
How to Be Civil with the Uncivil, College of Labor and Employment Lawyers
Prosecuting Wildlife Crimes: Lessons from the United States, Kuala Lumpur and Taman Negara, Malaysia, U.S. Department of State and U.S. Department of Justice (Office of Overseas Prosecutorial Development, Assistance, and Training)
Criminal Trial Advocacy Seminar (Training for Federal Prosecutors), Judicial Faculty, U.S. Department of Justice, National Advocacy Center
Judicial Profiles
Judicial Profile, "Marathon Man," Los Angeles Daily Journal
Judicial Profile, Almanac of the Federal Judiciary
Q&A with the Hon. Jay C. Gandhi, ABTL Report
Background and Education
United States Magistrate Judge, U.S. District Court, Central District of California
Partner and Associate, Litigation Department, Paul Hastings LLP
Law Clerk, Hon. Kenneth M. Hoyt, U.S. District Court, Southern District of Texas, Houston Division
J.D., Order of the Coif, University of Southern California Gould School of Law
B.A., with Honors, Business Administration (Marketing) and Philosophy, California State University, Fullerton
"My litigation practice is national. I have mediated hundreds of times, privately and with sitting judges. Magistrate Judge Gandhi sets a new bar for all mediators. He seamlessly maneuvered difficult personalities under difficult circumstances. He was measured, never cramming arguments and opinions. He was stern as necessary, but never too rigid to avoid cracking a fragile negotiation. He was tolerant, but his keen intellect left no room for silliness or posturing. Ultimately, Judge Gandhi conveyed reality in the particular way it needed to be heard by the different parties to move them to settle. All this gave credibility, credibility that significantly influenced my client. To put it simply, Judge Gandhi "gets it." Judge Gandhi's mediation skills are rare."
"In 35 years of practice, I have only sent a thank you letter to a mediator on one other occasion. We appreciated your straight talk and direct approach to the mediation, as well as your understanding of the personal issues at hand. Without your extraordinary efforts, we could not have settled this case."
"I had written a longer letter thanking for your help last Monday in settling __ v. __. Then I realized I need only two words: 1. Wow! 2. Thanks."
"Judge Gandhi is the best mediator I've ever had the opportunity to work with. Creative, smart and tenacious."
"Excellent mediator who worked very hard during the mediation and after to help the parties reach a settlement."
"Judge Gandhi was fantastic. He bridges some very difficult gaps and made an inherently difficult process into a relatively pleasant one."
"[Judge Gandhi] was very patient and had an approachable manner and an understanding of the parties' respective positions."
"[Judge Gandhi] was constantly available, educated on the issues, and got the job done."
Home Office
HOME OFFICE
Los Angeles, California
555 West 5th St., 32nd Floor, Los Angeles, CA 90013
View Location Details
Century City, California
1925 Century Park East, 14th Floor, The Watt Plaza, Los Angeles, CA 90067
View Location Details
Available to Travel
Disclaimer
This page is for general information purposes. JAMS makes no representations or warranties regarding its accuracy or completeness. Interested persons should conduct their own research regarding information on this website before deciding to use JAMS, including investigation and research of JAMS neutrals. See More
Search our global directory of mediators, arbitrators and ADR professionals.
FIND A NEUTRAL