Hon. Vanessa D. Gilmore (USDJ Ret.)
Contact Case Manager
Julia Ford
609 Main Street Suite 3930
Houston, TX 77002
T: 713-470-6769
F: 281-710-7599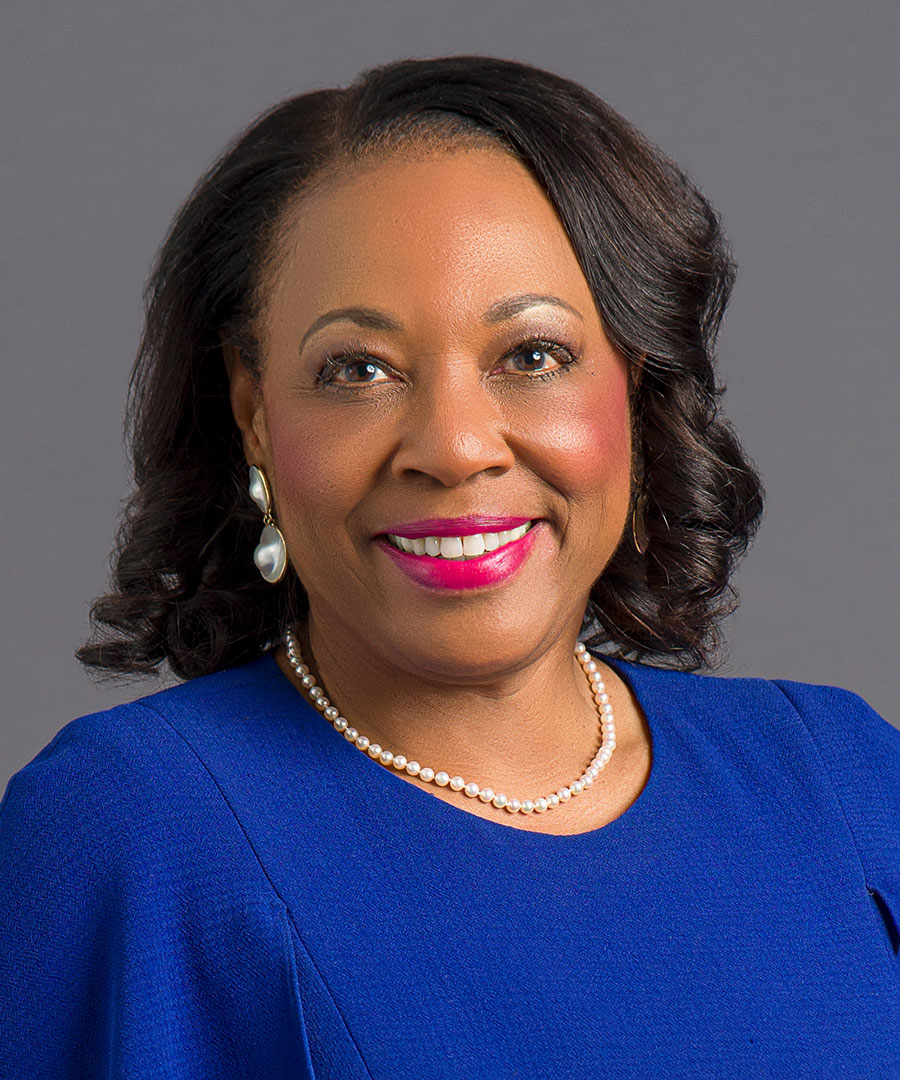 Hon. Vanessa D. Gilmore (USDJ Ret.)
Contact Information
Julia Ford
609 Main Street Suite 3930
Houston, TX 77002
T: 713-470-6769
F: 281-710-7599
General Biography
Practice Areas
Business Commercial
Civil Rights
Class Action and Mass Tort
Cybersecurity & Privacy
Education Law
Employment Law
Environmental Law
Federal Law
Insurance
Intellectual Property
Personal Injury Torts
Securities
Honors, Memberships, and Professional Activities
Background and Education
Hon. Vanessa D. Gilmore (USDJ Ret.) joins JAMS in Houston after a distinguished 27-year career as a United States district judge in the Southern District of Texas. Sworn in as the youngest sitting federal judge in the nation, Judge Gilmore went on to develop extensive experience in handling matters involving patents and copyrights, labor and employment, and securities class actions. She has issued important decisions on intellectual property, products liability, securities fraud, energy and utilities, insurance and environmental law, and has handled significant matters, including the trial of the Enron Broadband case and the building of the Galveston cruise ship terminal.
Judge Gilmore currently serves on the board of Texas Children's Hospital, where she works on buildings and grounds, public policy, quality and service, and safety issues. She is also a member of the board of the DePelchin Children's Center, an accredited foster care and adoption agency serving vulnerable children and families in Texas. Judge Gilmore has held significant positions with the Texas Department of Commerce Policy Board and Texans for NAFTA, where she worked with diplomatic leaders, including the president of Mexico, to increase U.S. trade opportunities.

Judge Gilmore adjudicated a wide range of matters during her tenure as a United States district court judge and has a strong record of resolving matters in the following areas:
Representative Matters
Administrative Review

The court found that the administrative review board's (ARB) decision was not arbitrary or capricious, or unsupported by substantial evidence, and is entitled to deference; like the ARB, the court found that Form WH-266 incorporates the mandatory regulatory factors into its penalty schedule and was appropriately utilized to calculate penalties for child labor violations

Death Penalty

Trial of a truck driver convicted of crimes involving smuggling and transporting undocumented individuals

Election Law

Presided over hundreds of employment matters, including discrimination cases involving race, sex and national origin discrimination; Title IX cases involving sexual harassment on college campuses; Fair Labor Standards Act wage cases; and civil rights/jobs cases
Assisted in settlement of litigation over civil rights/employment trial on claims of sexual harassment and retaliation for complaining of harassment

Environmental Law

Presided over suit alleging violation of the National Environmental Policy Act and the Clean Water Act relating to a permit secured to build seven container berths and three cruise berths in the Galveston Bay.

Equal Protection

Handled case filed by inflatable advertising balloon company against the City of Houston for the city's regulation of advertising and commercial speech on attention-getting devices, including inflatable balloons

Patents

Trial alleging infringement of six patents related to solid expandable technology for the expansion of well holes
Matter between two prominent software companies and claims of patent infringement relating to methods and system for storing local random access memory data obtained from persistent storage devices across a network
Presided over a patent case and issued claim construction ruling; ruled on dispositive motions related to patent for inmate phone
Presided over patent trial between a pharmaceutical company and a chemical manufacturing company related to claims of direct infringement of technology for development of oxidized coenzyme Q10
Construed claims for seven patents related to the removal of volatile fuel vapors from storage tanks and other vessels in the oil and gas industry
Construed claims for patent related to pumps used to deliver mineral oil- or synthetic oil-based lubricant to specific locations on machinery
Construed claims for patents relating to systems for monitoring the autonomic nervous system using real-time heart rate spectral analysis to monitor the autonomic nervous system
Issued judgment in a trial involving patents that covered a variable-width bariatric bed and claims of infringement under the doctrine of equivalents

Products Liability

Entered judgment finding that a large multinational technology company that focuses on e-commerce is not liable for third-party products that are shipped and fulfilled by them but not manufactured by the company

School Law

Resolved litigation against a private college preparatory school's decision not to re-enroll student due to inadequate academic performance

Securities

Oversaw a multiple-count indictment that included charges of conspiracy to commit wire fraud, securities fraud, insider trading and money laundering in connection with the collapse of an American energy, commodities and services company
Class action certification and settlement of suit for violations of the federal securities laws related to the purchase of stock in a corporation that operated correctional facilities
Class action certification and settlement of a suit for securities fraud in connection with the announcement and later restatement of revenues related to seismic data and related geophysical services business for the petroleum industry
Managed the approval of a settlement and plan of allocation for a suit against a retiree medical benefits trust

Trademarks and Copyrights

Matter involving trademark infringement on rights to a dog's name that resulted in a verdict
Trial involving a nightspot's name that resulted in the decision that it was not trademark infringement
Trial involving copyright infringement liability due to registration not being timely made

Transportation

Trial over claims against two well-known rideshare companies of illegal operation that resulted in a settlement

Voting Rights

Redrew the maps for Harris County Commissioners Court

Workers Compensation

Trial regarding the misrepresentation of the circumstances of an employee's death by the deceased's child and their related emotional distress claims
Honors, Memberships, and Professional Activities
Memberships and Affiliations
Member, Board of Visitors, MD Anderson Cancer Center, 2021–present
Board Member, Houston Fund for Social Justice and Economic Equity, 2021–present
Board Member, DePelchin Children's Center, 2020–present
Member, Board of Trustees, Texas Children's Hospital, 2019–present
Member, Risk Management Committee, River Oaks Baptist School, 2015–present
Co-Founder and Member, Downtown Group, Houston, 1997–present
Member, Board of Directors, First Tee of Houston, 2016–2019
Member, Board of Trustees, Hampton University (Virginia), 1998–2015
Member, Board of Trustees, River Oaks Baptist School, 2014–2017
Member, Board of Directors, Royalton at River Oaks Council of Co-Owners, 2012–2015
Member, Dean Search Committee, University of Houston Law Center, 1999–2000, 2006–2008
Member, President's Advisory Council, University of Houston, 1999–2000
Member, Alumni Board, University of Houston Law Center, 1993–1995
Board Member, Federal Bar Association, 1996–2000
Chairperson, Texas Department of Commerce Policy Board, 1991–1994
Chairperson, Texans for NAFTA, 1992–1993
President, YWCA Board of Directors, 1990–1992
Member, Houston Bar Association
Member, American Bar Association
Member, National Bar Association
Member, Houston Lawyers Association
Member, Federal Bar Association
Admissions
United States District Court for the Southern District of Texas
United States Court of Appeals for the Southern District of Texas
State Bar of Texas, 1982
Selected Published Opinions
Products Liability
Labor & Employment
Terry v. Chicago Bridge & Iron Company, 2017
Intellectual Property & Patents
Integrated Production Services, Inc. v. Production Control Services, Inc., 2013
Election Law
Rodriguez v. Harris County, Tex., 2013
Intellectual Property/Trademarks
Rin Tin Tin, Inc. v. First Look Studios, Inc., 2009
Securities Fraud
In Re Seitel, Inc. Securities Litigation, 2007
Securities & Currency Regulation
U.S. v. Hirko, 447 F.Supp.2d 734, (S.D. Tex. Aug 31, 2006)
Environmental Law
City of Shoreacres v. Waterworth, 2004
Energy & Utilities
R&B Falcon Corp. v. American Exploration Co., 2001
Banks and Banking
Voest Apine Trading Co. v. Bank of China, 2000
Libel & Slander
Proctor & Gamble v. Amway Corp., 1999
Insurance
Corporate Health Ins., Inc. v. Texas Dept. of Ins., 1998
Antitrust & Trade Regulation
Ginzburg v. Memorial Healthcare Systems, Inc., 1997
Trademark
Elvis Presley Enterprises, Inc v. Barry Capece, 1996
Speaking Engagements

"The Best Venue for Your Complex Construction Dispute…Is (d) All of the Above," Society of Construction Law North America, Houston, TX
Chief Litigation Officer Summit, Amelia Island, FL
"Judge Vanessa Gilmore: You need bumps in the road to make yourself do better," KPRC Celebrates Black History, KPRC Channel 2 Houston, February 26, 2019, Television
OSU's 28th Annual Women's Business Leadership Conference, Tulsa, OK
Sondock Jurist in Residence Lecture, University of Houston, Houston, TX
"Empowering the Next Generation," Houston Medical Forum Gala, Houston, TX
Selected speeches on Intellectual Property issues in Shanghai, Hungzhou and Beijing, China
Judicial Forum, National Bar Association Commercial Law Section, Dana Point, CA
Walmart Women's Conference, Lubbock, TX
"Beyond the Courts: Innovations in Crime Prevention, Prisoner Families and Re-Entry," Harvard University Advanced Leadership Initiative, Cambridge, MA
"Ethics in Accounting," NABA, Houston, TX
Foster Care Appreciation Dinner, Houston, TX
"Litigation How To," American Intellectual Property Law Association, Atlanta, GA
Fall Convocation Address, Hampton University, Hampton, VA
Commencement Address, Texas A&M University, College Station, TX
"The Public Service Role of Boards and Commissions," Leadership Texas, Austin, TX
Background and Education
U.S. District Judge, Southern District of Texas, 1994–2021
Vickery, Kilbride, Gilmore & Vickery, 1981–1994
Sue Schecter & Associates, 1985–1986
Adjunct Professor, University of Houston Law Center, 1984
Research Assistant, Lands Division, United States Attorney's Office, 1981
Research Assistant, National College of District Attorneys, 1980–1981
J.D., University of Houston College of Law, 1981
B.S., Hampton University, 1977
Home Office
HOME OFFICE
Available to Travel
Disclaimer
This page is for general information purposes. JAMS makes no representations or warranties regarding its accuracy or completeness. Interested persons should conduct their own research regarding information on this website before deciding to use JAMS, including investigation and research of JAMS neutrals. See More
Search our global directory of mediators, arbitrators and ADR professionals.
FIND A NEUTRAL