Hon. L. Priscilla Hall, (Ret.) |
JAMS Mediator, Arbitrator
Contact Case Manager
George Cuervos
620 Eighth Avenue 34th Floor
New York, NY 10018
T: 212-607-2789
F: 212-751-4099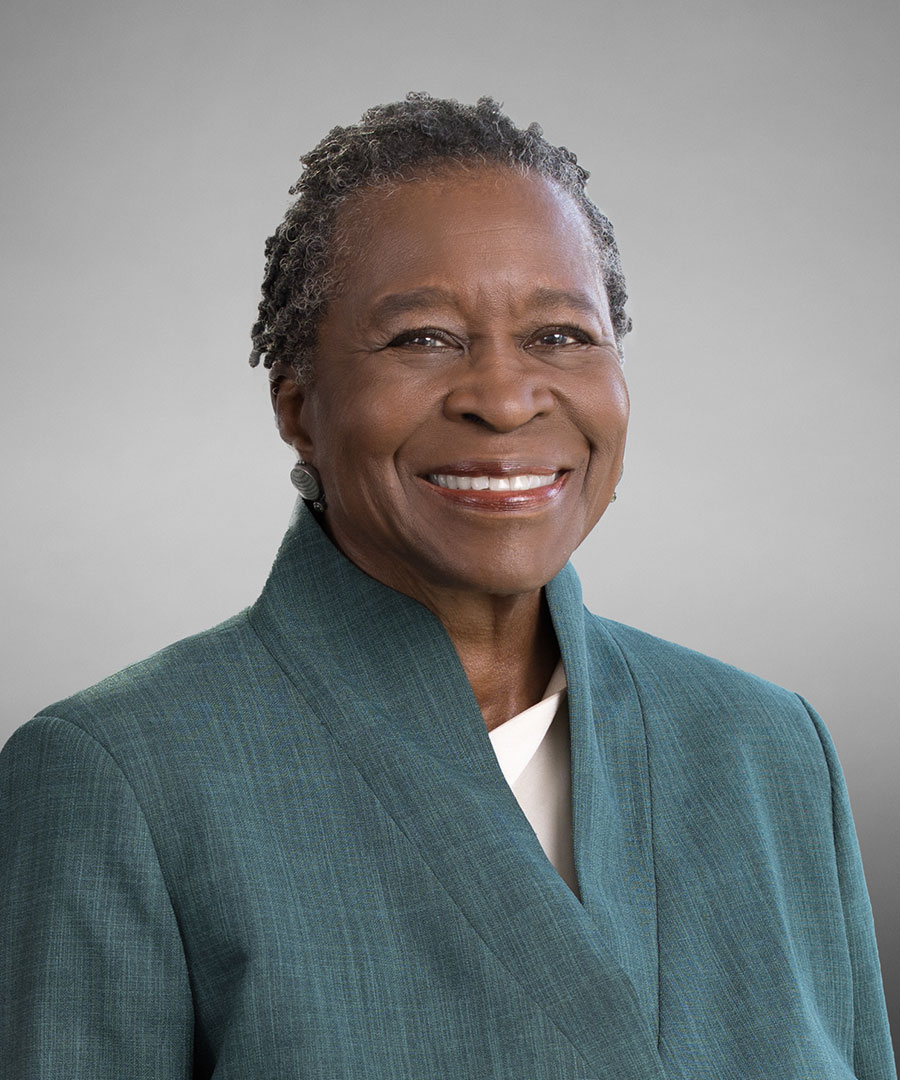 Hon. L. Priscilla Hall, (Ret.)
Contact Information
George Cuervos
620 Eighth Avenue 34th Floor
New York, NY 10018
T: 212-607-2789
F: 212-751-4099
General Biography
Practice Areas
Appellate
Banking
Business/Commercial
Civil Rights
Class Action and Mass Tort
Construction
Education Law
Employment
Governmental/Public Agency
Higher Education & Title IX
Insurance
Personal Injury Torts
Real Estate & Real Property
Securities
Special Master Discovery Referee
Honors, Memberships, and Professional Activities
Background and Education
Hon. L. Priscilla Hall (Ret.) brings more than 30 years of experience on the bench, having served New York State with distinction. Appointed by Governor David A. Paterson, Judge Hall served as an associate justice of the State of New York Appellate Division, Second Judicial Department, for nine years. Prior to this, she served as the administrative judge of the Criminal Division of the Kings County Supreme Court.
Twice elected as a justice to the Supreme Court of the State of New York, Judge Hall presided over criminal and civil matters and volunteered to serve in Family Court. Her diverse career has spanned the fields of law, public service and community service as a means to maintain the public's confidence in our judicial system. She has experience in multiple spheres, having served as a corporate attorney for General Electric, an assistant district attorney in New York County, inspector general of the New York State Department of Employment, assistant attorney general at the New York City Department of Employment and inspector general of the New York City Human Resources Administration.
Throughout her career, Judge Hall has been a leader in civic and community organizations and associations, and she is frequently invited to speak about justice and inclusion. She has served as president of the New York State Association of Women Justices, vice-president of the Association of the Bar of the City of New York, chair of the board of directors of the Metropolitan Black Bar Association and president of the Association of Black Women Attorneys. Most recently, she was appointed to serve on the New York City Mayor's Advisory Committee on Judiciary.
After graduating magna cum laude from Howard University with the distinction of being a member of the Phi Beta Kappa Society, Justice Hall pursued a Master of Science from Columbia University School of Journalism, graduating in 1969. She received her Juris Doctor from Columbia University School of Law in 1973.
ADR Experience and Qualifications
Over her more than 30 years on the bench, Judge Hall has presided over thousands of cases involving matters the following areas:
Banking
Business/Commercial
Civil Rights
Class Action and Mass Torts
Construction
Education Law
Employment Law
Governmental/Public Agency
Insurance
Personal Injury/Torts
Real Property
Securities
Selected examples of Judge Hall's cases include the following:
Matter of Jourdain v. NYS Div. of Hous. & Community Renewal, 159 AD3d 41 (2018): Holding that a family member who had been residing in an apartment with the tenant for years and had the right to seek succession when the tenant moved out of the apartment lost that right by virtue of the fact that the tenant continued to pay the rent and executed a renewal lease after moving out
Andryeyeva v. New York Health Care, Inc., 158 A.D.3d 1216 (2017): Affirming putative class action to recover damages for violations of Labor Law article 19 and CPLR article 9; defendants paid home health care attendants for elderly and disabled clients an hourly rate for the 12 daytime hours of their 24-hour shift but contended they were permitted to pay a flat rate for 12 nighttime hours by excluding eight hours of sleep time and three hours of meal time from the home attendants' wages so long as that time for sleep and meals was actually afforded
Matter of Naquan L.G. and Carolyn C., 2016 NY Slip Op 04218 (2016): After a reconstruction hearing had been completed, denying a mother's motion to vacate the judicial surrenders of her parental rights executed on January 20, 2011, for children who had been in kinship foster care since 2008
State of NY v. Claude McC, 122 A.D.3d (2014): Holding that the respondent's conviction of a non-sex offense that he committed while on post-release supervision for an underlying sex offense was a related offense and that the respondent was in the custody of DOCCS when the instant Mental Hygiene Law article 10 petition was filed
Matter of Edward, 121 AD3d 336 (2014): Holding that a person who unlawfully kills another should not be permitted to inherit the victim's assets indirectly through the estate of the victim's daughter
Distressed Holdings, LLC v. Ehrler, 113 AD3d, 111 (2013): Holding the respondent violated the Exempt Income Protection Act, CPLR 5222-a, and violated the judgement debtor's due process rights when it failed to timely send her a copy of the restraining notice, the exemption notice and the two exemption claim forms, which resulted in the debtor's bank account being constrained without any notice to her or any opportunity to claim that certain funds in the account were exempt from debt collection
Hyatt v. Cal. Franchise Tax Bd, 105 AD3d 186 (2013): Holding that New York courts may exercise judicial review over administratively issued subpoenas that were served in New York in connection with a California tax proceeding pursuant to CPLR 3119
State Farm Mut. Auto. Ins. Co. v. Fitzgerald, 112 AD3d 166, (2013): Holding that a police vehicle qualifies as a "motor vehicle" as that term is used in a certain supplementary uninsured/underinsured motorist endorsement
Minogue v. Good Samaritan Hosp., 100 AD3d 64 (2012): Declining plaintiff's invitation to depart from its precedent in Pipia v. Nassau County (34 AD3d 664) and holding that the institution of a cause of action alleging a violation of Labor Law section 741 does not constitute a waiver of other causes of action relating to the alleged retaliatory discharge; plaintiff alleged that the hospital's practice of placing highly acutely ill and mechanically ventilated patients on non-critical floors without increasing the number of experienced nurses on those floors violated 10 NYCRR parts 405 and 407
Mussara v. Mega Funworks, Inc., 100 AD3d 185 (2012): Modifying Supreme Court order granting summary judgement that found that plaintiff assumed the risk of his injuries by voluntarily riding down a waterslide and that his weight, which was in excess of the weight limitation imposed for the waterslide, and his failure to pull back on certain handles while exiting the waterslide were the only proximate causes of his injuries
Matter of Seidel v. Board of Assessors, County of Nassau, 88 AD3d 369 (2011): Holding that Nassau County may not consider improvements made to real property after the taxable status date in assessing property values for the particular tax year to which the taxable status date applies
Haines v. Dick's Concrete Co., Inc., 84 A.D. 3d 732 (2011): Labor Law case wherein the plaintiff, a truck driver, alleged he fell in the parking lot of the premises owned by defendant PJ Quarry Inc. and owned by defendant Dick's Concrete while removing a set of tarps attached to a load of masonry materials on the back of the plaintiff's employer's flatbed truck; plaintiff claimed defendants violated Labor Law sections 240 (1), 241 (6) and 200; defendants moved and plaintiff cross-moved for summary judgement; the bench granted defendants' motion dismissing all three claims on the ground that the defendants did not have the authority to supervise or control the performance of the plaintiff's work and the plaintiff did not raise a triable issue of fact
People v. Warren Davis, 86 AD3d 59 (2011): Holding the Supreme Court did not err when it denied defendant's request to impeach the verdict on the ground that the jury failed to apply the trial court's instructions on the law and instead relied on the "expertise" of a juror who was an attorney
Matter of Frankel v. Citicorp Ins. Servs, Inc., 80 AD3d 280 (2010): Plaintiff, who enrolled in a "voluntary flight insurance program," which automatically billed him the sum of $13 whenever he purchased airplane tickets with his credit card under an agreement that the defendant could unilaterally change any of the terms of at any time and which 14 years later added terms that provided any dispute would be subject to mandatory, binding arbitration on an individual basis; plaintiff commenced this putative class action on behalf of himself and all others who have been erroneously charged for flight insurance
Judge Hall gained experience in many areas on the bench, including the following:
Representative Matters
Business/Commercial

Breach of contract, insurance coverage disputes, shareholder derivative actions, partnership disputes, corporate governance issues, trade secrets, business divorce

Construction

Claims involving allegations of work defects, design defects, unauthorized change orders, delays, breach of contract

Employment Law

Individual and multi-party claims of discrimination (race, gender, age, disability, national origin sexual orientation); ADA/failure to accommodate; retaliation and harassment; executive compensation (bonuses, commissions, severance, equity valuation), wage and hour and FLSA individual, class and collective actions (overtime, unlawful deductions, exemptions, off the clock, tip misappropriation, fluctuating work week); noncompete and nonsolicitation agreements

Insurance

Complex coverage claims, claims under directors and officers (D&O) and other types of policies, including errors and omissions (E&O), commercial general liability (CGL), employment practices liability (EPL), property, health, life, excess coverage

Personal Injury Torts

Medical malpractice; nursing home neglect; wrongful death (industrial accidents, automobile rollover); product liability; premises liability; sexual assault; wrongful use of civil proceedings; rules of professional conduct

Real Estate & Real Property

Partnerships, condominium association/owners and commercial real estate/developer disputes, receiverships
Honors, Memberships, and Professional Activities
Memberships and Affiliations
Board Member at Large, National Bar Association (Elected in 2020 to 2022 term)
Secretary and Board Member, Common Justice
Board Member, Friends of Marcy Houses
Member, Association of Black Women Attorneys
Member, Metropolitan Black Bar Association
Member, Task Force on Racial Injustice and Police Reform, New York State Bar Association
Member, Brooklyn Bar Association
Member, New York City Bar Association
Vice Chair, Deacon Ministry of Brooklyn Community Church, 2010–present.
Selected Awards and Honors
Justice William C. Thompson, Sr. Award; Appellate Division, Second Judicial Department; Kings County Black History Month, 2019
Myles A. Paige Award, Judicial Friends Inc., 2018
Commitment to Diversity Award, Amistad Bar Association, 2018
Honorable L. Priscilla Hall Leadership Academy, Metropolitan Black Bar Association, 2018
Induction into the National Bar Association Hall of Fame, 2018
William H. Hastie Award, Judicial Council of the National Bar Association, 2018
Patricia L. Irvin Outstanding Service Award, Association of Black Women Attorneys 41st Annual Gala, 2017
Sister of the Year Award, Brooklyn Community Church, Rev. Dr. Fred Lucas, Senior Pastor, 2016
Legal Excellence Award, Queens County Bar Association, 2015
Legal Leadership Award, Brooklyn NAACP, Annual Freedom Fund Dinner, 2015
Excellence and Commitment Stalwart Service to the Bar Award, Region II of the National Bar Association, Annual Convention, 2014
Certificate of Special Congressional Recognition, Third Annual Shirley Chisolm Women's Empowerment Conference, Awarded by U.S. Congresswoman Yvette D. Clarke, 2014
Constance Baker Motley Judicial Excellence Award, Westchester Black Bar Association, 2012
Martin Luther King, Jr. Day Award; Brooklyn Community Church; 2012
Special Appointments
Appointed by Federal Monitor Peter L. Zimroth to oversee compliance by the New York Police Department (NYPD) with Stop, Question and Frisk laws, specifically overseeing a pilot program for officers to wear body-worn cameras, 2021
New York City Mayor's Advisory Committee on Judiciary, Appointed by Mayor Bill De Blasio, 2020
Milton Mollen Commitment to Excellence Award Executive Committee, Appointed by Honorable A. Gail Prudenti, 2012
Background and Education
Associate Justice, State of New York Appellate Division, Second Judicial Department, 2009–2018
Administrative Judge, Supreme Court of the State of New York, Kings County Criminal Term, 2008–2009
Adjunct Professor, Fordham University School of Law, Summers 2001–2004
Justice, Supreme Court of the State of New York, Second Judicial District, 1993–2018
Judge, New York State Court of Claims, 1990–1994
Acting Justice, Supreme Court of the State of New York, Kings County, 1990
Judge, Criminal Court of the City of New York, 1986–1990
Inspector General, New York City Human Resources Administration, 1982–1986
Assistant Attorney General, New York State Department of Law, 1982
Inspector General, New York City Department of Employment, 1979–1982
Assistant District Attorney, Office of the District Attorney, New York County Criminal Court Assistant, 1974–1979
Corporate Attorney, General Electric, 1973–1974
Bar Admissions
United States District Court, Eastern District of New York, 2005
Supreme Court of the United States, 1978
United States District Court, Southern District of New York, 1976
New York State Supreme Court Appellate Division, First Department, 1974
J.D., Columbia University School of Law, 1973
M.S., with Honors, Columbia University School of Journalism, 1969
B.A., magna cum laude, Howard University, 1968
Home Office
HOME OFFICE
New York, New York
NY Times Building, 620 8th Ave, 34th Floor, New York, NY 10018
View Location Details
Available to Travel
Disclaimer
This page is for general information purposes. JAMS makes no representations or warranties regarding its accuracy or completeness. Interested persons should conduct their own research regarding information on this website before deciding to use JAMS, including investigation and research of JAMS neutrals. See More
Search our global directory of mediators, arbitrators and ADR professionals.
FIND A NEUTRAL