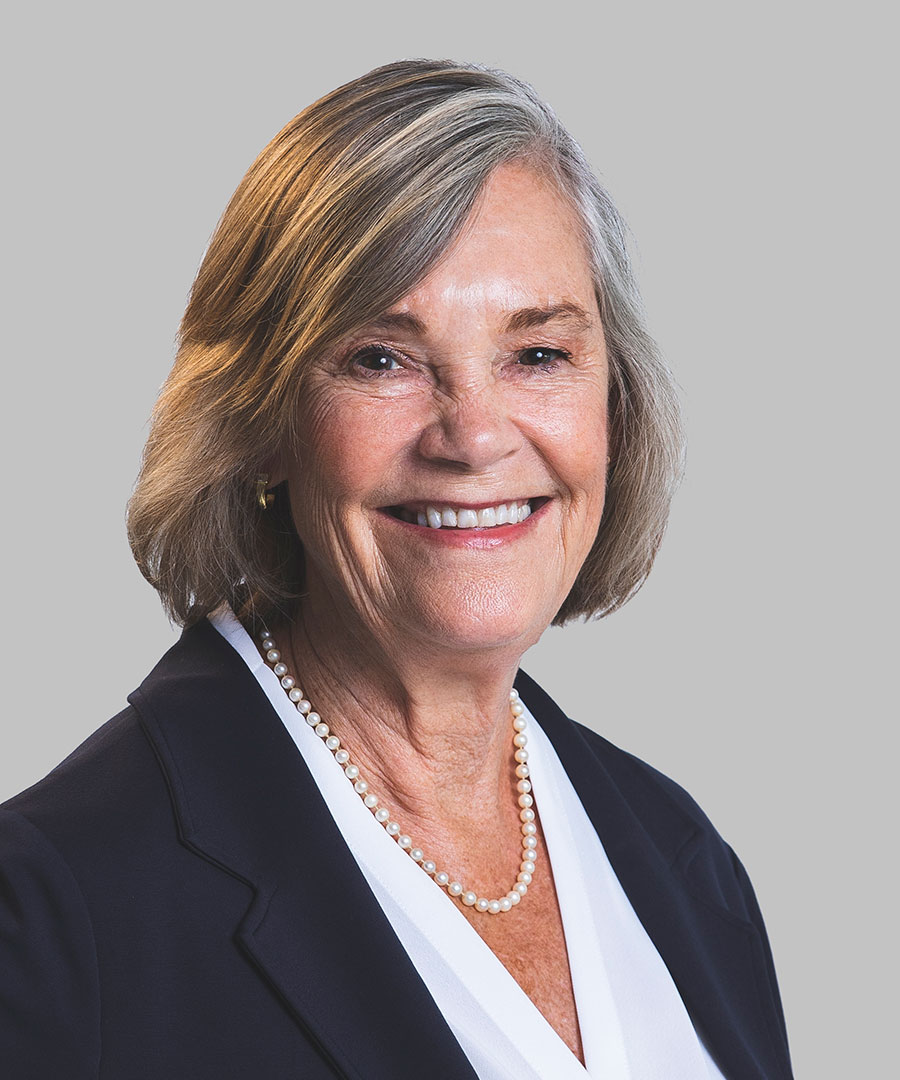 Hon. Janet L. Sanders (Ret.)
General Biography
Practice Areas
Business Commercial
Class Action and Mass Tort
Employment
Environmental Law
Insurance
Personal Injury Torts
Honors, Memberships, and Professional Activities
Background and Education
Hon. Janet L. Sanders (Ret.) joins JAMS after over two decades on the Massachusetts Superior Court and six years on the Massachusetts District Court. Judge Sanders presided in the Business Litigation Session (BLS) for nine years, the last six as its administrative justice. As a BLS judge, she garnered experience via some of the state's most challenging business and commercial disputes. Adept at the case management needed for large-scale cases, Judge Sanders has handled class actions, mass torts and other multi-party litigation, including the Massachusetts opioid litigation.
Judge Sanders' ability to address the most difficult legal issues while at the same time making the parties and their counsel feel heard and understood made her a highly respected jurist. Touted by lawyers who have appeared before her as the "gold standard," she understands the practical realities of business litigation and is known to help parties find reasonable, common sense solutions. Armed with a vast knowledge of the law, Judge Sanders uses her intellect and compassion to focus on what is essential in a case and ultimately reach resolution.
ADR Experience and Qualifications
During her 28 years on the bench, Judge Sanders handled cases that ranged from personal injury and wrongful death claims to complex business and commercial cases involving multiple parties. She presided over trials (jury and jury waived) that raised claims of Wage Act violations, insurance interpretation, environmental regulation and professional malpractice. She also handled scores of cases involving corporate disputes among investors, stockholders, officers, partners and departing employees.
Judge Sanders served on a variety of committees, including the SJC Committee on Judicial Evaluations and the Superior Court Education Committee. She trained and mentored new judges and took an active interest in continuing legal education, both within the superior court and with outside organizations, presenting on topics that included employment discrimination, the Massachusetts anti-SLAPP statute, evidence, trial advocacy and noncompetition agreements.
Representative Matters
Business Commercial

Multiple trials (jury-waived and jury) involving intracorporate and intercorporate disputes that included claims alleging breach of fiduciary duty, misrepresentation, misappropriation of trade secrets and ownership of intellectual property
Disputes over governance and dissolution of closely held businesses
Adjudication of a dispute concerning ownership of church property following a schism in a congregation
Interpretation of complex commercial contracts, including a loan agreement between a nonprofit organization constructing low-cost housing and certain investors claiming right of first refusal
Three-week jury trial of a case brought by a Massachusetts college against a national accounting firm alleging professional malpractice
Hearings regarding the proposed acquisition of smaller hospitals by a large Boston health care entity and the possible impact of such a merger on health care costs for Massachusetts residents

Class Action and Mass Tort

Class actions alleging violations of the Securities Act, including claims regarding the adequacy of disclosures in corporate acquisitions and mergers
Class action against entities and individuals associated with Bernard Madoff
Consumer class actions alleging unfair and deceptive business practices, including a claim of unfair debt collection practices
Presided over litigation brought by Massachusetts cities and towns against manufacturers and distributors of OxyContin, including a lawsuit brought by the attorney general against Purdue Pharma and its officers and directors

Employment

Multiple cases, including class actions, alleging violations of the Wage Act
Disputes concerning interpretation and enforcement of noncompetition agreements
Multiple cases involving claims of employment discrimination

Environmental Law

Adjudication of a dispute concerning construction of biocontainment lab researching infectious diseases
Judicial review of administrative agency decisions applying state and federal environmental and land use regulations

Insurance

Lawsuit brought by area restaurants against their insurers seeking to recoup business losses from COVID-19 closures
Multi-party litigation regarding insurers' coverage obligations to their insured, sued for asbestos-related injuries to workers that were sustained over decades
Disputes concerning insurance coverage obligations for environmental cleanup costs

Personal Injury Torts

Defamation claim brought against major news outlet and community leaders who opposed construction of a mosque
Three-week jury trial of wrongful death case against a crane manufacturer and the entity that leased it
Multiple jury trials alleging medical malpractice, products liability and premises liability
Honors, Memberships, and Professional Activities
Memberships and Affiliations
Member, Boston Bar Association (BBA)
Member, American Law Institute, 2018–2023
Education Committee, Superior Court 2004–2023
Member, New Judges Training Committee, Superior Court, 2011–2023
Judicial Mentor, Trial Court Judge-to-Judge Mentor Program, 2011–2023
Member, SJC Committee on the Judiciary and the Media, 2017–2023
Member, SJC Committee on Judicial Evaluations, 2013–2019
Member, Boston Inns of Court, 2006–2018
Member, Editorial Board, Boston Bar Journal, 2006–2009
Former Member, National Association of Women Judges
Former Member, Women's Bar Association
Former Co-Chair and Member, Section on Complex Litigation, Massachusetts Bar Association
Selected Publications
"Jury Selection in Progress: Yes, You May Enter," Boston Bar Journal, Vol. 54 No. 3, Summer 2010
Article on Business Litigation Session, Lawyer's Weekly, March 9, 2017
"New Standing Order: Hello, Standard Definitions; Goodbye, General Objections," Boston Bar Journal, Vol. 53 No. 2, March/April 2009
"Judicial Evaluations: What Would John Adams Think?" Reflections of the Justices, Massachusetts Superior Court, 2009
"When Everything Slowed Down: Evaluating the Right to Speedy Trial in a Pandemic," Boston Bar Journal, Vol. 65 No. 2, April 7, 2021
Selected Awards and Presentations
Judicial Excellence Award, Massachusetts Association of Trial Attorneys, 2010
Panelist for MCLE, BBA and MBA on topics including employment law, business litigation, anti-SLAPP statute, evidence, trial advocacy and noncompetition agreements
Annual presentations on business litigation, MCLE and BBA, 2011–2020
Teaching and Academic Work
Teaching team member in trial advocacy workshops, Harvard Law School, 1998–2005
Boston University School of Law

Instructor in trial advocacy, 2008–2013
Instructor in legal writing, 1989–1993

Instructor in master's program for criminal justice, Suffolk University, 1998–1999
Background and Education
Massachusetts Superior Court, 2001–2023

Associate Justice, Business Litigation Session, 2013–2014
Administrative Justice, Business Litigation Session, 2014–2020
Regional Administrative Justice, Norfolk County, 2007–2011

Massachusetts District Court, 1995–2001

Presiding Justice, Concord District Court, 2000–2001
Associate Justice, Waltham District Court, 1995–2000

Partner; Zalkind, Rodriguez, Lunt & Duncan; 1990–1995
Associate, Hill & Barlow, 1984–1989
Law Clerk to U.S. District Court Judge Robert Keeton, 1984
Law Clerk to U.S. District Court Judge Rya Zobel, 1982–1983
J.D., magna cum laude, Harvard Law School, 1982

Board of Student Advisers
Research Assistant to Professor Arthur Miller

Freelance Reporter; National Law Journal, Texas Monthly, UPI; 1977–1979
Reporter, Houston Chronicle, 1976–1979
B.A., Stanford University, 1976

Phi Beta Kappa
Honors in comparative literature
"Judge Sanders possesses a unique combination of intelligence, experience and gravitas, on the one hand, and a down-to-earth, practical approach to problem-solving that is both refreshing and comforting. She can be as effective speaking to a Ph.D. or CEO as she would be to a slip-and-fall personal injury victim."
– Highly Acclaimed Boston Attorney
"Judge Sanders is a rock star. Her quick intellect, unflappable demeanor, diligence and—most importantly—her gift of humanity and humility will engage and benefit every lawyer and litigant fortunate enough to work with her."
– Former President of the Massachusetts Bar Association
Home Office
HOME OFFICE
Boston, Massachusetts
One Boston Place, 201 Washington Street, Suite 3300, Boston, MA 02108
View Location Details
Disclaimer
This page is for general information purposes. JAMS makes no representations or warranties regarding its accuracy or completeness. Interested persons should conduct their own research regarding information on this website before deciding to use JAMS, including investigation and research of JAMS neutrals. See More
Search our global directory of mediators, arbitrators and ADR professionals.
FIND A NEUTRAL