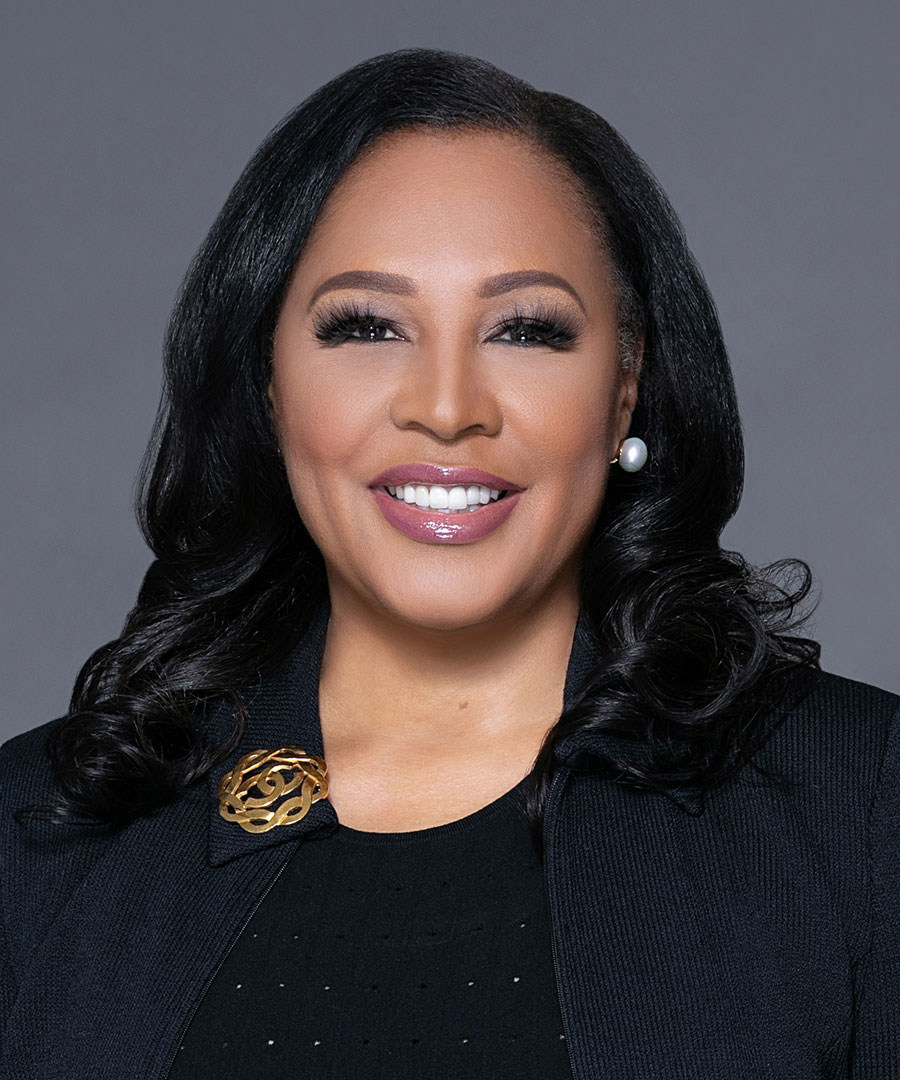 General Biography
Practice Areas
Business & Commercial
Civil Rights
Cybersecurity & Privacy
Employment Law
Entertainment & Sports
Higher Education & Title IX
Intellectual Property
Personal Injury/Torts
Pharmaceuticals/Mass Tort
Professional Liability
Real Estate & Real Property
Telecommunications
Honors, Memberships, and Professional Activities
Background and Education
Kim M. Keenan, Esq., joins JAMS after an impressive career as a nationally known trial lawyer, mediator and in-house counsel, as well as a recognized leader among multicultural social justice organizations. Ms. Keenan earned a reputation as a smart, skilled negotiator adept at crafting realistic and sustainable results while always maintaining a calm and balanced demeanor. She is known for her inclusive style in communicating complex subject matters with clarity across broad stakeholder groups and increasing engagement for shared outcomes.
The word "collaborative" is used most often when counsel are describing Ms. Keenan. "Her ability to make a genuine connection with everyone, irrespective of the level of complexity that the situation presents, is honestly quite astounding and impressive to witness."
Notable is Ms. Keenan's success in varied roles, including law firm litigator for 20-plus years and private mediator and general counsel for the National Association for the Advancement of Colored People (NAACP), the oldest, largest, and most recognized grass roots civil rights organization in the world.
Along the way, Ms. Keenan developed subject matter expertise in negotiation of complex business contracts, mass torts, medical malpractice, employment discrimination and harassment, civil rights, entertainment and public policy, specifically in the areas of telecommunications and digital privacy. She has extensive experience working with global brands from the Fortune 100 and has built long-standing senior-level relationships with private sector, academia, government and nonprofit leaders.
Ms. Keenan is a past president of the District of Columbia Bar and was the 62nd past president of the National Bar Association, the largest coalition of African American lawyers, judges, law professors and law students. She also serves as the first female co-chair of the Internet Innovation Alliance, a broad-based coalition of business and non-profit organizations working to ensure every American has access to broadband internet.
ADR Experience and Qualifications
Served as a private mediator for business and commercial disputes, personal injury cases and real estate matters
Served as a mediator on the District of Columbia Superior Court's Multi-Door Dispute Resolution Program
Served as a mediator in the United States District Court for the District of Columbia
Adjunct professor for trial advocacy and mediation classes; lead instructor for pretrial advocacy classes
Representative Matters
Business & Commercial

Contract claims and negotiations related to complex projects and long-term contractual relations
Governance and risk management (internal and external)
Resolution of disputes over partnership, franchise and distribution agreements


Civil Rights

Provided key legal advice related to governance, risk management (internal and external), civil rights and discrimination litigation, and contracts, as well as defended suits for the NAACP and local NAACP branches and national state conferences
Authorized the filing of numerous successful civil rights lawsuits in voting, housing and other areas, including the First Amendment in NAACP v. Philadelphia, a Third Circuit case affirming the NAACP's right to include grassroots messaging in metropolitan airports
Convened legal civil rights partners to coordinate on activities including 2010 census, election protection and redistricting.

Employment Law

Chaired the former Fair Employment Council, which focused on creating equal opportunity in employment (the organization was merged into the Equal Rights Center, where she served as the inaugural first vice-president)
Fair Employment Council: Filed litigation for discrimination in employment
Equal Rights Center: Focused on housing, employment and disability discrimination
Negotiated the NAACP labor agreement with its union employees
Oversaw all national litigation focused on discrimination for the NAACP, including employment, housing, and elections

Entertainment & Sports

Negotiated multiple profitable network (NBC and TV One) and production agreements for the NAACP Image Awards
Negotiated contracts for talent, production and related elements for NAACP conventions and events

Intellectual Property

Protected the NAACP brand with cease and desist orders and litigation over misuse of the name
Negotiated the NAACP's IP agreement to digitize the largest collection in the Library of Congress

Personal Injury/Torts

Selected, evaluated and tried catastrophic personal injury and medical malpractice cases from intake to trial
Significant verdicts and settlements of cases involving failure to diagnose cancer, birth injuries, catastrophic truck/auto accidents and surgical errors
Represented numerous clients in their tobacco settlements
Mediated construction defect dispute

Real Estate & Real Property

Personally chaired a challenging pilot project for landlords and tenants at D.C. Superior Court and mediated a group including landlords, tenants, attorneys and judges with opposing viewpoints to create the existing Self-Help Center for Landlords and Tenants, one of the largest in the nation
Chaired the real estate committee for the Lawyers' Committee for Civil Rights, securing a $1-million reduction in the rent over the term of the lease

Telecommunications

Served as the second president and CEO of a 30-year-old advocacy organization focused on public policy, advocacy and programming in media, technology and telecommunications
Created a national partnership to secure a multi-million-dollar contract from the U.S. Department of Labor to train apprentices in telecommunications
Published numerous articles on privacy policy
Honors, Memberships, and Professional Activities
Completed Virtual ADR training conducted by the JAMS Institute, the training arm of JAMS.

Memberships and Affiliations
President, National Bar Association, 2004–2005
President, District of Columbia Bar, 2009–2010
President, International Women's Forum, 2019–present
Independent Trustee, Profit Investment Fund (mutual fund (PIM)), 2008–2013
Director and Fundraising Committee Chair, Council on Legal Education Opportunity, 2006–2010
Director and Executive Committee Member, Lawyers Committee for Civil Rights Under Law, 2005–2010
Trustee and Board Vice Chairman, University of the District of Columbia, 2008–2009
Selected Awards and Honors
Hall of Fame, Washington Bar Association, 2020
Spirit of Democracy Award, National Coalition on Black Civic Participation, 2017
Gavel for Good, Greater Washington Area Chapter, National Bar Association, 2017
Gertrude E. Rush Award, National Bar Association, 2017
Ollie May Cooper Award, Washington Bar Association, 2016
Charging Buffalo Award, New York State Society, 2016
Attorney of the Year, National Capital Area Council, Boy Scouts of America, 2016
Media Executive of the Year, Vote It Loud, 2016
Medgar Wiley Evers Award of Excellence, NAACP, 2014
Equal Justice Award, University of the District of Columbia David A. Clarke School of Law, 2013
Wiley A. Branton Award, Washington Lawyers' Committee for Civil Rights, 2011
"Rebel in the Law" for Innovation, American Bar Association, 2010
Vice-President; Capital City Chapter, The Links, Incorporated; 2009–present
Woman Lawyer of the Year, Women's Bar Association of the District of Columbia, 2007
Background and Education
General Counsel and EVP of Marketing, Odyssey Media, 2018–2020
President and CEO, Multicultural Media, Telecom & Internet Council, 2014–2017
General Counsel and Secretary, NAACP, 2010–2014
Private Mediator, 1998–2010
Principal and Founder, The Keenan Firm, 2007–2010
Senior Trial Attorney, Jack H. Olender & Associates, 1991–2007
Associate; Washington, Perito & Dubuc (successor firm of Finley, Kumble, Wagner, Underberg, Manley, Myerson & Casey); 1989–1991
Law Clerk, The Honorable John Garrett Penn, U.S. District Court for the District of Columbia, 1987–1989
J.D., University of Virginia Law School, 1987
B.S., International Economics, Georgetown University School of Foreign Service, 1983
"Kim Keenan's legal and business acumen, in addition to her perspective and outlook on life, is grounded in her natural proclivity for finding a reasonable solution to any problem. Her ability to make a genuine connection with everyone, irrespective of the level of complexity that the situation or individual presents, is honestly quite astounding and impressive. Kim is revered by all who meet and work with her. She will be an invaluable asset to your organization."

– General Counsel

"Ms. Keenan's keen intellect, extraordinary work ethic and deep experience litigating complex civil and commercial disputes make her an excellent choice as a neutral. Litigants will benefit from her exceptional legal and interpersonal skills and her human touch. She is an outstanding addition to JAMS."

– Complex Litigation Partner
"I have known Kim for 20 years, while she has been a great leader at every bar association here in Washington, D.C. She leads collaboratively, guided by her great temperament and calm and balanced demeanor. When others get emotional, Kim remains level-headed and can bring everyone back together. Perhaps most notable is how smart she is. What Kim doesn't know, she can learn quickly."

– Law Firm Chairman
"I have been in practice for 33 years and have been blessed to travel the world and negotiate on behalf of foreign countries, CEOs, non-for-profit leaders and injured clients. I have also known Kim Keenan for 35 years. We met during law school; she was at the University of Virginia, and I was at Georgetown University Law Center. Over the past 30 years, Kim Keenan and I practiced law at the same firm and remained colleagues despite our different paths as trial lawyers. I have observed Kim's skill and diligence as a trial lawyer, a peacemaker and a mediator. I have also admired Kim over the years as she embraced the role of social justice engineer. Whether leading the National Bar Association, serving as general counsel of the NAACP or serving on numerous non-for-profit boards, Kim has risen to the top. She has always been the best and enjoys an impeccable reputation locally, nationally and globally. But it is her brilliance and legal acumen that are perhaps most impressive. Kim has highly developed analytical skills and executes her delivery in a manner that reflects her sheer brilliance and class. Her sense of humor and passion for excellence are also legendary, as she is able to navigate client tragedy and devastation with compassion. Kim Keenan is a magnificent addition to the JAMS family."

– Widely Respected Litigator
"Kim's long, distinguished and varied career has provided her with a unique perspective and a range of experiences. In addition to her balanced personality and problem-solving skills, she can assist parties in conflict through her determination to lead them to resolution."

– Professor of Law
Disclaimer
This page is for general information purposes. JAMS makes no representations or warranties regarding its accuracy or completeness. Interested persons should conduct their own research regarding information on this website before deciding to use JAMS, including investigation and research of JAMS neutrals. See More
Search our global directory of mediators, arbitrators and ADR professionals.
FIND A NEUTRAL