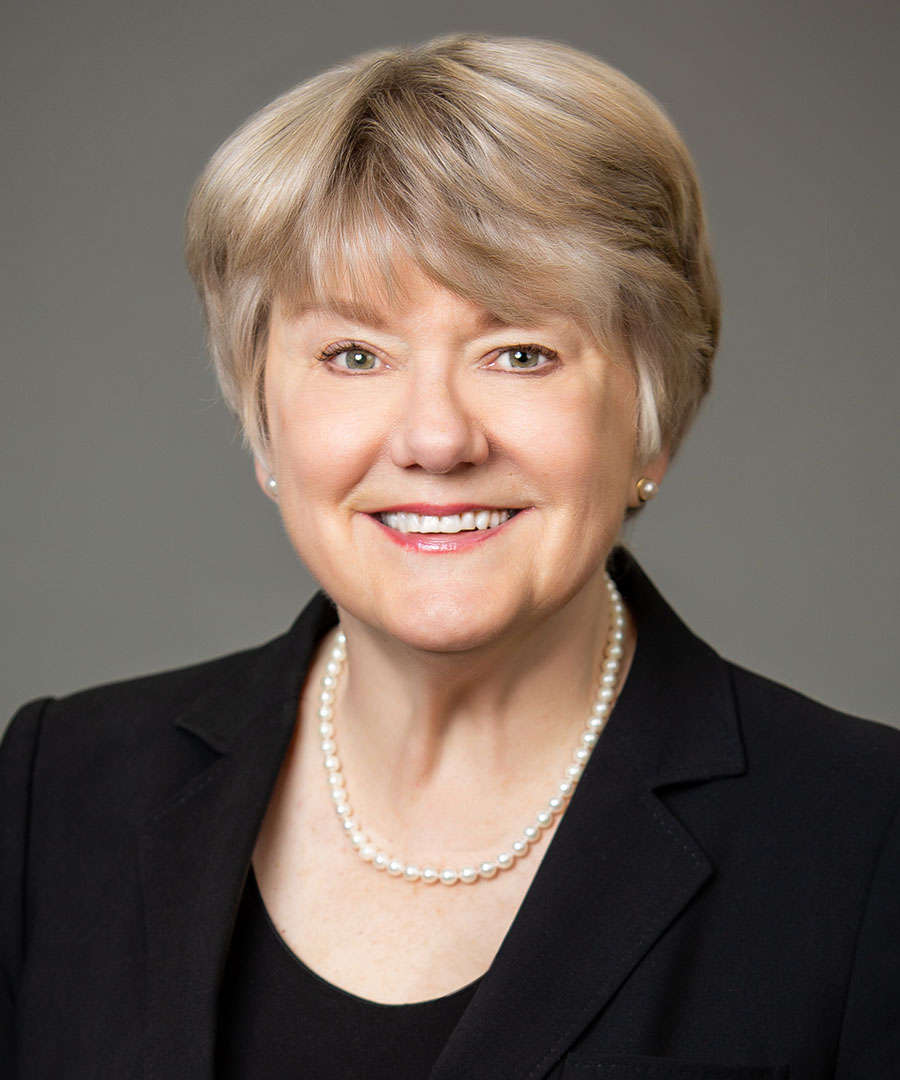 Hon. Holly E. Kendig (Ret.)
General Biography
Practice Areas
Business & Commercial
Civil Rights
Construction
Employment Law
Entertainment & Sports
Insurance
Personal Injury/Torts
Product Liability
Professional Liability
Real Estate & Real Property
Honors, Memberships, and Professional Activities
Background and Education
Hon. Holly E. Kendig (Ret.) retired after serving more than 18 years as a judge on the Los Angeles Superior Court. Judge Kendig had several assignments. In her civil court assignment, Judge Kendig presided over complex business, trade secret, employment, products liability, medical malpractice, entertainment, insurance, construction, environmental and real property disputes.
More recently, Judge Kendig had a trial court assignment that involved predominantly civil jury trials, providing her with substantial experience in numerous settlement conferences. Her experience enables her to provide perspective as to how a jury might react to a particular argument or piece of evidence.
During the pandemic, Judge Kendig served on the Los Angeles Superior Court Special Committee for Civil Jury Trials and Covid, working to develop creative new approaches to jury trials while keeping attorneys, court staff and jurors safe and safely distanced. She previously served for 16 years on the Los Angeles Superior Court Trial Jurors Committee and was chair of that committee from 2012-2022. The Trial Jurors Committee was responsible, along with the jury commissioner and juror services staff, for developing policies, rules and procedures for all jury matters impacting the court.
Judge Kendig is known for both her intellect and her sense of humor. Always thoroughly prepared, she brings to the neutral process common sense, good listening skills, keen analysis and years of trial experience, both as a judge and as an attorney.
Before serving on the bench, Judge Kendig was a litigation partner with a practice in complex commercial litigation at a large international law firm. Her practice included a variety of complex litigation matters, including intellectual property, computer software development, construction, environmental insurance coverage and tax litigation, as well as commercial business disputes in the grocery, music, banking, garment and wine industries.
REPRESENTATIVE MATTERS AS A LAWYER
Litigated complex action involving environmental liabilities and insurance coverage issues related to landslide damage and destruction to residences in the Palos Verdes Peninsula
Litigated complex action regarding insurance coverage in the landmark Montrose environmental coverage litigation
Represented a major international construction company in litigation over a hospital development project
Litigated action challenging the constitutionality of California's worldwide unitary system of taxation
Litigated action challenging attempts to tax computer software for major corporations
Litigated action for two Southern California cities in challenge to tax assessment of the Alameda Corridor
Litigated action relating to product liability and services provided for the construction of the Trans-Alaska Pipeline
Litigated action on behalf of county taxing authority in defending the constitutionality of its half-cent sales tax for transportation improvements
Representative Matters
Business & Commercial

Action for breach of contract between business partners with dual promissory notes, and claim that the notes constituted a mutual agreement to fund two loans to the business
Dispute involving agreement to purchase manufactured shoes from Mexican corporation involving payment from factor financing, under California Commercial Code
Dispute between Middle Eastern hotel owner and its hotel operator about statements made in public forum in Dubai, with claims of trade libel, defamation and intentional interference with prospective economic advantage
Action regarding coating applied to mechanical parts for use in manufacturing process, alleging breach of contract and breach of implied warranty of merchantability
Action to determine validity and enforceability of an attorneys' fees lien on settlement proceeds from two previous lawsuits involving a fee-splitting agreement
Dispute between a buyer and seller regarding purchase of a gas station, alleging fraud and misrepresentation as to past profits of the business and past business records
Dispute regarding alleged theft of garment designs between commercial entities in the garment business, as well as claims of breach of contract, breach of implied warranty of merchantability and the Uniform Commercial Code
Action to enforce Italian judgment and to establish receivership over Italian assets in the United States
Dispute between investment banker and investor regarding valuation of investment interests, and obligations arising from consulting agreement and consulting services
Family dispute regarding family furniture manufacturing business, including claims of breach of duty of loyalty and breach of duty of care

Civil Rights

Unruh Civil Rights Act claim of condominium owner against homeowners' association alleging housing discrimination in violation of California Constitution
Action by plaintiff against city police department for violation of civil rights under federal statute section 1983 and Bane Act, as well as issues of detention of plaintiff under Welfare and Institutions Code section 5150
Dispute between neighboring homeowners involving malicious prosecution claims, alleged hate crimes based on sexual orientation and alleged false police reports
Wrongful death action against a city police department alleging excessive force and negligent supervision by police department and civil rights violation based on Bane Act
Action against property owners for housing discrimination under FEHA and civil rights violations under Unruh and Ralph acts, alleging racial harassment and discrimination by neighbors

Construction

Inverse condemnation dispute brought against California Department of Transportation relating to alleged destabilizing damage caused by public highway and road construction project in connection with the I-405 widening
Action against government entities and private engineering and construction firms for dangerous condition of public property due to flooding allegedly caused by drains and culverts under adjacent road to plaintiff's property
Construction contract dispute involving change orders to construction contract, delays, work interruptions, alleged misrepresentations and foreclosure of mechanic's lien
Dispute regarding construction contract, construction loan, validity of a mechanic's lien and priority over construction deed of trust
Action regarding alleged construction defects and alleged breach of construction management schedule in connection with construction project

Employment Law

Action by employee against employer for alleged whistleblower retaliation in connection with a transfer of employee to new office location
Action against employer alleging retaliation under Fair Employment and Housing Act (FEHA) for reporting sexual harassment by co-employee
Action by employee against school district employer for alleged age-related harassment, discrimination and retaliation for whistleblowing
Action by employee against employer for failure to promote, claiming discrimination based on race
Action by teacher against college/employer for wrongful termination, alleging pregnancy discrimination and retaliation
Employee action against newspaper corporation for labor code violations, including wage and hour violations, rest period violations and wage statement inaccuracies
Action by employee against fitness company for failure to accommodate disability and wrongful termination
Dispute between employee bus driver and employer as to proper back wages under workers' compensation and collective bargaining agreement for injuries incurred at work during unprovoked attack by passenger
Dispute based on alleged Labor Code violations and misclassification issue of whether plaintiff was an independent contractor or an employee
Action by doctor against medical group employer claiming harassment, sex discrimination, national origin discrimination, retaliation, unequal pay and breach of employment agreement
Action by employee against two alleged employers claiming liability under joint-employer theory

Entertainment & Sports

Action on behalf of a songwriter for accounting, breach of fiduciary duty, breach of contract and damages regarding alleged improper deductions from musical royalties owed by music company
Action by legendary actress against television film producers for portrayal made without her permission, including claims of defamation, invasion of her publicity rights and false light portrayal
Action by actress claiming unsafe working conditions and retaliation by a studio and a director of major television series
Insurance coverage and liability dispute arising from litigation settlement agreement entered into by estate of world-famous actor, when insurer did not consent to or sign the settlement agreement
Dispute between film companies regarding extension of distribution rights to a motion picture
Action against insurer and insurance services companies regarding coverage for filming of motion picture and injuries to stuntman while filming
Dispute over distribution of funds obtained through the exploitation of a film, with action to enforce judgment and recover investment made for use in the production of a film, involving claims of conversion, fraud, fraudulent transfer and constructive trust
Action by award-winning actress against her business and investment manager for breach of fiduciary duty and professional negligence
Action against major television studio alleging new television series misappropriated claimant's likeness and violated his statutory right of publicity, and was improperly based on his memoir
Dispute between investor, film producers and finance companies formed to produce a film, regarding distribution of funds obtained from the film

Insurance

Dispute between surplus line insurer and State Board of Equalization regarding whether premium tax authorized in Section 28, Article XII of the California Constitution applies to surplus line insurer who is not licensed in California, resulting in surplus line insurer premiums subject to being taxed twice
Dispute between law firm and its professional liability insurer regarding duty to defend and duty to indemnify under policy terms with respect to law firm's representation of a university in an eminent domain proceeding
Dispute between multiple insurance companies regarding coverage for investigation and remediation costs, involving allegations that costs were unreasonable and unnecessary to the defense of the underlying legal action
Dispute between jewelry merchant and jewelry shipping transporter regarding responsibility for stolen packages from shippers premises, including whether plaintiff was a third-party beneficiary to defendant shipper's insurance contract
Dispute between two insurance companies as to whether interinsured claims and exclusion clause bars coverage under defendant insured's policy for underlying fire loss
Action by insured for breach of insurance contract against defendant noncontracting parent company of plaintiff's insurer for damages under alter ego theory
Dispute regarding which party was a payee under an insurance policy and whether insurer engaged in bad faith delays in processing the claims and payments
Action for bad faith denial of life insurance coverage involving alleged misrepresentations by deceased regarding his cancer
Action against insurance company for delay in accepting duty to defend and indemnify where plaintiff was insured as trustee but not as individual
Insurance coverage action regarding real property title insurance and coverage for lack of legal access to and from the land

Personal Injury/Torts

Personal injury action based on alleged clergy sexual abuse of minor
Personal injury action alleging brain injury resulting from collision between city asphalt truck and retired police officer on motorcycle
Personal injury action involving fatal vehicle collision into light pole and telephone pole in area of roadway construction project, with allegations of dangerous condition of public property
Asbestos personal injury litigation against multiple corporate defendants in complex asbestos litigation alleging strict liability and negligence
Action for personal injury resulting from alleged exposure to toxins (lead) on defendant's property
Action by homeowner against gated housing development and homeowners' association for personal injury and damages, alleging negligence, premises liability and accommodation failure under FEHA
Action against restaurant for negligence and premises liability after slip-and-fall due to liquid on floor
Strict liability and negligence action against event producer for injuries occurring when winds caused outdoor commercial tent to blow over, causing injuries to plaintiff

Product Liability

Action for wrongful death, product liability and negligence brought by Chinese tourists injured or killed in a bus rollover accident against bus driver, bus company owner and bus manufacturer
Products liability action with product defect claims against several defendant corporations involved in the manufacture of a 9 mm Glock gun and holster that resulted in misfire, causing major injury to soldier while training with Swedish Army
Wrongful death actions resulting from death of famous singer in plane crash in Mexico, including issues of product liability
Product liability and personal injury action against multiple manufacturers and distributors of high-tech bicycle components claiming strict liability, breach of warranty and negligence after rider crashed and suffered brain injury
Product liability action involving strict liability and negligence for physical and emotional injuries to elevator passenger when elevator failed to work properly

Professional Liability

Professional negligence action by client against accountant for failure to purchase proper uninsured/underinsured motorist insurance coverage for client
Action for professional negligence, fraud and misrepresentation by client against his attorney for embezzlement of investment in startup company
Action for legal malpractice regarding underlying patent litigation
Action for professional negligence alleging that defendant law firm failed to file a civil lawsuit and further committed errors or omissions in Chapter 13 bankruptcy filings
Action for professional negligence by corporation against accountant for failure to discover embezzlement by corporation's previous employee
Action by patient against university hospital alleging negligence/medical malpractice injuries in connection with phlebotomist's blood draw
Action for professional negligence against hospital and medical group in connection with cervical spine surgery
Action for wrongful death and medical malpractice for alleged failure to timely diagnose bladder cancer
Professional negligence claims against multiple attorneys and law firms regarding their handling of a prior construction case

Real Estate & Real Property

Complex litigation between multiple parties, public entities and private corporations involved in Copper Canyon fire, with claims of liability, cross-liability, construction claims, tree damage and other property damage
Action regarding hotel property and long-term commercial ground lease, with claims for breach of contract, and alleged harm to adjacent redevelopment project
Dispute regarding provision in commercial restaurant lease in major shopping mall with regard to lease terms and effect of franchise fees in calculation of net sales and annual rent
Action against owner of horse arena and horse stable property for commercial use, involving claims of liability for rusty nails found in bed of training grounds with claims of fraudulent concealment, constructive eviction and rescission of lease, and defense of an "as-is" provision in the lease
Dispute between commercial landlord and tenant regarding alleged environmental damages to real property, including soil contamination, and involving issues of trespass, nuisance, negligent misrepresentation and fraud
Dispute regarding environmental issues and environmental expert's report on condition of real property, prior to purchase of property
Honors, Memberships, and Professional Activities
Over the years, Judge Kendig has participated in the following professional activities and memberships:
Member, California Judges Association
Member, National Association of Women Judges
Member, Chancery Club of Los Angeles
Straus Institute for Dispute Resolution, Pepperdine University School of Law
Former Board Member, Association of Business Trial Lawyers
Former Member, Judicial Advisory Council, Association of Business Trial Lawyers
Former Member, Executive Committee for the Litigation Section, Los Angeles County Bar Association
Former Board Member, Women Lawyers Association of Los Angeles
Former Member, Advisory Committee on Civil Jury Instructions (the statewide committee responsible for drafting and revising CACI civil jury instructions), California Judicial Council, 2005
Member, Special Committee for Civil Trials and Covid, Los Angeles Superior Court, 2020–2022
Member, Trial Jurors Committee (2006–2022), Chair (2012–2022), Los Angeles Superior Court
Member, Civil and Small Claims Committee, Los Angeles Superior Court, 2009–2022
Member, Ethics Committee, Los Angeles Superior Court, 2013–2020
Teaching Faculty and Panelist, Civil Bench Seminars for judicial Education, Los Angeles Superior Court, 2007, 2016, 2022
Former Member, Rules Committee, Los Angeles Superior Court
Background and Education
Judge, Los Angeles Superior Court, 2003–2022
O'Melveny & Myers, 1975–2003

Partner, Litigation
Attorney

J.D., Yale Law School, 1975

Editor, Yale Law Journal, 1973–1974
Note and Comment Editor, Yale Law Journal, 1974–1975

M.A., Tufts University

Early American History
Author of The Political Thought of Anti-Federalist Richard Henry Lee

B.A., DePauw University

Phi Beta Kappa, Mortar Board, Outstanding History Major, Beveridge Scholar
Home Office
HOME OFFICE
Century City, California
1925 Century Park East, 14th Floor, The Watt Plaza, Los Angeles, CA 90067
View Location Details
Los Angeles, California
555 West 5th St., 32nd Floor, Los Angeles, CA 90013
View Location Details
Disclaimer
This page is for general information purposes. JAMS makes no representations or warranties regarding its accuracy or completeness. Interested persons should conduct their own research regarding information on this website before deciding to use JAMS, including investigation and research of JAMS neutrals. See More
Search our global directory of mediators, arbitrators and ADR professionals.
FIND A NEUTRAL