L. Joseph Loveland, Jr., Esq.
Contact Case Manager
Nykesha Potts
1201 W. Peachtree St. #2650
Atlanta, GA 30309
T: 404-566-2180
F: 404-588-0905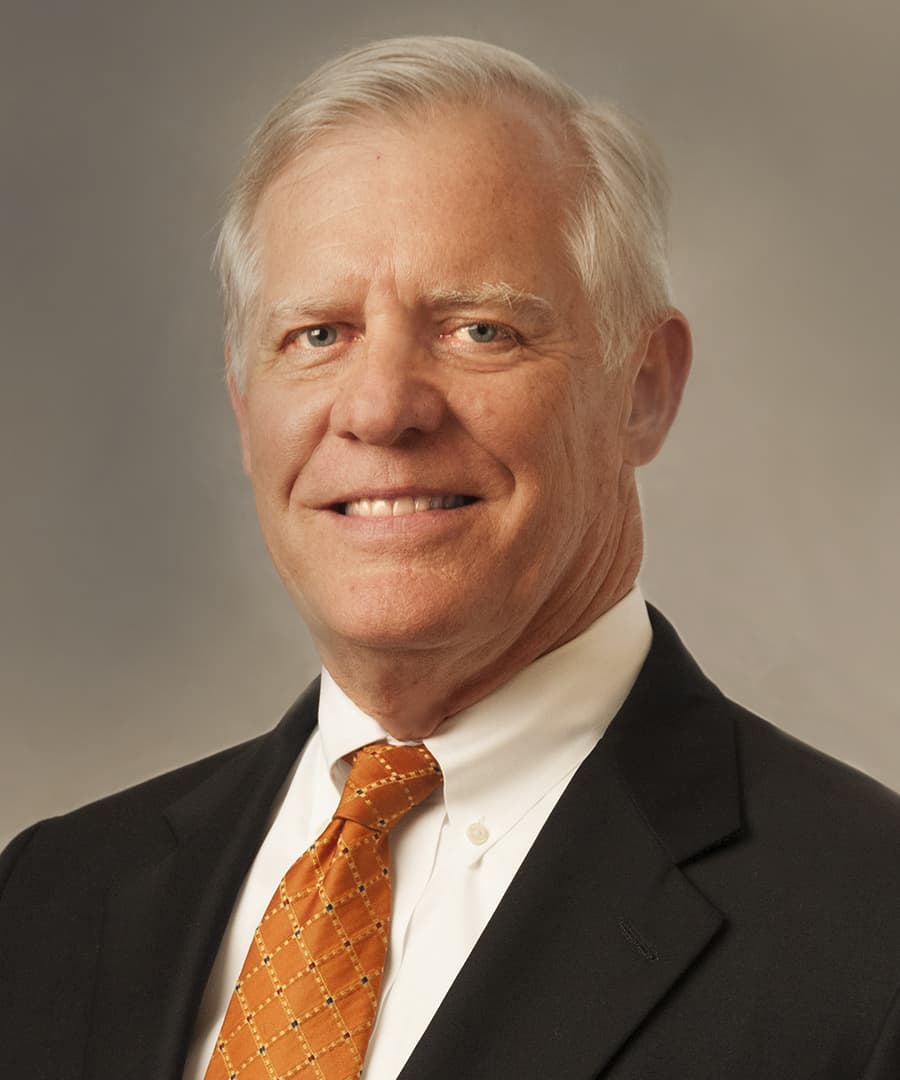 L. Joseph Loveland, Jr., Esq.
Contact Information
Nykesha Potts
1201 W. Peachtree St. #2650
Atlanta, GA 30309
T: 404-566-2180
F: 404-588-0905
General Biography
Practice Areas
Antitrust & Competition
Banking
Business & Commercial
Governmental/Public Agency
Health Care
Intellectual Property
Securities
Special Master/Discovery Referee
Honors, Memberships, and Professional Activities
Background and Education
L. Joseph Loveland, Jr. joined JAMS in 2018 as a full-time neutral following decades of experience as a trial and appellate litigator. A Fellow of the American College of Trial Lawyers, before joining JAMS he served as lead trial and appellate counsel for both plaintiffs and defendants in complex contract disputes, business torts and financial litigation throughout the United States. His business cases involved accountant liability, financial fraud and fraudulent conveyance, product distribution agreements, antitrust, securities fraud, intellectual property, health care, false claims and related governmental investigations and other matters.

Since joining JAMS, Mr. Loveland has served as mediator for complex disputes involving commercial contracts, real estate limited partnerships, distributor/supplier agreements, construction contracts, joint ventures, and securities claims. Many of these matters have involved multiple parties. Recently, Mr. Loveland has mediated several matters using video technology to allow the mediations to be conducted remotely. In addition, Mr. Loveland has served as an arbitrator in matters involving intellectual property and trade secret issues, personal injury and employment matters.

Mr. Loveland is recognized for his ability to evaluate the critical facts of his disputes to move them toward resolution. He has been selected as "Lawyer of the Year" by Best Lawyers for Bet-the-Company Litigation, Intellectual Property Litigation and Antitrust Litigation in the Atlanta area. His extensive litigation experience representing both sides of the table is the critical foundation to his success in bringing parties together for resolution.
ADR Experience and Qualifications
More than 40 years of civil litigation experience in complex business commercial and financial matters
Substantive experience handling trial and appellate matters in multiple jurisdictions throughout the United States
Successfully mediated disputes involving commercial contracts, antitrust claims, real estate joint ventures and partnerships, supplier/distributor agreements, and other matters
Served as arbitrator for intellectual property and trade secret claims, personal injury suits, employment matters, and commercial contract claims
Representative Matters
During his time as a litigator, Mr. Loveland served as lead counsel on a range of matters spanning various industries and issues. These include:
Lead counsel for international tobacco company in litigation in state court in California and bankruptcy court in Delaware involving claims for more than $1 billion for alleged fraudulent conveyance, illegal dividends and alter ego arising out of inter-corporate transfers; resolved following multiple mediations
Substantial experience in accountant liability cases in state and federal courts, including claims asserting violations of GAAP and GAAS and claims involving tax advisory services; several claims resolved through mediation and others tried or resolved on motions for summary judgment
Lead counsel in case involving major Indian automobile manufacturer in actions filed in federal and state courts by more than 100 prospective dealers from 30 states alleging fraud and negligent misrepresentation, unjust enrichment and violation of federal and state dealer protection statutes; resolved through multiple mediations
Lead counsel for major financial institutions in action filed by payment service company in federal court asserting claims of breach of contract and tortious interference with contractual relationships arising out of the merger of two financial institutions; resolved in mediation
Lead counsel for major health care provider in dispute in federal court in Texas alleging claims of breach of contract and misappropriation of trade secrets with regard to software; resolved through mediation
Lead counsel for Fortune 500 company in litigation filed in both federal and state courts by more than 50 independent vendors challenging the right of the company and an affiliate to distribute certain products directly to certain major accounts; settlement reached through extensive negotiations
Lead counsel for real estate limited partnerships in litigation in the Court of Chancery in Delaware involving the interpretation of buy/sell provisions in joint venture agreements regarding major retail shopping malls throughout the United States
Lead counsel for major oil and gas company in issues of breach of contract by former senior corporate officer involving expiration of stock options; resolved in federal court
Lead counsel for Fortune 500 company against whistleblower allegations of financial and accounting improprieties filed by a former employee in litigation in both state and federal courts, including coordination the company's response to investigations into these activities by the Department of Justice and the SEC
Lead counsel for health care group in arbitration against a pharmaceutical company involving indemnification for Nevada propofol litigation
Lead counsel for dental care provider in state court involving post-closing demands on an escrow fund created upon the purchase of a business
Honors, Memberships, and Professional Activities
Completed Virtual ADR training conducted by the JAMS Institute, the training arm of JAMS. 


Fellow, American College of Trial Lawyers, 2005–present
Chair of the Board of Trustees, National Institute of Trial Advocacy, 2017–2018; Board member 2008–present
Executive Committee of the Board of the Southern Center for Human Rights, 2015–present
Lumpkin Inn of Court, 2004–present
Named in America's Leading Lawyers for Business, Chambers USA, 2017
Listed among Nation's Top Business Litigators, Corporate Counsel Magazine, 2017
Who's Who Legal, Benchmark Cases, 2015–2017
Founding Board Member and Past Chair, Georgia Appleseed Center for Law & Justice, 2006–2016
Ranked in Best Lawyers in America

Banking and Finance Law, Bet-the-Company Litigation, Commercial Litigation, Intellectual Property and Securities / Capital Markets categories, 2021
Lawyer of the Year in Intellectual Property in Atlanta, 2020
Lawyer of the Year in Bet-the-Company Litigation in the Atlanta area, 2014-2019
Bar Admissions
Background and Education
Partner, King & Spalding; 1983–2017
Associate, King & Spalding, 1976–1983
J.D., Harvard Law School, 1976
B.A., Political Science, University of North Carolina, Chapel Hill, 1973
"Joe Loveland is an excellent mediator and we intend to use him again."
"Joe dives into the facts. He also approaches a case as someone who has represented sophisticated parties over the years on both the plaintiff-side and defense-side, so he is able to effectively identify and communicate the points that may draw both parties closer together as a mediator. Given his background, Joe also understands well areas with complex regulatory requirements, such as healthcare, so it is nice to have a mediator or neutral who can quickly grasp the nuances of disputes in this area."
"We have had the opportunity to mediate with Joe many times, often in challenging cases. The combination of Joe's experience, analysis of the facts and legal issues, and ability to connect with all types of litigants (from individuals to large corporations) has been very effective in getting our cases resolved. I would highly recommend Joe as a mediator in any complex business-related dispute."
"Joe Loveland is a superb evaluative mediator for complex business and commercial cases. Joe is one of the two or three best commercial mediators with whom I have worked during the past five years. Joe is highly effective because he has substantial credibility with attorneys and non-attorney parties based upon his 40+ years of sophisticated business litigation experience, his ability to assess the strengths and weaknesses of parties' positions, his focus on the issues, and his commitment to reach a resolution of the dispute for the parties."
Home Office
HOME OFFICE
Available to Travel
AVAILABLE TO TRAVEL
Disclaimer
This page is for general information purposes. JAMS makes no representations or warranties regarding its accuracy or completeness. Interested persons should conduct their own research regarding information on this website before deciding to use JAMS, including investigation and research of JAMS neutrals. See More
Search our global directory of mediators, arbitrators and ADR professionals.
FIND A NEUTRAL