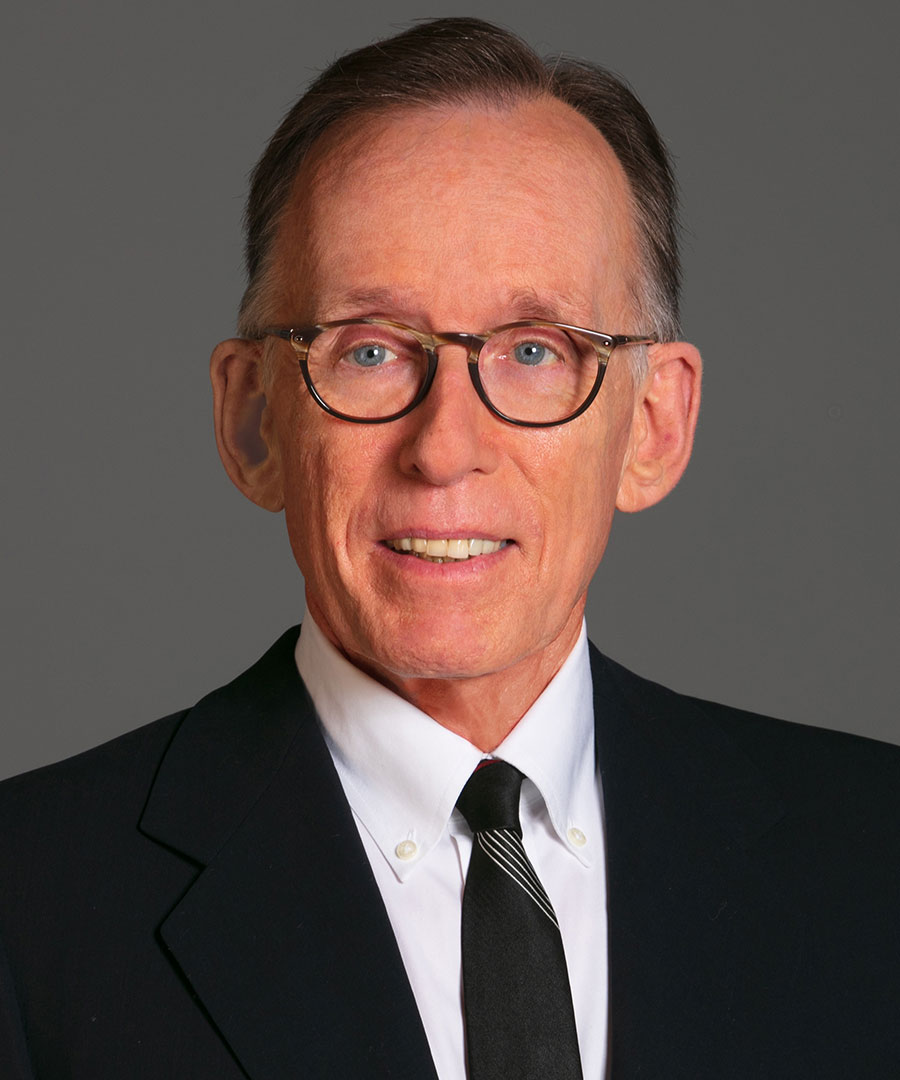 Hon. Lawrence E. Mooney (Ret.)
General Biography
Practice Areas
Administrative Law
Appellate
Business & Commercial
Class Action & Mass Tort
Construction Defect
Construction
Employment Law
Environmental Law
Estates/Probate/Trusts
Governmental/Public Agency
Insurance
Personal Injury/Torts
Pharmaceuticals/Mass Tort
Professional Liability
Real Estate & Real Property
Honors, Memberships, and Professional Activities
Background and Education
Hon. Lawrence E. Mooney (Ret.) joins JAMS in St. Louis following over 21 years of distinguished service as a judge on the Missouri Court of Appeals, Eastern District, including a term as chief judge.
From 2015 to his retirement, Judge Mooney served as his court's settlement judge, screening all civil matters filed with the court in an effort to find opportunities for settlement prior to adjudication. Judge Mooney won consistent praise from both the court and litigants for his ability to identify alternatives to litigation and to work with parties to settle dozens of matters set for appeal.
Believing that it is never too late for settlement, Judge Mooney excels at helping even firmly entrenched parties find fresh avenues for agreement.
ADR Experience and Qualifications
Former settlement judge for the Missouri Court of Appeals, with a recognized track record of working with parties to settle live litigation
Consistently praised on the bench for his timely, high-quality work product and fair treatment of parties; sat by designation on the Supreme Court of Missouri
Served as chair of the Judicial Finance Commission, a body established by the Missouri Legislature to resolve budget disputes between judicial circuits and counties
Community leader with decades of service to economic development and the arts in the St. Louis metropolitan region
Representative Matters
Blanks v. Fluor Corporation, 450 S.W.3d 308 (Mo. App. E.D. 2014): Reviewed a $358-million verdict in a 180-page opinion, affirming in part and reversing and remanding in part
Mello v. Davis, 182 S.W.3d 622 (Mo. App. E.D. 2005): Reversed an award of attorneys' fees, employing both legal principles and humor in reaching its conclusion
Missouri Soybean Association v. The Missouri Clean Water Commission, 102 S.W.3d 10 (Mo. banc 2003)
While sitting as a special judge on the Supreme Court of Missouri, authored the majority opinion, which affirmed and modified the dismissal of a challenge to the Missouri Clean Water Commission's decision designating the Mississippi and Missouri rivers as impaired waterways
At JAMS, handled a billing dispute arbitration between a hospital and an insurance company.
Honors, Memberships, and Professional Activities
Honoree, Missouri Lawyers Media ICON, 2021
Completed Virtual ADR training conducted by the JAMS Institute, the training arm of JAMS
Legal Pioneer, Bar of Association of Metropolitan St. Louis (BAMSL), 2021
Hall of Fame, Order of the Fleur de Lis, St. Louis University Law School, 2020
President's Award, Midwest LGBTQ Law Conference, 2014
Warren Welliver Award, Missouri Lawyers' Assistance Program, 2014
Human Rights Award, Outlaw (LGBTQ+ Student Organization), 2003
Jurist in Residence, St. Louis University School of Law, 2003
Member of the Board, Metropolitan Employment and Training Center, 2000–2003
Member of the Board, Buzz Westfall Charitable Foundation, 2004–2012
Member, Board of Trustees, Laumeier Sculpture Park, 2001–2012; Secretary, 2008–2012
Member of the Board, National Conference for Community and Justice, St. Louis, 2001–2008
President, Food Outreach, 1996–1998; Member of the Board, 1995–2001
Board Member, The Leadership Center of Greater St. Louis, 1994–1996
Member, Community Action to Prevent Violence Steering Committee, 1994–1996
President, St. Louis Film Office, 1995–1997; Member of the Board, 1995–1998
Member, Criminal Justice Review Committee, 21st Judicial Circuit, 1993–1998
Member, World of Difference Institute Advisory Board, Anti-Defamation League, 1998
Director, St. Louis Community Partnership, 1998
Graduate, Leadership St. Louis, 1992–1993
Member, Regional Health Care Task force, 1992
Member of the Board, Tennessee Williams Festival, St. Louis, 2015—present
Member of the Board, Valley Farm Dairy Company, 1979–1990
Member:

American Bar Association
Missouri Bar Association
Bar Association of Metropolitan St. Louis
Lawyers' Association of St. Louis
St. Louis County Bar Association
Lawyers for Equality
Admissions
Missouri, 1974
United States District Court for the Eastern District of Missouri, 1977
United States Court of Appeals for the Eighth Circuit, 1978
Background and Education
Judge, Missouri Court of Appeals, Eastern District, 1998–2019

Chief Judge, 2002–2003
Chair, Judicial Finance Commission, 2003–2019
Member, Treatment Courts Coordinating Commission, 2002–2019
Settlement Judge, 2015–2019
Member, Committee on Practice and Procedure in Municipal Division Cases, 2016–2019
Member, Missouri Circuit Realignment Task Force, 2017–2019

Executive Assistant to County Executive Buzz Westfall, 1991–1998
Harvard University, Program for Senior Executives in State and Local Government, 1991
First Assistant Prosecuting Attorney, St. Louis County, 1979–1990
Associate; Padberg McSweeney, Slater, Merz & Reid; 1978–1979
Assistant Prosecuting Attorney, St. Louis County, 1975–1977
J.D., St. Louis University School of Law, 1974
A.B., History, St. Louis University, 1971
"Judge Mooney is one of the most well-known and well-liked judges to have ever served on the Court of Appeals…Out of all his work here at the Court I would like to single out one particularly important contribution. For years, Judge Mooney has served as the settlement judge. His tireless efforts and steady hand have resulted in dozens of cases being resolved by agreement of the parties prior to opinion. For that and all his other service, the judges of the Eastern District will be forever grateful."

- Chief Judge Colleen M. Dolan
Missouri Court of Appeals, Eastern District, July 10, 2019 [PRESS RELEASE]
"He did a wonderful job and I will be using him exclusively for any future mediations."
"Thank you for your tremendous work in helping us get the matter resolved. My clients and I truly appreciate your assistance."
"Thank you for the great job you did in bringing this case to resolution. My clients were extremely impressed with your handling of the matter and asked that I convey their thanks to you."
"Judge Mooney - thank you for helping us resolve this case. It needed to settle and we couldn't have done it without you. I look forward to mediating with you again. I've already told many lawyers (and will continue to tell many more) my very favorable opinion of your work. Thanks again! "
Thanks, Judge!! It was a pleasure working with you as well, and I remain shocked and amazed that you got the case resolved.
All the best!
I truly appreciate your fine handling of this matter. Your professionalism and personal style contributed greatly to resolving the case, and I thoroughly enjoyed working with you.
Disclaimer
This page is for general information purposes. JAMS makes no representations or warranties regarding its accuracy or completeness. Interested persons should conduct their own research regarding information on this website before deciding to use JAMS, including investigation and research of JAMS neutrals. See More
Search our global directory of mediators, arbitrators and ADR professionals.
FIND A NEUTRAL