In Memoriam

JAMS Remembers Hon. V. Gene McDonald (Ret.)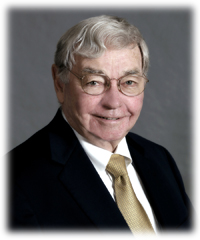 (1937-2014)
One of the most beloved panelists at JAMS, Hon. V. Gene McDonald (Ret.), passed away on December 16, 2014.
During his 17 years with JAMS, Judge McDonald developed a unique background in resolving a wide range of civil disputes. He was known as a very fair and thorough panelist, who was passionate about his role as a neutral. Judge McDonald was a treasured mentor and friend to JAMS neutrals and associates throughout northern California. Outside of his work, Judge McDonald was known for his witty sense of humor and his deep love for his family.
Judge McDonald served as a founding member of the JAMS Foundation. He was also a member of the California Judges Association, American Judicature Society, American Bar Association (Dispute Resolution Section) and California Dispute Resolution Council, Association of Business Trial Lawyers and the Academy of Court Appointed Special Masters.
Judge McDonald is survived by his wife, Carol and his two children.
The family has asked in lieu of flowers that donations be made to the Legal Aid Society of San Mateo County.
Everyone at JAMS, as well as his many friends and colleagues in the ADR community, will greatly miss him.
The family is currently planning a service and this page will be updated with more information about the service as it is available.