In Memoriam
JAMS Remembers Hon. William D. Missouri (Ret.)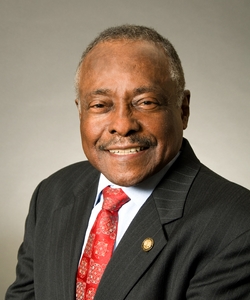 (1940-2017)
One of JAMS most respected neutrals, Hon. William D. Missouri (Ret.) passed away on November 21, 2017. He joined JAMS in 2011 after serving for more than 25 years in the Maryland Court System.
He served as Chief and Administrative Judge of the Seventh Judicial Circuit. Prior to his appointment to the Circuit Court in 1987, Judge Missouri served as an Associate and Administrative Judge of the Fifth District Court for Prince George's County.
Judge Missouri was known for his wealth of knowledge, impeccable reputation for integrity and character in government and selfless service to the people of Maryland. He was the recipient of numerous awards and citations, the result of his service on countless judiciary, professional and community committees and organizations. Clients and associates described him as a charismatic, compassionate, hardworking, patient and genuine leader who dedicated his life to his family and community.
Judge Missouri passed away peacefully surrounded by his family. He leaves behind his wife Delores and five children, Marcellina, Shawn, Danielle, Naomi and Natalie.
Everyone at JAMS, as well as his many friends and colleagues in the legal community, will greatly miss him.
A viewing will take place on Wed., November 29 from 6-8 p.m.at Evengel Cathedral, Bishop's Chapel in Upper Marlboro. There will be an additional viewing on Thursday, Nov. 30 at St. Joseph's Catholic Church in Upper Marlboro from 9-11 a.m., with the funeral immediately following.
In lieu of flowers, donations in the memory of Hon. William D. Missouri (Ret.) may be made to the American Society of Hematology, 2021 L Street, NW, Suite 900, Washington, D.C. 20036.