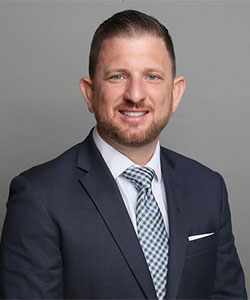 Sherman Humphrey
JAMS Senior Global Practice Manager
Sherman Humphrey collaborates with the world's top firms, international practitioners and leading multi-national organizations to communicate and inform of JAMS spectrum of dispute resolution options ranging from negotiation, mediation, international arbitration, ADR system design, plus dispute prevention, bespoke and hybrid processes. He manages the promotion of JAMS cross-border services to US based practitioners and assists JAMS neutrals worldwide with building and expanding their international practices. Sherman frequently speaks on topics relating to international ADR.
Sherman joined JAMS in June of 2012 as the Business Manager of the Miami Resolution Center and Boca Raton Hearing Center. During this time, Sherman oversaw the opening of JAMS two offices in South Florida, in addition to operations, case administration and client service processes for JAMS Miami.
Prior to joining JAMS, Sherman worked for six years as the Southeast Sponsorship Manager and Director of Corporate Relations for an international non-profit organization that supports a network of hospitals and community programs through Latin America and the Caribbean. In this capacity, Sherman was responsible for operations, fundraising, and business development functions for the organization in the southeastern US.
Sherman was born in Kenya yet lived most of his life in Latin America, between El Salvador and Guatemala, before moving to the US to complete University studies. Sherman has a BA degree in International Relations and Geography from Florida International University, as well as a Certificate in Latin American and Caribbean Studies, with concentrations in International Development and Foreign Policy. Sherman also holds a Master's degree in International Business from the Chapman Graduate School of Business (FIU). He is a native Spanish-speaker and writer.
Sherman can be reached at shumphrey@jamsadr.com.
For further information, please contact:
KRISTINE SNYDER
JAMS Senior Public Relations & Content Manager
+1 949-224-4614 (Direct Dial)