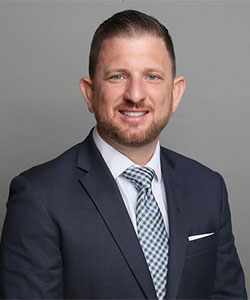 Sherman Humphrey
JAMS Senior Global Practice Manager
Sherman Humphrey joined JAMS in 2012 as Business Manager of the Miami Resolution Center and Boca Raton Hearing Center. Sherman oversaw the opening of JAMS' two offices in Florida, in addition to managing operations, case administration and client service.

Prior to joining JAMS, Sherman worked as Manager, Southeast and Director of Corporate Relations for an international non-profit organization that supports a network of children homes, hospitals and community programs throughout Latin America and the Caribbean. In this capacity, Sherman was responsible for operations, fundraising, and business development functions for the organization in the southeastern US, in addition to leading the organization's disaster relief responses multiple times during his tenure.

Sherman was born in Kenya yet lived most of his life in Latin America, between El Salvador and Guatemala. Sherman has a BA degree in International Relations and Geography, a Certificate in Latin American and Caribbean Studies with concentrations in International Development and Foreign Policy, and an MA in International Business. He is a native Spanish-speaker and writer.

Sherman can be reached at shumphrey@jamsadr.com.
For further information, please contact:
KRISTINE SNYDER
JAMS Senior Public Relations & Content Manager
+1 949-224-4614 (Direct Dial)