Contact Case Manager
Amy Thornton
Two Embarcadero Center Suite 1500
San Francisco, CA 94111
T: 415-774-2686
F: 415-982-5287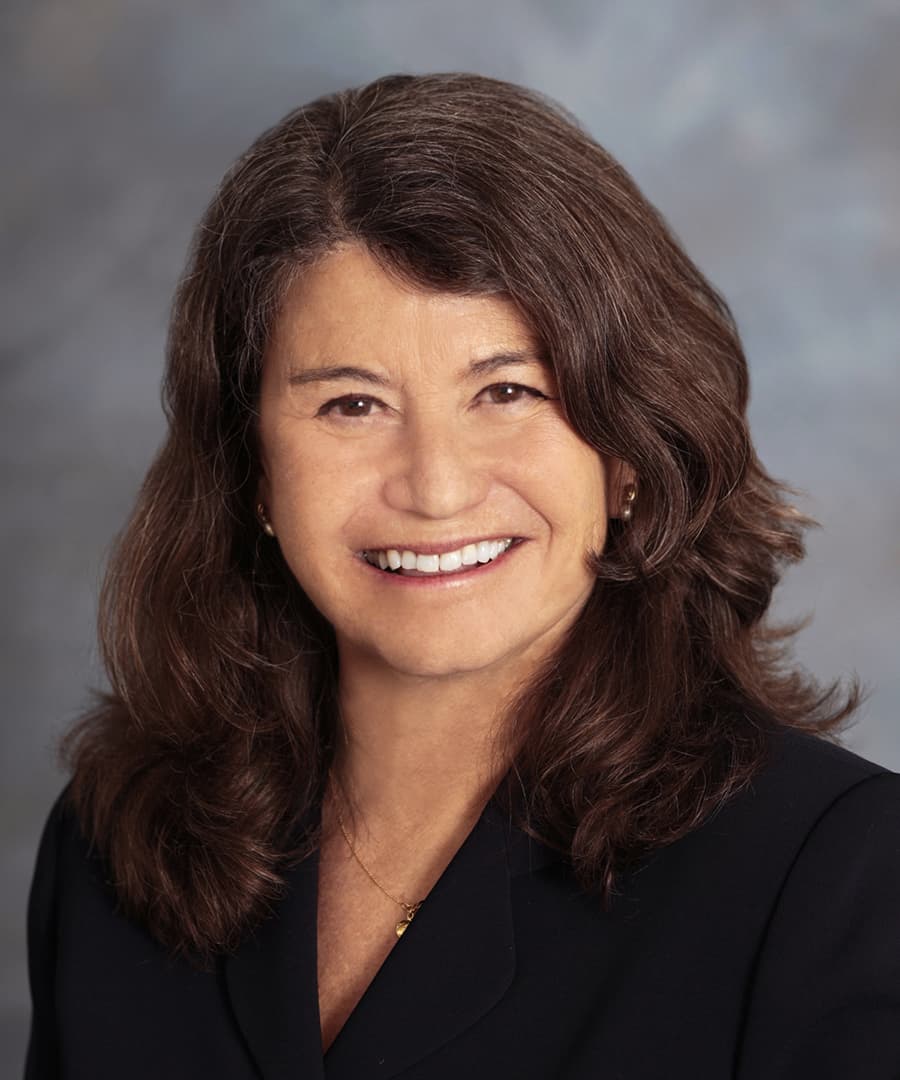 Jeane Struck, Esq.
Contact Information
Amy Thornton
Two Embarcadero Center Suite 1500
San Francisco, CA 94111
T: 415-774-2686
F: 415-982-5287
General Biography
Practice Areas
Business/Commercial
Construction Defect
Governmental/Public Agency
Insurance
Personal Injury/Torts
Professional Liability
Real Property
Honors, Memberships, and Professional Activities
Background and Education
Jeane Struck is a neutral with more than 35 years of litigation experience handling personal injuries (ranging from soft tissue injuries to quadriplegia and catastrophic brain injuries), professional liability (architects, engineers, doctors, psychologists, nurses, massage therapists, aestheticians and brokers), construction defect, product liability, premises liability, commercial liability, professional and amateur sports and recreational liability, landlord/tenant, sexual assault and fraternity cases; defamation, nuisance, ADA and UM/UIM claims.
As an attorney, Jeane evaluated both the strengths and weaknesses of each case, based on a distinct set of facts, in order to advise insurance carriers of the potential exposure. She learned early in her career that she could be an advocate for her carrier and insured defendant clients, while being respectful and fair to the plaintiff and opposing counsel. As a mediator, Jeane employs those same skills in order to reach a mediated resolution- she shares legal, factual and emotional perspectives, not just monetary demands and offers.
Jeane is a versatile neutral and is adept at handling everything from simple, two party matters, to complex, multi-party cases with unusual damage claims and everything in between. She understands unspoken dynamics and carrier/client relationships and is praised for her ability to quickly develop a rapport with counsel and their clients in order to effectively reach resolution. At JAMS Jeane has successfully mediated a wide range of matters, including those involving wrongful death, sexual assault, common carriers, mobile homes, municipalities, UM/UIM claims, traumatic brain injuries, amputations, professional liability, breach of contract, and habitability and wrongful eviction claims, many of which involved multiple insurance carriers and coverage issues.
Jeane's high settlement rate, based on the significant preparation and attention she gives each matter, makes her sought after by both plaintiff and defense counsel. By the time the mediation session begins she has already spoken with each counsel individually, and considered the legal and factual issues to be addressed, in order to make the mediation session both productive and successful.
ADR Experience and Qualifications

As a full-time neutral at JAMS, Jeane has successfully mediated cases ranging from product liability to landlord/tenant cases; uninsured motorist to Davis-Stirling Act claims, sexual assault, premises liability, motor vehicle and breach of contract cases
Served as a settlement conference judge and arbitrator for the Santa Cruz County Court and a settlement conference panelist for the San Francisco and Marin County Courts
As a litigator, Jeane arbitrated and mediated hundreds of matters throughout California
Representative Matters
Construction Defect

Handled design and standard of care claims made against architects, civil engineers, structural engineers and engineering geologists, involving allegations of design negligence, inadequate construction administration or supervision, and reporting requirements
Handled numerous construction defect matters involving issues ranging from water intrusion, rust/corrosion, and mold exposure to foundation instability and lack of structural integrity
Handled complex multi- party construction defect matters with multi layered insurance issues involving homeowner associations, developers, general contractors, subcontractors, construction managers, special inspectors and design professionals
Matters handled involve defects in a variety of types of structures including commercial, single family residences, sub divisions, wineries, casinos, schools, universities and resorts
Represented the manufacturers of the products used in construction including roofing materials, siding and windows
Handled contractual issues between the parties in construction defect matters including those related to indemnification, licensing/disgorgement and limitation of liability clauses
Represented one of the subcontractors in what is believed to be the first case managed by a special master in coordination with a California court in the mid- 1980s

Landlord/Tenant

Jeane has successfully mediated habitability and constructive/wrongful eviction cases involving the San Francisco Rent Ordinance, the Oakland Municipal Code, the Richmond Rent Ordinance and the Berkeley Rent Ordinance
Successfully mediated landlord tenant cases involving multiple plaintiffs and multiple insurance carriers with varied coverage issues
Successfully mediated claims of carbon monoxide exposure suffered by multiple tenants, claimed lack of mandated smoke and carbon monoxide detectors provided by landlord
Resolved a range of claims made against building managers, commercial and residential landlords including habitability, wrongful eviction, and constructive eviction
Handled injury and death claims made by tenants/heirs against landlords and property managers

Other Statutory and Common Law Claims

Successfully mediated claims against mobile home parks including a multi- party case involving an easement enforced by the City post purchase, and a Davis-Stirling Act claim brought against an HOA Board which included an alleged assault and battery
As a litigator, Jeane handled claims of elder abuse and premises claims against owners and operators of senior living facilities
Handled private and public nuisance claims made pursuant to case law and municipal ordinance
ADA compliance cases in state and federal court
Represented universities and professors in matters involving claims of defamation based on "recovered memory" studies, denial of tenure, whistleblower, invasion of privacy, and sexual harassment claims
Handled claims made against governmental entities ranging from recreational liability to personal injury claims involving transit authorities

Personal Injury/Torts

At JAMS Jeane has successfully mediated personal injury and wrongful death cases involving cyclists, motorcyclists, pedestrians, elevators, theaters, supermarkets, bumper cars, semi-trucks, electric trolleys, municipal buses and ride- share vehicles, with claims ranging from soft tissue and orthopedic injuries to traumatic brain injuries to sexual assault
As a litigator, she handled personal injury matters with medical diagnoses of meningitis, RSD (complex regional pain syndrome), traumatic brain injuries, spinal injuries, ruptured breast implant, bilateral ruptured biceps, traumatic amputations, orthopedic injuries, double vision, PTSD, laryngeal trauma, stroke, Bell's palsy, quadriplegia, paraplegia, cardiac arrest, formaldehyde toxicity and degloving injuries
The circumstances surrounding the personal injury and wrongful death matters Jeane handled as a litigator include:

Sports and recreational activity cases involving race tracks, swimming pools, ATVs, zip lines, bicyclists and triathletes, resulting in catastrophic injuries to a professional jockey, nationally ranked collegiate diver, and other athletes
National professional and amateur athletic organizations and local chapters, including baseball, soccer, cycling, volleyball, track, tennis and triathlon injuries to participants and spectators, including claims of bodily injury and sexual molestation
Hundreds of uninsured motorist and underinsured motorist (UM/UIM) claims
Wrongful death cases arising from motor vehicle accidents, medical malpractice, elevator shaft fatalities, rooftop falls and toxic exposures
A range of premises liability matters including dog bites, slip and falls, assault and battery, construction site injuries and injuries caused by the service of alcohol to an intoxicated minor
Product liability claims involving a range of products including condoms, riding helmets, boilers, gym equipment, a retrofitted ambulance and pleasure craft components resulting in injury or death

Professional Liability

At JAMS, Jeane has successfully mediated claims brought against a manicurist for injuries requiring a partial amputation, and arbitrated claims made against a design professional for negligence and breach of contract with counterclaims for breach of contract
As a litigator, Jeane handled professional liability claims made against architects, civil engineers, structural engineers and engineering geologists, involving allegations of design negligence, inadequate construction administration or supervision, and reporting requirements
Handled claims of broker negligence including failure to disclose, errors in selection of coverages.
Handled health care malpractice claims involving physicians, nurses, psychotherapists, chiropractors, pharmacists, optometrists, massage therapists, estheticians and ambulance companies with alleged injuries including stroke, tetanus, medical amputation, Bell's palsy, ant infestation, double vision and death
Handled medical malpractice matters involving emergency room physicians, internists, and prison physicians for alleged failure to diagnose and treat, and nursing error resulting in patient's death
Honors, Memberships, and Professional Activities
Completed Virtual ADR training conducted by the JAMS Institute, the training arm of JAMS.


Recognized as Northern California Super Lawyer, Alternative Dispute Resolution, 2018-2019
Martindale-Hubbell Client Distinction Award 2015
Martindale- Hubbell Bar Register of Preeminent Women
Martindale- Hubbell AV rated since 1999
Association of Defense Counsel of Northern California & Nevada (ADCNC)

Board of Directors, 1990-1994; 2004-2009
Recipient, President's Award, ADCNC, 2008

Claims and Litigation Management Alliance (CLM)
San Francisco Trial Lawyers Association (SFTLA)
Construction Lawyers Society of America (CLSA)
Northern California Super Lawyers
California Bar
United States District Court for the Northern District of California
United States District Court for the Eastern District of California
ADR Profile
Background and Education
Severson & Werson, San Francisco, 2006-2018
Certified Litigation Management Professional, CLM/Columbia Law School, 2013
Selman Breitman, LLP, Special Counsel, San Francisco, 2002-2006
Mac Morris & Carbone (Staff Counsel, Senior Litigator, California State Automobile Association) San Francisco, 1996-2002
Grunsky, Ebey Farrar & Howell, Watsonville, CA 1983-1996
J.D. Santa Clara University, 1983
B.A. (Honors in Psychology) University of California, Santa Cruz, 1977
"[Jeane] is truly gifted and dedicated, creative, and where I am concerned, patient."

– Partner, Plaintiff Personal Injury Firm, San Francisco

"THANK YOU!! Great job...thanks for getting this resolved for us!"

– Shareholder, Personal Injury Defense Counsel, East Bay

"Thank you for the fantastic job you did as the mediator...my clients were able to obtain an excellent settlement in a very difficult and emotional case. You are the best and I can't wait to mediate with you again"

– Plaintiff Personal Injury Counsel, San Francisco

"Jeane, I want to thank you for an absolutely fantastic job. The result is amazing and speaks for itself. I appreciate the work you put in before, during and after the mediation."

– San Francisco Attorney

"Jeane, it was great to work with you. Really really pleased. My clients are very thankful and appreciative. You did an amazing job bridging this gap. I am looking forward to our next project together!"

– Named Partner, Bay Area Law Firm

"I wanted to thank you for your diligent efforts patience and skill in assisting the parties in formulating a resolution that culminated in a final written settlement agreement."

– Partner, Southern California Civil Litigation Law Firm
"The mediation was the most successful and pleasurable I have ever experienced in my 30 years of practice. I wish all mediations could be just half as productive and amicable… [Jeane's] participation in the mediation was a major factor in obtaining such a great result."

– Attorney, Bay Area Law Firm
"You did a terrific job in helping us resolve this case. I appreciate all of your efforts and perseverance to get this resolved… It was great working with you and I look forward to working with you again."

– Attorney, California Law Firm
"Thank you for your work and your wonderful personality. It was a pleasure working with you and I plan to contact you again in the near future."

– Attorney, California Law Firm
"She was very effective. Her command of personal injury case value, understanding of recoverable damages, and prior experience with similar cases made a decisive difference in the outcome of the case."



"I just wanted to thank you for all your hard work on this mediation. I was worried about the ability to come to an agreement. I know it wasn't easy, so wanted to make sure you know we are extremely grateful for your efforts!"

– Insurance Adjuster, Business/ D&O Claims

"You are a wonderful mediator and an even greater person!"

– Landlord/ Tenant Attorney, Bay Area Law Firm
Home Office
HOME OFFICE
San Francisco, California
Two Embarcadero Center, Suite 1500, San Francisco, CA 94111
View Location Details
Silicon Valley, California
160 W. Santa Clara St., Suite 1600, San Jose, 95113 CA
View Location Details
Available to Travel
AVAILABLE TO TRAVEL
Sacramento, California
1415 L Street, Suite 700, Sacramento, CA 95814
View Location Details
Santa Rosa, California
50 Old Courthouse Square, Suite 600, Santa Rosa, CA 95404
View Location Details
Walnut Creek, California
1255 Treat Blvd., Suite 700, Walnut Creek, CA 94597
View Location Details
Disclaimer
This page is for general information purposes. JAMS makes no representations or warranties regarding its accuracy or completeness. Interested persons should conduct their own research regarding information on this website before deciding to use JAMS, including investigation and research of JAMS neutrals. See More
Search our global directory of mediators, arbitrators and ADR professionals.
FIND A NEUTRAL