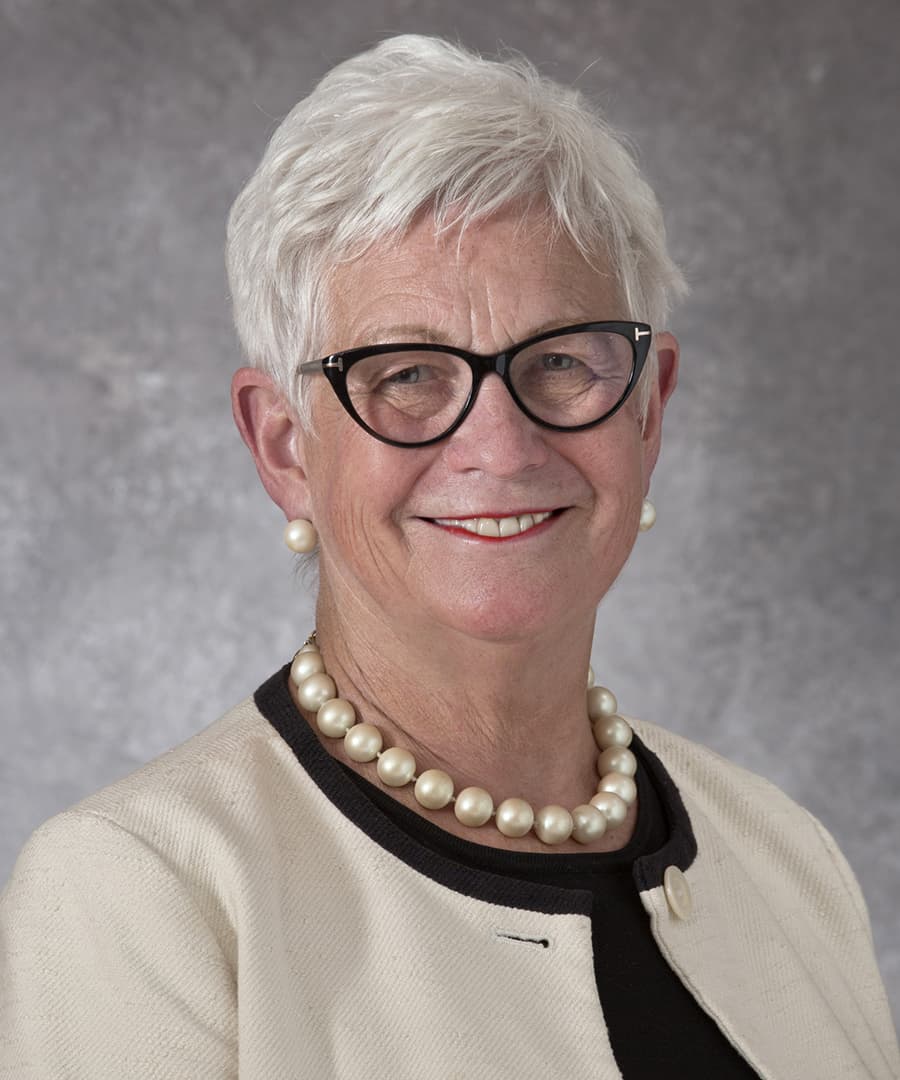 Hon. Deanell Reece Tacha (Ret.)
General Biography
Practice Areas
Administrative Law
American Indian Tribal Law
Appellate
Civil Rights
Education/Schools
Employment
Environmental
Federal Law
Governmental/Public Agency
Personal Injury/Torts
Real Property
Honors, Memberships, and Professional Activities
Background and Education
Hon. Deanell Reece Tacha (Ret.) joins JAMS after more than 20 years of distinguished service on the United States Court of Appeals for the Tenth Circuit, including seven years as Chief Judge of that court. On her retirement from the federal judiciary in 2011, Judge Tacha was named Dean of the Pepperdine University School of Law.
Tacha has significant experience in higher education as both an administrator and professor of law. She has taught in the areas of property law, oil and gas and administrative law.
Tacha is known for her keen intellect, creative problem solving and ability to grasp issues quickly. She is praised as an effective collaborator with special attention to civility.
ADR Experience and Qualifications
Judge Tacha has extensive experience in the following areas:
Administrative Law
Appellate
Civil Rights
Education/Schools
Employment
Environmental
Federal
Governmental/Public Agency
American Indian Tribal Law
Personal Injury/Torts
Real Property
Representative Matters
Antitrust

Been v. O.K. Indus., Inc., 495 F.3d 1217 (10th Cir. 2007) (holding as matter of first impression that a viable claim under the Packers and Stockyard Act requires showing injury to competition).

Class Action Litigation

Brown v. Phillips Petroleum Co., 838 F.2d 451 (10th Cir. 1988) (determining that courts may use the same attorneys' fees analysis under fee-shifting statutes and in common fund class action cases).

Due Process and Equal Protection Claims

Watson v. City of Kansas City, 857 F.2d 690 (10th Cir. 1988) (creating standard for domestic violence victims to establish a viable Equal Protection Clause claim).
Roska ex rel. Roska v. Peterson, 328 F.3d 1230 (10th Cir. 2003) (determining that officers acted unconstitutionally by removing a child from its home without sufficient pre-removal procedures).

Eighth Amendment

Clemmons v. Bohannon, 956 F.2d 1523 (10th Cir. 1992) (en banc) (examining whether exposure to secondhand smoke constituted cruel and unusual punishment).

Employment

Simms v. Okla. ex rel. Dep't of Mental Health & Substance Abuse Servs., 165 F.3d 1321 (10th Cir. 1999) (explaining that Title VII permits a company to hire any equally qualified candidate and the court is not to act as a "'super-personnel department' that second-guesses employers' business judgments").
Notari v. Denver Water Dep't, 971 F.2d 585 (10th Cir. 1992) (adopting "background circumstances" test for reverse discrimination claims).

Environmental

N.M. Cattle Growers Ass'n v. U.S. Fish & Wildlife Serv., 248 F.3d 1277 (10th Cir. 2001) (analyzing the Endangered Species Act's definition of "economic impact" as a matter of first impression amongst circuit courts).

Excessive Force and Qualified Immunity

Pueblo Neighborhood Health Ctrs., Inc. v. Losavio, 847 F.2d 642 (10th Cir. 1988) (explaining that the qualified immunity analysis must consider a law enforcement officer's state of mind when intent is an element of the alleged constitutional violation).
Medina v. Cram, 252 F.3d 1124 (10th Cir. 2001) (addressing whether police officers' use of force was unreasonable where the plaintiff argued that the officers voluntarily placed themselves in a dangerous situation).

First Amendment

Gaylor v. United States, 74 F.3d 214 (10th Cir. 1996) (analyzing whether use of "In God We Trust" violated the Establishment Clause).
Cardtoons, L.C. v. Major League Baseball Players Ass'n, 95 F.3d 959 (10th Cir. 1996) (holding that parody trading cards were protected by the First Amendment).

Intellectual Property

Universal Money Ctrs., Inc. v. Am. Tel. & Telegraph Co., 22 F.3d 1527 (10th Cir. 1994) (explaining that "some actual confusion does not dictate a finding of likelihood of confusion" and examining whether several instances of actual confusion may, nonetheless, be de minimis and insufficient to support a trademark infringement claim).
Jordache Enters., Inc. v. Hogg Wyld, Ltd., 828 F.2d 1482 (10th Cir. 1987) (explaining differences between parody and infringement and holding that "[a]n intent to parody is not an intent to confuse the public").
Honors, Memberships, and Professional Activities
Selected Honors
University of Kansas College of Liberal Arts & Sciences Distinguished Alumni Achievement Award, April 2009
Lawrence Chamber of Commerce Citizen of the Year Award, 2008
Edward J. Devitt Distinguished Service to Justice Award, 2008
ABA Justice Center John Marshall Award, 2008
Lawrence Chamber of Commerce Athena Award, 2008
Distinguished KU Law School Friend Award, 2004
Kansas Bar Association Distinguished Service Award, 2003
Pepperdine University Honorary Doctor of Laws Degree Recipient, 2000
Suffolk University Honorary Doctor of Laws Degree Recipient, 1996
Don Volker Leadership Award, presented by Leadership Lawrence Class, 1992
Fred Ellsworth Medallion, presented by Kansas University Alumni Association, 1992
Honorary Member, The Commercial Bar Association of England and Wales
Memberships
Member, American Bar Association
Lifetime Fellow, American Bar Foundation
Member, Kansas Bar Association
Lifetime Fellow, American Law Institute
Member, American Academy of Appellate Lawyers
Bar Admissions
Kansas
Missouri
District of Columbia
Selected Professional Activities
Completed Virtual ADR training conducted by the JAMS Institute, the training arm of JAMS
Judicial Council, United Methodist Church, 2016–Present
Kansas University Endowment Association Board of Trustees

Chair, 2015–Present
Vice Chair, 2006–2014
Executive Committee, 2005–Present
Member, 1992–Present

Member, Power of Democracy Task Force, Appointed by Chief Justice Cantil-Sakauye, 2012–Present
Member, California State Bar Task Force on Admission Regulation and Reform, 2011–Present
Member, National Board of Trustees, Equal Justice Works, 2013–Present
Member, Tenth Circuit Judicial Council, 1986–1989, 1991–1993, 1995–1997, 1999–2008, 2009–2011
Founding Member, Judge Hugh Means American Inn of Court, 1992–Present
American Bar Association

CEELI Advisory Board, 1999–2004
Judicial Division, 1992–1998
Appellate Judges Conference, 1989–1994
Commission on Women in the Profession, 1987–1991
National Meeting Planning Committee, 1995–1996
National Board, 2012–Present
Rule of Law Initiative

American College of Trial Lawyers

Judicial Delegate, Anglo-American Legal Exchange, Fall 1999, Fall 2000, Fall 2004
Judicial Delegate, Canada-United States Legal Exchange, 2007

Member, Board of Governors, Beverly Hills Bar Association, 2014–Present
Emeritus Member, Board of Visitors, Brigham Young University School of Law, 1988–Present
Visiting Committee, University of Chicago School of Law, 1986–1989
Committee of Visitors, University of Michigan School of Law, 1981–2006
Dean's Advisory Council, University of California-Irvine, Donald Bren School of Law, 2007–2010
Selected Publications
No Law Student Left Behind, 24 Stan. L. & Pol'y Rev. 353 (2013)
The Lawyer of the Future, 40 Pepp. L. Rev. 337 (2013)
Don't Eat Your Seed Corn: A Call to the Legal Profession, The Opperman Report, Nov. 5, 2012
Diversity in the Judiciary: A Conversation with Deanell Tacha, 59 U. Kan. L. Rev. 1037 (2011)
Training the Whole Lawyer, 96 Iowa L. Rev. 1699 (2010)
In Memoriam: Requiem for a Goldsmith, 2010 B.Y.U. L. Rev. 353 (2010)
Women and Law: Challenging What Is Natural and Proper, 31 Nova L. Rev. 259 (2007)
Refocusing the Twenty-First-Century Law School, 57 SMU L. Rev. 1543 (2004)
Oh, The Faces You'll See, 49 Kan. L. Rev. 1149 (2001)
Background and Education
Duane and Kelly Roberts Dean, Pepperdine University School of Law, 2011–2017
United States Court of Appeals for the Tenth Circuit

Chief Judge, 2001–2007
Circuit Judge, 1986–2011

University of Kansas

Vice Chancellor for Academic Affairs, 1981–1985
Associate Vice Chancellor for Academic Affairs, 1979–1981

University of Kansas School of Law

Associate Dean, 1977–1979
Professor of Law, 1977–1985
Associate Professor of Law, 1974–1977

Director; Douglas County Legal Aid Clinic; Lawrence, Kansas; 1974–1977
Associate; Thomas Pitner Law Firm; Concordia, Kansas; 1973–1974
Associate; Hogan & Hartson; Washington, DC; 1973
White House Fellow; Washington, DC; 1971–1972

Special Assistant to the Secretary, U.S. Department of Labor

University of Michigan; Ann Arbor, Michigan; J.D., 1971
University of Kansas; Lawrence, Kansas; B.A. with honors, American Studies, 1968
"Thank you for your help in preparing us for the appeal. The mock session with you was tremendously valuable and the actual argument was much better because of the time we spent together. I hope we'll get a chance to work together again."
Home Office
HOME OFFICE
Available to Travel
AVAILABLE TO TRAVEL
Chicago, Illinois
71 S. Wacker Drive Suite 2400, Chicago, IL 60606
View Location Details
Disclaimer
This page is for general information purposes. JAMS makes no representations or warranties regarding its accuracy or completeness. Interested persons should conduct their own research regarding information on this website before deciding to use JAMS, including investigation and research of JAMS neutrals. See More
Search our global directory of mediators, arbitrators and ADR professionals.
FIND A NEUTRAL