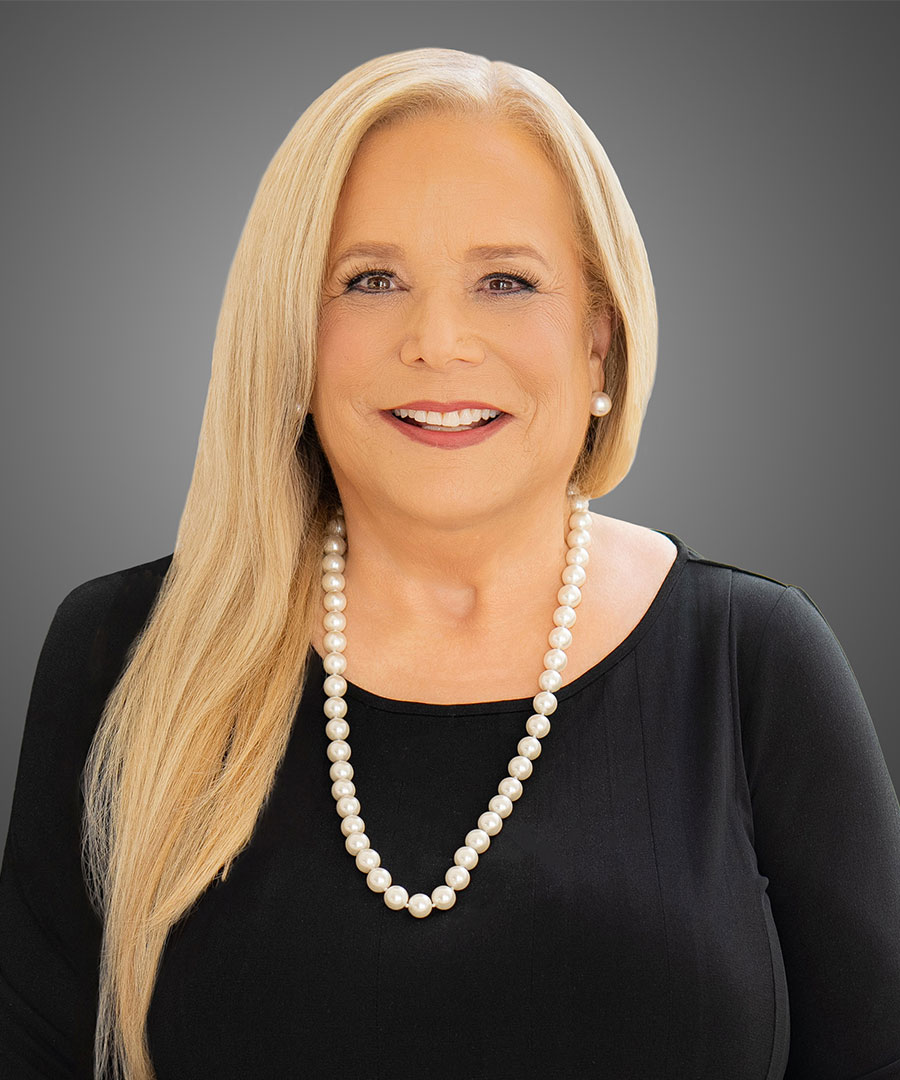 Hon. Gail A. Andler (Ret.)
JAMS Mediator, Arbitrator, Referee/Special Master, Neutral Evaluator, Hearing Officer, Temporary Judge/Judge Pro Tem
Hon. Gail A. Andler (Ret.) |
JAMS Mediator, Arbitrator, Referee/Special Master, Neutral Evaluator, Hearing Officer, Temporary Judge/Judge Pro Tem
Contact Case Manager
Matthew Levington
5 Park Plaza Suite 400
Irvine, CA 92614
T: 714-937-8258
F: 714-939-8710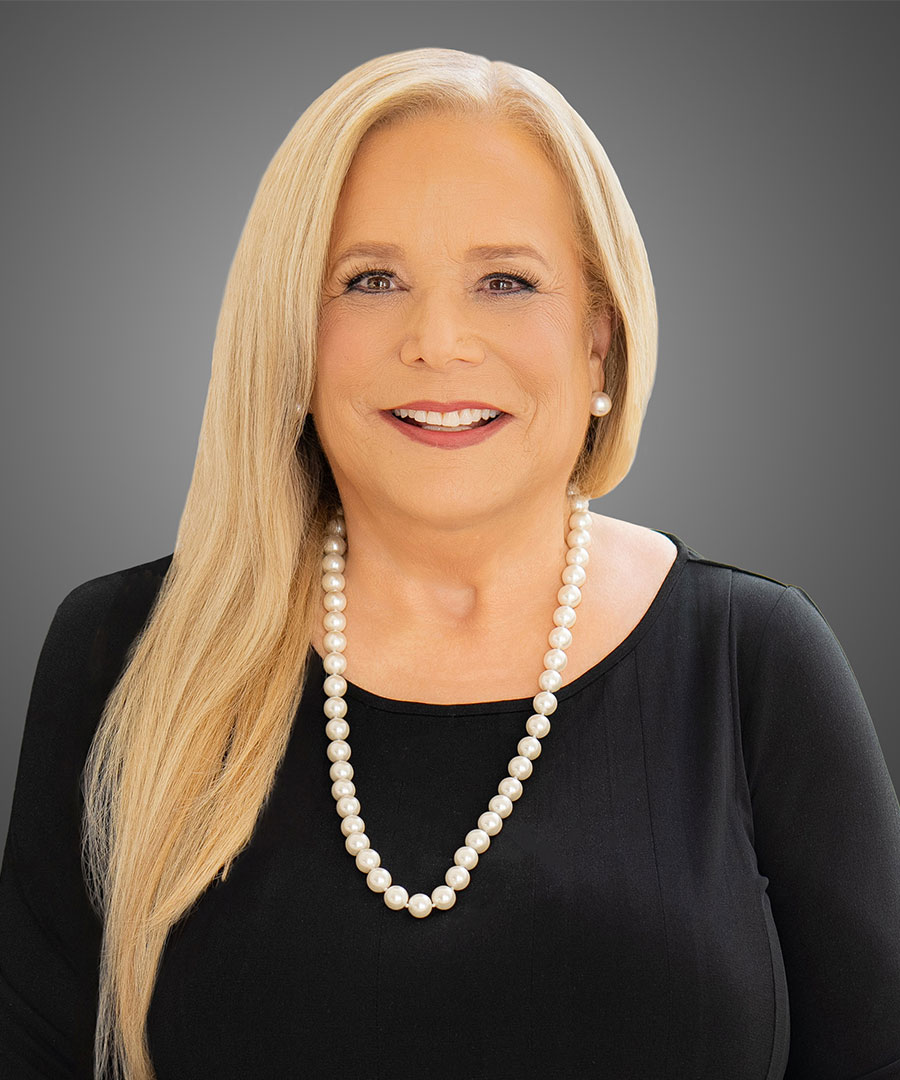 Hon. Gail A. Andler (Ret.)
JAMS Mediator, Arbitrator, Referee/Special Master, Neutral Evaluator, Hearing Officer, Temporary Judge/Judge Pro Tem
Contact Information
Matthew Levington
5 Park Plaza Suite 400
Irvine, CA 92614
T: 714-937-8258
F: 714-939-8710
General Biography
Practice Areas
Arbitration
Business/Commercial
Class Action/Mass Tort
Construction Defect
Cybersecurity & Privacy
Employment
Entertainment and Sports
Environmental
Estates/Probate/Trusts
Family Law
Health Care
Higher Education & Title IX
Insurance
Personal Injury/Torts
Pharmaceuticals Mass Torts
Professional Liability
Real Property
Honors, Memberships, and Professional Activities
Background and Education
Hon. Gail A. Andler (Ret.) is a highly sought-after Mediator, Arbitrator and Special Master selected by counsel and appointed by the courts in complex and high-profile matters throughout the country. After serving more than a decade on the Complex Civil Litigation Panel during her 22 years on the Orange County Superior Court, Judge Andler joined JAMS as a full-time neutral in 2017. Whether allocating settlement funds in large mass tort cases or bringing the parties to a negotiated resolution, Judge Andler is able to effectively leverage her judicial experience from managing and resolving large coordinated and consolidated product defect and injury cases in the pharmaceutical, medical device, and automotive industries, in addition to consumer and employment class actions and PAGA cases. Judge Andler has experience across the legal spectrum including complex business, trade secret, employment, product liability, catastrophic personal injury, entertainment and healthcare disputes. Her time with the court also included serving two terms as the Presiding Judge of the Superior Court's Appellate Division and she is the past President of the American College of Business Court Judges, experience that serves her well when arbitrating complex matters as a single arbitrator or as part of a panel. She has a Certificate in Mass Tort MDL from Duke Law and is a Fellow in the Academy of Court Appointed Neutrals as well as a Fellow in the College of Commercial Arbitrators.
Prior to her appointment to the bench, Judge Andler represented individuals and closely held corporations in business and real estate litigation, including developers and design professionals. She also gained substantial jury trial experience as a prosecutor.


Judge Andler has been praised by attorneys for her commitment to finding resolution in tandem with her creativity as well as her patience, persistence and effectiveness.
ADR Experience and Qualifications
More than 22 years on the Orange County Superior Court
Two terms as Presiding Judge of the Superior Court's Appellate Division
Developed the Early Legal Assessment program, similar to a confidential mediation offered by the courts where parties agree to having a neutral assess their case
Served on the Orange County Superior Court's ADR Committee
Volunteered to conduct settlement conferences at law firms when the Court was closed during the court funding crisis
Volunteered to conduct pro bono settlement conferences for courts in two counties during COVID-19 court access limitations
Certificate from the Straus Institute in Mediating the Litigated Case
Certificate from Duke Law in Mass Tort MDL
Representative Matters
Business/Commercial

Wide variety of actions alleging breach of contract or tort in commercial transactions; disputes concerning purchase and sale of business or business assets including intellectual property; Trade Secret and unfair competition litigation; partnership disputes; corporate governance disputes
Dispute arising from the purchase of the confidential customer list and goodwill through an Asset Purchase Agreement by a national medical equipment provider where former employee allegedly improperly accessed information to compete with purchaser

Cannabis

Dispute between parties from the United States and Canada regarding the purchase and sale of a cannabis business, including complex issues relating to the licenses to cultivate, manufacture and sell cannabis products
Dispute between the parties regarding representations made regarding the suitability of undeveloped industrial property for the construction and operation of a recreational cannabis enterprise
Dispute between parties to the purchase and sale of a cannabis business regarding substantial compliance with the lease by tendering cash payments directly to the property owner rather than through the lessor to secure the right to occupy the premises; additional disputes between the parties concerning merchantability due to water quality and pesticides
Dispute between the parties alleging misrepresentations as to the status of licenses and permits for a local retail operation
Special Master in MDL and state coordination for allocation of attorneys' fees in proceedings related to vaping products

Class Action/Mass Tort

Other such matters include:

Data Breach and privacy claims, including consumer class action alleging the release of thousands of records of confidential medical information by defendant hospital
Pharmaceutical and medical device cases, including allegations that pain pumps, SSRIs, pain patches, and eye drops caused serious bodily injury or death
Multiple related claims brought against automobile manufacturer for defective engines in vehicles
Hundreds of related claims coordinated with MDL alleging defective manufacture and design of plumbing products with related coverage and subrogation actions
California Uniform Fraudulent Transfer Act claims to recover damages from investors who were alleged to have profited from a Ponzi scheme perpetrated against members of a tight knit ethnic community
Home loan mortgage fraud claims, including mass action brought by more than 800 borrowers
Food additive and nutritional supplement cases, including consumer class action against vitamin manufacturer alleging product caused male gynecomastia, and action by individual alleging microwave popcorn flavoring caused lung disease
Tobacco and cannabis delivery products alleged to cause personal injury

Construction Defect

Construction defect disputes involving commercial and residential developments

Eminent Domain/Inverse Condemnation

Eminent Domain cases involving goodwill and other damage claims by multiple businesses impacted by large transportation authority projects
Claims by property owners of regulatory or other takings as a result of government action or inaction

Employment

Wrongful termination and discrimination lawsuit against one of the largest multinational electronics manufacturing companies in the world, based in China
Hostile work environment, gender discrimination and retaliation claims brought against large law enforcement agency
Employment class action on behalf of more than 1,000 sales representatives against a large electronics manufacturer alleging failure to timely pay commissions
Employment wage and hour class actions and Private Attorney General Act (PAGA) claims brought by workers in health care, retail. restaurant, transportation, hospitality, automobile insurance, and manufacturing industries
Employment cases involving issues of theft of trade secrets
Employment cases involving whistleblower and retaliation claims
Cases with claims of alleged labor code violations based on alleged employee misclassification
Pay Equity class actions and individual mediations
Key employee breach of employment contract mediations

Entertainment and Sports

Breach of privacy alleged by high profile athlete against media conglomerate
High profile cases involving claims by professional athlete against a national sports organization alleging failure to protect from sexual abuse
Action brought by high-profile musician and actor involving a breach of contract in the purchase of stock of an international media and sponsorship company
Action brought by athlete, barred from competing in the Olympics due to "doping", against manufacturer of nutritional supplements
Action by and against prominent coach of sports organization involving allegations of improper conduct by coach toward female athletes, and alleging age discrimination by organization against coach
Action against prominent non-profit organizer of annual race alleging improper release of private information of participants
Licensing dispute between former Olympian and prominent athlete and manufacturer/retailer of products
Financing dispute between a sports organization and investors, with allegations of fraud
Numerous cases across sport alleging misconduct by coaches and trainers
Disputes between studios and filmmakers regarding release dates, marketing, and other issues
Dispute between members of a LLC relating to a reality television show
Dispute between parties as to entitlement to designation of Executive Producer

Environmental

High profile environmental challenges relating to the approval of a project to redirect and pump subsurface water from the Mojave Desert involving issues of water rights
Landslide litigation involving several homeowners against a public utility
Inverse condemnation action following a major flood and significant property damage alleging that a city inadequately designed and maintained its storm drainage systems; inverse condemnation alleging regulatory taking prohibiting development of property; inverse condemnation by owner of coastal property for subsurface work done by utility causing vibrations and possibly increasing likelihood of landslide; business losses from Eminent Domain taking

Estates/Probate/Trusts

Trust litigation pertaining to substantial business interests and real estate holdings, consolidating probate and civil litigation including legal malpractice claims
Trust litigation brought by widow in prominent family seeking to modify trust restrictions and recover damages
Trust litigation seeking removal of trustee by siblings for self-dealing in operating trust assets

Food & Beverage

Dispute between winery, contractor and landlord regarding construction of tasting room
Dispute between partners to a joint venture to blend and distribute wine
Dispute between winery as employer and employees alleging wage and hour violations

Health Care

Reimbursement disputes
Payor-provider disputes
Fraud and abuse/kickback allegations
Hospital-physician and physician-medical practice disputes
Data breach and privacy disputes

Insurance

Complex insurance coverage action arising from an underlying environmental contamination lawsuit and consent agreement to remediate
Numerous insurance bad faith claims, including one brought by the owner of a luxury yacht for failure to cover damages occurring international waters
Managed related multi-party cases seeking contribution and declaratory relief relating to the collapse of a large collective healthcare industry self-funded worker's compensation program
Subrogation cases, including coordinated cases relating to plumbing products

Mass Tort/JCCP/Allocation Experience

High profile environmental challenges relating to the approval of a project to redirect and pump subsurface water from the Mojave Desert involving issues of water rights
Landslide litigation involving several homeowners against a public utility
Inverse condemnation action following a major flood and significant property damage alleging that a city inadequately designed and maintained its storm drainage systems; inverse condemnation alleging regulatory taking prohibiting development of property; inverse condemnation by owner of coastal property for subsurface work done by utility causing vibrations and possibly increasing likelihood of landslide; business losses from Eminent Domain taking

Personal Injury/Torts

Wrongful death resulting from a vehicle rollover, where plaintiff alleged improper manufacture and design of seatbelt
Wrongful death of children struck and killed at school by driver who lost control of vehicle
Wrongful death alleged to result from psychiatric malpractice
Catastrophic injury to skier for collision with snow grooming machine
Multiple plaintiff wrongful death and injury cases involving driver who ran over pedestrians at a church
Traumatic brain injury cases, including TBI injury to minor in skateboarding accident
Wrongful death resulting from loading dock injury
Wrongful death relating to police pursuit
Injuries to patients attributed to medical and dental procedures
Sexual abuse claims against faith-based organization and schools; negligent and intentional transmission of disease; bullying; sexual harassment
High profile case involving allegations of conspiracy, invasion of privacy and other tort claims brought by politicians against police officer's association and law firm

Professional Liability

Adjudicated and mediated disputes regarding fee sharing between lawyers as well as attorney-client fee disputes
Mediated disputes involving allegations of unconscionable or illegal fees and violations of the Rules of Professional Conduct

Sexual Abuse/Misconduct

Allocations, mediations and arbitrations including:

As a neutral, mediated and arbitrated cases ranging from allegations minors were improperly exposed to adult nudity, on one end of the spectrum, to molestation and rape on the other, including statutory rape
Title IX hearings for colleges and universities
SafeSport training
Former sex crimes prosecutor
Former Supervising Judge of Juvenile Dependency Court presiding over a caseload of, and supervising other judges with, cases of child sexual abuse
Trained as a CASA advocate on the impacts and signs of child sexual trauma
As a judge heard civil cases (in addition to criminal and family) alleging coaches, teachers, spiritual leaders, and others engaged in improper sexual conduct or sexually abused minors
Sex Abuse Claims Evaluator and Settlement Allocations of claims of victims of sexual abuse in relation to a major private university and a police community association
Multiple mediations of individual claims of sexual abuse against other gynecologists and massage therapists
Honors, Memberships, and Professional Activities
Completed Virtual ADR training conducted by the JAMS Institute, the training arm of JAMS.


Honors

Recipient, Distinguished Judicial Fellows Award, OCBF Project Youth
Recipient, American Board of Trial Advocates (ABOTA) Trial Judge of the Year
Recipient, Orange County Bar Association Business Law Section Trial Judge of the Year
Recipient, 2016 Orange County Women Lawyers' Judge of the Year
Recipient, 2016 Celtic Bar Association Judge of the Year
Recipient, American Board of Trial Advocates (ABOTA) Judicial Civility Award
Recipient, Orange County Trial Lawyers' Jerrold Oliver Award
Recipient, Loyola Law School Orange County Distinguished Alumni Award
Recipient, Constitutional Rights Foundation Mock Trial Judge of the Year
Recipient, Boy Scouts' Learning for Life Women of Excellence award
Recipient, Court Appointed Special Advocates (CASA) judicial award
Honoree, ABA Business Law Section's Women Business Advocates Committee for contributions to the enhancement of women in the legal profession
Judicial Advisor to the Steering Committee on Trade Secrets (The Sedona Conference)

Memberships & Professional Activities

Chair, Orange County Bar Association Masters Division
Board Member, Court Appointed Special Advocates (CASA)
Fellow, College of Commercial Arbitrators
Attended the Straus Institute 40 Hour program "Mediating the Litigated Case" in 2016
American College of Business Court Judges. Executive Committee/past President
ABA Business Law Section: Chair of the Practice Development Committee, Vice Chair of the Business and Corporate Litigation Committee; Co-Chair, Women Business and Commercial Advocates; Member, Task Force on Multi-Jurisdiction Litigation; Member, Working Group for the Preparation of Business Conduct Standards directed to the Eradication of Forced Labor in Supply Chains
ABA Judicial Division, National Conference of State Trial Judges, Executive Committee
Judicial Advisory Board, The Sedona Conference
Board member and officer, Orange County Bar Association Masters' Division
Judicial Advisory Board Member, Association of Business Trial Lawyers (ABTL)
Founding Judicial Fellow, Orange County Bar Foundation
Advisory Board, Loyola Law School Advocacy Institute
OCBA Leadership Development Committee
OCBA Civic Center Homeless Task Force
Previously served as Contributing Editor, Orange County Lawyer magazine and as Mock Trial and Peer Court Judge (Constitutional Rights Foundation)
California Society for Healthcare Attorneys
American Health Lawyers Association
Judicial Advisor to the Steering Committee on Trade Secrets, The Sedona Conference
Moderated the OCBA Insurance Law Section Meeting, March 2018
Background and Education
Judge, Orange County Superior Court, 1994-2017
J.D., Loyola Law School
A.B., cum laude, University of California, Los Angeles
"Your Honor, it is you, rather than us, who deserve the compliments and thanks. You deftly guided the discussion with extraordinary prowess and achieved an outcome I frankly did not believe was possible. We are sincerely grateful. This was my first experience with you as a mediator and I will eagerly utilize your services again in the future."
"...A quick note of thanks for your hard work as our mediator. Your perseverance and optimism are inspiring and helped us reach a good deal for our client. We look forward to finding more chances to work together soon!"
"The facts and law of the case were challenging and your experience and expertise navigated the session with unparalleled aplomb. What was most important, however, and impressive, was the kindness and sensitivity with which you approached [our client]. We all acknowledged how great you were, and we know we could not have gotten the settlement we did without you."
"I personally wanted to thank you for all of your help and hard work...I have been in many mediations over a 45 year business career and wanted to let you know that I think you are literally the best mediator I've ever worked with, your demeanor and knowledge were greatly appreciated by all..."
"Your Honor, I would just like to say on the record that we are incredibly grateful to you for all the effort that you have put into this case and this is definitely one of the best arbitrations I've ever participated in, but it's clear that you know how to run an arbitration, that you dig into the facts, you dig into the law, and we could not have been more thrilled with the choice of arbitrator that we received."
"Thanks again for your impressive skill, effort and attention you devoted to mediating this difficult dispute."
"You have a very warm and friendly style accompanying your keen perception, clear communication and astute analysis. My clients appreciated you..."
"Thank you so much for everything you did yesterday. You truly are the best mediator I have ever used - and I am telling everyone I know."
"Thank you so much for your assistance in settling this matter. I truly loved working with you, you have such a great style and I know we wouldn't have gotten where we did without you. I sincerely hope that we can work together again in the future."
"...the perfect mediator to navigate the objective and subjective complexities to bring this matter to resolution."
"Please allow me to reiterate how impressive you are as a mediator and how grateful I am for the magic you worked yesterday. You maintained your professionalism throughout the process and still managed to work a miracle. I continue to believe that women should run the world."
"Judge Andler is an outstanding mediator and arbitrator. She has the complete skill set - smart, knowledgeable, fair-minded, good judgment, decisive, and focused, combined with great interpersonal skills that make her very likeable and able to connect well with advocates and parties. Judge Andler enjoys an excellent reputation in the legal community with both her judicial colleagues on and off the bench and attorneys."
Judge Andler is … "superb, great, gracious and patient. She had great tableside manner with counsel and the clients in a case that involved big numbers and was very complicated. She was full of perseverance."
Judge Andler is… "very professional, very helpful and very skilled at what she does. I was impressed with her honest evaluation of the case and she developed a strategy to bring the matter to resolution."
"[Judge Andler] was wonderful at establishing a rapport and was firm with the clients without beating them up….she helped the parties resolve several of the issues involved in the case."
"Judge Andler was terrific. She was thoroughly prepared and her experience with complex class action settlements was of great assistance. She also was extremely patient and diligent, and stayed at the mediation until late at night until the matter resolved."
"Judge Andler is terrific in [her] people skills, positive outlook, persistence, [and] balance…"
"Judge Andler was thoughtful, thorough and tenacious. She continued to push the parties on all fronts in order to obtain a resolution."
"[Judge Andler] is terrific in her people skills, balance and perspective."
"Judge Andler is knowledgeable and very patient."
Judge Andler … "has a warm demeanor, is smart and knowledgeable and makes everyone feel comfortable."
"We couldn't have had a smarter, more sensitive, knowledgeable, and persistently optimistic mediator devoted to a resolution of a very unique and sad case."
Upcoming Events
Past Events
Disclaimer
This page is for general information purposes. JAMS makes no representations or warranties regarding its accuracy or completeness. Interested persons should conduct their own research regarding information on this website before deciding to use JAMS, including investigation and research of JAMS neutrals. See More
Search our global directory of mediators, arbitrators and ADR professionals.
FIND A NEUTRAL