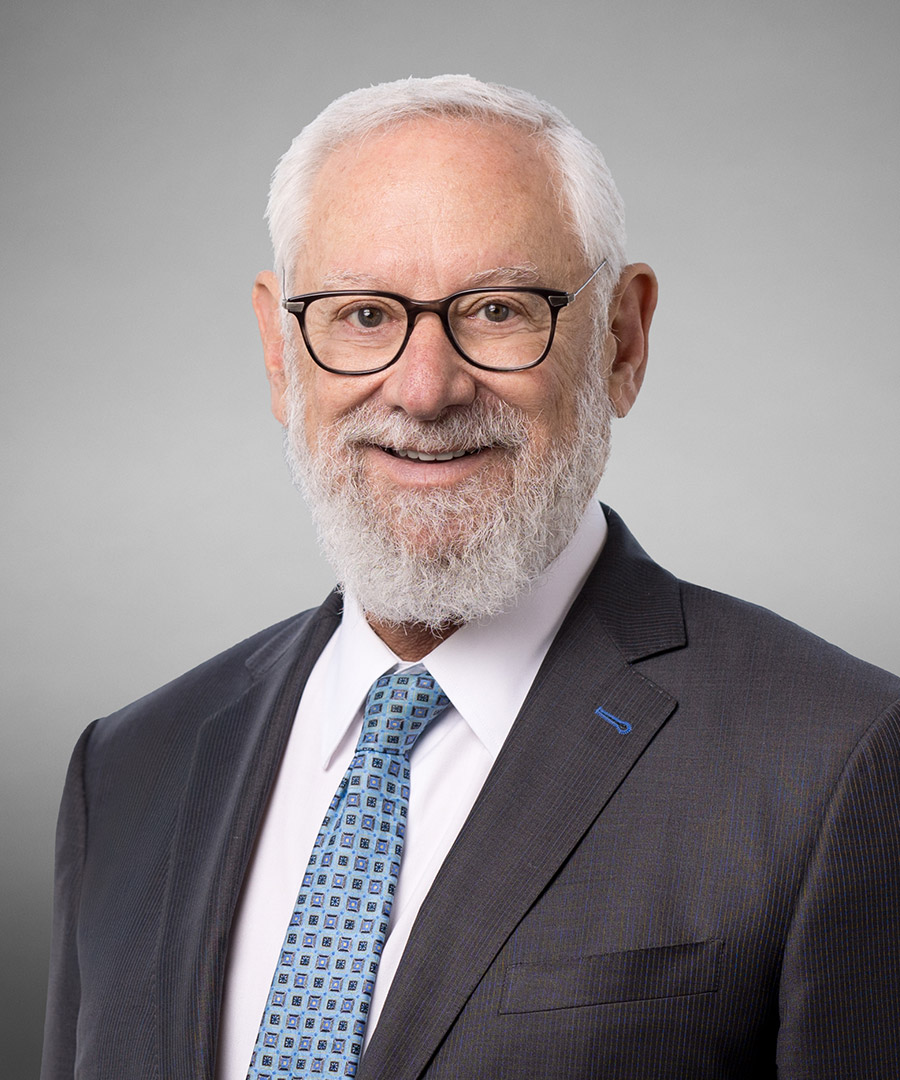 General Biography
Practice Areas
Bankruptcy
Business/Commercial
Class Action and Mass Tort
Cybersecurity & Privacy
Employment
Entertainment and Sports
Environmental
Financial Markets
Insurance
International & Cross-Border
Professional Liability
Real Property
Honors, Memberships, and Professional Activities
Background and Education
Bruce A. Friedman, Esq. is an accomplished dispute resolution professional who has mediated and settled a wide range of cases including complex class action matters. He also serves as an arbitrator and discovery referee.
Mr. Friedman began his neutral career in 2011 following 37 years as a trial lawyer handling cases in the areas of insurance, class action, professional liability, business, real estate, and entertainment. He was lead trial counsel in dozens of jury trials, bench trials, and arbitrations. He routinely represented clients in high-stakes litigation.
In 2022, he was recognized on Chambers USA's Nationwide Mediators List for drawing on his litigation experience to "adeptly mediate complex insurance-related disputes with further expertise in commercial matters. He was previously recognized by Chambers in insurance litigation while in private practice and was described as a "great strategist" with a broad commercial practice. In 2013, Mr. Friedman was named by the Daily Journal as one of the top neutrals in California. In 2012, Bruce was named as the Best Insurance Lawyer in Los Angeles by Best Lawyers in America.
Mr. Friedman's background equips him to understand the complexities of business disputes and the leverage points on both sides of a case. He keeps the parties engaged, knows when to talk and when to listen and when to let the client have a cathartic moment. He is always prepared and thoroughly invested in a mediation even before it begins with pre-mediation calls and meetings. He understands where parties are coming from having been in the trenches on the same kinds of cases that he is mediating. His demeanor is very conducive to effective mediation and he excels at being direct but diplomatic.
Representative Matters
Bankruptcy

Claims by bankruptcy trustees and creditor's committees against directors and officers of the bankrupt company for breach of fiduciary duty, fraudulant conveyance, and mismanagement

Business/Commercial

Dispute involving financial services provider and violation of Fair Debt Collections Practices Act (FDCPA)
Breach of contract dispute between business broker and business owner involving the broker's entitlement to commission prior to the sale of the business
Partnership dissolution case involving the negotiation of complete breakup of all shared assets
Investor claims against entity and officers regarding startup venture to build chain of auto repair facilities in Great Britain
Freight and trucking services broker claims against freight forwarder for breach of broker agreement with defense of conflict of interest and unfair competition by broker in operating competing business
Claims by victim of alleged real estate Ponzi Schemes against stock and life insurance brokers and related entities for facilitating fraudulent investment
Breach of joint venture agreements and unfair competition claims between an international European food manufacturer and Chinese joint venture partner with claims filed in multiple countries
Dissolution of family-owned businesses in oil and real estate businesses involving claims of breach of fiduciary duty by minority shareholders and wrongful termination of company president
Post-closing disputes following acquisition of a company
Claims of breach of fiduciary duty against directors and officers

Class Action and Mass Tort

Class actions alleging false advertising and labeling of: cereal, baby food, coconut oil, guacamole, pain medication, vitamin, yogurt, jewelry, cosmetic, athletic clothing and tea products
Consumer class action involving a private real estate investment company and claims under the Fair and Accurate Credit Transactions Act (FACTA)
Consumer class action involving a publishing company and alleged violation of automatic renewal law
Class action against automobile dealership regarding allegations that closing costs associated with purchase of cars were not fully disclosed and agreed upon by consumer
Class action involving the assessment of fees to a customer at ATMs not owned or operated by the customer's bank
Putative class action alleging that Defendant improperly imposed unconscionable fees on merchants with whom they contract for credit card processing services
Class actions for violation of the Fair Debt Collection Practices Act and Rosenthal Act
Class action involving a healthcare data breach

Cybersecurity & Privacy

Class action regarding privacy data breach with claims for negligence, breach of implied contract and Unfair Competition Law (UCL) violations 
Privacy related class actions involving claims under TCPA, alleged recording of service calls without permissions, internet hacking, and disclosure of consumer credit related information
Numerous class actions under the Federal Telecommunications Privacy Act (TCPA) involving violations of the "do not call" list and claims against companies in the businesses of home security, financial services, and solar energy among others
Cyber data breach dispute involving a hotel and a restaurant company over the alleged theft of payment card data during a security breach affecting 150,000 or more customers

Employment

Mediated and arbitrated many disputes involving employment, wrongful termination, discrimination, harassment, wage and hour class actions and PAGA claims 
Wage and hour disputes involving a wholesale plant nursery, farmworkers, and truckers and the alleged failure to pay overtime wages and missed meal periods, to complete accurate wage statements, and to reimburse business expenses
Employment practices liability insurance disputes regarding discrimination, harassment and other related employment claims
Wrongful termination claims regarding pregnancy, disability, and harassment
Sexual harassment cases involving law firms, entertainment companies, hospitality establishments, and tech companies
Class action claims asserting age discrimination

Entertainment and Sports

Case involving film production company and claims related to interference with prospective economic relations, intentional interference with contractual relations, defamation, and unfair competition
Dispute involving global entertainment company and alleged breach of contract, breach of implied covenant of good faith and fair dealing, and intentional interference with contractual relations
Multi-million-dollar entertainment licensing dispute between motion picture television studio and its Czech licensee
Arbitration of disputes between lender and international film distributor involving conspiracy between bank and production company to defraud distributor into entering agreements and paying production costs of multiple films
Suit by creators of internationally released film against bank that loaned production costs involving conspiracy claims to defraud them out of profit participation
Arbitrated dispute under film completion bond over issues of whether film met delivery requirements of production agreement
Disputes between film production companies and insurers involving slate of films insured for recovery of production costs
Arbitrated disputes between European production company and Asian distributors over breach of distribution agreement
Copyright claims by record companies claiming illegal downloading of music on the internet 
Copyright claims on behalf of songwriters against motion picture and television studios for infringement of songs used on daytime television
Four individual lawsuits against large music streaming company alleging copyright claims by significant songwriters and composers for streaming works without a license
Claims arising from alleged misrepresentation of financial condition of digital sound and motion picture distribution company in connection with company acquisition
Class action age discrimination actions brought by television writers over 40 against studios and networks

Insurance

Disputes involving representations and warranties insurance
Appraisal disputes under first party property policies
Allocation claims between primary, umbrella and excess insurers involving construction defect and continuing exposure cases
First party insurance bad faith dispute involving damage to dental office building, loss of income resulting from car running into Claimant's office, cost of repair, reasonable time to restore damaged property, and business interruption issues
Insurance bad faith dispute involving third party claim for tree root damage, fraud and other related issues
Dispute involving large wireless network operator and the right to insurance coverage under certain primary and excess-layer insurance policies for defense and settlement costs incurred in connection with another lawsuit
Subrogation claims between insurers and businesses
International case involving insurance-related matters between major US-based food company and foreign distributor
Settled several insurance cases involving brokers, agents, and managing general agents in insurance business disputes arising out of underwriting and claims administration
Dispute involving general liability and cyber insurance policies issued by three insurers and coverage claims for defense costs and settlements of underlying class actions
Insurance coverage dispute between a university and its tower of D&O liability insurers arising out of an underlying multi-million-dollar settlement with another educational institution
Complex insurance coverage dispute between receiver, directors and officers involving a Ponzi scheme and disputes over the coverage of government investigations and investor class actions
Liability insurance claims involving discrimination, harassment, and other employment-related issues
Entertainment insurance disputes related to production costs, risks, profits, production-related claims, art insurance coverage and completion bonds
Reinsurance claims arising from insolvency of major insurance company
Represented the California Commissioner of Insurance in insurance insolvency proceedings and litigation disputes
Claims arising under legal and medical malpractice policies
Insurance claim for damages related to major natural disaster, resulting in compensatory and punitive damages
Numerous insurance actions resulting from natural disasters, notably earthquakes and wildfires
Insurance dispute involving alleged fraud and malfeasance in the sale of life insurance policies by an agent
Bad faith and coverage disputes related to medical and hospitalization policies
Disputes related to financial products involving life insurance and annuities
Complex insurance coverage mediation arising out of antitrust class actions against health care company and all of its individual state entities involving coverage issues under director's and officer's liability and professional liability insurance policies in terms of the insurability of damages as well as issues relating to exhaustion of underlying limits, coinsurance, and the prior and pending litigation exclusion
Disputes involving derivative claims for breach of fiduciary duty against Directors and Officers
Claims against leading life insurance companies regarding representations made with respect to life insurance products and performance

Professional Liability

Professional liability case involving alleged malpractice of life insurance agent and companies
Pre-litigation matter arising out of a claim for potential accountant malpractice
Professional liability dispute claiming professional negligence on behalf of Claimant's insurance broker based on broker's undisputed failure to tender underlying claim in a timely fashion under D&O policy
Numerous legal malpractice claims involving underlying business, intellectual property, securities, insurance and real estate litigation and transactions
Cases involving claims against accounting firms arising from alleged failure to detect fraud in audits and negligent preparation of financial statements
Represented and mediated numerous claims against realtors arising from purchase and sale of real estate
Disputes against insurance agents and brokers with respect to claims involving the alleged failure to obtain insurance coverage of limits
Numerous sexual harassment cases involving law firms, entertainment companies, and hospitality establishments
Legal malpractice action by doctor/entrepreneur against attorneys arising from unfair competition lawsuit seeking to enforce non-complete agreement entered into between doctor and hospital acquisition company that purchased several hospitals and adjoining medical buildings from doctor
Action between real estate broker, client and their attorney involving attorney's claims of interest in client's acquisition of real property
Dispute for malicious prosecution brought by third-party adversary of client alleging counsel had unlawfully recorded and maintained lis pendens on apartment building in major city, resulting in multi-million dollar loss
Legal malpractice action by client against corporate transactional attorney alleging attorney failed to obtain acceleration of purchase price of clients' business acquired in M&A transaction
Legal malpractice action against law firm by insurance company client arising from insurance coverage advice given to client with respect to underlying construction defect dispute
Legal malpractice lawsuit against law firm commenced by beneficiaries of client's estate alleging that estate planning partner failed to include all of the testator's property in Trust
Arbitration against client's transactional counsel alleging that client made errors in drafting of stock purchase agreement
Matter between wealthy individual and investment advisor for breach of fiduciary duty arising from recommended investments in allegedly inappropriate private equity investments and repayment of loans made by client to advisor

Real Property

Disputes involving purchase and sale transaction, including claims of specific performance and breach of contract
Claims related to disclosure of unpermitted construction, geological issues, construction defects, zoning and use restrictions
Claims against real estate professionals with respect to disclosure of agency relationships, property defects, failure to communicate offers, unauthorized signatures on sales documents, valuation, and escrow practices
Title insurance claims involving title, easement, possession, and improvements
Environmental and pollution related issues with respect to use, sale, and leasing of commercial property
Lease disputes involving issues of use, exclusivity, compliance with design and construction conditions and possession
Disputes with respect to mortgage foreclosure, financing, and credit lines secured by real estate
Insurance disputes arising out of claims with respect to construction defects, fire, earthquake, subsidence, mold, flood, and other damage claims related to real property
Mediated eminent domain and inverse condemnation matters
Mediated buyer/seller/broker disputes
Arbitrated individual, limited partner, and tenant-in-common (TIC) disputes
Class action claims against national real estate brokers related to disclosures under RESPA
Class action against major U.S. financial institution regarding lines of credit secured by real estate cancelled as result of decline in real estate values during economic recession
Class action involving claims against real estate companies under the Real Estate Settlement Practices Act
Class action disputes as to financing related practices in the underwriting and servicing of mortgages and lines of credit

Securities Litigation

Securities class action mediation pending before the U.S. Supreme Court involving a pension fund and disputes over the question of whether an alleged failure to make a required disclosure may be pursued by shareholders as an actionable omission
Numerous class actions alleging claims under Federal securities laws including claims arising from alleged theft of company funds, Chinese reverse mergers, and false or fraudulent financial reporting
Handled securities class action in U.S. and Israel against beauty products manufacturer arising from alleged failure to disclose efficacy issues with product and failure to report declining sales and financial condition of Japanese distributor
Shareholder derivative action involving claims under state law for breach of fiduciary duty, gross mismanagement, and breach of honest services
Securities and fraud claims by investors of telecom tech company alleging company officers misrepresented sales projections and financial conditions to induce investments
Minority shareholder and officer claims against majority shareholders regarding breach of fiduciary duty in the management and operation of oil distribution and recycling company
Chinese reverse merger security class action cases involving insurance issues

Wildfire

Numerous cases involving homeowners, insurers, and utilities; Several claims of structural, fire and mudslide damage as well as causation and subrogation issues
Honors, Memberships, and Professional Activities
Completed Virtual ADR training conducted by the JAMS Institute, the training arm of JAMS.

Honors
National Mediator List, Chambers USA, 2022-2023
Selected as a Southern California Super Lawyer in Alternative Dispute Resolution, 2014-2020, 2022-2023
Selected as a Southern California Super Lawyer in Business Litigation, 2004-2012
Recognized as a "Rising Star," California's Top 50 Neutrals, Daily Journal, 2013
Leading Lawyer in Insurance: Insurer Firms, California, Chambers USA, 2004-2012
Insurance Law Lawyer of the Year, Los Angeles, Best Lawyers, 2012
Leading Lawyer in Bet-the-Company Litigation, Commercial Litigation, and Insurance Law, Best Lawyers, 2005-2012
Memberships and Professional Affiliations
Adjunct Professor, Arbitration Advocacy, University of Southern California School of Law, 2017- Present
Rutter Insurance Litigation Contributing Editor, Third Party Coverages, D & O, Personal & Advertising Injury, Professional Liability
Mediator on the Mediation Panel, USDC, Central District of California, 2012-2017
Arbitrator, Independent Film and Television Alliance (IFTA), 2013-2016
Member on Insurance Coverage, Professional Liability, Directors and Officers Liability, and Fidelity and Surety Law, American Bar Association Litigation Section and TIPS Section, 1985-present
Board of Directors, Public Counsel, 2003-2007
President and member of the Board of Trustees, Wilshire Boulevard Temple, 1989-2006
Member of the Board of Directors of Paragon International Insurance Brokers, Lloyds of London, 1996-2002
President and member of the board, Hope-Net, an interfaith and homeless charity, 1989-2001
Top 10 plaintiff's verdict in California, 1996
President and Board of Governors, Association of Business Trial Lawyers, 1987-1995
ADR Profiles
Background and Education
Partner and Co-Chair, Complex Litigation Department, Bingham McCutchen, 2007-2012
Partner, Managing Partner, General Counsel, Chair of Litigation Department, Alschuler Grossman, 1995-2007
The Straus Institute for Dispute Resolution, Pepperdine University School of Law, 2011
J.D., with honors, The George Washington University Law School
B.A., with honors, Claremont McKenna College
"I really appreciated Bruce's efforts in continuing to work with me and opposing counsel and his perseverance in settling the case."

- Los Angeles Attorney

"Just a quick note to say, you are wonderful! It was quite a day of long narratives -- I really appreciated how you respected and valued each party and managed to forge alliances and built trust gradually through an authentic desire to help. Today was going to be difficult until you rolled out some creative solutions for very unconventional folks."

- San Francisco Attorney
"Bruce was recently my mediator for a difficult multi-way dispute (plaintiff-defendant-insurance companies). What impressed me most about Bruce was how he kept at it for over three months after the mediation to get a deal done (even when it looked like it was a lost cause). Bruce has a sharp understanding of complex insurance issues, which is essential for a mediator in complex cases. Bruce is a total pro, and I would definitely use him again."

- Los Angeles Attorney
"I recently settled two cases at mediations with Bruce. He is really good at his craft. He knows when to talk, when to listen, and how to work the room. Many mediators seem more interested in looking smart rather than being smart. Bruce is not only smart, he is personable and a pleasure to work with in the mediation. My clients really liked him, too!"

- National Attorney
"Bruce helped a client recently by conducting a moot mediation of a high-visibility legal malpractice case involving a national firm. The client's attorneys split up, one asserting the client's position and another asserting the defendant law firm's positions. The moot session was preceded by the presentation of materials containing the client's case against the law firm, the law firm's defenses, and the client's rebuttal. A few demonstrative exhibits were used to relate the facts quickly. Bruce took time to point out parts of each side's case that could be made stronger and parts that could be deemphasized or omitted. Bottom line: the client came out of the exercise with a more focused case and better able to advance its positions. Bruce was superb."

- Prominent Trial Attorney

"I have mediated two cases with Bruce. Both involved three adverse parties. One involved a commercial real estate transaction and claim for commission and another involved a claim against a life insurance broker and company in connection with alleged representations made in connection with the sale of a life insurance policy. Both cases settled and my clients were happy with the results. Bruce was prepared and understood the issues and the practical aspects of the cases. In the second case, he continued the negotiation process after the formal mediation and got the case settled the week following the mediation. I really appreciated Bruce's efforts in continuing to work with me and opposing counsel and his perseverance in settling the case. I highly recommend him and would not hesitate to use him again."

- Los Angeles Attorney

"Defense counsel and I agreed on using Bruce as a mediator for a consumer class action based on his experience in the field. From the outset of the mediation, it was clear that Bruce understood the case and structure of a class action settlement. He was effective in his discussion of the issues in the case and made many helpful and constructive suggestions with respect to the negotiating process and the settlement terms. We settled the case! I would use him again without reservation and recommend him to the class action plaintiffs and defense bar."

- Los Angeles Attorney

"I am privileged to have been involved in Bruce's first mediation…. I did not know Bruce was doing mediations until the other side recommended him but I am glad we agreed to use him. From our initial pre-mediation call until final resolution he was engaged in the process. Bruce's willingness to continue to follow up with both sides to settle the matter and his efforts in speaking directly with the clients to explain the issues and possible outcomes should the case proceed to trial were invaluable. I look forward to my next mediation with Bruce."

-Los Angeles Attorney
Home Office
HOME OFFICE
Century City, California
1925 Century Park East, 14th Floor, The Watt Plaza, Los Angeles, CA 90067
View Location Details
Los Angeles, California
555 West 5th St., 32nd Floor, Los Angeles, CA 90013
View Location Details
Available to Travel
Disclaimer
This page is for general information purposes. JAMS makes no representations or warranties regarding its accuracy or completeness. Interested persons should conduct their own research regarding information on this website before deciding to use JAMS, including investigation and research of JAMS neutrals. See More
Search our global directory of mediators, arbitrators and ADR professionals.
FIND A NEUTRAL