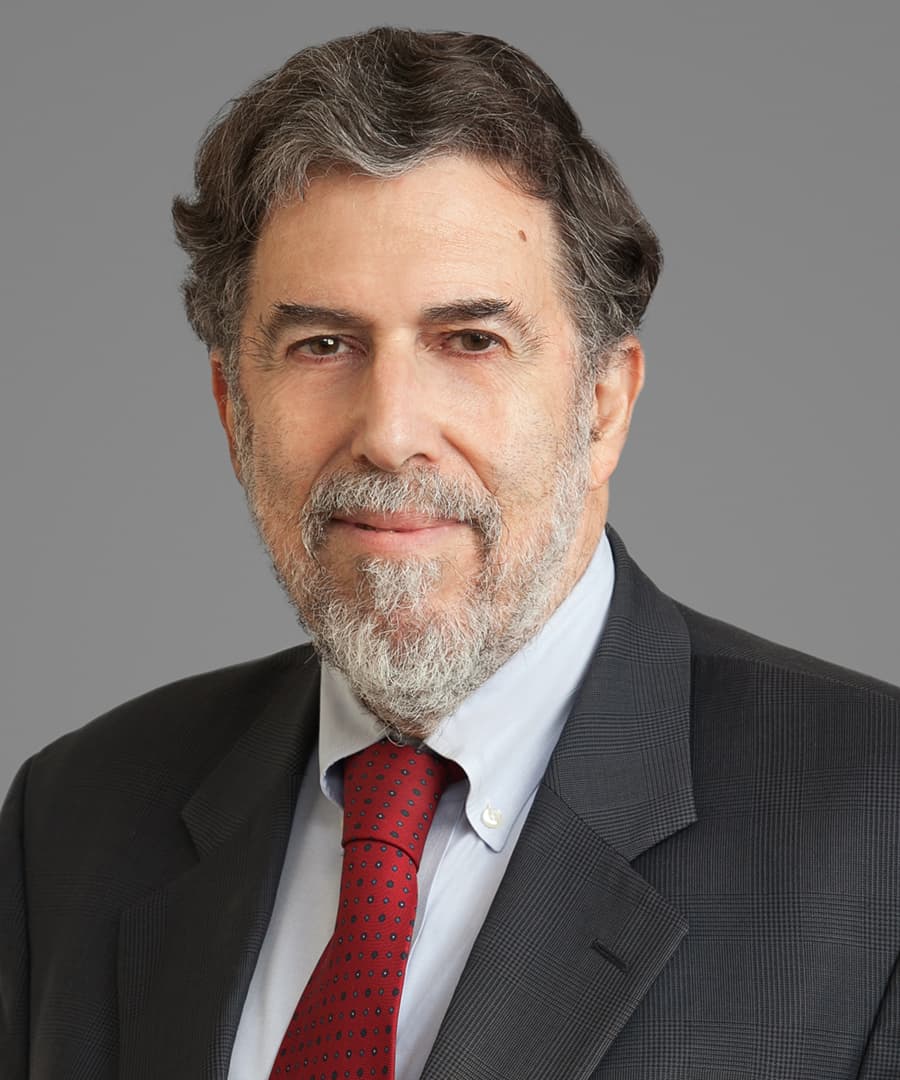 Hon. Michael H. Dolinger (Ret.)
General Biography
Practice Areas
Aviation
Business/Commercial
Civil Rights
Class Action and Mass Tort
Construction
Employment
Entertainment and Sports
Environmental
Estates/Probate/Trusts
Federal Law
Governmental Public Agency
Health Care
Higher Education & Title IX
Insurance
Intellectual Property
Maritime Admiralty
Personal Injury Torts
Professional Liability
Real Property
Honors, Memberships, and Professional Activities
Background and Education
Hon. Michael H. Dolinger (Ret.) joins JAMS after serving for more than 31 years as a United States Magistrate Judge in the Southern District of New York. During that time, he handled settlement efforts in thousands of lawsuits, ranging from relatively straightforward personal injury actions to complex statutorily-based claims to massive class action lawsuits presenting complex problems of constitutional and commercial law. At the same time, he presided over pretrial and/or trial in thousands of cases of equivalent breadth and complexity.
Prior to his service on the bench, Judge Dolinger was an Assistant United States Attorney in the Southern District of New York, Civil Division. In that role, which included stints as Deputy Chief Appellate Attorney and Civil Division Deputy Chief, he handled a broad array of cases, involving, among other things, constitutional challenges to statutes, attacks on agency regulations and actions, civil rights claims (both by and against the government), personal injury and other tort claims under the Federal Tort Claims Act or Bivens and labor issues that triggered federal government involvement.
In joining JAMS, Judge Dolinger relies on his vast experience in settlement negotiations in a wide variety of cases over the decades. He recognizes that the settlement process is unique to each case and demands sensitivity not only to the potentially discordant interests of the participants (counsel as well as clients) but to the psychological dynamics as well, and that patience and creativity are essential to the potential success of these efforts. It is these very complexities that have drawn him to the role of mediator and adjudicator on the bench and now at JAMS.
ADR Experience and Qualifications
In Judge Dolinger's 31-plus years on the bench, he has presided over thousands of settlement negotiations, as well as pretrial matters, dispositive motions and trials in vast numbers of other lawsuits. His experience in that role and in the United States Attorney's Office has extended to a large range of legal disputes, including the following:
Admiralty
Aviation
Antitrust
Art Valuation
Business/Commercial
Civil Rights (both constitutional and statutory claims)
Class Actions
Contracts
Construction
Coop Management
Employment Disputes
ERISA
Fair Labor Standards Act and equivalent New York law
Financial Markets
Government Regulation
Healthcare
Insurance
Intellectual Property (including copyright, trademark, patents and unfair competition)
Labor
Personal Injury and other common law torts
Professional Liability
Securities Law
Trusts/Wills
Representative Matters
ADA

De la Rosa v. 597 Broadway Dev. Corp.: Suit by wheelchair-bound individual challenging the absence of a ramp to the front entrance of a historic downtown building. Supervised pretrial discovery, adjudicated summary-judgment motions—involving application of federal ADA regulations, local regulations and municipal department practices—and supervised settlement discussions on one narrow issue remaining after partial summary judgment.
Wexelberg v. Project Brokers LLC: Adjudicated dispositive motions in suit by former employee with physical handicap who complained that employer knowingly assigned him tasks beyond his ability, in contradiction to the employer's representations at hiring.

Admiralty/Maritime

Breffka & Hehnke Gmbh v. M/V Glorious Success: Supervised pretrial discovery and adjudicated dispositive and non-dispositive sanctions motions in this cargo-damage case.
Jones v. Spentonbush Red Star Co.: Supervised pretrial proceedings in personal injury case brought by seaman.
Spencer v. Sealand Service Co.: Conducted all proceedings until termination of Jones Act case, apparently by settlement.
Conducted several Jones Act trials, including one involving a tugboat crewman who suffered crushing injuries to both legs, and asserted claims for negligence under the Jones Act, for unseaworthiness and for maintenance and cure.

Antitrust/Copyright/Entertainment

United States v. ASCAP, Application of Showtime the Movie Channel: Adjudicated first so-called rate-court proceeding, under a 1950 amended consent decree, to establish fees for public performance of ASCAP copyrighted music.
United States v. ASCAP, Application of Buffalo Broadcasting Inc.: Adjudicated fee applications by approximately 1,000 local television stations for 17-year period.
United States v. ASCAP, Application of Turner Broadcasting Systems: Adjudicated, by summary judgment, an application by ASCAP to permit it to require separate licenses from cable program suppliers and cable system operators for broadcast of the same programs.
United States v. ASCAP, Application of Pandora and parallel cases: One of a series of applications for ASCAP licenses by various new media. Supervised settlement discussions of multiple such cases.

Antitrust/Patents

In re Fresh Del Monte Pineapple Antitrust Litig.: Supervised pretrial proceedings in multi-district litigation by competitors of Del Monte alleging that the company had misused its plant patents for extra-sweet pineapples to squeeze out competitors.

Aviation

GE Capital Corp. v. Gary: Presided over suit on defaulted loan agreement for purchase of multiple aircraft. Handled pretrial proceedings and adjudicated defense of defendant guarantor that the agreement was unenforceable as plaintiff had rejected proffers of aircraft lease agreements to finance repayment.
Landy v. FAA: As Assistant U.S. Attorney, represented FAA in civil penalty action based on aircraft operators' violation of numerous FAA safety and inspection regulations. Prevailed at two jury trials that resulted in the largest FAA penalty award against an individual defendant, a result affirmed by the Second Circuit (705 F.2d 624).
Feldman v. UPS: Adjudicated suit against air carrier for loss of insured diamond. Supervised discovery and granted partial summary judgment under federal common law applicable to certificated carriers based on federal preclusion of state law and limitation-of-liability provision in carrier's insurance agreement, but reserved negligence and contract claims for trial.

Business/Commercial

Obeid v. LaMack: Supervised contentious discovery and undertook extended settlement negotiations in suit among three major real estate investors whose LLC owned numerous hotels in the New York area and many retail properties in the South.
Parker Hannifin v. North Sound Properties: Parties to a failed real estate sale disputed entitlement to escrowed funds. Supervised pretrial proceedings and adjudicated summary judgment motions.
Fitzpatrick v. AIG: Presided over lawsuit by senior real estate executive at AIG suing for eight- or nine-figure damages based on alleged breach of his employment agreement following his termination or resignation in 2001.
Starr Int'l Co. v. AIG: Presided over pretrial process in case involving dispute whether company controlled by AIG's former CEO had title to AIG shares potentially worth as much as $15 billion.
Development Specialists Inc. v. Dechert LLP: Presided over pretrial, including discovery, in case addressing the effect of Dechert's absorption of Coudert Frere's business in France.
AXA Inv. Mgr. v. Endeavor Corp.: Adjudicated lawsuit over breach of put/option agreement and guarantee. Principal issues concerned enforceability of guarantee and usury defense to interest charge.

Civil Rights

Haus v. City of New York and parallel cases: Supervised discovery, adjudicated summary judgment motions and undertook extended, successful settlement negotiations in class action brought on behalf of thousands of participants in the February 15, 2003, protest against the impending Iraq war, as well as in more than 20 similar suits.
Wesley v. City of New York and parallel cases: Presided over approximately 20 lawsuits (all but one pro se) on behalf of Muslim prisoners at Rikers Island who challenged the alleged failure of prison authorities to provide properly prepared Halal meals. Handled all discovery disputes and adjudicated dismissal and other dispositive motions in all of these cases.
Tesoro v. Simat Helliessen & Eichner and EEOC v. Simat Helliessen & Eichner: Lawsuits under Title VII by six female employees of Simat and by the EEOC alleging prolonged sexual harassment by the President of Simat. Supervised discovery, adjudicated summary judgment motion by defendants and then conducted settlement negotiations that eventually resulted in a $2.3-million settlement agreement.

Employment

Algie v. RCA Global Communications: Handled pretrial proceedings, including summary judgment motions, and presided at jury trial of claims by 23 former employees of RCA Global, who had been fired the day after MCI acquired RCA Global and had been paid severance under the MCI plan rather than under the more generous RCA plan.
Downes v. JP Morgan: Adjudicated dispositive motions in suit by former employee of JP Morgan, who challenged the company's denial of benefits based on her purported status as an independent contractor.
Tischmann v. ITT Sheraton Corp.: Conducted jury trial and adjudicated post-trial motion on claims by terminated manager of the St. Regis Hotel for severance benefits denied by ITT based on assertion he had been discharged for cause (sexual harassment of two Human Resources hotel employees).
Kornreich v. Society for the Advancement of Judaism: Conducted extended successful settlement discussions to resolve suit by retired cantor for denial of allegedly promised non-ERISA retirement benefits after decades of service to synagogue.

Environmental

Indian Harbor Insurance Co. v. Lamson: Supervised successful settlement negotiations in case involving coverage for cleanup of underground toxic waste found on industrial site, attributable to predecessor owners of the property.

FLSA

Ke v. Saigon Grill Inc.: Handled pretrial discovery, adjudicated summary judgment motions and conducted two-week bench trial of wage and hour case brought by 36 deliverymen at two Manhattan restaurants.
Kim v. Kum Gang: Supervised pretrial proceedings and conducted week-long bench trial of wage and hour case brought by 23 restaurant workers against owners and supervisors of two restaurants for underpayment of wages, wage theft and other unlawful practices.

Fraud

Parlin Funds LLC v. Gilliams: Supervised pretrial proceedings in suit pursued by a family foundation that allegedly was defrauded of $2 million by multiple actors either working in tandem or defrauding one another after the initial defalcation.
Safflane Holdings Inc. v. Gagosian Galleries, Inc. and Metropolitan Museum of Art v. Safflane Holdings: Supervised pretrial proceedings in parallel lawsuits and conducted extensive, and ultimately successful, settlement negotiations concerning the ownership of two paintings.
Cogswell v. Goldstein: Conducted two jury trials addressing claims of fraud, fiduciary breach and conversion by racing-horse owner against her bank-appointed financial advisor.

Insurance

In re Avon Prods. Inc. Securities Litig.: Adjudicated dismissal motions addressed to securities class action complaints against Avon and its senior officers based on alleged failure to disclose financial and related problems in the company's overseas markets.
In re Global Crossing Inc. Securities and ERISA Litigs.: Presided over extensive successful settlement negotiations in parallel class action shareholder securities fraud and employee ERISA lawsuits following the demise of Global Crossing.
In re WorldCom Inc. Securities and ERISA Litigs.: Presided, together with Hon. Robert W. Sweet, over prolonged successful settlement negotiations in parallel class action shareholder and employee ERISA lawsuits after the collapse of WorldCom.
In re Omnicom Group Inc. Secs. Litig.: Supervised discovery in class action securities fraud lawsuit.

Labor

District 1199 v. Nat'l Health & Hosp. Workers Union: Presided over applications by 1199 union leaders for TRO and preliminary injunction to stave off impending national union disciplinary proceedings against them.

Libel

Ramsey v. NYP: Suit by parents of young murdered daughter, complaining of news stories suggesting the guilt of their son. Handled all pretrial proceedings, which culminated in settlements.
Konikoff v. Prudential Realty: Adjudicated libel suit by former employee of Prudential's real estate business based on press releases and press conference implying her responsibility for improper evaluations of the company's real property holdings.

Medical Malpractice

Romano v. SLS Residential Inc.: Class suit on behalf of residents of now-shuttered private psychiatric treatment center for negligence and deliberate mistreatment of patients. Handled all pretrial proceedings during latter phase of case, with anticipation of trial.
Hersko v. United States: Presided over the pretrial phase of medical malpractice suit against the United States and private doctors for death of mother while delivering her fourth child.

Patents

Briese Lichttechnik Vertriebs v. Langton: Supervised contentious pretrial proceedings in patent-infringement case involving reflective umbrellas, including discovery, extensive sanctions motion practice and ultimately preclusion orders against defendant.

Personal Injury Torts

Leo v. LIRR: Conducted jury trial on claim of LIRR negligence causing hand injury to railroad worker. Adjudicated post-trial motions following large plaintiff's verdict.
Israeli v. Ruiz: Conducted jury trial on claim of negligence by Hunts Point market company in operating forklift, causing serious injury to plaintiff. Adjudicated post-trial motion following entry of plaintiff's verdict.

Trademarks/Trade Dress

Lon Tai Shing Co. v. Koch + Lowy: Conducted week-long evidentiary hearing on, and adjudicated, preliminary injunction motion by halogen desk-lamp distributor based on trade dress claims.
BLT Restaurant Group v. Tourandel: Presided over suit by restaurant chain owners against prominent chef who had departed, by agreement, from the plaintiff's business and had then allegedly copied plaintiff's menus, food names and recipes.
Louis Vuitton Malletier v. Dooney & Bourke: Presided over pretrial proceedings, including extended contentious discovery, in trademark lawsuit premised on LV's contention that defendant's high-priced bags were confusingly similar in various respects to LV's own famous mark.
RFMAS v. Mimi So: Presided over pretrial proceedings, including extended discovery, in suit by jewelry designer contending that various prominent entities were designing and marketing copies.

Trusts/Wills

Weiss v. Weiss: Conducted jury trial on claims of entitlement by stepson to proceeds from various segregated accounts set up and then emptied by his stepfather.
Thomas & Agnes Carvel Foundation v. Carvel: Adjudicated motions for dismissal and summary judgment in suit addressing convoluted history of attempts by the niece of the soft ice cream magnate to claim her uncle's estate.
Honors, Memberships, and Professional Activities
Completed Virtual ADR training conducted by the JAMS Institute, the training arm of JAMS
Member, Bar Association of the City of New York
Past member (two terms), City Bar Association Federal Courts Committee
Contributing member of federal courts 2003/04 subcommittee to study role of the courts in trying enemy combatants ("The Indefinite Detention of 'Enemy Combatants': Balancing Due Process and National Security in the Context of the War on Terror")(issued Feb. 2004)
Past member and chair of S.D.N.Y. Committee on Equal Employment Opportunity
Author of updated S.D.N.Y. handbook on equal employment opportunity policies and procedures
Past member of S.D.N.Y. Rules Committee
Past guest lecturer at Columbia Law School and other schools and professional organizations
Recipient, The William M. Tendy Public Service Award from the Robert B. Fiske, Jr. Association, 1995
Department of Justice, Special Commendation for Outstanding Service in the S.D.N.Y, 1984
Background and Education
United States Magistrate Judge, S.D.N.Y., 1984 – 2015
Assistant United States Attorney, Civil Division, S.D.N.Y., 1976 – 1984
Deputy Chief, Civil Division, S.D.N.Y.
Deputy Chief Appellate Attorney, Civil Division, S.D.N.Y.
Associate, Law Firm of Nickerson, Kramer, Lowenstein, Nessen, Kamin & Soll, 1973 – 1976
Law Clerk to the Hon. Wilfred Feinberg, Circuit Judge, United States Court of Appeals for the Second Circuit, 1972 – 1973
J.D., Columbia Law School, 1972
Editor in Chief, Columbia Law Review, 1971 – 1972
Robert Nixon Toppan Prize (constitutional law)
Class of 1912 Prize in Contracts (co-winner)
Harlan Fiske Stone Scholar, 1969 – 1970, 1971 – 1972
B.A., magna cum laude, Columbia College, 1968
Home Office
HOME OFFICE
New York, New York
NY Times Building, 620 8th Ave, 34th Floor, New York, NY 10018
View Location Details
Disclaimer
This page is for general information purposes. JAMS makes no representations or warranties regarding its accuracy or completeness. Interested persons should conduct their own research regarding information on this website before deciding to use JAMS, including investigation and research of JAMS neutrals. See More
Search our global directory of mediators, arbitrators and ADR professionals.
FIND A NEUTRAL