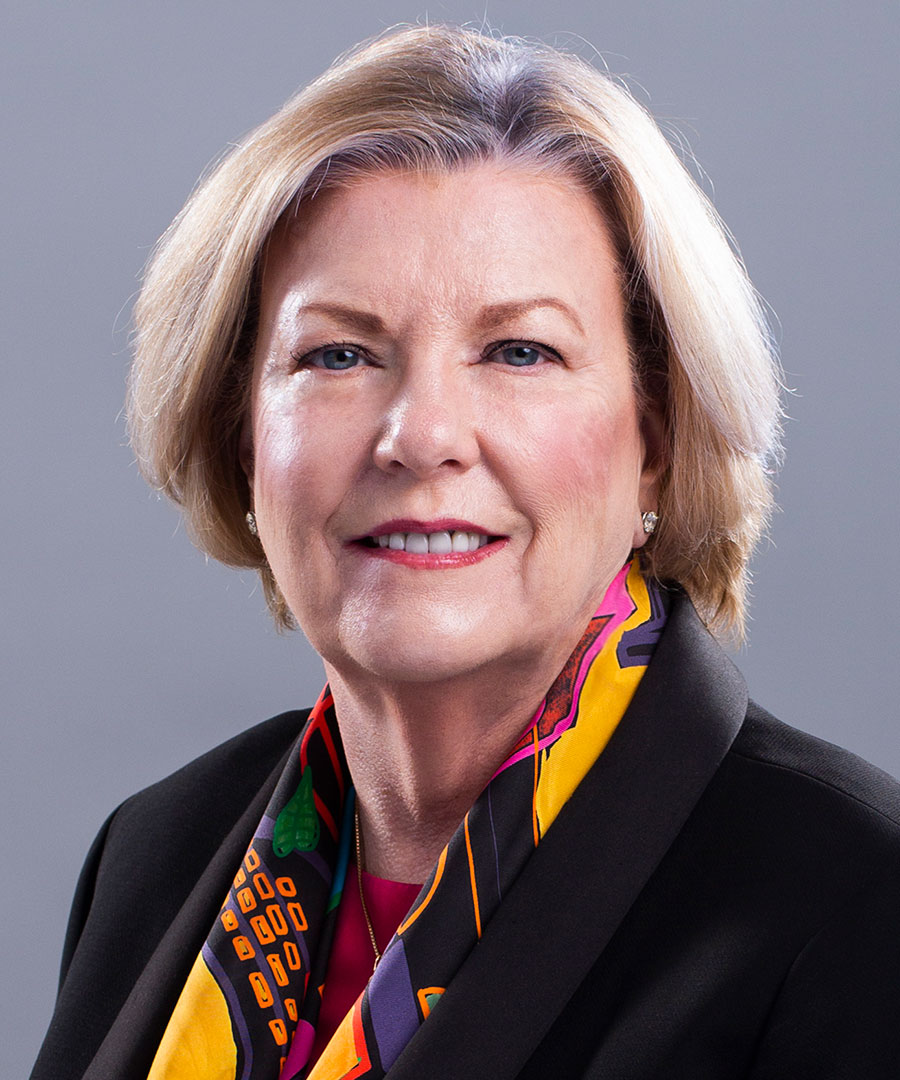 Hon. Joan N. Feeney (Ret.)
Hon. Joan N. Feeney (Ret.)
General Biography
Practice Areas
Accounting Finance
Appellate
Bankruptcy
Business/Commercial
Estate Probate Trusts
Family Law
Federal Law
Professional Liability
Real Estate & Real Property
Honors, Memberships, and Professional Activities
Background and Education
Hon. Joan N. Feeney (Ret.) joins JAMS following almost 27 years on the bench of the United States Bankruptcy Court for the District of Massachusetts and 23 years as a member of the United States Bankruptcy Appellate Panel for the First Circuit. Judge Feeney presided over a full range of cases, including complex commercial cases with multiple parties and conflicting interests. While on the bench, she wrote over 500 opinions in many different areas of the law.
Judge Feeney earned a reputation from the start of her career for being a supremely capable lawyer who always treated everyone with the utmost respect and civility. She has an incomparable ability to distill even the most complex case down to its essence, while still minding the details.
Impartial, compassionate, candid, fair-minded, tireless and a brilliant jurist are words that counsel have used to describe Judge Feeney. Her people skills are unparalleled, and she is able to offer compelling solutions to individuals with differing personalities.
ADR Experience and Qualifications
Mediated and settled cases in a wide variety of matters, including bankruptcy, business/commercial, professional fee disputes, fraudulent transfer actions, closely held business disputes and business divorces, professional liability and real property matters
Handled hundreds of bench trials requiring oral and written decisions, and handled over 100 bankruptcy appeals in all aspects of bankruptcy law and procedure
Experience as liquidation and reorganization trustee

Available to resolve disputes remotely through a number of videoconferencing options
Representative Matters
Accounting Finance

mortgage and borrower relationships
defective mortgages
mortgage reformation

Bankruptcy

bankruptcy jurisdiction, standing and eligibility
compensation of professionals
contested confirmation of plans of reorganization, including feasibility and liquidation analysis
valuation of security, businesses and commercial and residential real estate
automatic stay scope, exceptions and relief from stay
single-asset real estate cases
denial of discharge; exceptions to discharge for fraud, willful and malicious injury and other grounds
estate's avoiding powers
fraudulent transfers and defenses; preferential transfers and defenses
equitable subordination
recharacterization of debt to equity
substantive consolidation
involuntary petitions
nonprofit and church bankruptcies
assumption and assignment of leases and executory contracts, including intellectual property licenses

Business/Commercial

alter ego and veil piercing of corporate and trust entities
contract interpretation
fraudulent transfers
fraud and injury to property
breach of fiduciary duties and defalcation
directors' and officers' liability and related insurance coverage disputes
Uniform Commercial Code Article 9 perfection of security interests
receiverships and negligence of receivers
unfair acts and deceptive practices
subordination agreements
successor liability
debt collection; Fair Debt Collection Practices Act
construction contract disputes

Family Law

property division
alimony and support

Professional Liability

attorneys' fees disputes
legal ethics
attorney malpractice

Real Estate & Real Property

title disputes
lease and purchase and sale agreement interpretation
priority of lien disputes
evictions
improper foreclosures
predatory lending
real estate and personal property tax liens
rights of first refusal
homestead exemptions
Honors, Memberships, and Professional Activities
Completed Virtual ADR training conducted by the JAMS Institute, the training arm of JAMS.

Memberships and Affiliations
Vice President; Member, Board of Directors; American College of Bankruptcy; 2016–present
President, National Conference of Bankruptcy Judges, 2011–2012 (member since 1992 and various committee positions)
Founding Co-Chair, M. Ellen Carpenter Financial Literacy Program, Boston Bar Association, 2004–present
Member, Bankruptcy Section, Boston Bar Association, 1978–present
Member, International Judicial Relations Committee, Judicial Conference of the United States, 2006–2012
Member, Administrative Office Budget and Finance Advisory Council, 2005–2006
Member, Administrative Office Bankruptcy Judges Advisory Group, 2003–2007
Judicial Chair, Northeast Conference, American Bankruptcy Institute, 2002–2005)
Member, Board of Directors, American Bankruptcy Institute, 2005–2010
Honors
Recipient of the American Inns of Court Bankruptcy Distinguished Service Award, 2019
Excellence in Education Award, National Conference of Bankruptcy Judges, 2018
Charles P. Normandin Lifetime Achievement Award, Boston Bar Association, 2018
Haskell Cohn Award for Distinguished Judicial Service, Boston Bar Association, 2005
Alumni Achievement Award, Suffolk University Law School, 1993
Fellow, American College of Bankruptcy, 2005
Publications
Co-Author, Bankruptcy Law Manual, Thomson Reuters West, Fifth Edition, 2020
Co-Author, The Road Out of Debt, John J. Wiley & Sons, 2010
Author, Chapter 11: Theory and Practice; Co-Author, Chapter 9: Property of the Estate; A Guide to Reorganization 1994
Associate Editor, 2014–2016; Business Manager, 2016–2018; The American Bankruptcy Law Journal
Background and Education
United States Bankruptcy Judge, District of Massachusetts, 1992–2019
United States Bankruptcy Appellate Panel for the First Circuit, 1996–2019
Associate and Partner; Hanify & King, P.C.; Boston 1986–1992
Law Clerk, Hon. James N. Gabriel, U.S. Bankruptcy Court, D. Mass., 1982–1986
Associate, Feeney & Freeley, Boston 1979–1982
J.D., Suffolk University Law School, 1978
B.A., with Distinction in the major fields of French and government, Connecticut College, 1975
"Judge Feeney just successfully completed a mediation in which I was the Liquidating Trustee under a Chapter 11 Plan. She was fully engaged, thoughtful, tough when she needed to be, and her many years as a Bankruptcy Judge served the parties well in reaching a multi-million dollar settlement amongst numerous parties. I would use her again and recommend her."
- Partner, Bankruptcy Law

"Judge Feeney is an excellent mediator and did a great job. She was one of the most prepared mediators I have worked with, had read everything, knew all the issues, and was very effective at moving the parties toward a deal. She was also willing to stay late for us to wrap up a term sheet."
- Leading Kansas City Attorney

"I remember Joan from when I was a newly minted lawyer in Boston and she was at Hanify & King. The practice of law was different then. Corporate cases were filed in the districts where they had their executive offices. We had many high tech and (what we would now call) bio tech cases in Boston, among other industries. My firm often represented the debtors. You would see all of the same commercial lawyers in the large cases, and Joan was a regular player. The fact that we regularly interacted with and indeed relied on each other lead to a collegial practice that I remember fondly. Joan was one of the lawyers who exemplified what an insolvency lawyer should be. This will come as no surprise to any of you, who have known her in many official ways, including during her tenure as president of the NCBJ. But Joan was then, as she is now, a supremely capable lawyer AND able to treat everyone with utmost respect and civility."
- Bankruptcy Judge
"As a bankruptcy judge for over 25 years, Judge Feeney had an incomparable ability to distill even the most complex case down to its bones, while still keeping in mind the details, to get to the real issues that control a dispute. Because of that, she will surely excel as a neutral, bringing parties together toward a resolution."
- Leading Attorney Massachusetts
"I have practiced before Judge Feeney, representing debtors, for her entire career on the bench. She has proved to be an impartial, compassionate, candid, equitable, fair-minded, tireless, and brilliant jurist. I always believed, that so long as I was prepared and had a logical argument, my client would be treated with civility and respect. Her efforts to educate the bankruptcy bar both locally and nationally cannot be over stated. But most of all, her fair-mindedness in helping honest and unfortunate debtors achieve their statutory goal of a fresh start will leave an indelible imprint on me. With her experience, character and expertise, she will undoubtedly not only succeed but excel in her next position as a mediator."
- Boston Attorney
"From her service on the bench, Judge Feeney has developed a deep and thorough understanding not only of bankruptcy but all aspects of commercial law that will enable her to assist parties in the resolution of complex civil cases. Her insightfulness, patience, and empathy will facilitate outcomes that are fair and balanced. She is a tremendous addition to JAMS' roster of neutrals."
- Leading Boston Bankruptcy and Commercial Attorney
"Judge Joan Feeney was a titan of the Bankruptcy Bench during her tenure as a judge. As a bankruptcy judge, she presided over a full range of cases, including complex cases with multiple parties and conflicting interests. The same qualities that made her such a successful judge – keen intellect, thoroughness of knowledge, both factual and legal, practicality and a willingness to be a creative problem solver – will serve her well as a mediator for all kinds of disputes. If there is a way to settle a case, Judge Feeney can get you there."
- Leading Partner
"Judge Joan Feeney has the background and intellect to perceive and appreciate all facets of complex legal and financial problems. Taking into account the parties' essential interests, she will focus their concerns in a manner that promotes pragmatism over intransigence, compromise over conflict."
- Boston Counsel
"Judge Feeney is remarkable. She is a nationally recognized business and consumer bankruptcy law expert who has walked the walk (she has served as a bankruptcy judge overseeing complex cases and difficult adversary proceedings) and talked the talk (she has written numerous scholarly and practical articles and contributed to numerous treatises). Her "people skills" are unparalleled – as but one example, she did not become the President of the National Conference of Bankruptcy Judges without being able to understand (and respond with compelling solutions to) competing agendas held by individuals with differing personalities. In short, Judge Feeney has the intellect, experience, and temperament – all of the tools – necessary to bring hostile adversaries together to settle the most difficult conflicts. I recommend her as a mediator without any reservation or hesitation whatsoever, not only for all bankruptcy matters, but also for all non-bankruptcy conflicts involving insolvency issues."
- Prominent Massachusetts Attorney
"Joan Feeney is eminently fair and practical -- with a deep understanding of the business and legal issues involved in commercial transactions. I recommend her, without hesitation, as a mediator or arbitrator."
- Leading Boston Attorney
"Judge Feeney's thoughtful, diligent preparation of cases is unmatched. As a federal Judge, her understanding of the intricacies of cases and ability to sagely evaluate the strengths and weaknesses of the respective sides, assisted in guiding many litigants towards a successful resolution of their disputes. Parties who are seeking a smart, prepared, practical neutral would do well to consider Judge Feeney."
- Chapter 13 Trustee
"Judge Feeney presided over large, mid-sized and small bankruptcy and insolvency matters for more than 25 years. Her depth of knowledge in commercial and creditors' rights disputes is unparalleled. Other bankruptcy judges routinely enlisted her to mediate disputes in simple and complex cases alike, and she was highly effective in that role. Her experience, expertise and temperament make Judge Feeney an outstanding addition to the team at JAMS."
- Prominent Boston Partner
"When a room full of lawyers has lost its cool, Joan keeps hers. And when a lawyer passionately declares his undying love for his own argument, and has got a good head of steam going, she has a way – ever-so-politely – of neatly putting the counter-argument. The steam ebbs, and everyone gets to thinking, 'now that we've ditched the heat, where is the light in this dispute?' These will be effective skills in a mediator."
- Corporate Insolvency Lawyer
"Judge Feeney has been consistently methodical and brilliant. She misses no nuance, and fully understands multi-layered issues, regardless of the degree of complexity. Her experience as a Judge on the bench, and simultaneously as a leader of major national and regional bar organizations and projects, demonstrates both legal and practical acumen. When I next need a neutral, I will run to retain her."
- Leading Bankruptcy Attorney
"Judge Joan N. Feeney is an icon in her field and one of the hardest working judges I have ever had the pleasure to appear before. She possesses the intellect, the determination and the demeanor necessary to facilitate the resolution of complex civil disputes. JAMS is fortunate to have her."
- Leading Partner
"The Bankruptcy Court's loss when Judge Feeney retired is a tremendous gain for JAMS and parties who seek resolution of disputes. She is a "litigator's judge" - smart, well-prepared, well-read on the law and knowledgeable. She brings to every proceeding an open mind, a willingness to listen to both sides and laser-sharp focus. Her judicial demeanor, extensive experience in business litigation and ability to rule decisively and promptly made her effective not only as a trial judge but as an appellate judge on the Bankruptcy Appellate Panel. She has a talent for helping parties fashion a solution that meets both their needs. Judge Feeney's intelligence, superb people skills and commitment to fairness were hallmarks of her judicial career. They will serve her well at JAMS."
- Retired Judge
"Judge Joan Feeney has a special ability to cut to the heart of a matter, seriousness of purpose and gentle wit. She has long shown a remarkable skill at first understanding and then seeking to resolve the true issues posed by a given case in a practical way."
- Leading Business and Bankruptcy Litigator
"Judge Feeney managed to resolve a matter that I felt had a 5% chance of succeeding at mediation based upon the prior behavior of the Plaintiffs. I think that the work done during the mediation to bring this matter to a global resolution was nothing short of incredible."
"Judge Feeney was excellent. Prepared, compassionate, well-tempered, and responsive, she understood the issues, concerns and parties to help us reach a resolution."
- Partner at Connecticut Law Firm
Home Office
HOME OFFICE
Boston, Massachusetts
One Boston Place, 201 Washington Street, Suite 3300, Boston, MA 02108
View Location Details
Available to Travel
Disclaimer
This page is for general information purposes. JAMS makes no representations or warranties regarding its accuracy or completeness. Interested persons should conduct their own research regarding information on this website before deciding to use JAMS, including investigation and research of JAMS neutrals. See More
Search our global directory of mediators, arbitrators and ADR professionals.
FIND A NEUTRAL