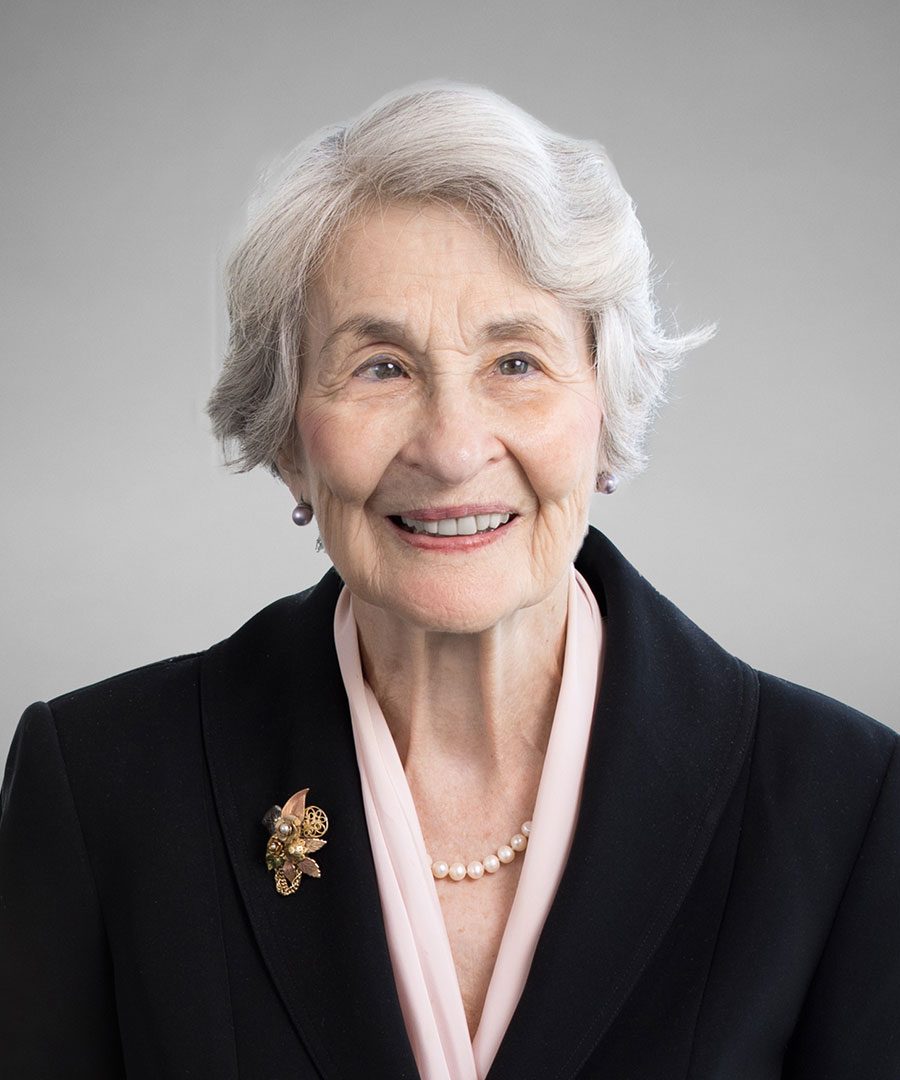 Hon. Helen E. Freedman (Ret.)
General Biography
Practice Areas
Appellate
Business Commercial
Class Action and Mass Tort
Construction Defect
Employment
Governmental Public Agency
Insurance
Personal Injury Torts
Pharmaceuticals Mass Torts
Professional Liability
Real Property
Honors, Memberships, and Professional Activities
Background and Education
Hon. Helen E. Freedman (Ret.)
joined JAMS in 2014 after serving 36 years on the New York State bench. She was an Associate Justice of the Appellate Division, First Department for six years and served for over eight years as a Justice in the Commercial Division. Justice Freedman was the Presiding Justice of the Litigation Coordinating Panel for Multi-district Litigation in New York State from 2002 to 2014.
Since joining JAMS she has conducted multiple mediations, arbitrations, and neutral evaluation matters varying in type and complexity. Widely renowned for her intellect and persistence in managing large and complex matters, Justice Freedman is well respected by both the bench and bar. Justice Freedman brings a distinct understanding and perspective to dispute resolution given her impressive tenure presiding over both commercial and appellate matters while on the bench. She has developed the same reputation at JAMS helping many parties find resolution despite intricate and contentious matters. Justice Freedman is regarded as knowledgeable, fair and well prepared.
As a result of both her impressive experience at JAMS and her distinguished career on the bench, she is highly sought after for her skills as a mediator, arbitrator special master and neutral evaluator. Justice Freedman believes strongly in pro bono services and increasing the use of alternative dispute resolution.
ADR Experience and Qualifications
Speaks on continuing legal education programs for attorneys on a variety of topics including neutral analysis, appellate practice, as well as mediation and arbitration advocacy
Lectured and written extensively on the use of ADR in mass torts and public interest litigation
Volunteer mediator at the Appellate Division First Department, Commercial Division of New York Supreme Court and the United States District Court for the Southern District of New York
Representative Matters
Appellate
Served as a neutral evaluator in a mock appellate hearings involving commercial lease, business investment dispute, challenge to City Ordinance, insurance claim over mortgage backed mortgage-backed securities, and family business dispute
Served on two tripartite JAMS arbitration appeal panels in which individual decisions were challenged in a mass consumer filings. Chair of one of the Panels.
Business/Commercial
Mediated numerous commercial breach of contract matters involving insurance, energy, real estate, and employment
Mediated multiple disputes among shareholders who were also lessees of a major urban shopping center in Queens Mediated unfair competition and trademark disputes
Served as a neutral evaluator in a mock hearing to analyze contract provisions and develop the best approach in a commercial securities dispute
Arbitrated many breach of contract disputes including a breach of loan and lease agreement between owner and lessees
Served as a sole arbitrator and member of a tripartite arbitration panel panelist in various commercial disputes related to business dissolution or 'business divorce' cases
Served as a member of tripartite arbitration panels in large commercial/bankruptcy matters
Arbitrated and served as panelist in commercial solar energy cases
Employment
Arbitrated employment disputes involving sexual and disability discrimination, and sexual harassment
Arbitrated employment disputes involving contract interpretation
Arbitrated a consumer action involving a disability discrimination claim
Mediated sexual and disability discrimination claims
Mediated employment contract dispute.
Insurance:
Mediated insurance dispute between a manufacturer and its insurers over asbestos liability claims
Served as a neutral evaluator in a mock oral hearing involving insurers' potential liability for a billion-dollar settlement
Served as Panel Chair/umpire in a number of insurance disputes including huge major property damage claims arising out of major storms in New York, Texas, and Florida.
Arbitrated numerous insurance claim disputes
Maritime:

Arbitrated several Jones Act maritime cases
Personal Injury:

Mediated numerous personal injury claims involving Labor Law 240(1) and 241(6), premise liability and automobile accidents
Professional Liability:

Mediated medical malpractice disputes
Mediated a fee dispute and legal malpractice counterclaim
Served as a sole arbitrator and member of a tripartite arbitration panel in various legal fee disputes
Products Liability:

Mediated product liability disputes involving a popular weight loss drug, a heart implant device, and an asbestos claim
Real Property:

Served as a neutral evaluator in a matter involving the constitutionality of three landlord/tenant laws passed in connection with the COVID-19 Pandemic
Served as a neutral evaluator in a contract dispute involving the construction of a commercial condominium unit
Arbitrated commercial and real estate disputes, including an inter-family real estate dispute
Significant trials presided over by Justice Freedman include the following:
In re New York City Asbestos Litigation, (NYCAL), Index No. 40,000(1987-2008)
Managed entire litigation involving resolution of tens of thousands of cases by trial or settlement. Two of many published decisions include: ·Established "two injury rule" in Fusaro v. Porter-Hayden Co, 145 Misc2d 911, 548 NYS2d 856 (1989), aff'd 170 AD2d 239, 565 NYS2d 357 (1st Dept 1991) and required bankrupt defendants to appear on verdict sheet for purposes of Article 16 offsets in In re New York City Asbestos Litigation: Tancredi v. AC&S, et al., 194 Misc2d 214, 750 NYS2d 469 (2002), aff'd6 AD3d 352, 775 NYS2d 520 (1st Dept.2004)
Case Management Order provided for extensive use of special masters for mediation and discover
Designated as Judge in charge of all New York City asbestos personal injury cases from 1987-2008

BT Triple Crown Merger Co., Inc. v. Citigroup Global Markets Inc., et al., 19 Misc3d 1129(A)(2008) (Matter involving anticipatory breach of contract by funders of leveraged buyout of Clear Channel Communications, Inc. by private equity firms, Bain Capital Partners, LLC and Thomas H. Lee Partners)
Loral Space Communications Holdings Corporation v. Rainbow DBS Holdings, Inc., et al., 48 AD3d 296, 852 NYS2d 77 (1st Dept2008) (Matter involving affirmance of jury verdict following trial where jury awarded lender damages of $52 million dollars pursuant to a "make whole" provision of the letter agreement that was triggered by the sale of defendant's assets)
Sports Channel Associates v. Sterling Mets, L.P., 8 Misc3d 1027(A), 806 NYS2d 448 (2005) and 7 Misc3d 1007(A),801 NYS2d 242 (Sup.Ct.NY Co 2005), aff'd 25 AD3d 314, 807 NYS2d 61 (1st Dept.2006) (Matter involving licensing agreement for broadcast television rights of baseball games played by the New York Mets. $54 million payment pursuant to termination provision ended parties relationship and supported the right to immediately launch a Mets network)
McCain et al. v. Koch, et al., 806 N.Y.S.2d 448 (Sup. Ct. N.Y. Co. 2005); McCain v. Giuliani, 226 AD3d 256, 653 NYS2d 556 (1st Dept 1997); McCain v. Dinkins, 84 NY2d 216, 616 NYS2d 335, aff'g 192 AD2d 217,601 NYS2d 271 (1993); Lamboy v. Gross, 129 Misc 2d 564, 493 NYS2d 393 (Sup Ct. NY Co 1985), affid 126 AD2d 265, 513 NYS2d 393 (1st Dept 1987)

These are a few of many decisions rendered during Justice Freedman's 25 years of managing the homeless families with children litigation. To the extent that her decisions were appealed, all were affirmed. Justice Freedman made extensive use of mediation and of the services of Special Masters to resolve the many issues that arose during the course of these litigations.
Honors, Memberships, and Professional Activities
Member, Mayor's Advisory Committee on the Judiciary, 2021-present
Completed Virtual ADR training conducted by the JAMS Institute, the training arm of JAMS
Civil Practice Award, New York County's Lawyer's Association (NYCLA), 2015
Louis J. Capozzoli Gavel Award, New York County Lawyer's Association (NYCLA), 2005
Civil Court Distinguished Service Award for Accomplishments Enhancing the Status of Women in the Judiciary, New York County Lawyer's Association (NYCLA), 2004
Smith College Medal, "Judicial Independence", 2000
American Bar Association's Award of Judicial Excellence, State Trial Judges Conference, 1998
Vice-Chair on the Pattern Jury Instructions Committee of the Association of Justices of the Supreme Court, New York
Lectured and written extensively on the use of ADR in mass torts and public interest litigation
New York County Lawyer's Association

Board of Directors, 2013-2016, 2018-present
Chair, Judicial Section, 2009-2012

Task Force on Judicial Selection, 2011-present
Task Force on Budget Cuts, 2011-present

Author, New York Objections and first 18 Revisions
Board of Trustees, Historical Society of the Courts of the State of New York, 2016-present
Editor of Judicial Notice, semi-annual publication of the Historical Society, 2016-present
Background and Education
Associate Justice, Appellate Division First Department, 2008-2014
Presiding Judge of the Litigation Coordinating Panel for Multi-District Litigation in New York State, 2002-2014
Justice of the Commercial Division of the New York County Supreme Court, 1999-2008
Adjunct Professor at New York Law School, 1996-2007
Associate Justice, Appellate Term Supreme Court, First Department, 1995-1999
New York State Supreme Court Justice, 1989-2008
Acting Supreme Court Justice, 1984-1989
Civil Court Judge, New York County, 1979-1984
Supervising Attorney, District Council 37 Legal Services Plan, 1976-1978
Senior Attorney, New York Department of Housing Preservation and Development, 1976
Law Clerk to Hon. Seymour Schwartz, 1974-1975
Litigation Attorney, 1967-1974
J.D., New York University School of Law
B.A., Smith College
"Judge Freedman came recommended from a colleague. I thought she was great, and she helped uncover a fact for my client, after which we adjourned the mediation so my client could assess. That choice was great because the dynamic had changed based on something we learned for the first time at the mediation. So, pausing and saving a few hours for another day was the rightmove. I'd use Judge Freedman again 100%."

-Defense Counsel
"Judge Freedman combines competence with a savvy understanding of how to get to "yes" when it comes to the comprehensive resolution of complex disputes."

-Kenneth R. Feinberg, Esq.
Home Office
HOME OFFICE
New York, New York
NY Times Building, 620 8th Ave, 34th Floor, New York, NY 10018
View Location Details
Available to Travel
Disclaimer
This page is for general information purposes. JAMS makes no representations or warranties regarding its accuracy or completeness. Interested persons should conduct their own research regarding information on this website before deciding to use JAMS, including investigation and research of JAMS neutrals. See More
Search our global directory of mediators, arbitrators and ADR professionals.
FIND A NEUTRAL