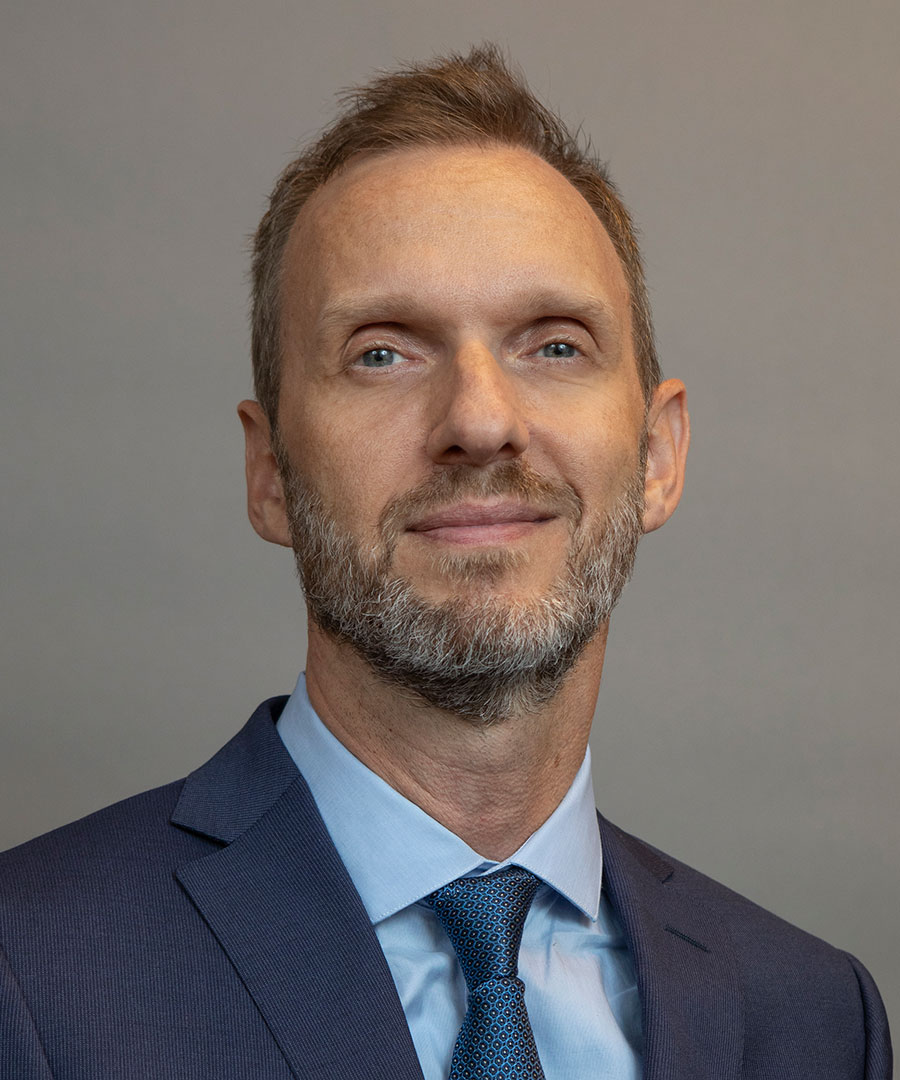 Peter Kamminga, Esq., Ph.D.
General Biography
Practice Areas
Antitrust & Competition
Banking
Bankruptcy
Business & Commercial
Class Action & Mass Tort
Construction
Cybersecurity & Privacy
Energy & Utilities
Financial Markets
Health Care
Insurance
International & Cross-Border
Life Sciences
Professional Liability
Smart Contracts & Blockchain
Honors, Memberships, and Professional Activities
Background and Education
Peter Kamminga, Esq., Ph.D., is a panelist at JAMS with over 20 years of experience as a mediator, arbitrator, and resolver of complex disputes. Prior to joining JAMS, Mr. Kamminga was a valued member of Judge Daniel Weinstein's global mediation team, where he established a strong reputation for effectively resolving high-profile and high-stakes disputes.
Throughout his career, Mr. Kamminga has successfully resolved complex civil and commercial disputes involving multiple parties, intricate legal questions, domestic and global jurisdictional issues, substantial monetary values ranging from millions to billions of dollars. His repertoire, cultivated over the course of two decades, encompasses a diverse range of conflicts, including contentious matters in the commercial, construction, cyber and cyber security, energy, financial markets, bankruptcy, insurance (including directors & officers (D&O) and other coverage claims), post-M&A, product and professional liability, and technology sectors, among others. He also has experience with all types of business disputes including franchising and distribution cases, securities fraud, unfair competition, and various breach of contract claims.
With legal training from both the U.S. (Stanford, Columbia, and Harvard University) and Europe, Mr. Kamminga's robust dispute resolution practice includes both domestic U.S. disputes and cross-border matters. With a comprehensive understanding of both U.S. and European law, he is adept at navigating the complexities of different legal systems, differing mediation and arbitration styles, as well as the legal, economic, organizational, and human motivations driving individuals in their business and interpersonal disputes. Mr. Kamminga's fluency in English and Dutch, along with his strong working knowledge of German and French, enables him to effectively communicate and bridge language barriers. He has successfully resolved disputes involving parties from the US, Canada, Europe (Belgium, Denmark, France, Germany, Italy, Netherlands, Switzerland, and the UK), Africa, Asia (China and India), and Australia.
As a mediator, Mr. Kamminga is known for his thorough preparation, effective use of pre-mediation calls, his in-depth analysis of briefs and exhibits, and his determination to get matters resolved. If the matter does not settle during the mediation session, he is relentless in following up and always makes himself available for continued discussions with the parties. He uses both directive and facilitative approaches depending on what is required to help resolve the matter at hand. An exceptional listener who swiftly grasps new issues, Mr. Kamminga asks tough questions that propel parties towards solutions that align with both legal requirements and make sound business sense. His skill as a mediator and his dedication to delivering effective dispute resolution outcomes has garnered recognition and trust from attorneys as well as their clients.
As an arbitrator Mr. Kamminga is committed and carefully attunes the process to the parties' preferences and striking a balance between the elements of efficiency and thoroughness of a fair arbitration process. He is committed to not unnecessary formalizing the process. Because of his cross-border experience he is sensitive to the intricacies of and differences between international versus domestic arbitrations. He is familiar with JAMS Arbitration rules and procedures, the Netherlands Arbitration Institute rules and the ICC rules.
ADR Experience and Qualifications
• Mr. Kamminga actively contributes to the field of Alternative Dispute Resolution (ADR) and mediation, initiating ADR initiatives in the U.S. and abroad and is a sought-after speaker at conferences, law firms, Fortune 500 corporations, and universities worldwide, sharing his insights. He has authored several books and numerous articles establishing himself as a thought leader in the field.
• Certified by the SANS cyber security training institute and possesses knowledge of industry-specific computer crime and privacy laws and understands the dynamics surrounding cybercrime, hacking, internet scams, and ransomware. Additionally, he is familiar with representations and warranties claims in connection with mergers and acquisitions and SPACs, as well as the transactional insurance (reps & warranties insurance (R&W) aspects associated with such matters.
• Well-versed in emerging technology practice areas and publishes on topics such as blockchain, cryptocurrency, digital currencies, fintech, NFTs (non-fungible tokens), smart contracts, and the latest developments related to Artificial Intelligence, virtual and augmented reality (AR/VR), and the metaverse.
• Mr. Kamminga is an experienced dispute resolution process designer. He played a significant role in drafting an elaborate ADR system for the swift resolution of personal injury claims in the Netherlands. He has also applied his skills to billion-dollar/euro infrastructure projects in both the Netherlands and the US.
Representative Matters
Antitrust & Competition

Has mediated of a variety of disputes involving market manipulation and price-fixing allegations:

Antitrust class action under Sherman Act and Clayden Act consolidated as MDL brought in the Southern District Court of New York against a major European bank for alleged manipulation of Libor and Euribor interest rate benchmarks
State action against major investment bank for claimed misrepresentation related to sale of financial products
Antitrust class action dispute brought under the Sherman Act against some of the largest U.S. poultry and egg producers for allegedly conspiring to increase prices brought in the eastern district of Pennsylvania

Banking

Has mediated numerous banking-related disputes including:

Disputes between pension funds or other institutional investors and U.S. and European investment banks, for instance, as underwriters, sellers, or issuers of residential mortgage-backed securities (RMBS) and other financial products, including matters brought under Section 11 and 12 of the Securities act of 1933, California Corporate Securities Law, Kansas Uniform Securities Act, Illinois Securities Law, and Texas Securities Act
Contractual dispute between two large investment banks related to underwriting of securities and indemnification for penalties paid as part of RMBS settlements
Coverage dispute between U.S. bank and its U.S. based insurer over coverage for professional services and lending services
Dispute between U.S. state and large investment bank involving issuances of fixed-rate municipal bonds
Dispute between term lenders and large U.S. bank over the banks contractual obligations involving the development and construction of a resort and casino in Las Vegas
Dispute over alleged breach of contract between large U.S. investment bank and a hedge fund involving a commodity trading firm

Bankruptcy

Has mediated a variety of US and European bankruptcy matters:

Dispute between trustee and directors of an oil exploration and development company that filed for Chapter 11 bankruptcy, involving a breach of fiduciary duty claim in connection with a secured financing transaction brought in the Southern District of Texas for breaches of fiduciary duties and conspiracy and fraud
Insolvency dispute between Trustee and former directors of a European company involving a multi-billion-dollar professional liability and a fraudulent bankruptcy claim
Bankruptcy matter involving U.S. bondholders and issues relating to distressed debt investing, and a revolving credit facility agreement pertaining to European insolvency proceedings, involving secured and unsecured creditors
Co-mediated several actions arising out of the Lehman Brothers bankruptcy as part of team of mediators, including a Chapter 11 case brought against Lehman Brothers Holdings over a lease involving an office building in the United Kingdom brought against Lehman in Bankruptcy Court of the Southern district of New York

Business & Commercial

Has mediated and arbitrated a range of business disputes including post-merger, contractual matters, fraud, and breach of fiduciary duty claims:

Mediation of post-merger dispute resulting from termination of a contract under a stock merger agreement involving the purchase of shares from an employment stock ownership plan (ESOP) and involving New York Insurance
Arbitration of contractual dispute between UK and US entity under New York Law
Mediation of a commercial disputes involving several of Fortune 50 and 100 companies, and other NYSE- and NASDAQ-listed corporations as well as European, Asian, and Australian multinationals
Mediation of Breach of contract claims related to complex projects and long-term contractual relations, including distribution and franchising agreements, R&D joint venture agreements, mergers and acquisition agreements, construction claims, and international commercial contracts under the UNCITRAL rules for the international sales of goods (CISG)
Mediation of dispute over termination of a joint venture agreement between Danish and Indian companies in the clean energy field
Mediation of dispute over alleged breach of fiduciary duty between co-founder and U.S. venture capital firm
Mediation of dispute over alleged breach of contractual obligations between supplier and distributor in the textile industry involving UN Convention on Contracts for the International Sale of Goods (CISG)
Mediation-Arbitration of claim of credit card fraud in a dispute between US credit card company and consumer

Class Action & Mass Tort

Has mediated a range of securities and consumer class actions, including:

US class actions involving pharmaceutical product recalls, consumer debt collection agencies, derivative actions and numerous securities class actions, including:
An environmental pollution and consumer fraud class action claim brought by NY state attorney general against a German car manufacturer for violating environmental regulations
Class action brought by U.S. institutional investors against a consumer lending company accused of misrepresentations regarding their practices
Shareholder derivative action involving alleged insider trading and breaches of fiduciary duty against a wearable technology device company's officers and directors
Shareholder derivative suit against multinational telecommunications company arising out of a breach of fiduciary duty claim related to reporting of the company's financial results and prospects
Opt-out securities claim brought by hedge funds against mining company related to the development of a mine in South America and compliance with environmental requirements\
US class action breach of fiduciary duty dispute claims brought by employees against their employer related to the offering of investments plans 403(b) plans, a type of 401(k) contribution plan used by not-for-profit private institutions including private universities and hospitals, involving breach of loyalty and prudence
Securities class action brought by investors as a Dutch class action (WCAM) against wind energy sector
D&O claim by policy holder against its insurers related to the settlement of a Dutch WCAM class action
Claim brought against a debt collection agency accused of fraudulent debt collection practices violating RICO, Fair debt collection practices act (FDCPA), and New York Judiciary Law

Construction

Mediator, arbitrator, and dispute board member in a range of construction contract, construction defect, and other construction related disputes in the US and Europe, including:

Mediation and neutral evaluation (binding advice) in complex claims in road, rail and tunnel infrastructure projects in Europe involving public-private partnerships and complex cost and delay disputes construction defect claims, and other construction contract claims including:
Mediation of contractual claims related to underground infrastructure, power plants, water projects and real estate development involving Dutch Law
Part of mediation team settling a several hundred million dollars construction defect case involving a high-rise luxury condo building in San Francisco that was subject to sinking and tilting, wall defects, and water intrusion. Claims were brought by individual homeowners and a home-owners association (HOA) under the California Civil Code and California Building Code against multiple developers, contractors, and design engineers including claims for statutory construction defects, negligence, breach of express and implied warranties, strict liability, inverse condemnation, trespass, nuisance, failure to provide lateral and subjacent support, and fraud-based causes of action for misrepresentations
Mediation of a dispute between developer and lenders involving the financing of a large real estate development project in Las Vegas
Mediation and early neutral evaluation in multimillion euro construction dispute arising from design defects of a railway station in the Netherlands
Arbitration of a contractual matter involving a power plant
Member of dispute review board for large tunnel drill project in Europe

Cybersecurity & Privacy

Mediated and arbitrated range of cybercrime, internet and IT related disputes, including:

Mediation of claim arising out of a ransom ware attack performed by cyber criminals blocking a health providers systems brought in Tennessee Chancery Court by online health provider against its IT company alleging unjust enrichment, breach of contract and professional negligence claims based on a master services contract for the provision of internet security a building of a knowledge repository, as a disaster recovery plan was not in place leading to security breaches resulting in millions of losses
Mediation of a contractual dispute between a printer company and its IT provider resulting from hacking and cyber-attacks on a website leading to millions of dollars in damages to the corporation and claims of breach of contract, good faith and fair dealing and negligence by the hosting company for the inability to prevent or mitigate the malicious activity
Acted as arbitrator in a tripartite panel involving a coverage dispute between insurance carrier and a service provider arising from online scheme by a hacker obtaining access to a computer system and impersonating someone else in email communications resulting in the theft of millions in funds involving claims for breach of contract and breach of covenant of good faith and fair dealing related to denial of coverage for the fraud incident under a cyber enterprise risk management policy under California law
Single arbitrator in arbitration of contractual breach matter involving a US online package delivery company and UK human resource company
Mediation of dispute between two internet service firms arising from a claim for intentional misrepresentation involving liability for cyber-attacks and hacking of websites and involving alleged breach of duties to provide cyber security services and warning for security breaches under California Law
Mediation of post-merger dispute over interpretation of the Sales and Purchase Agreement for a datacenter, related to data services and fees, and the use of computer data center facilities, servers, and other equipment, involving a global hosting and cloud service and storage and information management company
Mediation of professional liability dispute between leading European law firm and fintech billionaire-investor client under Dutch and Belgian tax law
Mediation of coverage dispute over coverage for losses that were sustained as a result of complex computer fraud schemes and so-called cookie stuffing between investors and large US e-commerce corporation
Mediation involving a dispute between US investors and a Chinese internet data service provider accused of revenue inflation and its investors
Mediation of dispute involving Indian online streaming company sued by US investors related to alleged misleading statements
Mediation of dispute between users and consumer tech device maker involving allegations of false and misleading statements by the company
Mediation involving alleged breach of fiduciary duties claim by multinational internet service provider in connection with the agreement and plan for a merger
Mediation of breach of contract and breach of implied covenant of good faith and fair dealing claim, in a dispute between a consumer electronics firm and data and technology marketing-firm providing website services

Energy & Utilities

Has mediated disputes involving some of the world's largest oil and gas, mining, and clean energy companies:

US Securities case brought against one of the worlds' largest wind-turbine producers for allegedly misleading investors
Dispute involving one of the world's largest mining companies involving mining rights in Peru
Dispute resulting from merger of two major Western Hemisphere energy companies
Dispute involving an investor in the Deepwater Horizon oil platform in the Gulf of Mexico
Shareholder dispute involving one of the largest privately held companies in California, a diversified oil and gas conglomerate encompassing oil recycling, refining, trucking, rail transportation services, oil terminal facilities and real estate over excessive loans and distributions from the company
Shareholder dispute involving a merger and alleged self-dealing by fiduciaries and advisors brought against energy company composed of a natural gas pipeline business and energy holding company
Dispute between European trustee and an oil refinery company's former directors resulting from the corporation's bankruptcy
Dispute over alleged breach of fiduciary duty brought by one of the directors against a diversified oil and gas conglomerate

Financial Markets

Has mediated a variety of securities and financial market disputes:

Investment and shareholder disputes involving some of the largest hedge funds, investment banks, private equity funds and Fortune 500 companies, as well as public agencies such as the FDIC, including cases involving bank fraud schemes
Securities matter involving US hedge funds seeking 1.2 billion Euros ($1.36 billion) in damages from Porsche SE over its attempt to take over the carmaker Volkswagen
Contract claim brought by major US developer against major investments banks estate over back rent and damages related to the early departure of the investment bank from its European headquarters as a result of its bankruptcy
Dispute between leading venture capital firm and officers over breach of fiduciary duty related to a merger
Dispute between hedge fund and investment firm involving alleged breach of fiduciary duty related to the refinancing of a movie studio
Diverse disputes involving the underwriting of securities and the purchase and sale of securities
Matter involving the sale and marketing of swaps and other forms of derivatives by a US firm to US and international institutional investors and individuals
Various claims against large investment banks for alleged false and misleading statements in public filings related to the subprime lending crisis and the 2008 financial crisis

Health Care

Has mediated health-care related disputes including:

Product defect claim against a leading US medical device manufacturer accused of phantom recalls of over-the counter (OTC) drugs to remove defective drug products from the market
Securities fraud claim brought by public retirement fund against a US home health care service provider
Dispute over insurance coverage for litigation involving medical billing discounts
Dispute brought by investors against US pharma startup involving off-label marketing

Insurance

Has mediated and arbitrated several insurance and reinsurance disputes involving a variety of industries:

Coverage arbitration over bad faith claims related to cyber security policy under California law between Californian professional services provider and insurance company
Mediation of coverage dispute between a Caribbean insurer and its European re-insurers relating to payments made under a property and business interruption insurance triggered by damage to an airport in the Caribbean caused by a hurricane
Mediation of US -Canadian cross-border coverage dispute involving Canadian policy holder and 10 insurers resulting from post-M&A dispute appraisal claims brought by minority shareholders in Delaware
Mediation of opt-out securities case for fraud and bid rigging brought by a US public retirement fund against a US insurance broker
Coverage mediation arising out of the Madoff Ponzi scheme between US policy holder and Lloyds underwriters brought in Delaware Chancery Court
Mediation of international D&O coverage claim brought by international investors against a large European bank involving over a dozen insurers and involving multiple insurance towers
Mediation of insurance fraud dispute brought against US hospitals and doctors in connection with the submission and collection of fraudulent insurance bills for medical services, medical hardware and medications
Mediation of insurance coverage dispute over coverage for litigation cost and damages involving appraisal dispute in Delaware Chancery Court valued in excess of $100 million
Insurance coverage mediation involving a US private equity management firm and its insurers

International & Cross-Border

Has mediated a range disputes involving parties and insurers from different jurisdictions:

Shareholder dispute between venture capital firms over investments involving global technology and IT development and agreement related to software licensing
Dispute between Dutch Trustee and former US directors of a European company involving a multi-billion-dollar professional liability and a fraudulent bankruptcy claim
U.S. securities class action against Danish energy company regarding statements on financial performance allegedly breaching EU regulations
Coverage matter underlying a Dutch securities class action against a Dutch-Belgian bank involving U.S., U.K., German and French insurers and Belgian and Dutch Law
Construction and engineering matter involving Dutch government agencies
Contractual dispute between Swiss and U.S. bank about repayment of fees
Contractual dispute involving an exclusive distribution agreement between an Australian consumer products firm and its German distributor involving licensing issues and questions of international sales arising from UNIDROIT, CISG and the German Civil Code (BGB) and German Commercial Code (HGB)
Contractual dispute between fashion brand and distributor involving distribution agreement for eyewear and accessories

Professional Liability

Has mediated professional liability claims against law firms, accountants, and other professional service providers:

Professional liability dispute between US marketing corporation and one of the world's largest audit firms over damage resulting from the precipitous withdrawal of audit reports, brought in US Court
Professional malpractice dispute between a US consumer electronics firm and its auditor for failing to discover embezzlement by an employee
Negligence claim brought by U.S. bank against Big Four accounting firm for breaching contractual duties arising from the engagement agreements
Legal malpractice claim brought by real estate mogul against his U.S. law firm involving a disputed settlement agreement
Professional liability claim brought by investor against European law firm under Dutch law involving complex international tax and insurance aspects and 22 insurers

Securities

Mediation and co-mediation of several US securities matters involving Sections 10(b) and 20(a) of the Securities Exchange Act of 1934, and 11, 12, and 15 of the Securities Act 1933 with overlapping internal investigations, class and derivative actions, and investigations by the SEC and other federal or state regulators, including:

A securities class action claim brought by hedge funds in the US against a European carmaker for securities fraud and unjust enrichment related to its stake in another major carmaker
Multi billion-dollar US securities fraud claim brought by institutional investors under a California Chapter 11 bankruptcy plan against power and electricity company for misstatements of facts related to its management and safety resulting in deadly fires
US securities class action against Chinese internet data service provider accused of revenue inflation
US securities class action brought by US investors against Indian online streaming company related to alleged misleading statements
Securities class action brought on behalf of US consumers against consumer tech device maker for making false and misleading statements
Opt-out securities claim brought by US hedge funds against major mining company involving compliance with environmental requirements
Securities fraud claim brought by pension funds against a construction material chain and its directors under the Sections 10(b) and 20(a) of the Securities Exchange Act of 1934
Honors, Memberships, and Professional Activities
Professional Activities
Completed Virtual ADR training conducted by the JAMS Institute, the training arm of JAMS
Initiating member, ICC Task force on Arbitration and ADR
Member, American Bar Association (ABA) and its Section on Dispute Resolution
Member, International Bar Association (IBA)
Member, JAMS Global Engineering and Construction Group
Former Co-Chair, Future of ADR Committee, American Bar Association, International Committee on Dispute Resolution Section
Member Dutch Research Counsel Committee on Scientific integrity
Postdoctoral Fellow, Program on Negotiation, Harvard Law School (USA), 2011 - 2013
Visiting Ph.D. Scholar, Stanford University, Palo Alto (USA), 2007 - 2008
Visiting Scholar, UC Hastings College of the Law, San Francisco (USA), 2007 - 2008
Former Advisor to Lawyers and ADR Project, EU Commission
Former Advisor to European Association of Judges for Mediation
Honors
Fellow, Weinstein JAMS International Fellowship Program
Faculty Fellow, Program on Negotiation, Harvard Law School
Faculty Fellow, Stanford University, 2007 - 2008
Faculty Fellow, UC Hastings College of the Law
Memberships
Member, Commission on Arbitration and ADR, ICC Netherlands
Member, Commission on Arbitration and ADR, International Chamber of Commerce
Member, Committee on the Future of Construction, World Economic Forum
Member, Scientific Counsel, European Association of Judges for Mediation
Member, Dutch Lawyers Association
Certified Member, MFN (Dutch mediation federation)
Arbitrator and Mediator on Netherlands Arbitration Institute roster
Speaking Engagements
Dr. Kamminga is frequently invited to speak on panels and give presentations related to ADR and mediation of complex commercial and civil litigation and has published extensively.
Speaker, "Lessons from US mediations for Europe," General Counsel Netherlands, April 13, 2023
Speaker "US mediation approaches in D&O disputes," Fire side chat, D&O meeting Kennedy van der Laan, March 31, 2023
Dispute Boards: Lessons from Experiences in Europe and Latin America AACE: Dispute Board LATAM Awareness Program 2023, February 2023
Moderator "Fintech Litigation and ADR – Insights for Today and Tomorrow," iLaw2023 The ILS Global Forum on International Law, Miami, February 2023
Moderator "The Dawn of Cyborg Resolution? Changing Roles for Arbitrator, Administrator and AI in Blockchain, Crypto and Cyberverse Disputes" New York Arbitration Week 2022, November 15, 2022
"Pitfalls and opportunities of relational contracts", Nyenrode University, Breukelen, Netherlands, October 2022
Panelist, "The business case for appropriate dispute resolution", Confronting Chaos, Embracing Conflict Series, September 22, 2021
Speaker, "Mediation in complex (cross-border) insurance matters," Clyde and Co (Germany), Month in Review webinar series, May 27, 2021
Guest lecturer, "International multi-party business mediation," Justice capacity building project Ethiopia, VU Amsterdam February 21, 2021
Panelist, "Use of mediation in corporate matters in times of COVID," ICC Netherlands webinar, July 30, 2020
Keynote Speaker; "The Art and Science of Optimizing Contractual Relationships"; National Contract Management Conference; Utrecht, Netherlands; 2020
Keynote Speaker, "Myths About Conflicts and Construction Contracts," Conference on Procurement in Practice, 2019
Speaker, "Dispute Boards: Worth a Try?," 7th International Mediation Conference, ICC Paris, 2017
Speaker; "Impact of Conflicts on Lawyer-Client Relationships"; XXVI World Congress of Philosophy of Law and Social Philosophy; Belo Horizonte, Brazil; 2013
Speaker; "Executive Negotiation Workshop"; Technical University of Malaysia; Kuala Lumpur, Malaysia; 2013
Speaker, "Changes in Legal Infrastructure: Empirical Analysis of Collaborative Lawyering Around the World," ABA Dispute Resolution Section, Spring Conference, Chicago, 2013
Publications
"How arbitration may need to adapt to blockchain disputes", Law 360, January 2023

"Collaborative construction contracts for large and international projects," Construction Solutions, JAMS, Winter 2023

"Financial Cos. Should Expect More Cyber-Related Litigation" Law 360, June 2022

"Settling SPAC Litigation: International SPAC Boom, SPAC Litigation and Best Practices for Resolving These Matters," The American Lawyer, June 2022

"Seven reasons why you should mediate cross-border disputes now," New York Law Journal, June 2021
"Ex-Parte Cross-Border Mediations: A Pragmatic Approach to Dispute Resolution," Tijdschrift Conflicthantering, 4, pp. 11-17 (In Dutch), 2019
Kamminga, Y.P., "Why Incorporating Non-Legal Drivers of contractual Behavior in Contracts May Lead to Better Results in Complex Defense Systems Procurement," Journal of Public Procurement, 15 (2), p. 208, 2015
Schonewille, M. & Kamminga, Y. P.. "What Can We Learn From Cross-Border Business Mediations?" Tijdschrift Conflicthantering, 6, pp. 26-31 (in Dutch), 2015
"Using Mediation in Multi-Party Disputes, or Why Complex Matters Still Go to Litigation." In Cecchi Dimeglio P. and Brenneur, B. (Eds.), Interdisciplinary Handbook of Dispute Resolution, Brussels, 2015
"The Netherlands as Securities Mediation Hub?" Weinstein Fellows Newsletter, 2012
"Governance Structures for Contractual Relations," Tilburg University Press, 2008 (Ph.D.)
"Optimizing Contracting for Alliances in Infrastructure Projects," International Construction Law Review, 2006
Co-Author, Dutch Dispute Resolution Board Procedures and Regulations, 2004
Background and Education
Professional Background
Founder and neutral, Kamminga Mediation, 2005 - 2023
Mediator/arbitrator, Weinstein Mediation Team, 2011 - 2020
Affiliated Fellow, Program on Negotiation, Harvard Law School, 2011 - 2023
Associate Professor of Law, VU Amsterdam University (part-time), 2010 - 2023
Assistant Professor, Tilburg University, 2000-2009
Legal Advisor, De Brauw Blackstone Westbroek (a leading Dutch law firm), 2000 - 2002
In-house Counsel, Actinium telecom consultancy, 1999 - 2001
Education
Ph.D., Tilburg University (NL) and KU Leuven University (BE)
M.Sc., Conflict Management, Maastricht University (NL)
LL.M., Columbia University School of Law, New York (USA)
German Law (Minor), Goettingen University (DE)
LL.M., Groningen University (NL)
LL.B., Groningen University (NL)
Languages
English, Dutch, French, German
"Peter is very sharp at understanding the different parties and knows when to push to move the case to its resolution."

-In-House Counsel at Fortune Top 10 Company
"Peter has a charming, friendly and perceptive manner which prompts the parties towards resolution with tactful persistence."

-Trustee in a Cross-Border Bankruptcy Dispute
"…calm and exhibiting much patience in dealing with people, Peter remains focused on understanding the dispute and its nuances, while at the same time 'driving' the process and determined to get a settlement done."

-Attorney, AmLaw Top 20 Defense Firm
"One of those rare mediators that listens and that considers both the legal and insurance business aspects."

-US Insurance Counsel
"Respected by his academic peers as well as international attorneys and practitioners."

-Attorney, Top 20 Plaintiff Firm
Home Office
HOME OFFICE
New York, New York
NY Times Building, 620 8th Ave, 34th Floor, New York, NY 10018
View Location Details
Available to Travel
Disclaimer
This page is for general information purposes. JAMS makes no representations or warranties regarding its accuracy or completeness. Interested persons should conduct their own research regarding information on this website before deciding to use JAMS, including investigation and research of JAMS neutrals. See More
Search our global directory of mediators, arbitrators and ADR professionals.
FIND A NEUTRAL