Hon. Edward P. Leibensperger (Ret.)
Contact Case Manager
Angus Blake
201 Washington Street Suite 3300
Boston, MA 02108
T: 617-228-9138
F: 617-228-0222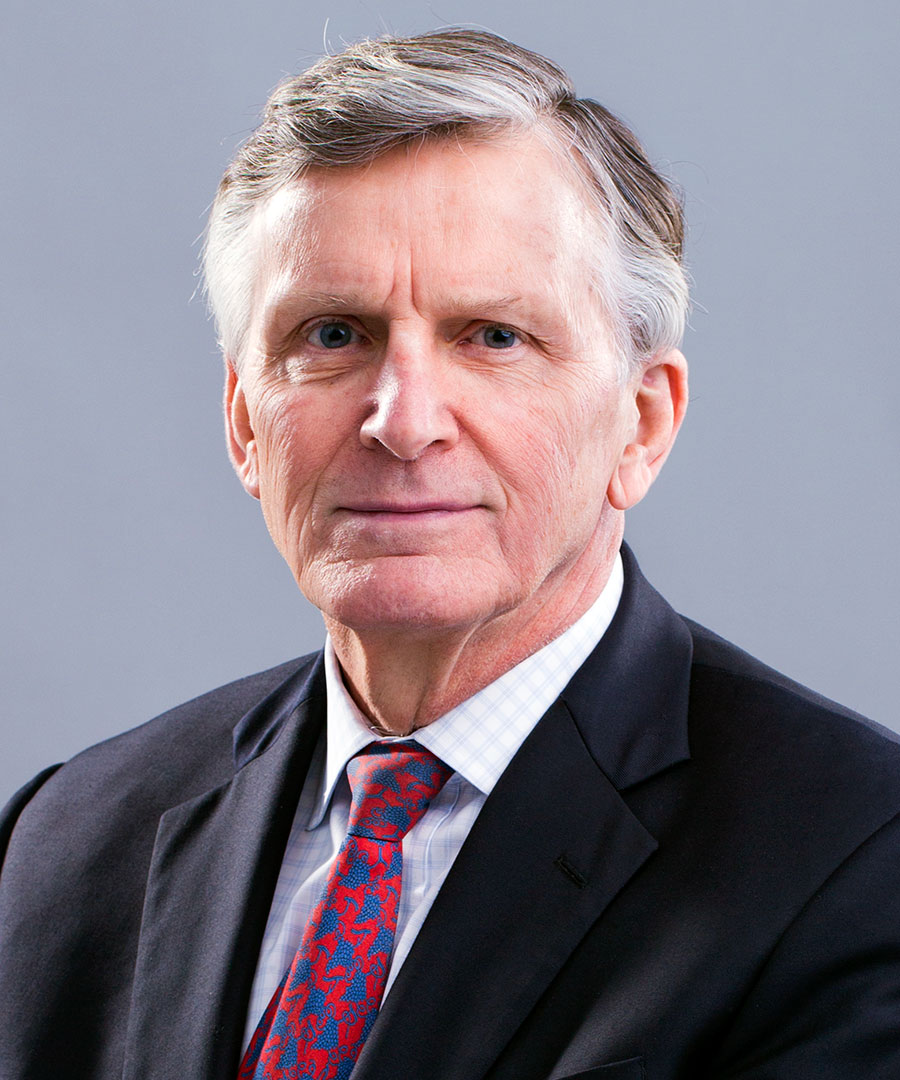 Hon. Edward P. Leibensperger (Ret.)
Contact Information
Angus Blake
201 Washington Street Suite 3300
Boston, MA 02108
T: 617-228-9138
F: 617-228-0222
General Biography
Practice Areas
Accounting/Finance
Business & Commercial
Class Action & Mass Tort
Employment Law
Estates/Probate/Trusts
Insurance
Intellectual Property
Professional Liability
Real Estate & Real Property
Honors, Memberships, and Professional Activities
Background and Education
Hon. Edward (Ned) P. Leibensperger (Ret.) joins JAMS following eight years on the bench of the Massachusetts Superior Court. During his tenure, Judge Leibensperger was selected to preside in the highly regarded Business Litigation Session. Prior to being appointed to the court, he had a distinguished career as a trial lawyer and was recognized by Best Lawyers in America for "Bet the Company" litigation. He is a member of the American College of Trial Lawyers.
Judge Leibensperger earned a reputation for being fair and decisive. On the bench, he demonstrated an extraordinary ability to grasp issues quickly and fashion fair resolutions. As a retired judge and a seasoned trial lawyer with decades of experience, he knows not only the law, but also the dynamics of representing a client and the obstacles to settlement.
Prior to being appointed to the court, Judge Leibensperger practiced for 30 years at Nutter McClennen & Fish, and for seven years as a partner at McDermott Will & Emery. He represented clients in high-stakes litigation, including corporate disputes, shareholders suits, professional liability claims, class actions and insurance coverage cases. He earned a national reputation as an expert in trying difficult and high-profile cases involving financial and fiduciary issues and complex accounting questions.
ADR Experience and Qualifications
Served as chair of panel of three arbitrators to resolve complex accounting issues following a $360 million sale of a business
Mediated a dispute arising from a billion dollar acquisition concerning allocation of tax liabilities and refunds
Mediated a resolution of claim by Australian distributor of wrongful termination of exclusive distribution agreement
Obtained settlement in mediation of dispute between purchaser and seller of enterprise management software and services
Resolved insurance coverage disputes under Directors and Officers policy
Successfully mediated intra-family dispute regarding trusts holding millions of dollars and multiple parcels of real estate
Mediated dispute between former CEO and his company involving Wage Act claims and counterclaims for breach of fiduciary duty
Mediated claim by a public body alleging accounting malpractice against two accounting firms
Mediated a solution to dispute between retailer of consumer goods and its supplier for responsibility for defective product, including consequential damages
Mediated claim of freeze out of 30% shareholder in a company doing business in China, and counterclaims by company for breach of fiduciary duty
Participated in numerous arbitrations, both as an arbitrator and an advocate
Participated as a litigant in scores of mediations, observing mediation styles and methods
Settled cases in a wide variety of matters, including business/commercial, class actions, employment, family business, insurance and professional liability

Available to resolve disputes remotely through a number of videoconferencing options
Representative Matters
Accounting/Finance

Represented two of the then Big Five accounting firms and several regional firms in defense of malpractice claims
Represented two of the then Big Five accounting firms in response to SEC investigations

Business & Commercial

Presided over three-week, jury-waived trial concerning deceptive marketing practices of a major cigarette manufacturer
Decided breach of fiduciary duty claims arising from a proxy contest for board seats of a publicly traded company
Resolved claims of shareholders challenging the EMC/Dell Computer merger
Adjudicated a claim under Uniform Commercial Code after premature termination of a multi-year supply contract
Resolved numerous close corporation and family business disputes
Represented major law firms in malpractice litigation
Represented minority shareholders in fraud and breach of fiduciary duty cases against majority shareholders, recovering millions of dollars
Conducted jury trial and issued post-trial rulings in a breach of contract claim by a broker dealer
Litigated a two-week arbitration case involving claims of partnership breach and valuation of partnership interests in a multi-million-dollar oil company

Class Action & Mass Tort

Defended officers and directors in SEC investigations and class action securities cases
Adjudicated numerous motions for class certification

Employment Law

Resolved numerous Wage Act claims by executives and others, including class claims
Litigated and presided over employment discrimination claims

Insurance

Tried a three-week case involving an insurance coverage dispute arising from a commercial construction contract
Represented policyholder in a claim for directors and officers liability coverage, obtaining multi-million-dollar recovery

Intellectual Property

In a trade secret dispute involving bet-the-company biotech discoveries, decided multiple issues concerning the scope of claims, counterclaims and discovery disputes

Professional Liability

Adjudicated numerous legal malpractice cases, including anti-SLAPP motions
Represented major law firms in legal malpractice cases
Honors, Memberships, and Professional Activities
Completed Virtual ADR training conducted by the JAMS Institute, the training arm of JAMS.


Boston Bar Association

President, 2005–2006
Chair, Section of Litigation
Special Committee on Model Code of Professional Responsibility

Treasurer, Boston Bar Foundation, 2008–2010
American Bar Association, Section of Litigation

Division Director, 1998–2000
Member of Governing Council, 1994–1997
Member, Federal Practice Task Force
Co-Chair, Trial Attorney Advisory Board
Co-Chair, Committee on Corporate Counsel

Fellow, American College of Trial Lawyers, 1995
Special Recognition, 2010 Supreme Judicial Court's Adams Pro Bono Publico Award
Special Assistant Attorney General, 1991–1992
Background and Education
Justice, Massachusetts Superior Court, 2010–2018
Partner, McDermott Will & Emery, 2004–2010
Partner, Nutter McClennen & Fish, 1974–2004
J.D., summa cum laude, Ohio State University Moritz College of Law, 1974
B.A., magna cum laude, Muskingum University, 1970
Certified Public Accountant, Ohio (inactive license)
"If the concept of integrity could be personified, we would be looking at the face of Judge Ned Leibensperger. Both in his many years as a leader of the Bar, and as an esteemed member of the judiciary, Judge Leibensperger was respected by all."
- Top Boston Lawyer
"Judge Leibensperger was a lawyer's judge. As a seasoned trial lawyer with decades of experience, he knows not only the law but the dynamics of representing a client and the obstacles to settlement. He has the intelligence, skills and judgment of a trial lawyer that truly make a great mediator. At the same time, he has the experience of being a judge and the ability to explain to the parties how a case will be regarded by a judge and jury, skills also that make a great mediator. Finally, he does not have black robe disease, so he will be a pleasure to work with."
- Prominent Boston Bar Attorney
"Judge L. is uniquely qualified to mediate complex commercial cases as he has litigated them at a very high level on both sides and sat in the Business Litigation Session and decided such cases. He very intelligent, fair and creative. On the bench, he demonstrated an extraordinary ability to grasp issues quickly and fashion fair resolutions. He has a judicial temperament that commands respect such that clients will listen carefully to his insights and recommendations. He is an excellent alternative for resolution of complex commercial cases."
- Founding Partner
"Judge Leibensperger's civil practice skills are the best, his demeanor is excellent, his best trait is he listens, he ruled promptly, and he was decisive……….all the qualities you want in a judge or mediator or arbitrator."
- Fellow, American College of Trial Lawyers
"Judge Leibensperger will be a highly effective mediator given his combination of extensive experience, intelligence, and judicial demeanor. I look forward to having him as a mediator, and will enthusiastically recommend him to others."
- Nationally Recognized Employment Lawyer
"The judge and I were arbitrators on a three person panel for a large commercial arbitration. The case was ably tried by first rate lawyers, lasted for several weeks and presented complex legal issues. Judge Leibensperger's judicial demeanor, evidentiary rulings, reasoning and, ultimately, his opinion were superb. He also was a pleasure to work with throughout this lengthy proceeding."
- National Trial Lawyer and Arbitrator
"When he was in private practice, Ned handled a complex arbitration proceeding for our company. He was the consummate professional demonstrating a combination of high intellect and appropriate demeanor in effectively advocating on our behalf. I have no doubt that he would make an excellent neutral as a member of the JAMS network."
- Senior Vice President & General Counsel
"I highly recommend Judge Leibensperger as a neutral in any complex civil case. As a judge, he has been adept at both helping to resolve cases and, when needed, deciding them in a careful and thoughtful manner. He has the intellect, patience and perseverance, as well as a deep understanding of complex business issues to assist in resolving these cases, now as a neutral. He is a wonderful addition to the JAMs stable of excellent neutrals."
- Leading Trial Attorney
"Judge Leibensperger was well-prepared, attuned to the dynamics of the room, appropriately skeptical, and got a good result."
"Judge Leibensperger is an excellent mediator."
Home Office
HOME OFFICE
Boston, Massachusetts
One Boston Place, 201 Washington Street, Suite 3300, Boston, MA 02108
View Location Details
Available to Travel
Disclaimer
This page is for general information purposes. JAMS makes no representations or warranties regarding its accuracy or completeness. Interested persons should conduct their own research regarding information on this website before deciding to use JAMS, including investigation and research of JAMS neutrals. See More
Search our global directory of mediators, arbitrators and ADR professionals.
FIND A NEUTRAL