Hon. Russell Lloyd (Ret.)
Contact Case Manager
Julia Ford
609 Main Street Suite 3930
Houston, TX 77002
T: 713-470-6769
F: 281-710-7599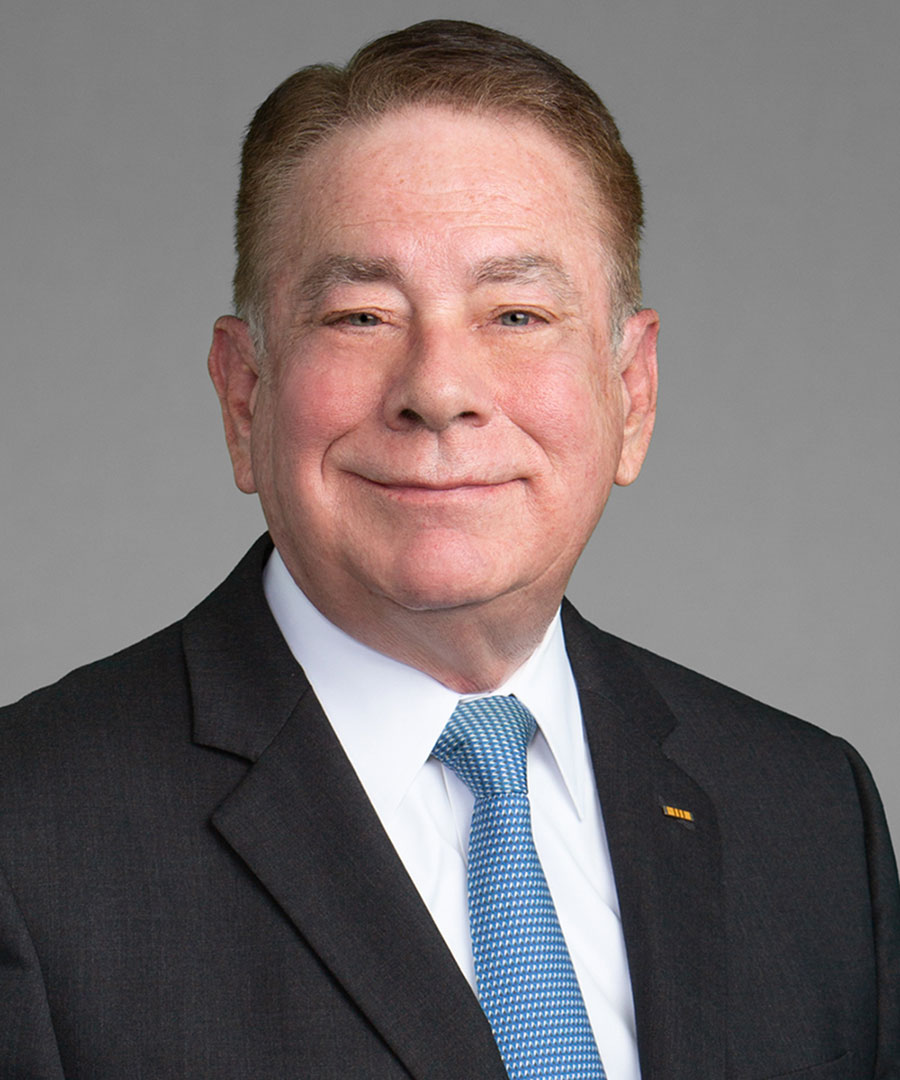 Hon. Russell Lloyd (Ret.)
Contact Information
Julia Ford
609 Main Street Suite 3930
Houston, TX 77002
T: 713-470-6769
F: 281-710-7599
General Biography
Practice Areas
Appellate
Business & Commercial
Class Action & Mass Tort
Construction
Employment Law
Energy & Utilities
Financial Markets
Insurance
Intellectual Property
Maritime & Admiralty Law
Personal Injury/Torts
Honors, Memberships, and Professional Activities
Background and Education
Hon. Russell Lloyd (Ret.) recently joined JAMS after serving on the Texas First Court of Appeals. Judge Lloyd brings to JAMS more than 40 years of legal experience, including 16 years on the bench in both trial and appellate courts. He has served as a prosecutor, civil defense lawyer, plaintiff's attorney, civil district judge, appellate justice and certified mediator. The breadth of his career provides him with a unique perspective and the ability to understand both sides of any dispute, a valuable trait in a neutral.
Judge Lloyd's service on the First Court of Appeals was preceded by 10 years as judge of the 334th District Court in Harris County, where he presided over more than 300 jury trials. He received national recognition for his work as chief judge for some of the country's largest mass action dockets. He has adjudicated thousands of cases and authored more than 600 opinions.
Judge Lloyd has decades of civil trial and appellate experience with prestigious Houston law firms and has represented both plaintiffs and defendants, concentrating on admiralty, class actions, employment, products liability, personal injury, medical malpractice and commercial and contract disputes in state and federal courts across the United States.
Judge Lloyd's 20-year military career makes him no stranger to making decisions under pressure. He is a former paratrooper, Vietnam veteran, JAG officer, and military judge. He also served as a prosecutor in the Harris County District Attorney's Office, where he tried more than 200 jury trials.
Judge Lloyd attended The University of Texas School of Law and served as a briefing attorney at the Texas Court of Criminal Appeals. He received a B.A. in history from the University of Houston.
ADR Experience and Qualifications
Judge Lloyd is a certified mediator, having sat as a neutral on cases involving eminent domain, commercial disputes, contracts and personal injury. He has extensive experience in the resolution of complex commercial and contractual disputes across various practices and industries, including the following:
Appellate
Business and Commercial
Class Action and Mass Torts
Construction
Employment Law
Energy and Utilities
Financial Markets
Insurance Coverage
Intellectual Property
Maritime and Admiralty Law
Personal Injury/Torts 
Representative Matters
Appellate

As a justice on the Texas First Court of Appeals for six years, Judge Lloyd authored hundreds of signed opinions on a broad range of civil, criminal, family and probate matters.
While practicing as both a civil defense and plaintiff's attorney, Judge Lloyd handled appeals and argued cases in state and federal appellate courts across the county.
Judge Lloyd served as an assistant district attorney in both the Trial and Appellate divisions and represented the state of Texas in all levels of Texas appellate courts.

Business & Commercial

As a district judge and appellate justice sitting in the fourth-largest metropolitan area in the nation, Judge Lloyd presided over and written judicial opinions in thousands of commercial and contract disputes.

As a defense attorney, Judge Lloyd wrote hundreds of coverage opinions evaluating insurance coverage disputes in the United States, offshore and in foreign countries.
As a business litigator, Judge Lloyd represented companies in multi-million-dollar disputes including litigation on behalf of oil exploration companies against Japanese shipyards for claims of faulty construction and delivery of an offshore oil platform built in Japan and towed to Singapore.
Judge Lloyd has tried and mediated a variety of complex business cases and numerous property disputes, including those involving eminent domain and trespass to try title.

Class Action & Mass Tort

Presiding Judge, Harris County Polybutylene Pipe Docket: This was a nationwide grouping of cases involving claims of damage by use of polybutylene pipe in new home construction. After Judge Lloyd presided over trial of the first case involving 1,500 plaintiffs and eight defendants spread over three states, the docket settled. His administration of the nationwide settlement of over 69,000 individual cases received national recognition.
Presiding Judge, Harris County Breast Implant Docket: Judge Lloyd supervised the largest docket of its kind in the nation, consisting of thousands of women claiming injury from silicone breast implants. He also presided over trials drawn from the docket.
As an attorney, Judge Lloyd represented the hourly workers of the nation's largest retail store in nationwide litigation alleging wage and hour abuses. He represented roughly 350,000 people in statewide class actions brought in states across the South from Texas to Florida. During eight years of litigation, Judge Lloyd successfully prosecuted these cases in state and federal courts, whereupon a nationwide settlement was reached.
Represented 250,000 business customers of Texas' largest phone network in a statewide class action alleging overcharges in violation of state and federal tariffs and regulations
Handled class action on behalf of stock investors against major brokerage houses for alleged manipulation of stock market prices

Energy & Utilities

Defended oil field equipment manufacturers from claims of defective design of oil field equipment causing loss of production
Represented excess carriers in numerous insurance claims resulting from accidents in North Sea oil fields for damage and wrongful death caused by defective equipment or helicopter/crew boat accidents
Presided over trial of claims brought by gas well owners that gas pipeline/refiner failed to take or pay for gas in amounts or at prices set by contract and regulations of the Texas Railroad Commission
Presided over and resolved by court order a dispute between major oil company and refinery over contract interpretation setting price of oil moved through pipeline from oil field in North Texas to refinery on Gulf Coast
Authored opinion in Hlavinka v. HSC Pipeline applying reasonable probability test for common carrier status to all pipelines in Texas seeking to use eminent domain to obtain pipeline right of way
Authored opinion holding that change in market conditions resulting in inability to obtain financing did not constitute force majeure in gas purchase agreement
As a mediator, resolved numerous disputes between property owners and government entities over value of land taken by eminent domain

Intellectual Property

As an appellate justice, authored opinions on the issue of trade secrets under state law
As a district judge, presided over intellectual property cases, including motion practice and a jury trial exploring the intersection of trade secrets and patent law in a case involving new technology for coating tubular goods for use in challenging environments
Represented a copyright owner in federal court at trial and appellate levels for alleged infringement of computer program copyright
Represented environmental cleanup company for alleged theft of trade secrets involving new technology for remediation of contaminated soil

Maritime & Admiralty Law

As defense attorney, handled numerous cases involving Carriage of Goods by Sea Act, Jones Act, Longshore and Harbor Workers' Compensation Act and damage to vessels
Presided over admiralty cases as a district judge; his written opinion in Ingram Barge Co. v. Trifinery, Inc. holding that state law does not apply to negotiations for a maritime charter party agreement was selected for publication in the American Maritime Cases reporter
Authored opinion in Partin v. Superior Energy Services, resolving dispute over when a ship being modified and undergoing sea trials becomes a "vessel" for Jones Act purposes

Personal Injury/Torts

As an appellate justice, wrote dozens of opinions on medical malpractice disputes, evaluating all issues that arise in this complex area of litigation
As a trial judge, presided over numerous medical malpractice cases in both jury trials and motion practice involving a range of malpractice claims, from misdiagnosis of medical conditions to surgical errors
As an attorney, filed and handled to settlement or jury verdict numerous medical malpractice cases, including misdiagnosis resulting in death, injury caused by surgical error, injury as result of foreign object left in body after surgery and loss of vision caused by misdiagnosis and negligent change in eye drop formulation, among others

Represented clients in claims of wrongful death or serious bodily injury related to truck and automobile accidents, refinery explosions and chemical exposure, among other claims.

 Defended apartment owners from claims of injury caused by criminal acts resulting from inadequate security

Product Liability

Organized and supervised trial teams in mass action pharmaceutical litigation; served as lead trial attorney
Defended welding rod manufacturers against claims of injury caused by asbestos in welding rod coating
Represented tractor manufacturer against claims of personal injury caused by defective design
Defended mobile oil rig manufacturer from claims of negligent design in wrongful death cases caused by collapse or overturn of mobile drilling rigs
Represented client in case involving claims of wrongful death from airplane crash against aircraft design company
Represented client in case involving claims of wrongful death from defective air bag design against car manufacturer

Represented client in wrongful death caused by alleged defective car seat, resulting in multi-million-dollar settlement after working through two separate bankruptcies by car seat manufacturers
Served as counsel on a serious environmental contamination case in state and federal courts alleging both fraud under state law and violation of federal environmental law
Honors, Memberships, and Professional Activities
Professional Activities
Life Fellow, Texas Bar Foundation Judicial Liaison Committee, Texas State Bar
Chairman, Mass Tort Committee, Harris County Judiciary                                               
Member, Mass Tort Committee, National Association of State Courts
Board of Directors, Houston Trial Lawyers Association
Board of Directors, Houston Humane Society
Nominated to be United States District Judge by President George H. W. Bush
Member and Contributing Author, Texas Supreme Court Historical Society
Mediator, Attorney-Mediators Institute, 1997
Speaker on Anti-SLAPP Litigation, 2020 Houston Bar Association Bench Bar Conference
Background and Education
Justice, First Court of Appeals, Houston, 2015–2021
Trial Lawyer; O'Quinn, Laminack & Pirtle; 1998–2014
District Judge, 334th Texas Civil District Court, 1988–1998
Litigation Attorney; Brown, Sims, Wise & White; 1984–1988
Assistant District Attorney, Harris County District Attorney's Office, 1980–1984
Briefing Attorney, Texas Court of Criminal Appeals, 1978–1979
Officer, Judge Advocate General's Corps, Texas Army National Guard, 1982–1998
Staff Member; Public Citizen Litigation Group; Washington, D.C.; 1974
United States Air Force, 1969–1973
J.D., The University of Texas School of Law, 1978

Executive Editor, American Journal of Criminal Law

B.A., University of Houston, 1969
Home Office
HOME OFFICE
Available to Travel
Disclaimer
This page is for general information purposes. JAMS makes no representations or warranties regarding its accuracy or completeness. Interested persons should conduct their own research regarding information on this website before deciding to use JAMS, including investigation and research of JAMS neutrals. See More
Search our global directory of mediators, arbitrators and ADR professionals.
FIND A NEUTRAL