Irvine, CA - The non-profit JAMS Foundation announced today that it has selected five fellows for its newly established Weinstein International Fellowship program. The program, named to honor the contributions of JAMS mediator Hon. Daniel Weinstein (Ret.), provides opportunities for individuals from outside of the United States to visit the U.S. to learn more about dispute resolution processes and to pursue a project of their own design that serves to advance the resolution of disputes in their home countries.

"We are pleased with the impressive backgrounds of our first group of Fellows, and excited by their enormous potential to spread the use of effective dispute resolution in their native countries upon completion of their Fellowship," said Judge Weinstein, a retired San Francisco Superior Court judge and a member of the JAMS Foundation Board of Directors. "Each Fellow possesses unique ADR experience and ambitions, and each enters the program from a country where there is a strong need to establish and enhance the use of dispute resolution methods tailored to the particular legal and social culture of that country."

"These JAMS Fellowships will play a leading role in advancing the effective use of ADR worldwide," said Chris Poole, JAMS Foundation President and JAMS President and CEO. "We are very thankful to Judge Weinstein for initiating a program that will have such a positive impact."

Each visiting JAMS Fellow will be provided work space at the nearest JAMS Resolution Center; a JAMS mentor to serve as a primary contact and as a liaison to the ADR community; opportunities to shadow JAMS Panelists conducting mediations and arbitrations; access to JAMS educational and training programs; and invitations to attend social and professional events related to ADR.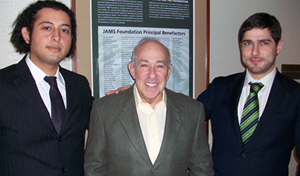 Hon. Daniel Weinstein (Ret.) (center) in JAMS New York Resolution Center with
two members of the inaugural class of the Weinstein International Fellowship
program Ahmed El Feqy of Egypt (left) and Giulio Zanolla of Italy (right).