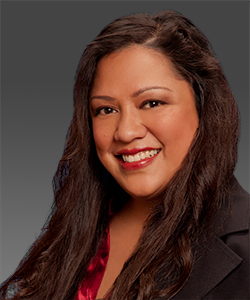 Laura Martinez
Senior Vice President & Chief Human Resources Officer
JAMS
Our dear friend and colleague Laura Martinez passed away on Wednesday, February 2, 2022. As a JAMS associate since 1989 and our Senior Vice President & Chief Human Resources Officer, Laura was a constant and vibrant presence at JAMS. For the past three decades, many have sought out the wise counsel and encouragement Laura offered along with a beautiful smile and a deep, infectious laugh. It's an immeasurable loss.
"Answering the phones" is how Laura described the first job she held at JAMS the year after she graduated from Pitzer College with a Bachelor of Arts Degree in Organizational Behavior Studies, and an emphasis on HR Management. She quickly moved up the ranks to become Director and then Vice President of Human Resources as part of the Senior Management Team. In her most recent role as SVP & CHRO, she championed HR's role in the organization's strategy. Laura was certified as a Professional of Human Resources through Chapman University in 1995 and she was a member of the Society of Human Resources Management (SHRM) and Professionals in Human Resources Association (PIHRA).
As one of the most successful role models in her field, Laura was recently interviewed by Hispanic Executive magazine about the challenges her department faced at the beginning of the pandemic. Laura's HR mantra was "all things people" and she was instrumental in transitioning and keeping associates connected remotely, organizing virtual town hall meetings and offering enhanced mental health and wellness resources. Laura was also proud of the integral role she played in promoting diversity, equity and inclusivity in JAMS' hiring practices.
Laura was remarkable in that she made herself available to associates at all levels of the organization. She was known for her amazing communication skills in large group settings and for her powerful one-on-one conversations. Many JAMS associates attribute Laura's leadership and mentorship to their success and say that Laura had a significant impact on their personal and professional development.
Outside of work, Laura was heavily involved in helping her community. She was a prominent figure at the Lighthouse Church of Christ in West Covina, where she helped lead ministries and Bible studies, in addition to administrative efforts. She also enjoyed sharing her talent of beautiful singing at church services. When she was not partaking in community or church events, she was spending her time with her beloved family, The Martinez's, and close friends. She also enjoyed corresponding with the children she sponsored for many years, and loved spending long weekends in the desert and Camarillo. It was also very special to Laura to go to the movies after church with her twin sister, Laurice, and their nephews and nieces. Laura is survived by her mother, Leilani Martinez, sister, Laurice Thomas, and brothers, Luis Jack and Laurence Martinez, as well as hundreds of JAMS associates and neutrals who will remember her fondly for years to come.
In honor of Laura's legacy, her family invites support of two organizations that Laura held near and dear to her heart: HOPE Worldwide and Lighthouse ICOC.