Contact Case Manager
Deb Lewis
333 So. Seventh St. Suite 2550
Minneapolis, MN 55402
T: 612-332-8225
F: 612-332-9887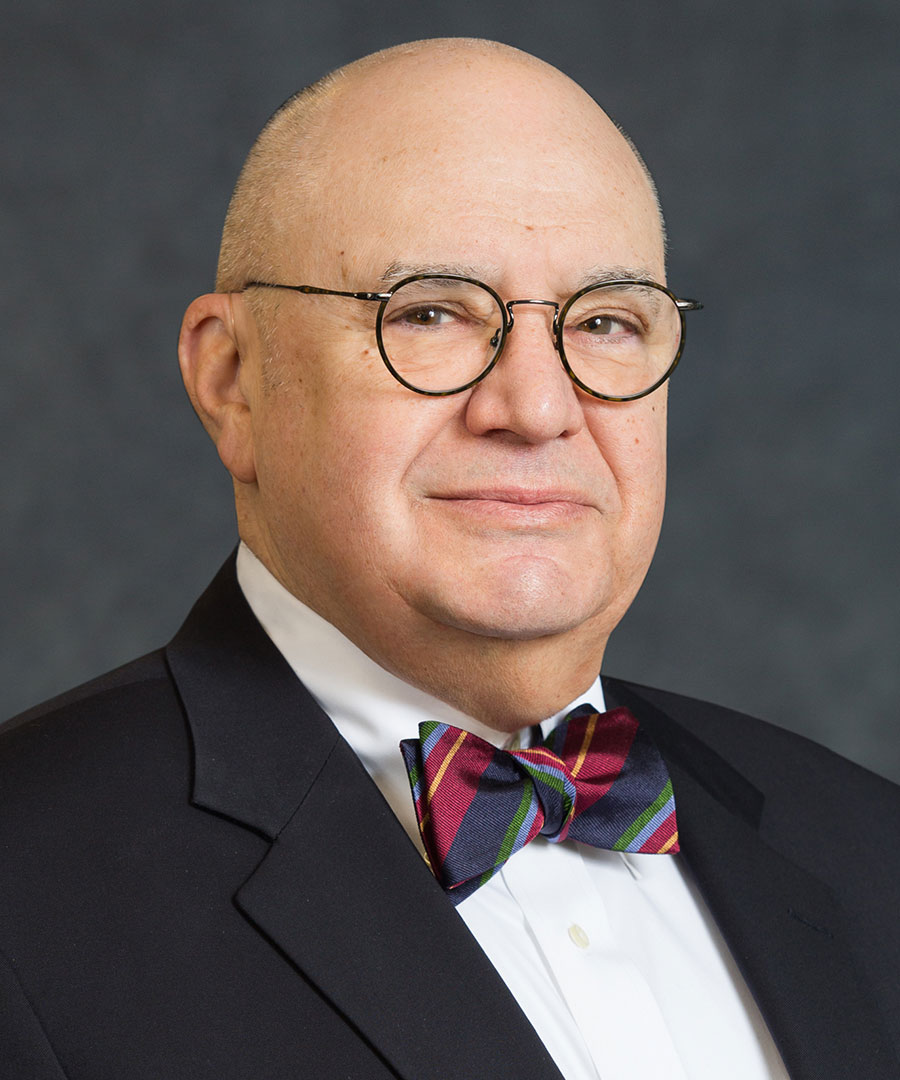 Hon. James M. Rosenbaum (Ret.)
Contact Information
Deb Lewis
333 So. Seventh St. Suite 2550
Minneapolis, MN 55402
T: 612-332-8225
F: 612-332-9887
General Biography
Practice Areas
American Indian Tribal Law
Bankruptcy
Business/Commercial
Civil Rights
Class Action/Mass Tort
Employment
Environmental
Federal Judge
Insurance
Intellectual Property
Pharmaceuticals/Mass Tort
Securities
Special Master Discovery Referee
Honors, Memberships, and Professional Activities
Background and Education
Hon. James M. Rosenbaum (Ret.) served as a United States District Judge for the District of Minnesota for 25 years, having previously served as Minnesota's United States Attorney.

During his service, he was the District's Chief Judge, and was elected by the Judges of the Eighth Circuit to serve as their representative on the Judicial Conference of the United States. He was appointed to the Conference's Executive Committee by Chief Justice Rehnquist.

While on the Bench, he presided over several Multi-District Litigation (MDL) matters, including cases involving Anti-Trust, and Pharmaceutical and Medical Device issues. He was recognized for his work on Intellectual Property and American Indian Tribal Law issues.

Judge Rosenbaum has taught seminars for judges and lawyers in 20 countries, worldwide, on subjects ranging from International Patents and Intellectual Property to Judicial Ethics. He has published articles on Neutral Evaluations, Law/Privacy and Computers, and Mediation practice.

While maintaining an active JAMS practice of Arbitration, Mediation, Early Neutral Evaluation, and Special Master appointments, he continues his writing and teaching.
ADR Experience and Qualifications
Presided over cases including:
o Arbitration, domestic and international
o Bankruptcy
o Business and commercial law
o Civil rights
o Class actions and Multi-District Litigations (MDL)
o Employment
o Environmental law
o Insurance coverage
o Intellectual property, patent, and trade secrets
o International terrorism
o Medical devices and pharmaceuticals
o Mass tort/product liability
o Securities
o White collar crime
Representative Matters
American Indian Tribal Law

Minnesota is a state with Federal Indian Reservations. As such, Judge Rosenbaum has extensive experience in matters involving sovereignty, land patent, and jurisdictional issues, as well as tribal compact/state tax questions, in "Indian Country"

Civil Rights

Presided over many cases involving claims against federal agencies, states, and municipalities including Hollman Consent Decree; Beaulieu v. Ludeman, Civ. No. 06-4045 (JMR); Holly v. Konieska, Civ. No. 04-1489; Schaub v. County of Olmsted, 656 F. Supp. 2d 990 (D. Minn. 2009)

Class Action/Mass Tort

In re Medtronic, Inc., Implantable Defibrillators Products Liability Litigation, MDL No. 05-1726, presided over a 2005 action involving a group of plaintiffs implanted with faulty Medtronic defibrillators; most cases settled and the MDL was dissolved in December 2008
In re Mirapex Product Liability Litigation, MDL No. 07-1836, presided over bellwether trials in the Mirapex cases involving patients prescribed the drug Mirapex who developed pathological gambling and other compulsive behaviors as a side effect; majority of cases settled

Employment

Jenson v. Eveleth Mines, certified the first hostile work environment dispute in the nation, on behalf of female miners in the Iron Range; this landmark case was the basis for the book "Class Action" and later the major motion picture "North Country" starring Oscar Award winner Charlize Theron
Holden v. Burlington Northern, Inc., 665 F. Supp. 1398 (D. Minn. 1987), presided over a long-running sexual harassment class action by female employees of the Burlington Northern railroad; approved payment of $2.5 million to the class

Environmental

Atlantic Research Corp. v. United States, 459 F.3d 827 (8th Cir. 2006), affd., United States v. Atlantic Research Corp., 551 U.S. 128 (2007), sat by designation on the Eighth Circuit panel which heard the claim of a government contractor which sought to share with the United States the burden of voluntarily cleaning up its property. The Court found the contractor was able to pursue a claim under CERCLA § 107, a decision later affirmed by the Supreme Court
As a trial judge, Judge Rosenbaum oversaw many environmental cases, including a decade-long environmental litigation claim between the buyer and seller of a contaminated industrial property, Kennedy Building Associates v. CBS Corp.

Insurance

Suits against federal crop as well as private insurers are a regular part of a Federal Judge's caseload in Minnesota. The Red River of the North flows between Minnesota and North Dakota. The River lies in a notorious flood plain, and "seriously" floods on frequently. In doing so, it floods residential, agricultural, and business properties. Suits against private and federal insurers are a regular result of this flooding
In the early 2000's the Twin Cities experienced a "500 year" rain. Rainfall measured between 71/2 and 8 inches in a matter of hours. This event generated a number of flood and rain claims against both private and government insurers

Intellectual Property

Patent: presided over cases involving various medical devices including:

Medtronic, Inc. v. Advanced Cardiovascular Systems, Inc., 182 F. Supp. 2d 810 (D.Minn. 2000) involving coronary stents
Arthrex Inc. v. Depuy Mitek, Inc. (Middle District of Florida, 2010) plaintiff sought, and the Judge granted, summary judgment of infringement of a patent relating to a surgical method for loading tendons into the knee

Trademark Infringement

American Dairy Queen Corp. v. New Line Productions, Inc. 35 F. Supp. 2d 727 (D. Minn. 1998), granted a preliminary injunction to the owner of the "Dairy Queen" trademark against a film studio which had planned to release a movie entitled "Dairy Queens," satirizing contestants in a Minnesota beauty pageant. The movie was subsequently released under the title "Drop Dead Gorgeous"

Securities

In re UnitedHealth Group Incorporated PSLRA Litigation, presided over simultaneous class action and shareholder derivative suits arising out of stock options backdating. The Judge ultimately approved settlements in both cases. As part of the PSLRA settlement, UnitedHealth paid $895 million, and its ex-CEO paid $30 million and forfeited 3.6 million shares stock options

Special Master Discovery Referee

Lectured extensively throughout the United States on electronic discovery, served on the Sedona Conference since 2006, and is a regular participant at TechShow and other conferences dedicated to exploring the intersection of law and technology
Honors, Memberships, and Professional Activities
Completed Virtual ADR training conducted by the JAMS Institute, the training arm of JAMS
Member, Academy of Court Appointed Masters
Recognized as Best Lawyer, Alternative Dispute Resolution Category, Best Lawyers in America, 2014
Author, How Lawyers Benefit from Early Neutral Evaluation, Law360, April 2013
Honoree, Power 100 Advocate, On Being a Black Lawyer (OBABL), 2013
Recipient, Minnesota Lawyer's Attorney of the Year Award for Outstanding Service to the Profession, Minnesota Lawyer, 2012
Designated one of "The 100 Most Influential Minnesota Lawyers of All Time, Minnesota Law & Politics, August 2007
Recipient, Hennepin County Judicial Professionalism Award, 2007
Recipient, Honorary Doctor of Law, Western New England College, 2007
Member, Federal Bar Association, Minnesota chapter, 1981-present (President, 1992-1993)
Board of Advisors, The Green Bag, 2008-present
Board of Directors, Hennepin Theater Trust, 2008-2013
University of Minnesota:

Alumnus of Notable Achievement, 2010
Alumni Association and Board of Advisors, 2009-present (Chairman 2012-2013)
English Department Advisory Committee, 2008-present
Law School Board of Visitors, 1991-1997

Judicial Board of Advisors, The Sedona Conference (a legal community think tank that examines forward-looking principles, best practices, and guidelines in specific areas of the law), 2004-present (taught programs on Antitrust, E-Discovery, Patent Law, Co-Author "Cooperation Proclamation")
Founding member ["Master'], Minnesota's first Patent Law Inn of Court, 2014
Frequent speaker and teacher, including:

Faculty Member, National Judicial College, Reno, Nevada, 1998-2006 (taught courses in complex litigation, legal technology)
Teacher at "Baby Judges School" (training and orientation for newly appointed federal judges), prosecutor and defender school, and Attorney General's Advocacy Institute, 1990-present
Inaugural James M. Rosenbaum National Security Symposium: Trans-Atlantic Approaches to Counterterrorism, William Mitchell College of Law, April 2010

Select publications:

"Negotiating the Shoals of Mediation," 18 The Green Bag 2D 305 (2015)
"In Defense of Rule 808, Federal Rules of Evidence," 12 Green Bag 2D 165 (2009)
"The Death of E-Discovery," The Federal Lawyer 26, July 2007
"Rohwer v. Federal Cartridge Co.," The Green Bag Almanac & Reader 316, 2006
"In Defense of the Sugar Bowl," 9 Green Bag 2D, Autumn 2005
"In Defense of the Hard Drive," 4 Green Bag 2D 169, 2001
"In Defense of the Delete Key," 3 Green Bag 2D 393, 2000
"Retiring the Gavel," Minnesota Public Radio Audio Interview, July 6, 2010
Background and Education
Judge, U.S. District Court for the District of Minnesota, 1985-2010
U.S. Attorney, District of Minnesota, 1981-1985
Partner, Gainsley, Squier & Korsh, 1979-1981
Partner, Rosenbaum & Rosenbaum, 1977-1979
Associate, Katz, Tuabe, Lange & Frommelt, 1973-1977
Staff Attorney, Leadership Council for Metropolitan Communities, 1970-1972
Staff Attorney, VISTA, Chicago, Illinois, 1969-1970
J.D., University of Minnesota Law School, Minneapolis, MN, 1969
B.A., University of Minnesota, Minneapolis, MN, 1966
Home Office
HOME OFFICE
Minneapolis, Minnesota
SPS Tower 333 S 7th St Suite 2550 Minneapolis, MN 55402
View Location Details
Available to Travel
AVAILABLE TO TRAVEL
Chicago, Illinois
71 S. Wacker Drive Suite 2400, Chicago, IL 60606
View Location Details
Orange County, California
5 Park Plaza, Suite 400, Irvine, CA 92614
View Location Details
San Francisco, California
Two Embarcadero Center, Suite 1500, San Francisco, CA 94111
View Location Details
Disclaimer
This page is for general information purposes. JAMS makes no representations or warranties regarding its accuracy or completeness. Interested persons should conduct their own research regarding information on this website before deciding to use JAMS, including investigation and research of JAMS neutrals. See More
Search our global directory of mediators, arbitrators and ADR professionals.
FIND A NEUTRAL