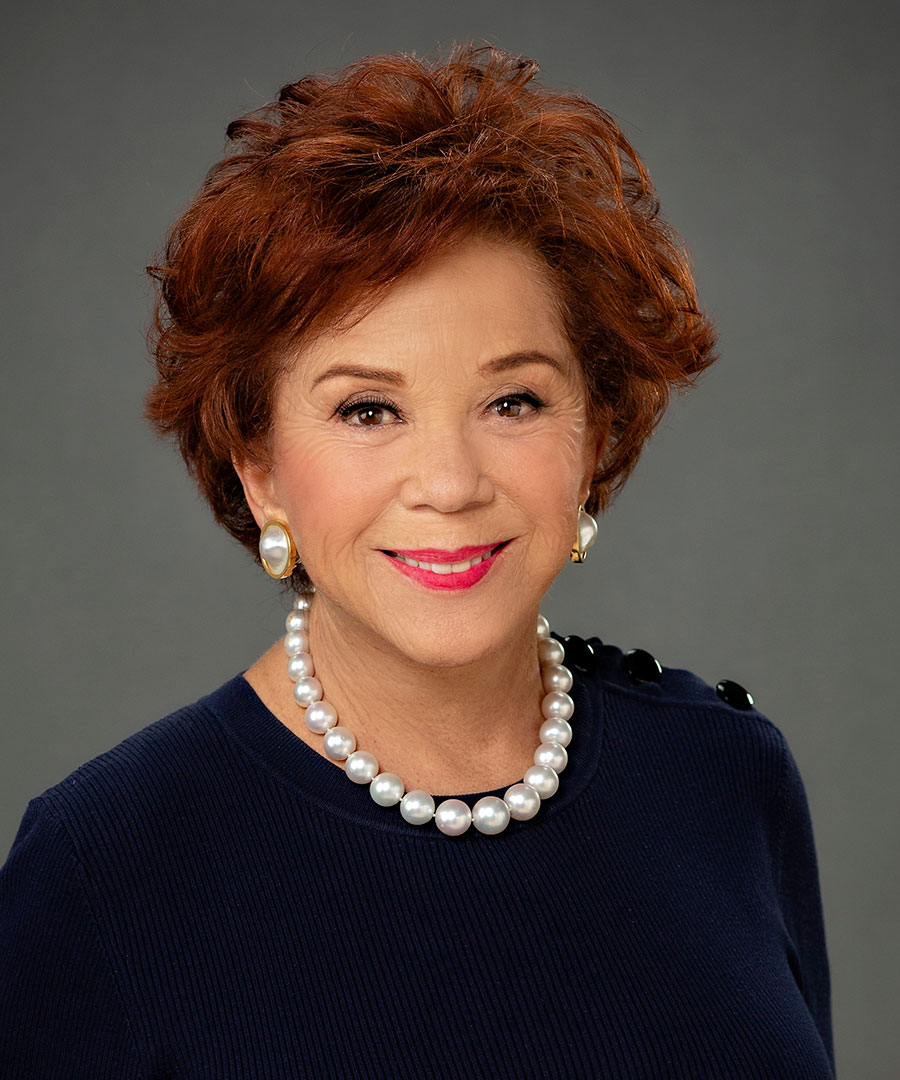 Hon. Sheila Prell Sonenshine (Ret.)
General Biography
Practice Areas
Accounting/Finance
Appellate
Banking
Business/Commercial
Civil Rights
Employment
Entertainment & Sports
Estates/Probate/Trusts
Family Law
Financial Markets
Health Care
Higher Education & Title IX
Personal Injury/Torts
Professional Liability
Real Property
Honors, Memberships, and Professional Activities
Background and Education
Hon. Sheila Prell Sonenshine (Ret.)
has 50 years of legal and business experience, including 13 years as a full-time neutral with JAMS. She has been recognized by The American Bar Association, State Bar of California, Orange County Bar Association, Orange County Bar Association Appellate Law Section and the Academy of Matrimonial Lawyers for her accomplishments.
She is a sought-after mediator, arbitrator, judge pro tem, and neutral evaluator in a broad range of practice areas including business and commercial, family law, employment, real estate, probate and trusts, professional malpractice and appellate disputes.
She was the founder and managing partner of a successful law firm. As a businesswoman she founded a federally chartered bank later sold to Wells Fargo and an international mid-market investment banking firm bought by H&R Block.
Justice Sonenshine served on the Orange County Superior Court, where she was the Presiding Judge of the Family Law Panel. One of the original four justices appointed to the California Court of Appeal, Fourth Appellate District, Division Three, she heard thousands of cases and published a multitude of significant opinions. Justice Sonenshine resolved hundreds of cases at appellate settlement conferences, pursuant to the state's first mandatory appellate settlement conference program she inaugurated.
In her ADR career, she brings together her real world, analytical, and practical understanding of difficult issues. She is well known for her fair-minded and pragmatic approach to resolving the toughest cases. Attorneys laud her even temper and respect for lawyers and litigants and her ability to handle complex, large and often highly-publicized cases and those of a confidential and sensitive nature.
In her mediations, she is known for her common-sense approach to resolving disputes and for including the parties throughout the way. As an arbitrator, her command of the process, demonstrated fairness, and knowledge of the law result in appropriate, timely, and well-reasoned awards. Justice Sonenshine's decades of judicial trial and appellate experience permit her to provide thoughtful insights as a neutral evaluator and mock trial panelist.
ADR Experience and Qualifications
Served on the Orange County Superior Court including as Presiding Judge of the Family Law Panel
Served almost two decades as Associate Justice, California Court of Appeal, Fourth Appellate District, Division Three
Authored thousands of opinions, inclusing many significant published cases
Inaugurated the state's first mandatory appellate settlement program
Representative Matters
Attorney's Fees

Civil Code section 52 prevailing party attorney fees in (Engel v. Worthington (1997) 60 CA 4th 628)
Covenant not to execute and attorney fees (Vailette v. Fireman's Fund (1993) 18 CA 4th 680)
Professional liability attorney's fees matter between client and law firm
Pre-nuptial and marital settlement agreement matter involving attorney fee award

Business/Commercial

Partnership disputes and dissolutions involving a variety of technical industries, professional medical and legal partnerships, and accountings
Suit by corporation and two directors against former employees, directors and major shareholder for breach of fiduciary duty, coversion, accounting, constructive trust, slander and intentional and negligent infliction of emotional damages
Breach of contract dispute concerning accounting involving major hospital chains and large family-owned business corporate dissolution
Breach of contract involving healthcare provider's alleged business and professional code violations
Disputes involving the misappropriation of trade secrets, unfair competition, and interference with contractual relationship
Real estate brokerage actions against franchisee and guarantors for royalties allegedly due under the franchise agreement
Commercial loan dispute involving breach of contract, fraud, common counts, interference with economic advantage and related causes of action

Employment

Numerous employment breach of contract matters, including matter concerning SEC licensed securities firm's failure to pay bonus compensation and severance
A contract dispute between religious organizations and clergy employees (Schmoll v. Chapman University (1999) 70 CA 4th 1434)
Discrimination claim under Americans with Disabilities Act (ADA) and individual liability of supervisory personnel (Le Bourgeois v. Fireplace Manufactures (1998) 68 CA 4th 1049)
Employee defamation actions after unfavorable performance evaluation (Jensen v. Hewlett-Packard (1993) 14 CA 4th 958)
Harassment and discrimination claims involving age, sexual orientation, gender and sexual harassment allegations
Class action claims involving wage and hour, meal and rest periods, and business-related expenses reimbursement (overtime, formatted wage statements)
Suit against employer manufacturer of equipment which injured employee
Complex harassment dispute with multi-million-dollar amount in controversy
Breach of contract claim involving equitable relief under ERISA and breach of fiduciary duty
Wage and Hour claim between large food chain and employee who claimed he or she was required to work "off the clock," without compensation

Entertainment & Sports

Breach of contract dispute concerning movie distribution rights
Dispute over licensing agreement for use of movie review site's content on localized Spanish-Language sites
Wide range of business valuation, property division, child and spousal support, child custody, and other family law issues involving high-profile celebrities
Contested trust estate matters involving decedents of high-profile celebrities

Estates/Probate/Trusts

Handled a multitude of cases involving will contests, trust property, non-donative transfers, children/stepchildren claims, trustee bonds, prior and widowed spouses, terminable interest rule, community property, joint tenancy property, and creditor claims
Probate Code section 21225 and non-donative transfers of an option to renew, right of first refusal and a lease commencing at a certain time (Shaver v. Clanton (1994) 26 CA 4th 568)
Bond not required when executor is named as trustee and trust does not require bond and unnecessary to protect other beneficiaries and they had waived bond; beneficiary's cannot require and no creditors need protection (Cibulk v. Cibulk (1998) 67 Cal. App. 4th 690)
Dispute between family members over buy sell, succession planning and company value and pay out

Family Law

Pre-Nuptial and Marital Settlement Agreement claims involving a wide-range of issues, including: agreement negotiation, out-of-state and foreign enforceability and breach, interpretations, accountings, motions to set aside, breach of warranty, and attorney's fees
Date of separation dispute involving separation of long-term marriage (IRMO Hardin (1995) 38 CA 4th 448)
Property disputes involving characterization, valuation, Moore/Marsden issues commingling and tracing, multi-faceted family assets, breach of fiduciary duty/waste allegations, debt, employment benefits, and other complex factors
Custody and visitation claims involving time sharing, UCCJA child concealment, out-of-state and foreign orders, change of circumstances, parents' gender preferences, parental alienation, and support/concealment assets
Cases involving paternity, annulments, putative spouses, and Marvin Actions
Divorce disputes involving dissolution, business issues, division of property, support and equalization issues
Child and spousal support issues including short and long-term marriages, alternative support considerations, pre-nuptial provisions, income determination, change in circumstances, and out-of-state and foreign orders

Insurance

Case involving excluded/permissive and non-permissive drivers
Dispute regarding the liquidation of out-of-state insurance company (Quackenbush v. Armato, Gaims, Weil, West & Epstein (1995) 36 Cal. App. 4th 363)
Claim involving policy that did not insure against loss sustained by lender as a result of insurer's mistaken representation regarding parcel's acreage (Golden Security Thrift & Loan v. First American Title Insurance (1997) 53 Cal. App. 4th 250)
Indemnification for intentional wrong acts (Horace Mann v. Barbara B (1998) 61 Cal. App. 4th 158)
Surety relief from bail forfeiture when defendant detained in foreign jurisdiction (County of Orange v. Ranger Insurance Corp. (1998) 61 CA 4th 795)
Insurance matters involving pre-existing conditions
Fuel contamination; continuing nuisance (Resolution Trust Corp. v. Rossmoor Corp (1995) 34 CA 4th 93)

Personal Injury/Torts

Inapt when injured plaintiff assumed shark bite risk because he was a recognized expert in field and hired accordingly (Rosenbloom v. Hanour Corp. (1998) 66 CA 4th 1477)
Inapt when plaintiff bites into bone fragment in hamburger sold by defendant grocery store because fragment remained a natural substance of the hamburger under the foreign natural distinction
Liability of individual condominium owners for injuries sustained in common area (Ruoff v. Harbor Creek Community Association (1992) 10 Cal. App. 4th 1624)
Cases involving duty absent special relationship
Penile implant manufacturer not strictly liable for injuries caused by product if properly made and distributed with information regarding risks and dangers
Action by wife for damages after husband injured in nursing home
Case involving sexual battery and repressed memory (Wilson v. Phillips (1999) 73 CA 4th 250)

Real Property

Review of bifurcated judgment in real estate commissions matter and mediation thereof
Residential and apartment conditional use permit (Harris v. City of Costa Mesa (1994) 25 CA 4th 963)
Variance; compensation for taking (Metropolitan Outdoor Advertising Corporation v. City of Santa Ana (1994) 23 CA 4th 1401)
Action by buyer against broker and seller for recession of purchase and sale agreements
Redevelopment credits dispute between city and shopping center development
Class Action by homebuyers against real estate developer and its wholly owned escrow company for violations of the Cartwright Act (Bus. & Prof Code section 16720 et seq.) and Civil Code section 2995 prohibiting real estate developers from requiring escrow services by entities in which developers have financial interests (MacManus v. A.E. Realty Partners 195 Cal. App. 3d 1106)
Perpetual lease extension renewals exempt from uniform statutory rule against perpetuities (Shaver v. Clanton (1994) 26 CA 4th 568)
Lease extension involving town or city subject to a 99-year term (Shaver v. Clanton (1994) 26 CA 4th 568)
Cancellation provision and option to extend; forfeiture; right to fire proceeds (Long Beach Partnership v. Libaw (1999) 70 CA 4th 212)
Tenant's purported lease renewal did not extend original period of lease to preclude exercise of provision permitting termination for total or sufficient partial destruction of premises within two years of end of lease's term
Damages against a bank, notary, her employer and surety resulting from plaintiff's forged signature on note and trust deed (McComber v. Wells (1999) 72 CA 4th 512)
Creditor seeking satisfaction of judgment lien against debtor, real property purchaser and financial institutions must correctly spell debtor's name in abstract of judgment. Doctrine of idem sonans is inapt. (Orr v. Byers (1998) 198 CA 3d 666)
Party owes duties as both real estate broker and foreclosure consultant; plaintiff entitled to actual damages of the difference between what defendants paid for the house at foreclosure sale and property's market value at that time; award of treble exemplary damages; recession allowed despite plaintiff's failure to tender default amount because it would have been inequitable to so require (Onofrio v. Rice (1997) 55 Cal. App. 4th 413)
Action to rescind loan and damages for misleading promise regarding home loan preapproval
Honors, Memberships, and Professional Activities
Completed Virtual ADR training conducted by the JAMS Institute, the training arm of JAMS.

Bar Associations, Affiliates and Other Professional and Pro Bono Groups
Recipient of the Project Youth OCBF Volunteer Excellence Award, Project Youth Orange County Bar Foundation, 2019
Named one of Loyola Law School's 50 Inspirational Alumni, 2014
First recipient of Justice David G. Sills Award for Appellate Excellence, Orange County Bar Association Appellate Law Section, 2011
Robert Samuel Barnes Award, Orange County Bar Foundation, 2006
Marcus Kaugman Jurisprudence Award, Anti-Defamation League, 2004
Founder and Chair, Sonenshine Pro Bono Reception, 1995-present
Franklin G. West Lifetime Achievement Award, Orange County Bar Association, 1995
Civic
Member: International Women's Forum/The Trusteeship, The Anti-Defamation League of Orange County and Long Beach's Regional Board
Past Member: The Orange County Performing Arts Center Board of Directors
Speaker for educational, legal, and business groups, as well as a contributing author on topics relating to law, business, and finance
Family Law
Service to Family Law Award, American Bar Association Family Law Section, 1993
Family Law Person of the Year, American Academy of Matrimonial Lawyers, 1993
Jurist of the Year, State Bar of California Family Law Section, 1991
Publications
"Who is CWL? featuring Hon. Sheila Press Sonenshine (Ret.), California Women Lawyers, July 29, 2015
"A Practical Approach," ADR Profile, Daily Journal, November 12, 2010
Author, "Mediation Saves Family Business Enterprises," Wealth Management Business, 2009
Background and Education
Principal in Sonenshine Enterprises since 2004. In that capacity, she has invested in a number of women-led companies, and served as a trusted advisor to numerous female entrepreneurs
Co-Founder and Executive Managing Director, EquiCo (subsequently RSM EquiCo after being acquired by H&R Block in 2001), now known as McGladrey Capital Markets, 1999-2004
Associate Justice, California Court of Appeal, Fourth Appellate District, Division Three, 1982-1999
Judge, Orange County Superior Court, 1981-1982 (Presiding Judge, Family Law Panel)
Private law practice, Newport Beach, 1971-1981
J.D., Loyola School of Law, 1970 (St. Thomas More Honor Society)
B.A., Economics, University of California, Los Angeles, 1967
"Sheila Sonenshine is the absolute best settlement officer I have ever seen. She is knowledgeable and always fully prepared. Moreover she is practical and understands the goal of dispute resolution is to get all parties to believe they have made the best overall decision they can make, taking possible outcomes into account."

- Appellate Counsel
"Justice Sonenshine's tenacity, business background, and common sense hands-on approach make her stand out among neutrals."

- Legal strategist and former Sr. Vice President and General Counsel of one of the largest private real estate and development companies in the United States
"Justice Sonenshine has the experience, objectivity, and common sense to cut to the heart of an employment dispute and get the parties there with her."
"She put the lawyers, and the parties, in their place, and with tenacity, unmatched knowledge of the law and a presence that can only be described as breathtaking, gave us hope that we could actually settle a case where the parties could not have been further apart. Without her tireless assistance, exceptional mediation skills and unbridled commitment, there is no way this case could have settled."
Home Office
HOME OFFICE
Available to Travel
Disclaimer
This page is for general information purposes. JAMS makes no representations or warranties regarding its accuracy or completeness. Interested persons should conduct their own research regarding information on this website before deciding to use JAMS, including investigation and research of JAMS neutrals. See More
Search our global directory of mediators, arbitrators and ADR professionals.
FIND A NEUTRAL