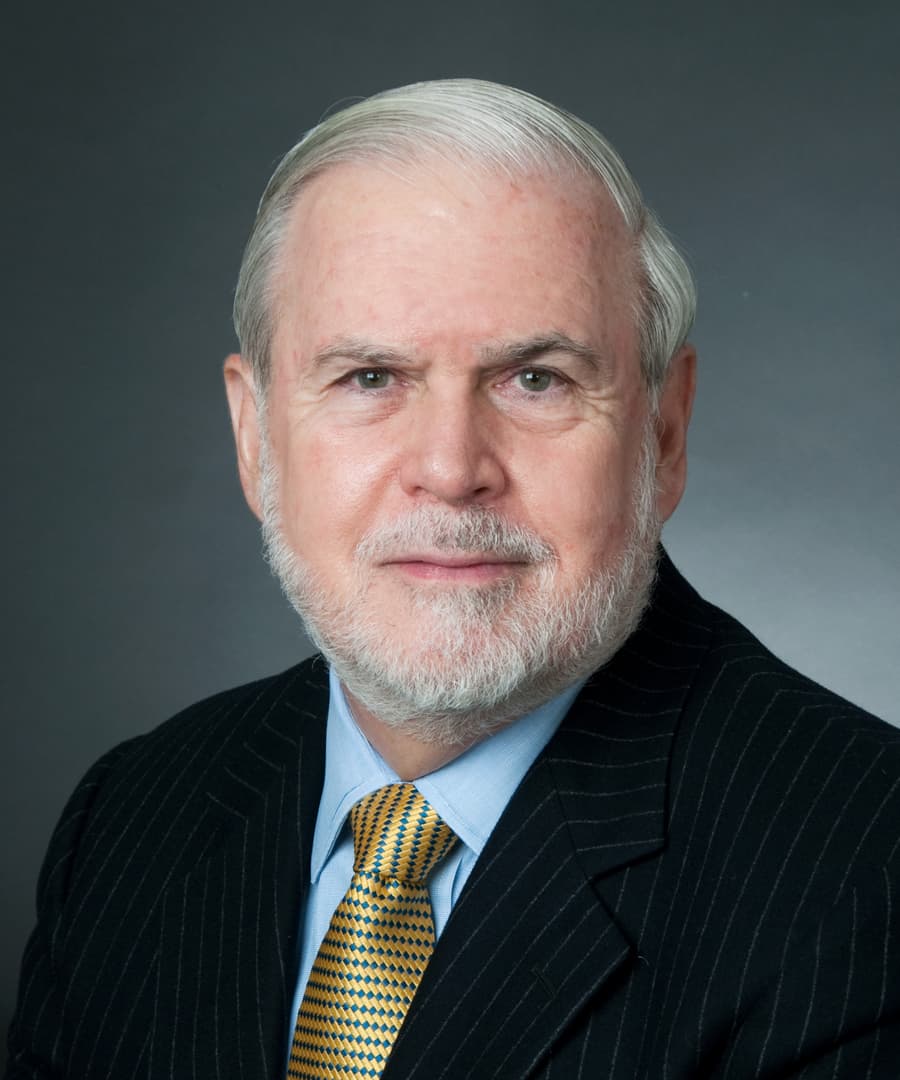 Hon. Curtis E. von Kann (Ret.)
General Biography
Practice Areas
Business/Commercial
Class Action/Mass Tort
Construction
Employment
Engineering and Construction
Environmental
Federal Law
Financial Markets
Governmental/Public Agency
Health Care
Insurance
Intellectual Property
International & Cross-Border
Personal Injury/Torts
Professional Liability
Real Property
Surety
Honors, Memberships, and Professional Activities
Background and Education
Hon. Curtis E. von Kann (Ret.), in 50 years as a trial lawyer, trial judge, and ADR neutral, has had hands-on experience with matters involving virtually every field of civil law, including accounting, acquisitions, anti-trust, aviation, bankruptcy, civil rights, class actions, computers, condominiums, construction, consumer protection statutes, contracts, copyright, corporations, defamation, domestic relations, employment, engineering, entertainment, environmental, ERISA, executive compensation, False Claims Act, franchising, government contracts, healthcare, high tech, hospitals, insurance, intellectual property, investments, labor laws, partnerships, patents, personal injury, product liability, professional liability, Qui Tam, real estate, securities, telecommunications, trademarks, trade secrets, and unfair competition.
Judge von Kann, who is Immediate Past President of the College of Commercial Arbitration, literally wrote the book on business arbitration as Editor-in-Chief of the College's Guide to Best Practices in Commercial Arbitration and Associate Editor of its Protocols for Expeditious, Cost-Effective Commercial Arbitration. He has served as sole arbitrator or member (usually chair) of tripartite panels in a wide variety of institutional and ad hoc cases (see Arbitration Bio) applying rules from JAMS, the American Arbitration Association, the CPR Institute for Dispute Resolution, and the International Center for Dispute Resolution as well as specialized party-crafted rules.
Judge von Kann has mediated, arbitrated and been a Special Master for a broad array of disputes in locations throughout the United States and abroad.. His thoughtful, sensitive, and diligent mediation style has drawn rave reviews from clients. He has also provided neutral case evaluations to one or more parties in a variety of complex cases in aid of settlement.
Representative Matters
Business/Commercial

Bankruptcy. Mediation of claims brought by trustee and creditors (including the United States) against a large healthcare provider for alleged fraudulent transfers and inadequate payments to the estate. After extensive mediation, settlement was reached and approved by the U.S. District Court, which had withdrawn the reference from the bankruptcy court.
Commercial Leasing. Neutral case evaluation of appeal from trial court judgment dismissing claim that rent adjustment based on escalator clause in commercial lease was improperly determined by appointed appraiser.
Contract. Arbitrated claim by newspaper against Internet access provider for alleged breach of contract in terminating newspaper's website.
Corporate Acquisition. Arbitrated claim by broker that it was entitled to a multi-million dollar commission for assisting giant European pharmaceutical company in acquiring U.S. company that held valuable patents.
Software Development. Mediation of claim that company hired to develop software required by government procurement contract failed to deliver a product that met contract specifications.
Technology. Mediation and neutral case evaluation of claims of misrepresentation and breach of warranty in the leveraged buyout of high tech company. After parties reached impasse in mediation, they asked Judge von Kann to interview and evaluate key witnesses and present settlement proposal, which was promptly accepted by both sides.
Telecommunications. Mediation of claim alleging breach of contract and warranty in design and installation of Voice of America satellite antenna tower in Djibouti.
Unfair Competition. On-going service as an independent auditor to verify compliance with business solicitation restrictions in a settlement agreement between competing businesses.

Class Action/Mass Tort

Arbitrated the division among Fortune 100 companies of $1 billion product liability class action payment.
Mediation of class action on behalf of home purchasers who contended that charging them a fee to pay for their lenders' electronic registration of mortgages violated the Real Estate Settlement Procedures Act.
Adjudication of hundreds of compensation claims filed by African-American farmers against the U.S. Department of Agriculture pursuant to a class action consent decree.

Construction

Arbitrated claims of default between owner and developer of the nation's third largest shopping mall.
Power Plant. Competing claims between general contractor and structural steel assembly subcontractor for delay damages allegedly caused by breach of contract and faulty engineering in construction of electric power generation plant.
Resort Development. Dispute between partners in development of luxury resort in Virgin Islands concerning alleged mismanagement of the project and breaches of fiduciary duties.

Arbitration of competing claims between general contractor and steel assembly subcontractor for delay damages allegedly caused by breaches of contract and faulty work in construction of power generation facility
Mediation of disputes between architect and owners concerning renovation and enlargement of an existing building
Arbitration of multi-million dollar dispute between a major league baseball team and its host city concerning payment for fixtures and various alleged deficiencies in the construction of a new baseball stadium
Mediation of dispute between multiple parties for damages allegedly caused by delay in construction of championship golf course at a new resort
Mediation of dispute between developer and construction company over alleged defects in construction of hundreds of townhouses
Arbitration of claim by drywall subcontractor for equitable adjustment in contract price due to change orders and alleged failure of general contractor to properly coordinate work of other trades in construction of University Science Center
Mediation of dispute concerning antenna subcontractor's claim for delay damages and general contractor's claims for breaches of warranty in connection with construction of Voice of America broadcasting station in Djibouti. When parties were unable to reach agreement, they asked Judge von Kann to arbitrate the dispute.
Mediation of disputes between owning family members concerning development of large tract for residential community of townhouses and apartments. When settlement was reached, parties appointed Judge von Kann as arbitrator with respect to any disputes which might (and did) arise in implementing settlement.
Mediation of claim by U.S. Department of Labor that trustees of union pension fund committed breaches of fiduciary duty and violation of ERISA when they invested large part of fund in purchase and costly renovation of Florida resort hotel
Mediation of disputes between landlord and tenant concerning lease of commercial property

Employment

Arbitrated claims against various employers alleging wrongful discharge due to racial discrimination, violation of the Americans with Disabilities Act, and other grounds.
Arbitrated claims of alleged breach of contract for failure to provide severance pay and stock options to senior executive terminated by high tech company.
Collective Action. Arbitrated claim against employer for allegedly misclassifying employees as exempt and then failing to pay them overtime required by Fair Labor Standards Act for non-exempt employees.
ERISA. Mediation of claim by union trustees that national supply company improvidently invested most of pension funds in its own stock, which became nearly worthless when company declared bankruptcy.
Franchises. Arbitrated claims and counterclaims arising out of terminations of franchisee by national franchisors of restaurants and hotels.

Environmental

Mediated the allocation of $40 million in Superfund site cleanup costs among Waste Management, state of New Jersey, and 70 industrial generators.
Separate mediations involving cost recovery actions by state and federal environmental protection agencies against numerous potentially responsible parties at five unrelated sites. After intense, multi-day mediations, and considerable follow-up by the mediator, settlements were reached in four of the five cases.
A dispute involving the amount of funds to be paid to the State of New Jersey for cleanup of a large Newark landfill and allocation of those costs among 72 potentially responsible parties pursuant to state statute. Both the State of New Jersey and all responsible parties agreed to accept Judge von Kann's settlement proposal. Judge von Kann has mediated several other cases involving allocation of landfill cleanup costs.
A dispute among ten large chemical companies regarding allocation of over $40 million in CERCLA Superfund cleanup costs relating to a former North Carolina pesticide plant. A number of technical and legal issues were addressed in the mediation and the parties ultimately agreed to abide by Judge von Kann's suggestion regarding allocation of these costs. He then mediated a settlement between the companies and EPA concerning the final payment amount.
A dispute between the U. S. Department of Justice and a large aeronautical corporation concerning implementation of a consent decree that set forth elaborate procedures for funding the cleanup of pollution at the corporation's manufacturing plant in California.
Disputes concerning insurance coverage for environmental pollution encountered at a wristwatch plant in Connecticut and a large tire manufacturing plant in Indiana.
A dispute between EPA and several large companies concerning the fair amount to be paid by the companies to reimburse EPA for past and future costs of cleaning up hazardous substances released into a nearby river from a former oil refinery site in North Carolina.

Governmental/Public Agency

Hearing Officer in Office of Compliance cases brought against Members of Congress and others pursuant to the Congressional Accountability Act of 1995.
Mediation of claims brought by the U.S. Drug Enforcement Administration against a major pharmaceutical supplier under the Controlled Substances Act.
Special Master to the Deputy Attorney General of the United States in resolution of disputes concerning an $8 billion federal grant program.

Health Care

Mediation of disputes between hospital and independent anesthesiologist practice group incident to hospital's decision to terminate group's contract and use only anesthesiologists employed by hospital
Mediation of claim by hospital supply company that hospital's early termination of contract was unjustified
Mediation of $50 million claim by leading managed care provider against its liability insurer for partial reimbursement of sums paid to settle national class action brought against provider by subscribers alleging improper denials of healthcare claim. When parties were unable to reach settlement, they agreed to accept Judge von Kann's determination of a reimbursement amount between specified minimum and maximum figures.
Mediation and arbitration of multiple cases alleging various forms of dental and medical malpractice
Mediation of Department of Justice's claims against large healthcare provider for compensatory damages and civil penalties under False Claims Act and claims of Department of Health and Human Services for debarment of provider from Medicare program
Neutral case evaluation of $160 million of claims and counterclaims between Health Care Financing Administration and two national group health insurers concerning provisions of the Medicare as Secondary Payer Act
Mediation of claim that home care agency was negligent in hiring and supervising employee who sexually assaulted retarded resident in group home
Mediation of claims for civil penalties brought by U.S. Drug Enforcement Agency against major pharmaceutical company for allegedly violating the Uniform Controlled Substances Act on thousands of occasions in connection with shipments of certain restricted medical drugs
Arbitration of claim by physician that his separation from medical practice group violated the terms of the group's Shareholders Agreement
Mediation of claim by senior manager that hospital's termination of her employment violated her employment contract and the Americans with Disabilities Act
International mediation of claim by Greek beneficiaries of life insurance policy against insurer that denied coverage on grounds of insured's alleged suicide

Insurance

Evaluated $160 million in Medicare claims and counterclaims between U.S. Department of Health and Human Services and two major national insurers.
Arbitrated dispute between satellite radio company and its insurer over whether company's alleged failure to disclose material information barred it from recovering $80 million for loss of two satellites caused by defective solar arrays.
Arbitrated dispute between insurer and placing broker regarding proper construction of rider language defining the insurance coverage trigger for massive hurricane damage suffered by large grocery chain.
Service as a special master to determine the appropriate measure of damages for multiple property damage and business interruption claims brought by five casualty insurers against party found liable for flooding of several office/retail buildings. Following accelerated hearings, Judge von Kann entered damage awards in a series of master's reports, which were upheld by the trial and appellate courts.
Multiple arbitrations of amounts owed by automobile insurers for personal injuries arising from automobile accidents in which insurers admitted liability of their insureds
Mediation of claim by directors and officers of holding company that their insurer's refusal, on grounds of fraud, to cover losses incurred in settling litigation constituted a bad faith breach of insurance policy
Mediation of claims by employer against its workers compensation insurer for allegedly utilizing wrong rate tables in calculating premiums due

Intellectual Property

Copyright and Trademark. Mediation concerning royalty and licensing payments allegedly owed by Fortune 100 Company for use of copyrighted interactive video games and disputes concerning alleged infringement of trademarks licensed to hundreds of franchisees
Copyright Royalties Distribution. Library of Congress arbitration to determine distribution of $200 million in cable television royalties among major national suppliers of copyrighted television programming
Copyright Royalty Rates. Library of Congress arbitration to set royalty rates to be paid by AOL, MTV, Viacom, and other webcasters for internet streaming of recorded music
Copyrighted Software. Mediation of dispute between competing satellite encryption services concerning alleged infringement of copyrighted software to secure communications over government satellite network and alleged breaches of licensing agreements
Patent and Antitrust. Mediation of international patent infringement and antitrust dispute between U.S. and Japanese steel companies concerning use of certain manufacturing processes
Patent Validity/Infringement. Neutral case evaluation of opposing claim construction arguments to be presented at a Markman hearing in litigation asserting patent infringement and patent invalidity regarding design of sophisticated software program marketed by one of the nation's largest software companies
Trade Secrets. Neutral case evaluation of dispute alleging theft of trade secrets, breach of confidentiality agreement, and breach of fiduciary duties by former employees of nationwide housing provider who left former employer's company to set up competing business

International & Cross-Border

Arbitrated claim by U.S. distributor of state-of-the-art dental imaging devices that Korean manufacturer sold the devices to other distributors in violation of an alleged exclusive distributorship agreement
Mediation in Puerto Rico of competing claims by Puerto Rican and Mississippi contractors for FEMA payment for cleanup of massive damages caused by Hurricane Georges. Following three days of mediation with Spanish-speaking co-mediator, global settlement was reached
Mediation of claim by international business that its insurer improperly denied, as insufficiently supported, claim for reimbursement of losses allegedly caused by embezzlement of former manager of company's Italian subsidiary
Mediated claim by U.S. steel manufacturer that a Japanese steel manufacturer had violated U.S. anti-trust laws and infringed its patents
Mediated claim alleging breach of contract and warranty in design and installation of satellite antenna tower in Djibouti
Arbitrated claim by U.S. search firm that huge Swiss pharmaceutical company failed to pay the agreed finder's fee for locating an appropriate acquisition target
Arbitrated claim by U.S. investigatory firm that its former CFO, a Russian citizen, failed to adhere to a confidentiality agreement concerning company operations
Arbitrated claim by U.S. subcontractor that delays, improper specifications, and project mismanagement by German general contractor of power plant entitled subcontractor to an equitable adjustment in price
Arbitrated a claim by a South American winery that its US distributor breached the terms of their distributorship agreement

Product Liability

Mediation of suit against major automotive manufacturer alleging that its most popular minivan was prone to slip from park into neutral, thus causing serious bodily injuries and death

Professional Liability

Mediation of malpractice claim by industrial manufacturer against its former accounting firm
Mediation of claim by non-profit service organization that it was entitled to a reduction of fees owed to outside accountant due to accountant's allegedly poor performance
Arbitration of claim by large holding conglomerate against sellers of transportation company alleging that company's accounting personnel fraudulently misrepresented the true financial condition of the company
Mediation of international investor's malpractice claim against large accounting firm for alleged failure to properly report business's income and expenses
Arbitration of large investor's claim that major Wall Street brokerage firm promised to provide investment advisory service of the highest order and then failed to do so
Arbitration of malpractice claim against dentist for alleged negligence in the extraction of teeth and placement of implants
Arbitration of claim by departed partner that his former firm failed to pay him the partnership distributions to which he was entitled under firm's Partnership Agreement
Mediation of client's claim that its law firm's bill should be substantially reduced due to firm's allegedly inadequate preparation for, and conduct of, trial against former employee. When parties were unable to reach agreement on amount of the reduction, they appointed Judge von Kann as arbitrator with authority to determine a reduction figure between agreed minimum and maximum amounts.
Mediation of divorcing wife's malpractice claim against her attorney for failure to discover substantial assets and income of ex-husband
Mediation of international financier's claim that a large national law firm committed malpractice when it failed to obtain complete information concerning Swiss bank accounts of financier's embezzling former employee
Arbitration of malpractice claim against residential care facility operated by large national company for alleged failure to properly care for elderly patient following a stroke
Mediation of wrongful death/malpractice claim against internist, radiologist, and emergency room physician for failure to properly diagnose virulent virus which resulted in death of patient

Securities

Claim by client of major Wall Street brokerage firm for huge losses allegedly caused by unsuitable investments and failure to properly execute trades.

Telecommunications

Mediated claim alleging breach of contract and warranty in design and installation of Voice of America satellite antenna tower in Djibouti.
Resort Development. Arbitrated dispute between partners in development of luxury resort in Virgin Islands concerning alleged mismanagement of the project and breaches of fiduciary duties.
Class Action. Mediated class action on behalf of home purchasers who contended that charging them a fee to pay for their lenders' electronic registration of mortgages violated the Real Estate Settlement Procedures Act.
Honors, Memberships, and Professional Activities
Completed Virtual ADR training conducted by the JAMS Institute, the training arm of JAMS
Distinguished Neutral, CPR Institute for Dispute Resolution
Member, Chartered Institute of Arbitrators, London
Past President, College of Commercial Arbitrators
Listed in Best Lawyers in America, 2014-2024
Former President, Harvard Law School Association of the District of Columbia and Charles Fahy American Inn of Court
Former Board Member, JAMS, National Board of Trustees of the American Inns of Court, Council for Court Excellence
Member of two Copyright Arbitration Royalty Panels, U.S. Copyright Office
First person selected to hear complaints against Members of Congress and others under the Congressional Accountability Act of 1995
Independent Counsel of the United States appointed to investigate alleged violations of law by President Clinton's campaign chief of staff
Special Master to the Deputy Attorney General appointed to resolve disputes between two divisions of the U.S. Department of Justice concerning $8 billion dollar law enforcement program
Frequently requested ADR lecturer and trainer for numerous organizations, including the World Bank, U.S. Department of Justice, National Judicial College, CPR Institute for Dispute Resolution, American Intellectual Property Law Association, Mass Torts Institute, American Bar Association, American Law Institute, American Corporate Counsel Association, Georgetown University, George Washington University, and leading law firms
Publications (Partial List)
"Winning in Arbitration: The 10 Golden Rules," JAMS GEC Newsletter, Summer 2017
"Contemporary U.S. Commercial Arbitration Meets Ancient Chinese Curse: May you Live in Exciting Times," Canadian Arbitration and Mediation Journal (Fall/Winter 2012)
The College of Commercial Arbitrators Protocols for Expeditious, Cost-Effective Commercial Arbitration (2010) (available at www.thecca.net) (Associate Editor)
The College of Commercial Arbitrators Guide to Best Practices in Commercial Arbitration (2006) (JurisNet, LLC) (Editor-in-Chief)
"Alternative Dispute Resolution Can Avert Costly Court Battles," Potomac Tech Journal (October 14, 2002)
"Parties Should Make Arbitration Process Choices in the Contract," Metropolitan Corporate Counsel (September 2002) (co-author)
"Neutral Case Evaluation: A Valuable Addition to Your ADR Repertoire," Metropolitan Corporate Counsel (July 2002)
"A Week in the Life: Charting the Job of a Mediator in Daily Detail," Legal Times (March 25, 2002) and The Recorder (May 2002)
"Leaving the Bench for ADR," Legal Times (September 11, 1995)
"Reinventing the Jury Trial," Legal Times (January 2, 1995)
Background and Education
Arbitrator and Mediator, JAMS, 1997-present
Chair, ADR Department of Ross, Dixon & Masback, 1995-1997
Judge, District of Columbia Superior Court, 1985-1995
Civil Litigator, Hogan Lovells (partner) and other law firms, 1969-1985
J.D., Harvard Law School, 1969
B.A., cum laude, Harvard College, 1964
"You kept the parties on an expeditious schedule, you made decisions about discovery and motions promptly and decisively and you were engaged during the presentation of witnesses and argument. One of my fears in arbitrations is that the arbitrator will split the baby in an effort to keep everyone somewhat happy. You did not do that, and we never really feared that you would. You made decisions throughout the case and stuck to them. But I can tell you that both our team and the client spoke before your ruling issued and concluded that you had been an exceptionally good arbitrator. I would be happy to work with you again or to recommend you to others."

- IP Partner at premier national law firm
Home Office
HOME OFFICE
Available to Travel
AVAILABLE TO TRAVEL
New York, New York
NY Times Building, 620 8th Ave, 34th Floor, New York, NY 10018
View Location Details
Disclaimer
This page is for general information purposes. JAMS makes no representations or warranties regarding its accuracy or completeness. Interested persons should conduct their own research regarding information on this website before deciding to use JAMS, including investigation and research of JAMS neutrals. See More
Search our global directory of mediators, arbitrators and ADR professionals.
FIND A NEUTRAL