IRVINE – JAMS is proud to announce the first issue of the new JAMS IP Practice eNewsletter: IP Dispute Resolution Review. This newsletter aims to share some of that expertise with you and to create dialogue on important issues in the IP arena and their impact on ADR proceedings.
In this issue, a selection of new rulings are briefed by JAMS neutrals. Hon. James Ware (Ret.) recaps the Teva v. Sandoz ruling and makes a case for the use of mediation given the given the deferential nature of the "clear error" standard. Hon. Rosalyn Chapman (Ret.) discusses the Supreme Court finding that TTAB decisions should be given preclusive effect, a ruling that mirrors her own finding in a trademark infringement action on the Bench 12 years ago. James Amend, Esq. highlights recent rulings that bring into question the confidentiality of settlement negotiations outside the context of a mediation session with a third-party mediator and suggests mediation offers the best confidentiality protection for patent settlements. Bruce Friedman highlights coverage considerations prior to or in the event of a data breach. Mr. Friedman suggests the review of a company's insurance policies and reveals where coverage may be hidden within existing policies, even in the absence of a cyber-insurance policy.
The newsletter also discusses an increasingly popular form of ADR, neutral analysis, which is used to gain valuable, strategic insight into the strengths and weaknesses of clients' positions. The article includes feedback from lawyers who have used neutral analysis in real case scenarios.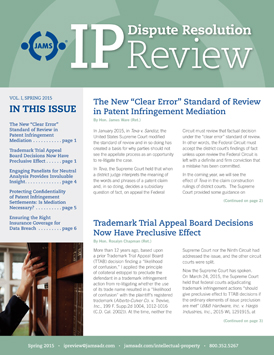 About JAMS
Founded in 1979, JAMS is the largest private provider of mediation and arbitration services worldwide. With Resolution Centers nationwide and abroad, JAMS and its nearly 300 exclusive neutrals are responsible for resolving thousands of the world's important cases. JAMS may be reached at 800-352-5267.